Today, my friends, you are going to get two recipes for the price of one! Ok ok it's free, but you get my gist. A few weeks ago I shared 5 Real Food Time Saving Tips, This week I want to share with you one of my weekly real food "chores." The best part of these two recipes is that you have like 15 minutes of prep total and the crock pot does all of the work! Making this real food "chore" a breeze. See… no excuse why you can't eat real food if you're busy!
Crock Pot "Roasted" Chicken
"Roasted" Crock Pot Chicken
2014-09-17 04:11:46
Delicious and easy chicken that falls right off the bone.
Ingredients
1 raw whole chicken (preferably organic and free range)
Half of onion diced
2-3 carrots roughly chopped
1 stalk celery roughly chopped
3-4 cloves of garlic halved
Spices (I usually use about 1/4 tsp each of rosemary, oregano, parsley, and thyme)
Salt
Pepper
Instructions
Roughly chop carrots, onion, celery, and garlic an place at the bottom of the crock pot. Place raw whole chicken on top. Season well with salt, and spices. Cover and set for 6-8 hours. Once chicken is cooked allow it to cool for a few minutes and take meat off bones. Place bones back into crock pot to make homemade stock.
A Blossoming Life http://ablossominglife.com/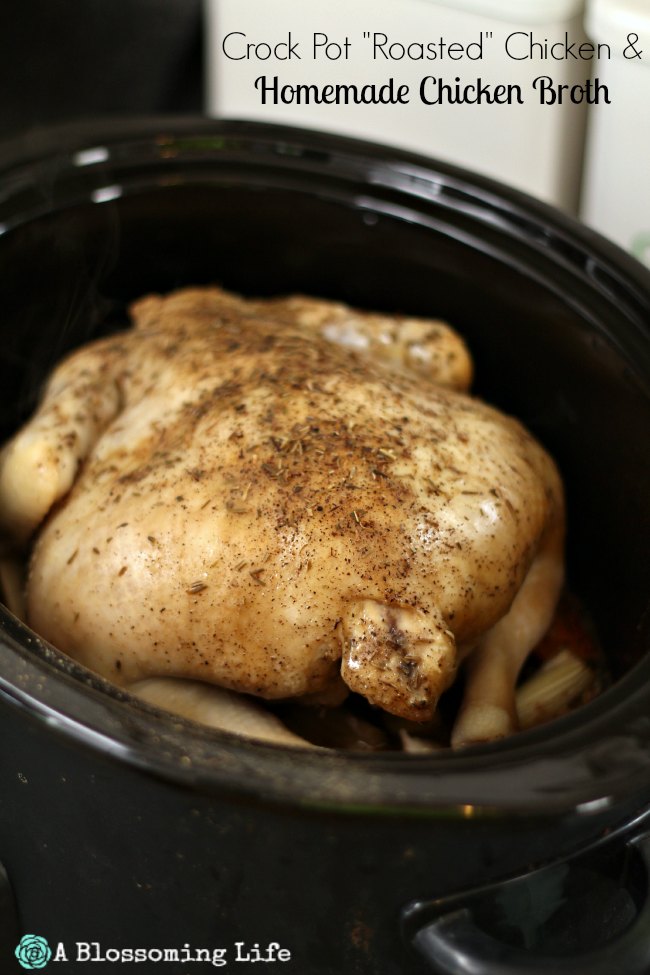 After I make the chicken and debone it, I use it in many different super quick recipes throughout the week! Hopefully soon I will share some of these recipes!
Homemade Chicken Broth
Homemade Crock Pot Chicken Broth
2014-09-17 04:19:55
Homemade chicken broth is healthy, easy, and takes no prep at all. You can save tons of money making your own homemade broth.
Ingredients
1 Whole Chicken or Chicken bones from at least 1 chicken
1 onion quartered
2 carrots roughly chopped
2 stalk of celery roughly chopped
4 cloves of garlic halved
2 Tbs apple cider vinegar
about 4 quarts of water
Instructions
Place chicken bones, roughly chopped vegetables into the crock pot and fill it with water, add salt, pepper, spices, and 2 tbs of apple cider vinegar. Cook for 8-24 hours. After about 1-2 hrs skin the scum off the top. The longer it cooks the healthier it is. Allow to cool an strain out bones and vegetables. Pour into jars and place into the fridge for up to a week or place in the freezer for longer storage.
Notes
Honestly, I don't wash my crockpot after making the "roasted chicken" and put all the bones, skin, some of the vegetables, and a little bit of meat back into the crock. I then usually add back in some more veggies.
A Blossoming Life http://ablossominglife.com/
See wasn't that easy? And you got two recipes for one! I use the stock to make quick soups, add to sauces, or cook rice or quinoa in it! Plus, homemade chicken broth is super healthy of you! Your body will thank you!
What is your favorite way to use homemade stock?