10 Ways to Make More Time Each Day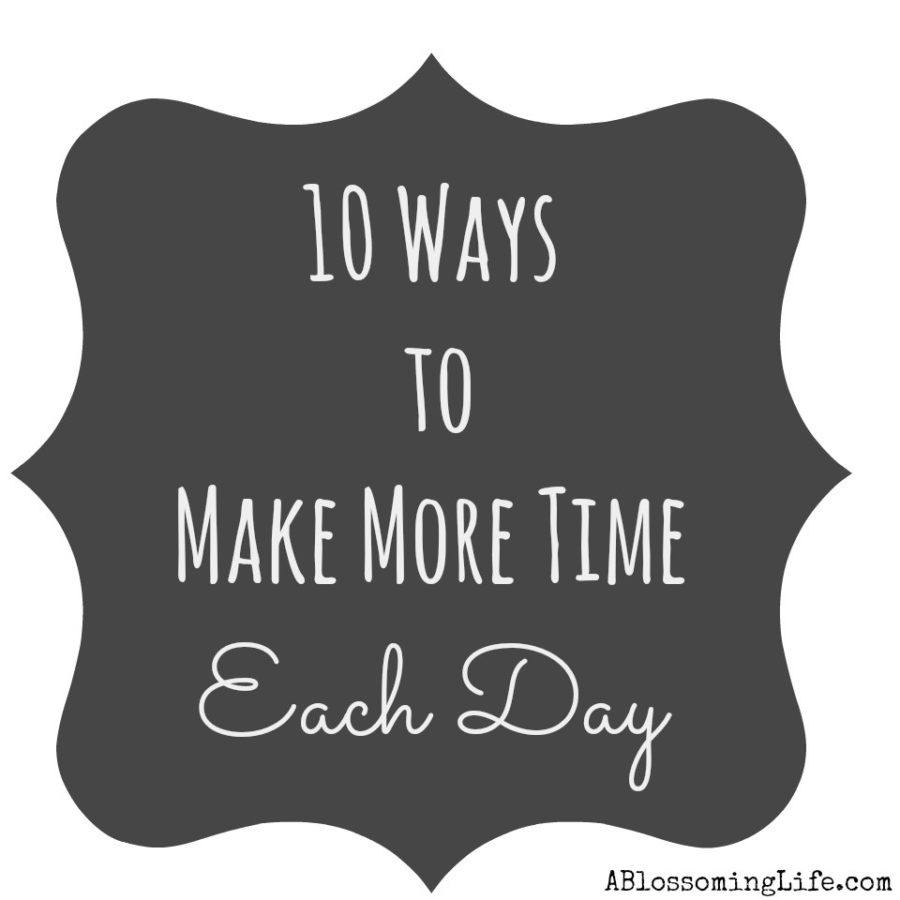 Doesn't it feel like there isn't enough time in the day? I sometimes feel like I wake up, go to work, come home, and get barely anything done. I'm not the only one who feels like this right? Well lately I have been trying to fight this rut and determined to get more done during the day! Here are a few things that I have been doing lately that have helped me accomplish more each day.
1. Wake up earlier
I love waking up early I feel like I get way more done and I am more motivated in the morning. I know I know, a lot of you are thinking "Amy you are crazy I much rather sleep in!" Even if you just went to bed 20 minutes earlier and woke up 20 minutes earlier it may help 🙂
2. Be Organized
This tip is super hard for me! I'm not the most organized person in the world, but I am definitely trying to become better at it. If you're like me you can waste a lot of time searching for things or trying to straighten up craziness. But if I was just more organized in the beginning I wouldn't have to deal with this! Blah I learned this like two years to late! O well!
3. Create a to do list
This one goes with the #2. Every morning when I get to work I like to sit down organize my desk and create a to do list of all the things I would like to get done that day (at work and at home). This helps me stay more focused. Plus who doesn't love checking off when you get something done!
4. Prepare for the next day the night before
Make your families lunches, pick out what you are going to wear the night before, pack backpacks or brief cases, shower, or even make overnight oats for breakfast. This tip will definitely free up and de-stress your mornings!
5.Turn off your distractions
Figure out what distracts you and turn it off for a few hours. For me this would be the computer :(.
6. Power hour
Get focused, go fast, and push through. In order to get all my to do list done sometimes I will have a power hour (or 20 minutes) for things I don't want to do, like cleaning. That way, I race to get all the cleaning done and it doesn't take me very long at all.
7. Make simple meals for dinner
Use the crock pot, make one pot meals, or freezer meals. This way when you get home you can worry about other things besides whats for dinner.
8. Learn to say no…
Life can just get crazy and for some reason we feel the need to say yes to everything or everyone. One way to definitely get more done is to say no to certain engagements. Figure out your priorities, whats best for you and your family, and decide what things are a must and what things you can live without.
9. Keep a calendar!
It is easier to make more time in a day if you now what you have going on right? I love my calendar and sometimes put the silliest things in there just so I remember!
10. Rest!
Our brains can get so tired from thinking so much and trying to get a lot of stuff done. Sometimes the best thing I can do is just to sit/lay down, close my eyes, and pray or clear my mine.
That's it 10 ways to help you accomplish more every day! What do you do to get more done?
I party here…