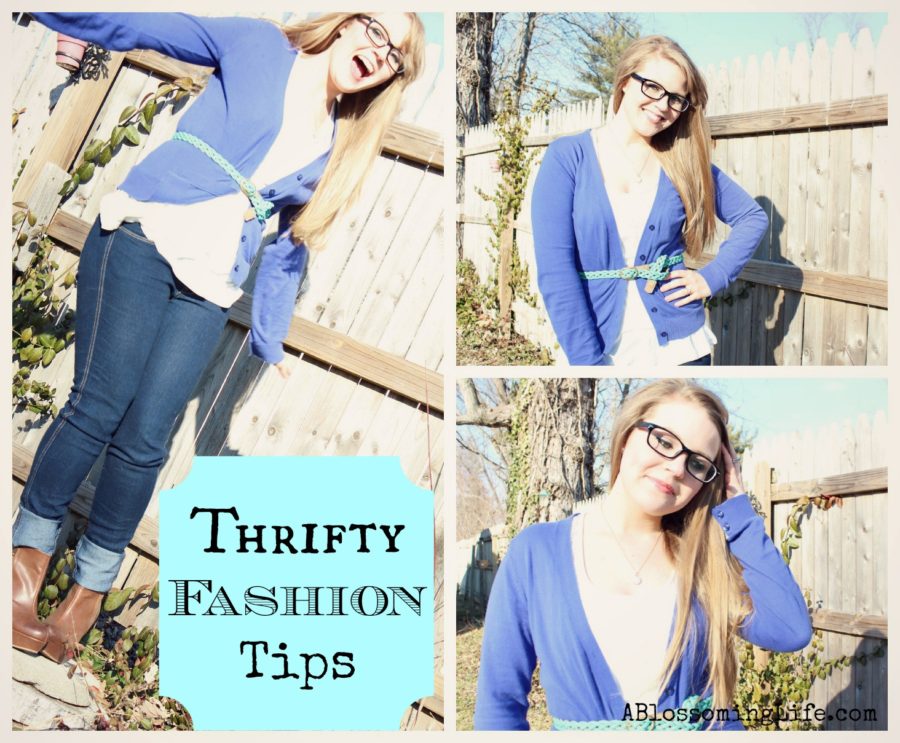 Not going to lie I'm not the most fashionable person in the world although I try. With one income it can be hard to stay on top of trends! Well I want to show you that you don't have to spend a lot to look good! The picture above is a cute outfit I recently wore to church.
Sweater- Gap Outlet
Tank: Forever 21 (from a million years ago)
Pants: H&M $10
Belt: Francesca's
Necklace: gift
Shoes: Goodwill (brand new from Target!)
6 Thrifty Fashion Tips: Look Good Without Breaking the Bank
1. Shop at thrift stores, antique stores, yard sales, and estate sales! This is kind of an obvious one! Sometimes you can even get brand new things like those shoes I'm wearing from Goodwill. They set me back $7 whoa! Plus your helping the environment since your giving something a second life.
2. Keep things you love for a long time! I actually think the tank top I'm wearing is from my freshman year in college, about 6 years ago (gasp I feel old)! It has this adorable 20's style beading on it and I adore it, so I have kept it around forever!
3. Shop at outlet stores. My husband is the king of this! My favorite place is Banana Republic Outlet! I seriously get the best deals when I go usually around Thanksgiving or Christmas. I got a $60 sweater for $15! Can't beat that!
4. Learn to sew. The hubs and I are shorties and we can always find great deals on pants that are way to long for us. So I hem them myself. My friend Jordan is awesome at this! She gets tons of clothes for free or buys thrift store mens shirts and then makes them her size! Smart lady.
5. Learn to wait on good deals! The majority of the time I will not buy something unless it is on sale. Its super hard for me to buy something knowing it will be cheaper in a week. You just have to learn to be patient!
6. Have a clothes swap! My friends are really cool and trendy and I love switching clothes with them! Its a win win. New clothes that are free yippee!
Wait to you see next weeks outfit! It barely cost me anything… Literally!
What are your thrifty tips to buying clothes?
I party here…