Better Blogging Series: Monetize Your Blog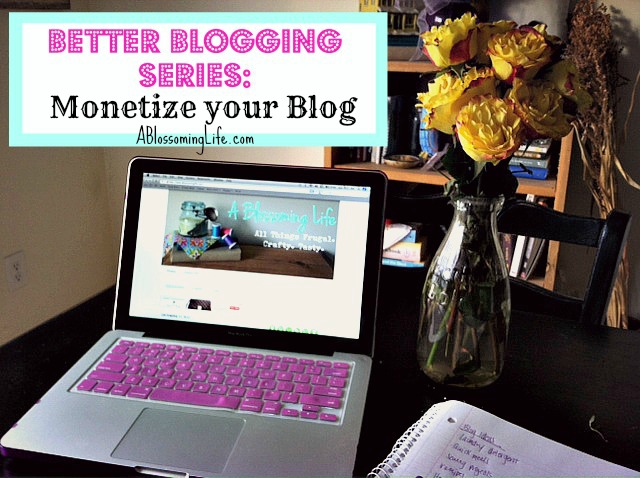 Thinking about starting a blog or have a blog and want to do more with it? During this series we will talk about ways you can enhance your blog! For example, one thing that you could consider doing to help your blog is make sure that you have the right hosting on wordpress to make the most of your blog.
Not going to lie I absolutely love blogging! If you want to Start a blog today, trust me, you have to do it! Blogging is such a passion of mine now. I wish I could do it full time (maybe one day….). But in the mean time I like to find ways to improve my blog as much as possible. Although I am not a professional blogger I have learned quite a few tricks since starting a little over a year ago and have went from maybe 1,000 views a month to over 40,000 views a month in that year.
Part 5: Monetizing Your Blog
A lot of times this is the first thing new bloggers think "how can I make money blogging?" Although it occurred to me that you could make money blogging I waited months before I started implementing anything. It is possible to make a living just from blogging but this takes a lot of time and work. An great blog I found called Dollars and Roses shows how a husband and wife made $100,000 in a year from blogging! So it is possible! As I said before, I hope to one day to be able to blog full time, but that may be awhile longer for me :). Blogging is not about making money… It's about sharing your passions, life, and interests with people.
Google Adsense: this is a paid per click advertising. Usually the more views you get the more clicks you get. You can make good money off this and even have heard of people making a lot, but those are really famous blogs. So you can expect just starting out that it will take awhile for you to get your first $100 check.
Direct Advertising: this is done by selling ad space on your site (like you see on my sidebar). You can roughly expect to sell ad space for about $0.25-0.50 per 1000 page views a month. If you want to take the guess work out of selling ad space try companies like passion fruit ads. They do all the hard work for you! All you have to do is set it up.
Affiliate links: You can get paid per purchase when people click from your website. A lot of online stores will offer affiliate programs. Amazon is possibly the biggest one but other examples include the Shabby Apple and Mountain Rose Herb. When your doing a post on making a homemade product do an affiliate link to where you purchased that product. If people purchase from clicking through your link than you will get a percentage. Easy right?
Coupons: Money saving mom does a awesome job at this! You can even put coupon databases on your site through coupons.com
Swag Bucks: Swag bucks is a great search engine that pays in swag bucks. Sure its not really money but you can turn those swag bucks in for gift cards and cool prizes.
Ebooks: Do you have a great idea and lots of time? Well you could always write and ebook and sell it! It's a great way to make some income. Come up with an original idea that your passionate about and write about it!
Join an Ad Network: This can be better that google adsense because they usually pay per view rather that per click!
Etsy: Do you enjoy creating things? How about selling them in an etsy shop? Frugally Sustainable does a great job at this.
Vlogging or Video Tutorials: Do you vlog or do video tutorial? You can have ads on those videos through youtube!
There are just a few ways to make money blogging! Don't just get into blogging to make money, because well thats hard to do. There are so many other things that you have to have before you can really start making a good income. For me blogging is a passion first and if I can make some money thats great, but thats not the reason I do it!
Why do you blog?
Just in case you missed it….
Part 1: Starting a Blog
Part 2: Content
Part 3: Better Pictures
Part 4: 10 Tips to Grow Your Blog
Part 5: Be Yourself & Don't Give Up