How To Budget On A Flexible Income (Plus Free Budget Printable)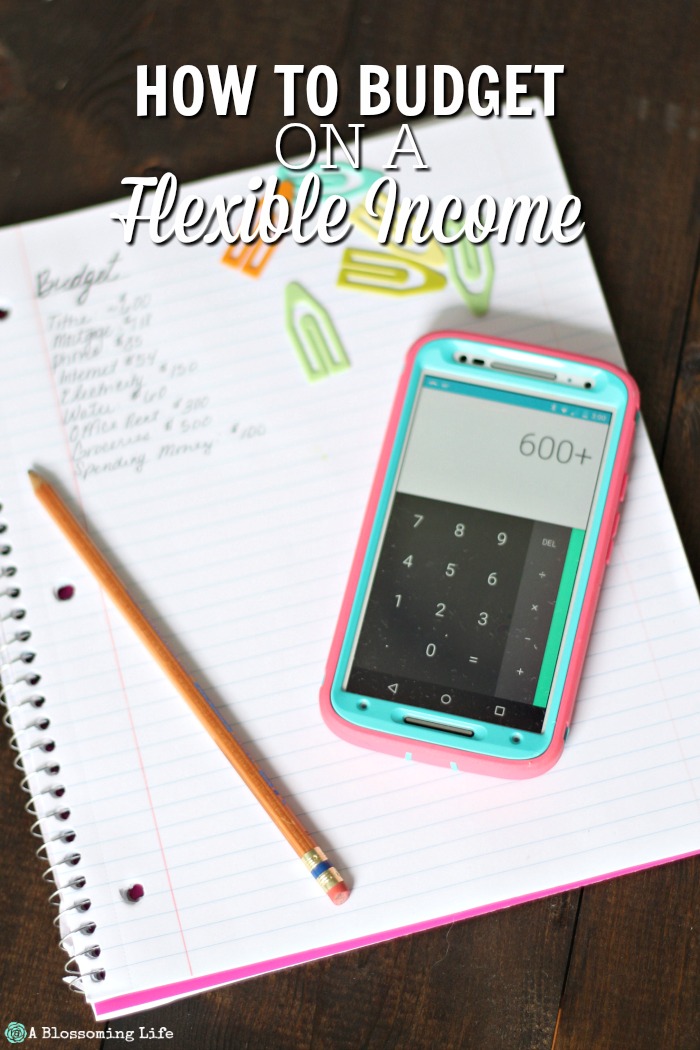 I'm one of those weird people that finds budgeting super fun. I love looking at the numbers, analyzing them, and trying to figure out where we can save more. One thing that can be a challenge is budgeting on a flexible income. My husband is completely commission based and I'm a blogger so we literally never know how much money we will make any given month. So today I want to share with you how we budget on a flexible income and will even share with you our budget. Kind of scary.
Our budget looks pretty high because we have to pay our own taxes (which is higher than most people's since we have to pay self employment tax) and health insurance. Plus, my husband rents an office. So just keep that in mind while your looking through our real life budget.
Tips for Budgeting
Budgeting with a flexible income is a lot like budgeting with a normal stable income. The main difference is that you want to keep track of all your income and expenses very closely (especially work related expenses so you can deduct them on your taxes).
Write down all of your income, outgoing expenses, and bank balances.
Plan ahead. We know some months will have a few extra things so we adjust the budget accordingly. For instance we are taking a trip so the gas budget will be higher than a normal month.
Make sure to add categories for random things that might pop up for regular life and work expenses.
I try to make our expenses as cheap as possible while being realistic so we can budget for when months are not as good (like this month) and
Try to have enough for next months budget. That way we aren't going through the month feeling like we need to catch up.
Utilize auto-transfer for things like savings, taxes, and a Christmas/birthday fund.
To make my life easier I use YNAB for keeping the budget in check, but if your not ready to spend money on a budgeting software and would like to do it the old fashion way I've created a free budgeting printable at the bottom.
Every few days I check our bank account and input transactions into YNAB. This makes it less overwhelming for me than to do it say weekly. Also, it helps us determine how much money we have left for the rest of the month.
Our Real Life Budget
Tithing: $600- changes based on the month.
Mortgage: $718
Verizon Phone: $85
Internet: $54
Electricity/Gas: $150
Water: $60
Office rent: $300
Republic Wireless Phone: $13 (Seriously friends you should check out Republic Wireless for really cheap and awesome smart phone service)
Groceries: $500
Fuel: $240
Spending money: $100 (we each get $50 of personal spending money)
Restaurants: $25
Medical: $150 (this is just in case we have to go to a doctor's appointment)
Dogs: $50
Childcare: $7
Baby: $50 (for rare use of diapers, other random things)
Supplemental and life insurance: $113 (my husband sells supplemental so technically he gets paid on some of the insurance we have)
Home Maintenance: $100
Misc: $150
Car expenses: $50
Savings:
Taxes: $500 auto transferred plus whatever my blog makes
Christmas/birthday fund: $75 auto-transfer
Savings: $100 auto-transfer
Monthly-Budget-1

This post contains affiliate links. Affiliate links help support A Blossoming Life at no extra cost to you.
You may also like: