DIY Old Sewing Machine Redo to Nightstand!
Confession… I have had an old sewing machine for about a year sitting in my garage just waiting for love and attention. I wasn't sure exactly what I was going to do with it, I just knew it had to be really inexpensive! It all started when the hubs and I went with my parents to an open house and I saw this beautiful, old sewing machine base spray painted white with a glass top. I instantly fell in love and told my mom I wanted one (of course she thought I was nutty)! Fast forward a few months and my mom went over to my aunt's house and low and behold she was throwing out an old sewing machine that had a rotten wood top! My mom (being the amazing mom that she is) snatched it up. When we finally got to bring it home it sat in my garage looking like this….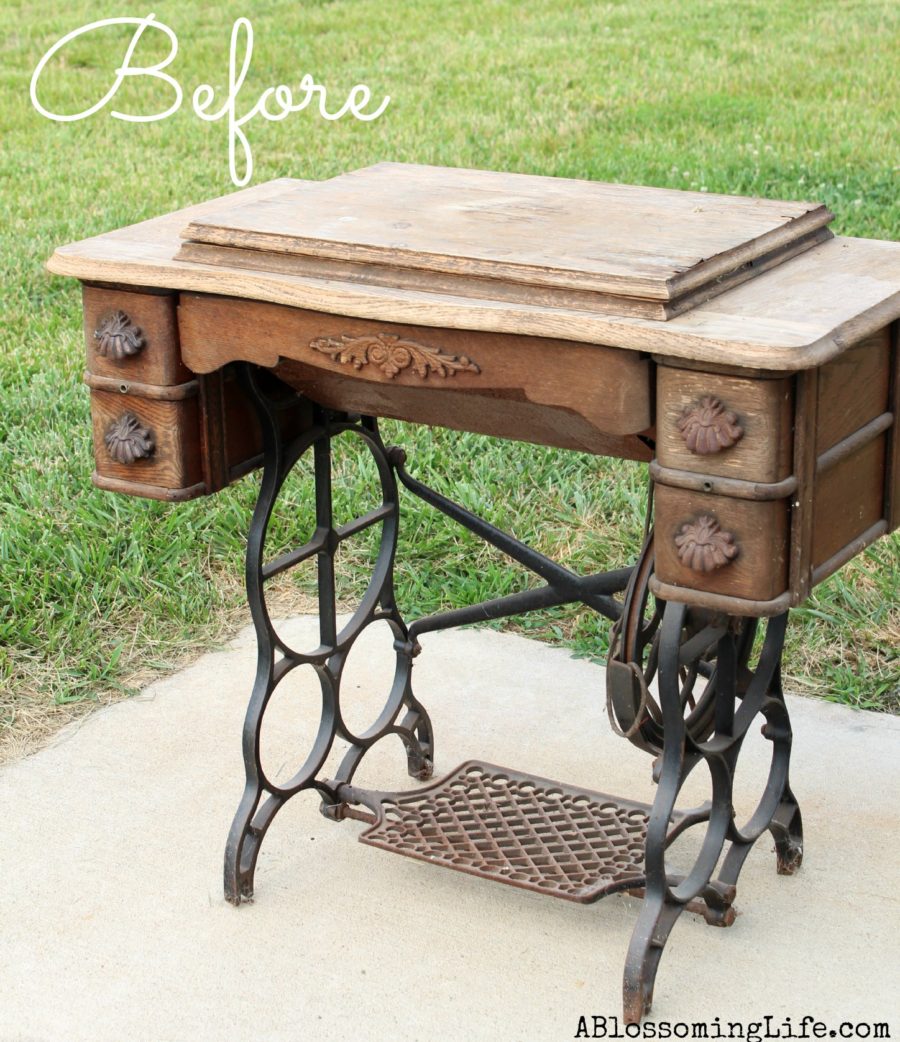 Sad and lonely. I didn't know what to do with it! Until I got an idea that I wanted to make this a completely free project! I looked around my house and saw some wood the last tenants left and thought it would make a great top! With extreme excitement the project was on again… one year later! Ahem.
The first thing we did was take off the wood top… Which was gross and filled with bugs and cobwebs! We unscrewed everything we could, ripped off the metal sheeting in the back, and lifted the wood top off. Then I sprayed the iron base down with water and wiped off all the dust/grossness!
Then we got stuck and asked for help from our really awesome friend who can fix/make pretty much anything! He guided us, helped us cut things, and gave us instruction how to do this project correctly. We cut the boards to the width we wanted for the top and then cut 2 1×2 boards to 1 inch shorter then the top. I marked on the 1×2's where the holes were on the top of the sewing machine base, drilled holes, and then counterbore (hopefully that is the right term… not an expert craftsmen here) the holes. This was done so we could bolt the 1x2s to the sewing machine base and the bolt head would lay flush with the 1×2. Pictured below!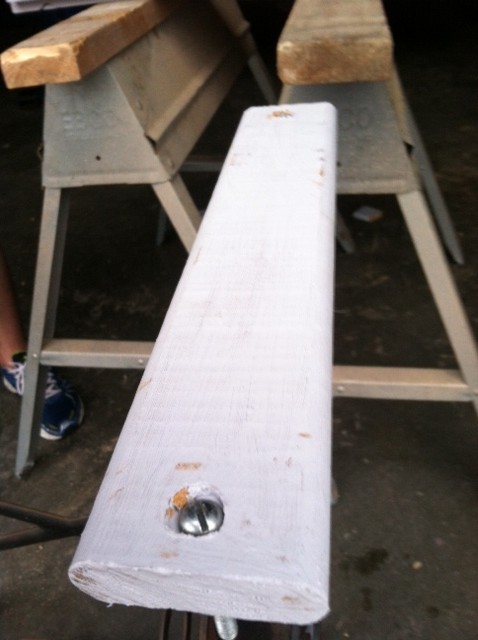 Then we screwed the wood top on using small finishing screws and I painted the top using paint I already had around the house. Colors used included: gray, blue, black, brown, and gold. I mixed the colors until I got the color blue/gray I wanted, then painted two coats of it on, and let it dry. Then I watered down brown acrylic paint and "stained" the wood wiping off the extra. I sanded it and then did the same thing using gold paint. To seal it I used a spray clear coat sealer and sprayed the entire thing, base and all! Phew! I swear it wasn't that hard…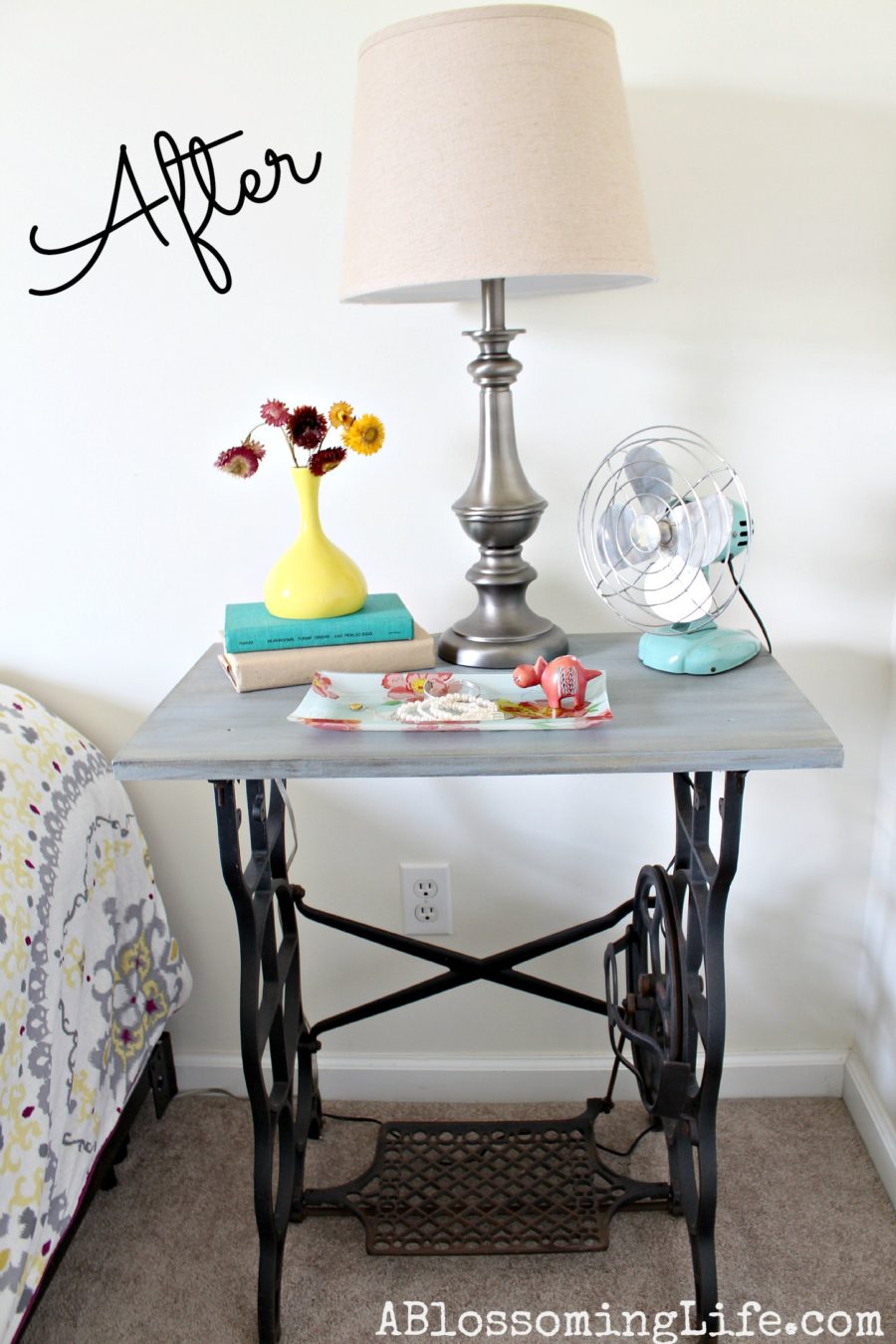 This project ended up costing us nothing, including decorating it! Woop! I decorated the nightstand with a small tray from Kohl's that I had on hand, a vase my aunt gave me, old books Jordan gave me, a free vintage fan (that's a different post), and a cute hippo from Africa that was a gift!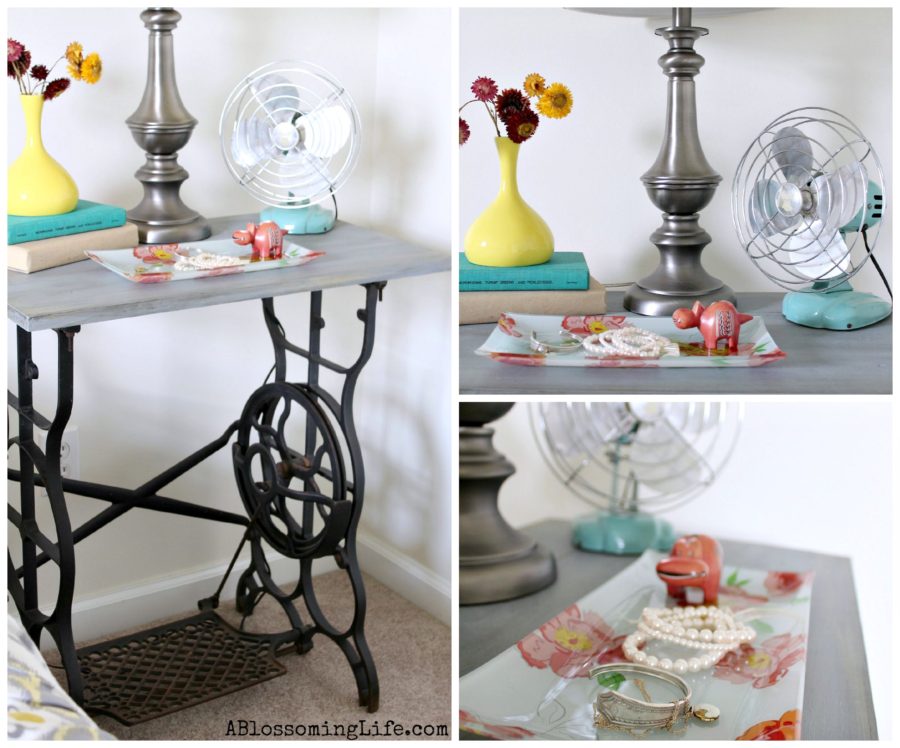 I love love love the way it turned out! The fun part about this project was that it is one of the first projects I have done with my hubs. Home decor and furniture are not his thing… But in an effort to take more interest in each others likes he helped me complete it! It was fun because we "had" to break and smash things haha! Who doesn't love that?
I party here…