DIY Ombre Halloween Spider Wreath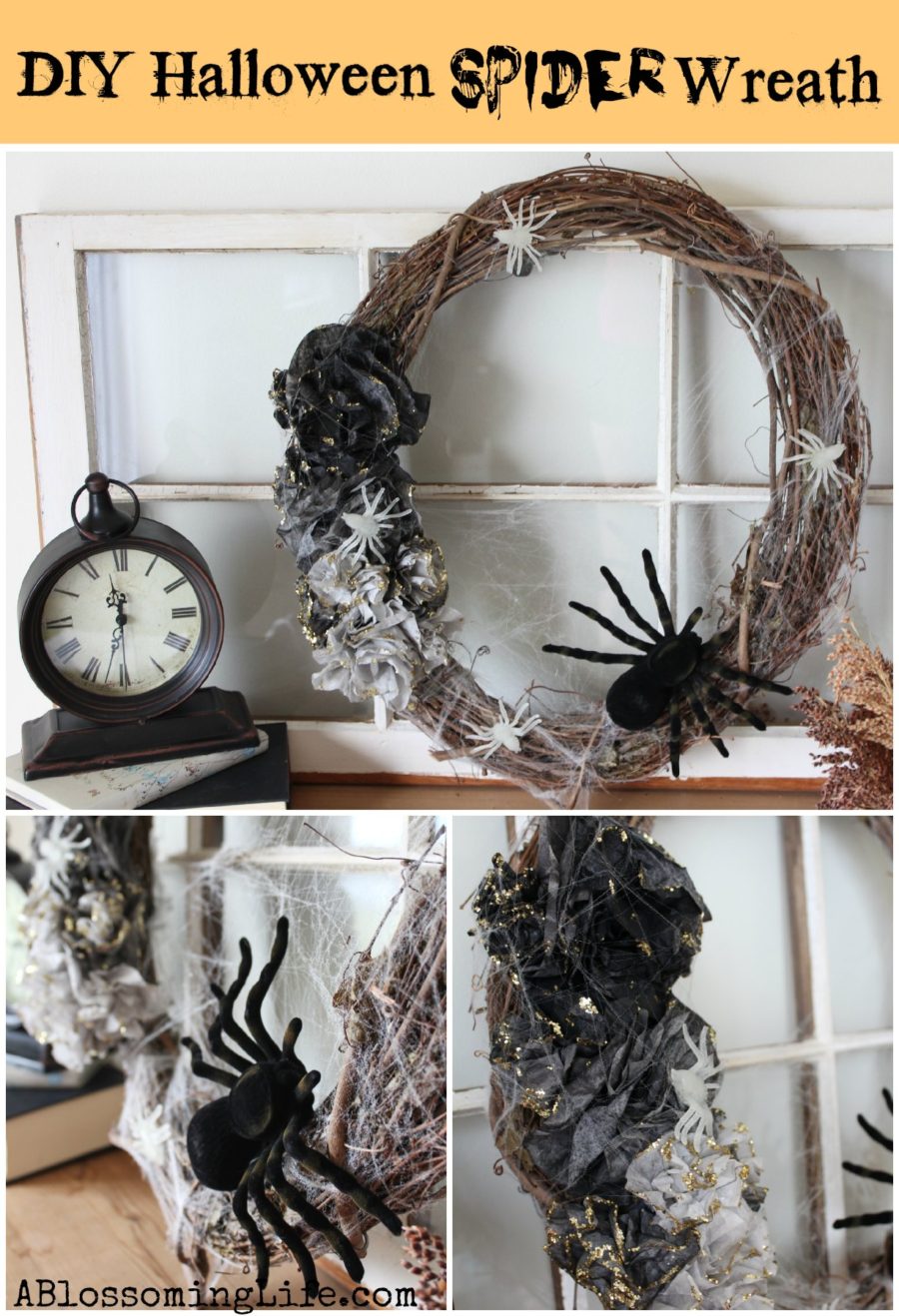 I am going to be honest… I have never really liked Halloween. As a kid I didn't like dressing up and going trick or treating because I didn't really like candy. If you got ice cream trick or treating you better believe I would have been at every house in the neighborhood twice! Ha! This year I am starting to get excited for it. I think it's because my hubs loves Halloween (it's his birthday) and decided I should get into the spirit more.
I am super excited to share this wreath with you! This was my first attempt ever to make a wreath and it was pretty easy! Oh and it was only about $5, aka super cheap! I purchased the twig wreath at Hobby Lobby half off for $2.50! A lot of the other materials I already had on hand or I purchased at the dollar store.
DIY Ombre Halloween Spider Wreath
Materials:
Twig wreath
About 25-30 Coffee filters or use faux flowers
Black acrylic craft paint to dye the coffee filters
Glitter
Modge Podge or glue
Hot glue
Spider webbing for outdoor decor
Spider: dollar store
Small glow in the dark spiders: Dollar store!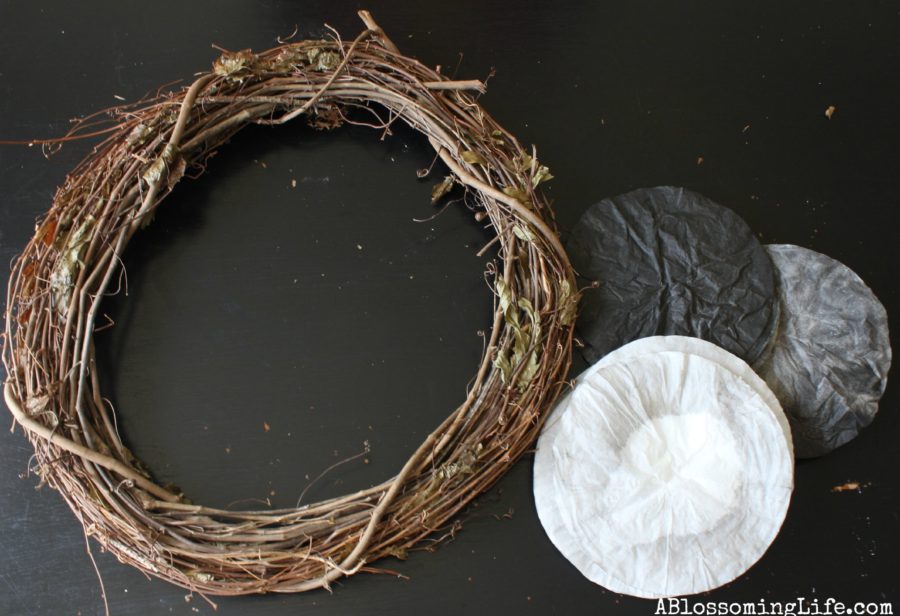 Step 1: This step sounds a lot more complicated then it actually is. Create coffe filter flowers by watering down black acrylic paint and dipping a bunch of coffee filters in the paint. For darker colors use less water and lighter colors more water. Allow to air dry or pop in a 250 degree oven for about 20 minutes. After they are dry, create the actual flowers by laying one coffee filter down, fold in half, and then half again to form kind of a cone. Undo the cone, pull up and twist the coffee filter at the center point, creating a stem, and the actual flower forms on the top. Open the flower up a little, add a dollop of hot glue in the middle, and press the stem back together so it sticks (be careful not to burn yourself). Cut the stem off a little bit if needed. I usually do two of these flowers, hold them together, and add a little hot glue. Then place them in the middle of another coffee filter, pulling the edges around the two already made flowers, and scrunch/twist the middle of the coffee filter you just added. Take out the center flowers, add a bit of hot glue in the middle of the new coffee filter, and place the flower back in the middle and press to get the flowers to stick together. Add glitter using a paint brush and some Modge Podge. Create at least 4 big flowers and few smaller ones.
If I just confused the heck out of you watch this tutorial. They create a little different style flower but it will still work great. Or just use fake flowers and skip this whole step!
Step 2: Hot glue the flowers onto the wreath.
Step 3: Add spider webbing by cutting a small portion off, stretching the webbing out, and attaching it to the wreath. I attached it by catching the webbing on the twigs.
Step 4: Attach spiders with hot glue and then hang!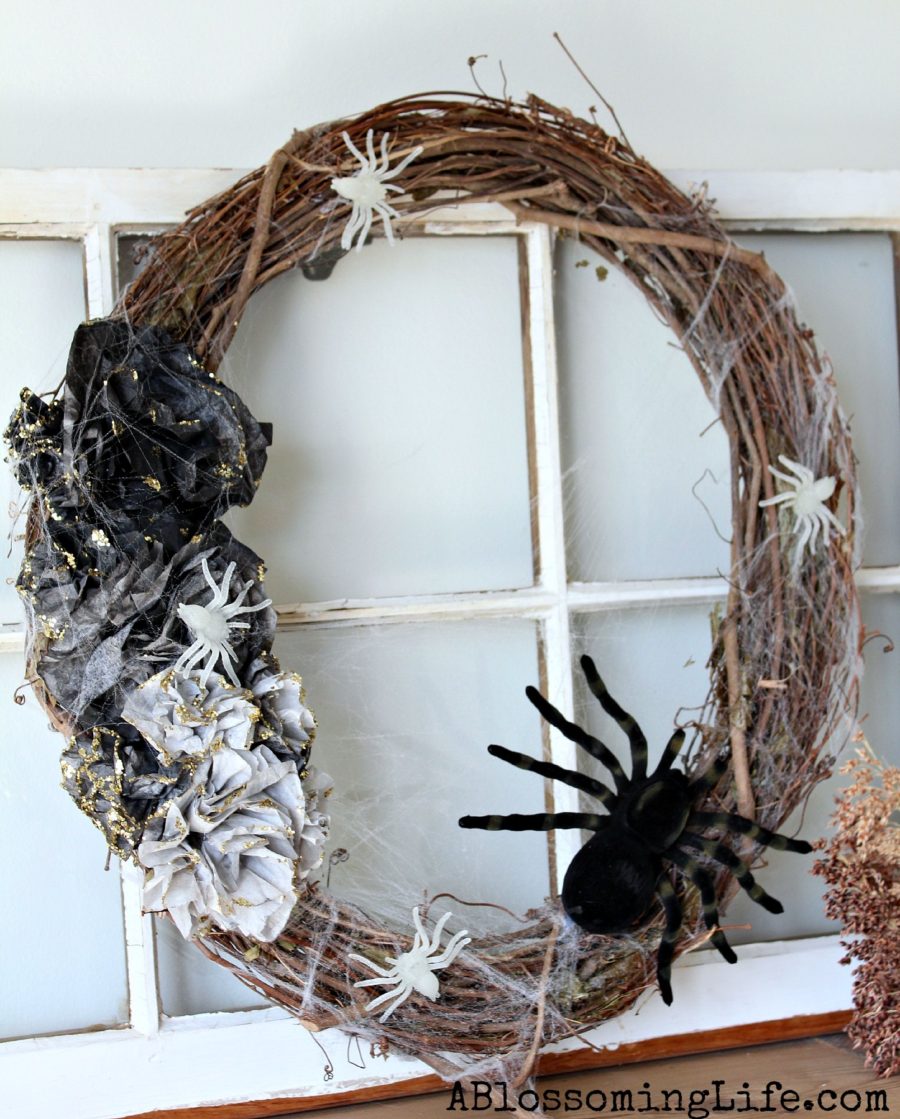 I love the way it turned out and that the little spiders glow in the dark at night! I also love that the hubs loves it!
What is your favorite thing about Halloween?
I party here…