Easy Twisted Updo for Long or Short Hair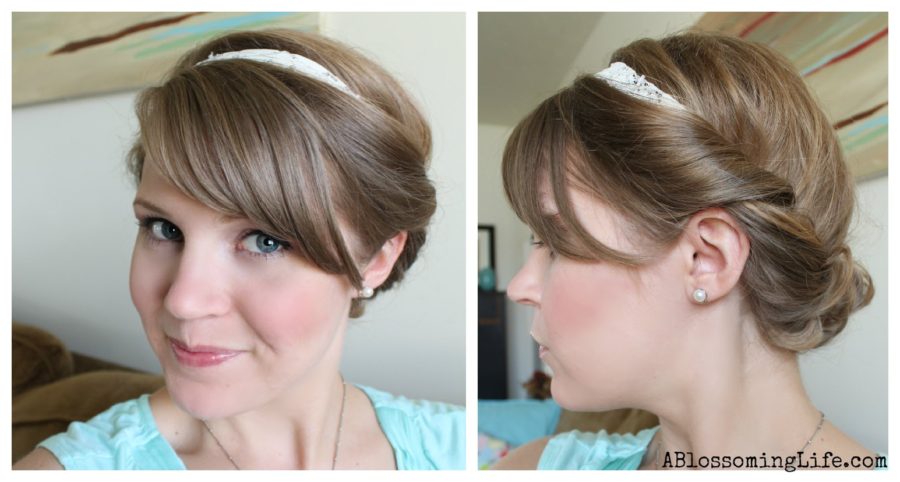 I love doing hair, especially when it was long. It might be because growing up my mom was a hairstylist and then in high school and part of college I worked at a fancy hair salon/day spa as a receptionist. Recently, I chopped about 10 inches off and after the excitement of the new hair cut I was a little bummed because I couldn't do half the stuff I used too (insert sad face). Then I realized that I still could do a lot I just had to be a bit more creative.
The hairstyle I'm sharing today is super easy, no heat required (except to straighten bangs if you have them), and works with long and medium-short hair. By the way, this tutorial comes to you because a reader simply asked for a tutorial on how I did my hair on a fashion post! So cool! Do you have something you would like me to do? Just leave a comment or shoot me an email!


Materials: Bobby pins, hairspray, ribbon or cut fabric, and a comb.
Step 1: Tease your hair all over and lightly mist with hairspray. Take a ribbon or cut fabric and tie is around your head and over your hair (think modern hippie).
Step 2 and 3: Take a piece of your hair and pull it over and under the ribbon. Grab more hair, add it to the other piece already pulled through, and pull through again. Repeat on other side. I usually do 2 pull throughs on each side.
Step 4: What your hair looks like from the back after your pulled the front hair into the ribbon.
Step 5: Start grabbing pieces of hair and pull it over and through the ribbon in the back, creating loops that are tucked in to the ribbon, and pinning it with bobby pins as your go.
Step 6 and 7: Once you have pulled all of your hair through, make sure it is secure with bobby pins, spray with hairspray, and rock your awesome updo!
Thank you to my poor husband who I made take pictures of me! He was so patient and kind even when I was being crazy and anal. Haha! "Can you just take this picture like 200 more times at every angle you can possibly think of?" Poor blogger husbands!
This hairdo is perfect when you're having a bad hair day and only have 5 minutes before you have to leave! Just throw it up and it looks like you spent hours! Yay!
I party here…