How We Accidentally Became "Crunchy"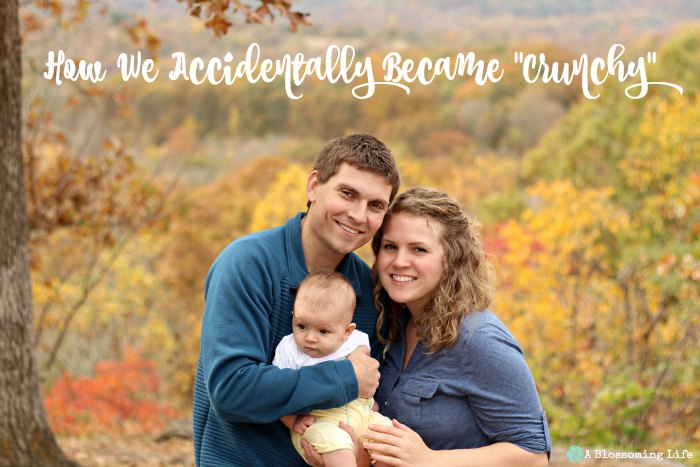 Oh the term "Crunchy." It says so much and yet maybe nothing at all. Being "crunchy" means trying to live a natural life. Which means a lot of different things to different people. We really became crunchy all on accident. It wasn't something we went out determined to do, it just stumbled upon us. Little by little things in life started to change and our crunchiness became more… ugh… crunchy.
So here is our crunchy story. Here is how we started living a natural life and when my family and friends started to think we went nuts. It really should be considered an illness that is contagious. My mom told me the other day "you would be so proud of me… I'm eating organic salad." I am proud mom!
We both grew up in the suburbs of Chicago. Just normal kids in the 90's eating Dunkaroos (anyone else remember these?). But this whole natural living thing started when we were just married. This was the first time I was on my own my parents weren't paying for my things and I had a major fear of going broke. I did't know how to budget, all I knew was I was a broke college student getting my masters in nutrition and my hubby had an all commission job that was very flexible month to month. So I started researching all the ways I could to possibly save money (which is actually how this blog came about) and learned how to make things myself. I made laundry detergent, cleaning supplies, my own makeup, you get the picture.
Then the crunchy illness got worse. About two years in, I graduated and got a wonderful job. A house then chose us (more of that story here), and it came with chickens. Y'all chickens are the gateway drug to homesteading! The house basically was a mini homestead and we were thrown in. We've gotten our hands dirty and have enjoyed it all. Gathering eggs, chicken poop, organic gardening, more chicken poop, all of it! Except my inability to keep trees alive.
The more we did, the more we researched, the more we were surrounded by like minded people, our lives changed. Research can be a wonderful and dangerous thing. It opened our eyes to so many things. I'm a Registered Dietitian (RD) by day so health is in my blood. Since starting on this crazy journey, both my hubby's and my health has changed dramatically. Our diet did a 360. We went from a mostly a grain filled conventional diet to a fat filled, gluten free, grass fed, organic diet. His ulcerative colitis is healed or is in remission (he hasn't had symptoms in 2 years). My ADD has improved dramatically, and my acne filled face is clear. We feel great, minus being tired from waking up a million times at night to a hungry baby. We use natural products 99% of the time, we try our best to make choices that are good for our family, our health, and the environment. Our we perfect? Heck no, but the point is we try. We no longer live our lives just doing things because everyone else says we should. We go against mainstream and you know what? I'm ok with it. No matter who thinks I'm nutty. Maybe I am, or maybe they are? Insightful thoughts huh?
The crunchy illness may seem crazy to others, but it is a way of life now for us. It doesn't matter how "crunchy" someone is. There are no "crunchy" wars, my friends. I know my family probably thinks we fell off the wagon, but that is ok. I mean what girl from the suburbs of Chicago moves to southern Illinois and starts raising chickens? I can feel good about the way we raise our children and leave this planet.
How did you accidentally become crunchy? Or did you grow up that way?