I'm Officially A Full Time Stay At Home Mom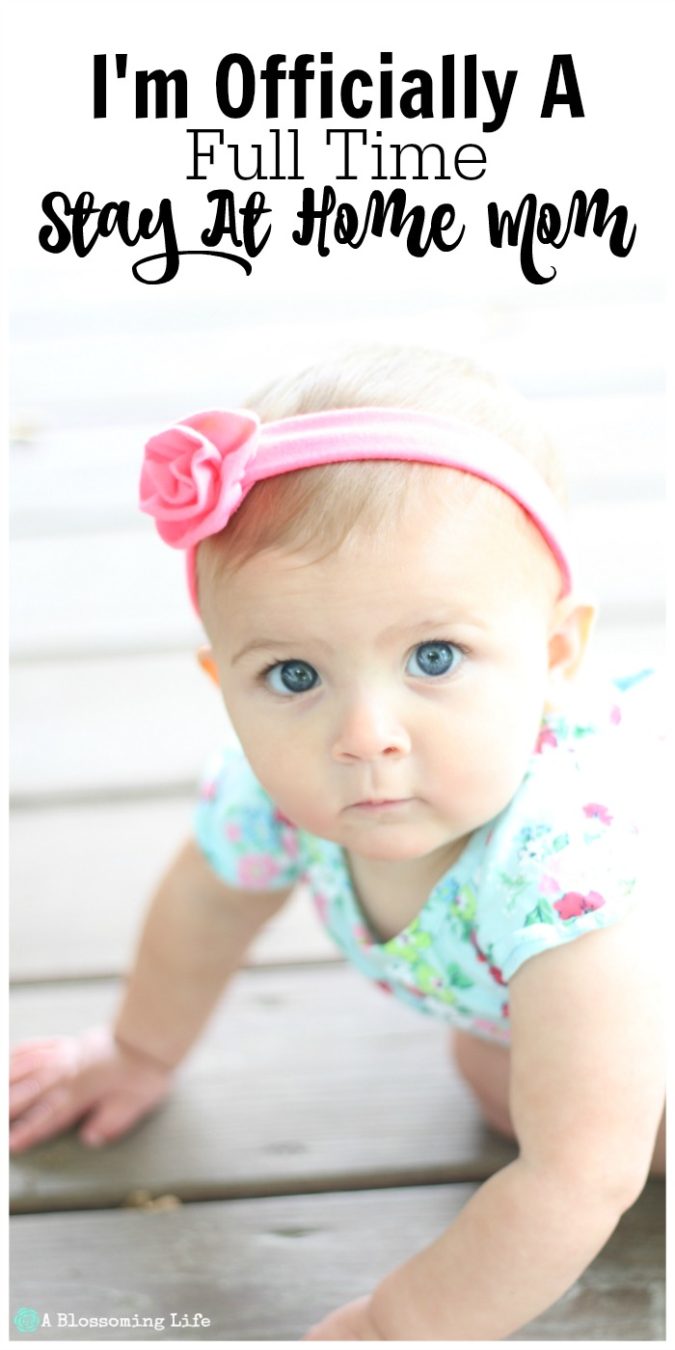 Yes it's official! I'm a full time stay at home mom! I say full time because over the last 7 months I have been working 3 days a week. But today was the first Monday that I didn't have to wake up and whisk my baby off to one of our three babysitters. Yes, you read that right… three. Life has been super stressful the last few months of working. My main babysitter could no longer watch baby girl anymore and I was shuffling her to a different house every day I worked. Once a week she was 45 minutes away from me. Talk about stressful! But this is no longer because I officially had my last day of work this last Thursday! But today it feels real. Like it is actually happening. Never did I think this day would actually come.
Originally, our plan was for me to work until I got pregnant with a second baby. Which we are not planning anytime soon. But after returning to work when August was 10 weeks old, I knew that working was something temporary. The longer I worked, the harder it got to be away for so long. We started feeling nudges that were pointing to me staying at home (you know with the lack of state budget in Illinois, I was going to probably lose my job anyway). This was one of the hardest decisions we had to make. I wish I could say we were like "Yes God whatever you want. We will follow your lead no matter what." Although we thought that in our mind. In my heart I was terrified. My hubby on the other hand is the cool and collective guy. He is always says everything will be fine and it will work out. Geesh. Not me.
Here is the thing, my husband works a commission based job that changes every month. We never know how much he is going to make and our expenses are really high since he is self employed. But with lots of finagling and doing some crazy things like lowering my phone bill to $12 a month and doing these 90+ Ways to Save Money I have been able to decrease our spending close to $2000! Yep you read that right. Our monthly bills were crazy even though we are naturally frugal people. So we skimped and scrapped. Not having to pay childcare also helped. Plus, with the side income from this blog I was able to stay at home (you can learn how to start a blog here). Ultimately it was God who did it and lead us, but we can do our parts too.
So here I am, a full time stay at home mom, wife, and blogger. Things will definitely be different, but different in a good and sometimes hard way. I feel so blessed to be able to stay at home with my baby girl. I would love to help any other moms out there hoping to stay at home also.
How has your experience been staying at home?
This post contains affiliate links. Affiliate links help support A Blossoming Life at no extra cost to you.