July Income Report and A Big Surprise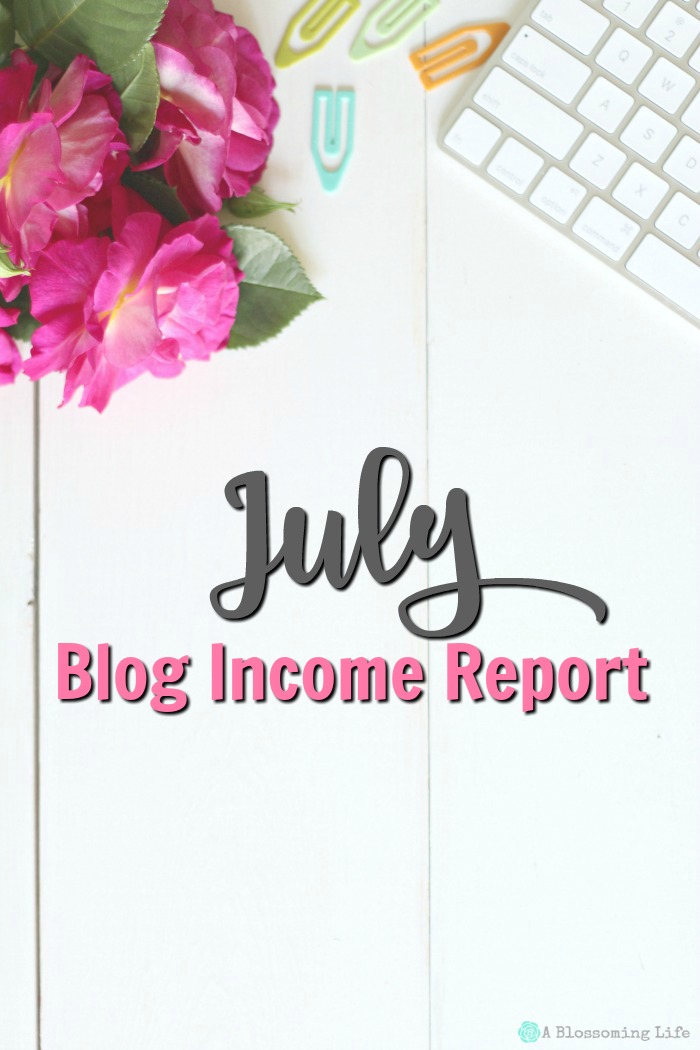 Hey, guys. Thanks for stopping by for another round of our income reports. So, why the heck would I discuss how much money we're making on this blog? In order to share with you what we have learned, and what we will be doing in the future to increase revenue. I hope this gives you an idea of what a real blogger makes and inspires you to start a blog yourself! I love blogging. I get to be creative and get paid for it! Yes, please.
Income: $551.31
The Blogger Network now Monumetric: $408.05
Google Adsense: $0
Content.ad: $99.21
Amazon: $44.05
Sponsored content: $0 – I've done a few sponsored posts in the past, but this will be something I will be working on in the future.
Expenses: $11.99
Bluehost: ~$11.99 I've used Bluehost for years. Their customer service is awesome.
Total Income after Expenses: $539.32
Down from $618.14 last month -$78.82
Takeaways this Month
Blog traffic continues to slow, which is a big bummer. But, we have a lot of great new content coming to the blog, so I'm hoping to see this pick up. Summer is usually pretty slow when it comes to blogging, but it's just getting crazy around here. Not in a good way. I did take a few weeks off in June, which I believe had a direct impact on July income. We don't get paid for June until July from most places. Some places pay every 3 months. So you may notice a jump in income about every 3 months.
The Big Surprise!!!!
My friend, Libby, (she used to help me out way back in the day) is coming back on board to help with the blog! I'm so happy to have her. She is an amazing cook and sweet treat maker, so you will be seeing lots of new recipes here. Which is great for all of us. She makes tasty food, and I get to eat it! Plus, she will be helping with a little social media. I'm really pumped to have her. Can you tell? And, I know you will love her, because I love her.
You might be thinking that I don't really make enough money to be hiring out an assistant. This is kind of true. But I'm not really hiring her as an assistant, but rather a partner…in crime…just kidding. I was feeling overwhelmed, and I have a lot of dreams for this blog, so having Libby come on board is a good fit. She will keep me focused, less stressed, and inspired. As Libby said… "I'm like a workout partner… without the "out" part." Exactly.
SumoMe. We started using SumoMe a few months ago as a pop-up email subscribing box, and we've seen pretty good success. I went from maybe 20 new subscribers each month to over 100 new subscribers a month. I would say that's pretty good. I will keep working on this and tweaking this to see what helps. Also, a good way to encourage new subscribers is a freebie. This is also something we will working on.
Blogging goals for next month:
Post more often: Things are really starting to pick up, and with Libby creating great content, I'm feeling very optimistic.
Increase sponsored content: I'm working on this still. I haven't had a lot of time to reach out to sponsors.
Increase traffic: Let's not talk about it. JK, lets talk about it. Hopefully with summer coming to an end our stats will start to pick up. I think the increase in posting and social media, plus new growth to our email list, will help in that respect.
Work on email list: See above with SumoMe.
Possibly switch servers: Mine seems to be pretty slow these days, which can contribute to the lower page views. If it takes forever to load our blog, than people will click off. No bueno.
Continue working on writing an e-book: I will continue to try to find some time to work on my e-book.
New Posts This Month:
This post contains affiliate links that help support A Blossoming Life at no extra cost to you.
Other Income Reports…