Last Minute Homemade Christmas Gifts
To me I would rather have someone make me something special from their heart that buy me something expensive. This is exactly what my husband did! I have been telling him I wanted a bench next to our mud room to put shoes on and for extra storage since we moved into our place. We don't have any extra money to buy it and have you ever looked for benches? A nice quality one is pretty darn expensive. So Neil made me one! I was completely surprised. For one thing he is not very handy. One of our good friends (more like second family) helped him build this! I'm so proud and this gives me reason to start asking him to learn to build more things :). Wouldn't this be really cute in a kids bedroom to put toys in? I love it if you can't tell!
photo credit
Okay some more homemade Christmas presents. These are quick and easy and great for that last minute gift. At the Christmas Gift Making Party my friend Jordan made this great gift and says it is her husbands absolute favorite and he is a hot chocolate connoisseur. She got the recipe from a friend.
Homemade Hot Chocolate Mix
30 oz. Chocolate Milk Mix.
21 1/3 cups Powdered Milk. (1 box of the Aldi brand)
3 cups Powdered Coffee Creamer
3 cups Powdered Sugar.
Mix them in a big tub and place in small jars. All the ingredients are available at Aldi for pretty inexpensive.
Here's Another recipe I made for some gifts. It is from Michelle's Little Piece of Heaven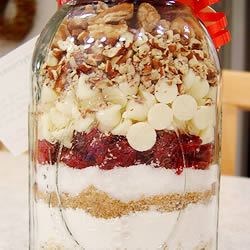 Here's the recipe she gives
Cranberry White Chocolate Cookies
Ingredient
5/8 cup all-purpose flour
1/2 cup rolled oats
1/2 cup all-purpose flour
1/2 teaspoon baking soda
1/2 teaspoon salt
1/3 cup packed brown sugar
1/3 cup white sugar
1/2 cup dried cranberries
1/2 cup white chocolate chips
1/2 cup chopped pecans
Directions
Layer the ingredients in a 1 quart or 1 liter jar, in the order listed.
Attach a tag with the following instructions: Cranberry White chocolate cookies 1. Preheat oven to 350 degrees F (175 degrees C). Grease a cookie sheet or line with parchment paper. 2. In a medium bowl, beat together 1/2 cup softened butter, 1 egg and 1 teaspoon of vanilla until fluffy. Add the entire jar of ingredients, and mix together by hand until well blended. Drop by heaping spoonfuls onto the prepared baking sheets. 3. Bake for 8 to 10 minutes, or until edges start to brown. Cool on baking sheets, or remove to cool on wire racks.
This was party of the Homestead Barn Hop