Learn how to do a no spend challenge. Whether it be for a week, a month or a year.. spend less and save more or help pay off debt.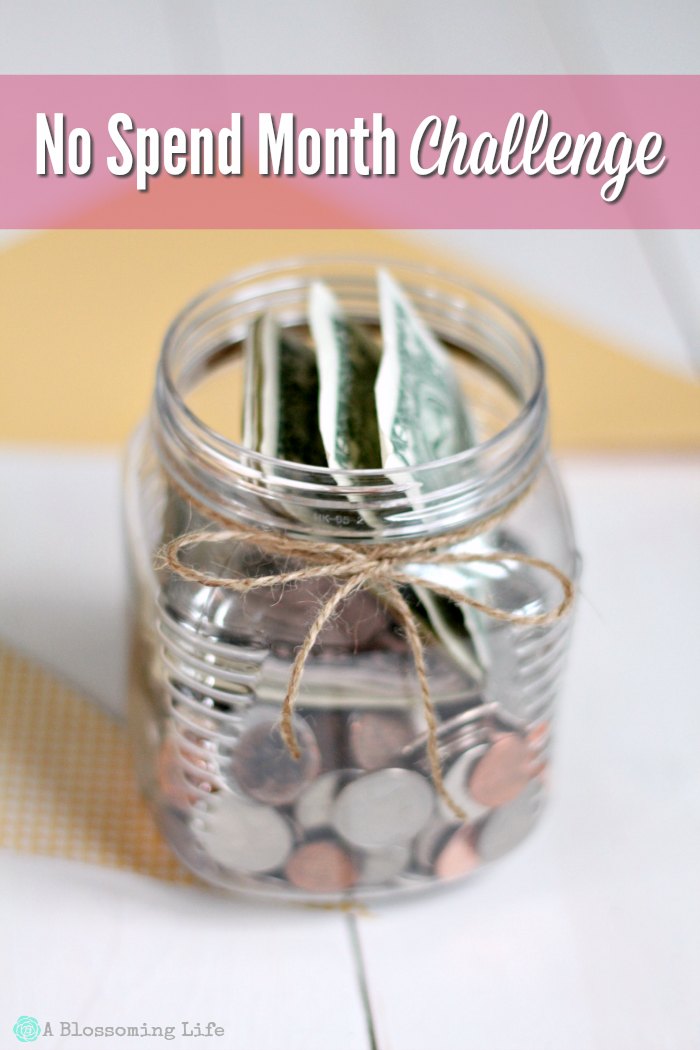 Oh hey there friends! I like to keep it real here at A Blossoming Life. I love to talk about ways to save money (have you seen my latest post on 90 Ways To Save Money) to keep you and your budget in check.
Well last month was CRAZY when it came to spending!
Since the hubby and I are self employed we had to pay taxes, and lots of them. Ugh. Those things.
We thought we did well planning and paying quarterly until we owed double of what I thought we had to. Knife through the chest.
Luckily, we had been saving so we are all good. But I'm sick of bleeding money.
We also went out of town and hubby has been super busy with work so we've been slacking and spending more on convenience items than I would like.
We rarely ever eat out and it seems like last month we did it a bunch. So I devised a plan to do a no spend month and hubby kind of agreed with stipulations. You will see what I mean.
The point to a no spend month is learn what we really need vs. want, to save money, and to enjoy life without spending a bunch of money. So you in?
This post may contain affiliate links. Affiliate links help support this blog at no extra cost to you.
What Is A No Spend Challenge?
A no spend challenge is when you set a goal for however long to not spend any money on non essentials. The period of time is up to you, it could be a week, a month, or maybe even a few months.
There are many different reasons to do this type of challenge. You want to save money fast (like for a down payment), to pay off debt fast, fund an 3-6 month emergency fund, or maybe a random emergency came up that you need to pay for.
A Few Things First:
Budget: It is a good idea to have a budget in place and know where you spend your money, your weaknesses and places you can cut. YNAB, Every Dollar, Mint are all great options for budgeting.
Communication: Make sure, if you are married or have a significant other you chat and get on the same page.
Plan: If you know you struggle with eating out… make a plan, meal plan, meal prep or just make a lot of leftovers so you are not tempted to eat out.
Timeline: Decide how long you want to do the challenge.
Our No Spend Challenge Month Rules…
These are the rules we will be following, but you can change or advise your own plan.
Only buy things that are a necessity. This means if it doesn't involve food (homemade food, not eating out of course), shelter, bills, gas, etc. then it's not a necessity. Obviously, we will have to pay our normal bills that may not be a necessity like out phone bill. (I used Republic Wireless which saves us hundreds of dollars).
No eating out.
Stick to the grocery budget no going over.
Eat out of our pantry, freezer, and fridge first. This will also help cut the grocery budget.
No extra treats (we usually buy 1-2 treats at the grocery store. This could be GF cookies or DF ice cream)
I will take no spending money. Hubby will get $20 emergency money (this was his stipulation). I tried to talk him out of it saying that was against the whole not spending thing, but he insisted.
No extra trips to the grocery store if we forget something. We will just do without.
I will turn off the cell data to my

Republic Wireless phone

– this will cut my bill back to about $12 with tax.
Eat out of the pantry as much as possible.
No baby food for the baby- we do baby led weaning-ish most of the time anyway.
Try to go the whole month without buying diapers. We cloth diaper during the day and use disposables at night and at church. We have approximately 30 diapers left so cross your fingers we make it through the month.
We will have to buy a wedding gift so that will be our one splurge.
Things to cut:
No purchasing:
Clothing, makeup, body products.
Crafts
Entertainment- movies, Redbox, restaurants. We will only do free entertainment.
Starbucks or the alike
Alcohol- although we rarely ever buy this.
Toys- see how getting rid of most my kids toys saved my sanity.
Home decor or furniture.
Getting your nails done. Or whatever that thing is you do to splurge.
If it not a necessity to life then we will not do it.
Want to join me? Start your own no spend month to save money and see what you really need in life.
This post was updated January 2020.