Oh Yeah, I'm Pregnant With Baby 2, Due November 2017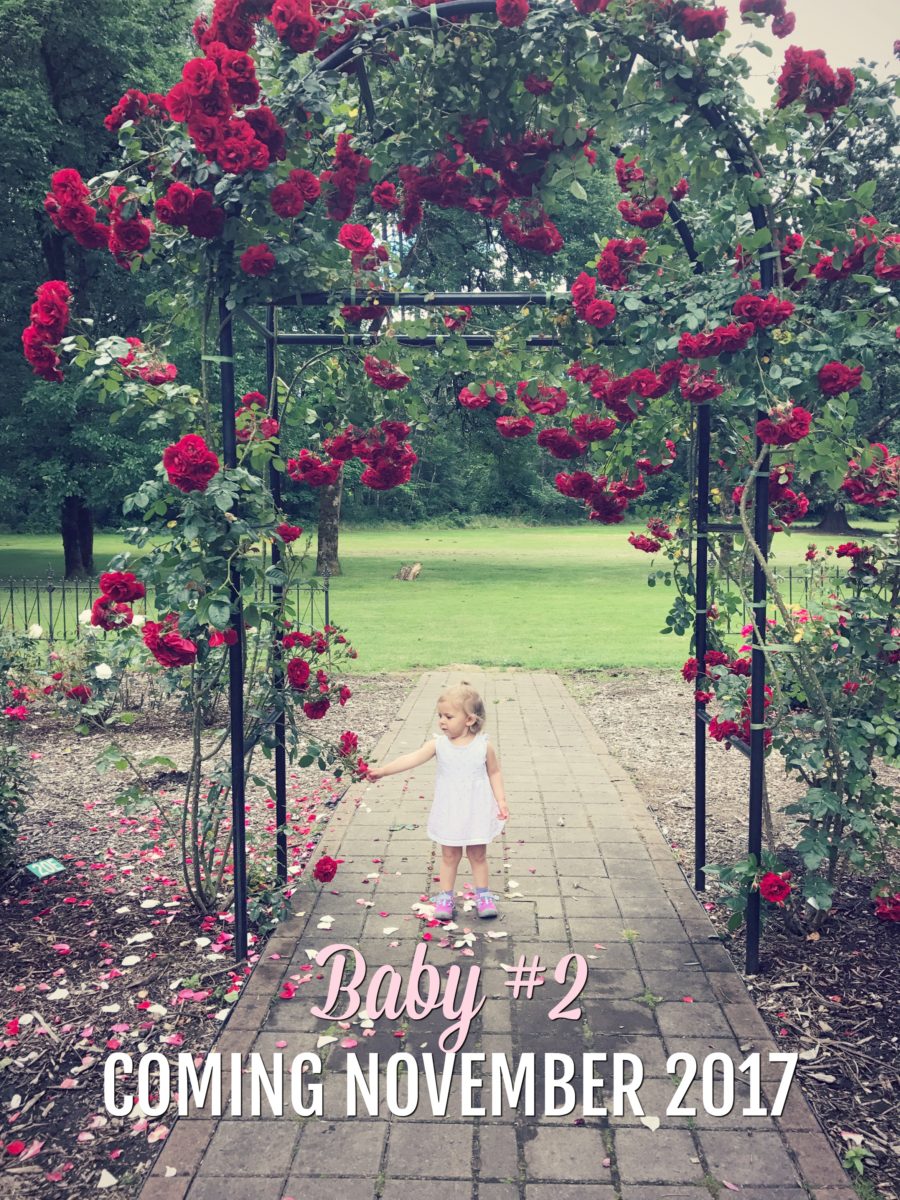 A little part of me wanted to title this, "And Then There Were 6", since we consider the dogs as part of our family. I figured that would really throw y'all off. Like what, are they pregnant with triplets? No, no. There is only one baby in there. Trust me, I made them triple check because I had this crazy feeling I was pregnant with twins. Like most of the time, I was wrong (except when I'm talking with my hubby… then I'm always right.. kidding). There is just one sweet baby in there, and our family is so excited to be growing. Well, except August. Every time we ask her if she wants a baby brother or sister she just yells "NOOOOOO!" One can hope that she will come around. Although yesterday she finally pointed to my belly and said "baby" for the first time. Ahhh melt my heart.
It's hard to believe that I'm almost 21 weeks along. We're due at the beginning of November, and honestly, this pregnancy has been pretty easy just like my first. And wow has it gone by so fast. I had very slight nausea in the first few weeks, but figured out that as long as I constantly ate, I felt fine. Plus, I'm still breastfeeding August, so I need to eat an extra 700-1000 calories a day. Challenge accepted. Best challenge ever given! Only other problem is I'm always exhausted. Being pregnant while chasing after a very busy toddler while not be able to drink lots of coffee = one very tired momma. Hence, why the blog has been slacking a bit lately. Please forgive me.
I know some women who really struggle with pregnancy, I have been very lucky. But some women have problems with things like morning sickness, fecal incontinence, and other things. Pregnancy can suck, but it so worth it in the end.
Food tastes so amazing during pregnancy. Anyone else feel that? No idea why, but certain things taste 100 times better than when you're not pregnant. Every week comes some new craving. There was pasta (hence this post), pizza, tacos, pozole, banana chips with sunflower seeds and chocolate chips (that lasted 2 days before it became a disgusting distant memory), lemon custard, salsa (lots of salsa), and fresh sourdough bread, just to name a few. My only cravings with August were pizza, burgers with lots of mustard, mustard on potato chips, and hot turkey sandwiches with lots of mustard. So, really, just mustard.
We will be having a gender reveal at August's 2nd birthday party to find out what we are having. It will be a surprise to us also as long as everything goes as planned. So, come back in a few short weeks to find out what we are having!
How was your second pregnancy different than your first? What was the biggest change going from one child to two?