How to Organize Baby Clothes
Learn simple strategies on how to organize baby clothes so it doesn't become overwhelming and baby's room will be more organized. Follow my favorite baby organizing tips below.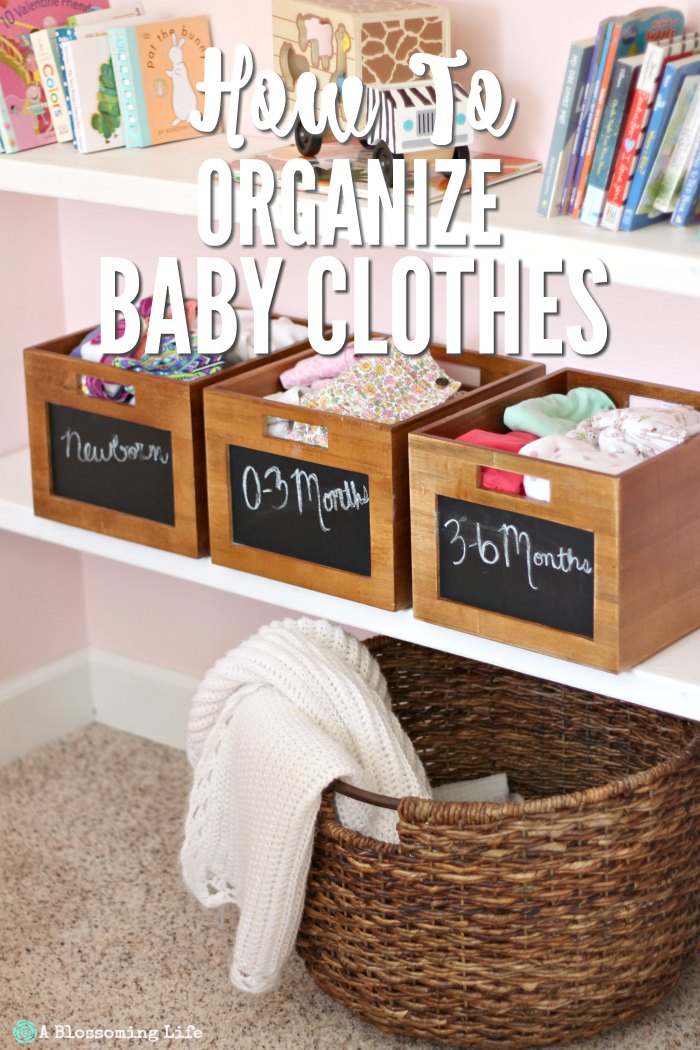 Organizing Baby Clothes Backstory
One of the greatest gifts I got when I was about to have baby girl was lots and lots of hand-me-downs. It was amazing! We didn't have to buy any clothes for the first year (except her Christmas dress, but that was a special item).
When you get so many clothes at once what the heck do you do with them? So I came up with this simple way to organize all the baby clothes we needed and after we are done they are still nice and tidy.
Not going to lie… I don't actually organize them in those super adorable bins from Target. Those were just for the picture.
Originally, I just used gift bags leftover from my baby shower that I labeled and stored in her closet. I'm frugal and resourceful friends. Later, they graduated into storage boxes (like these ones)
. But use you have what you have on hand.
Tips For Organizing Baby Clothes:
Only hold onto things you really love and you know you are going to use. I help on to way to many things because my child may wear them… they never did.
You don't need as many clothes as you think. If you have too many of a certain size return them for a gift card so you can purchase what you actually need in the future (certain clothes, diapers, etc).
Don't be afraid to donate or lend out clothes. Keep a few back that you may have an attachment to (but not too many).
I like to write my initials on the tags of some of the clothes I let friends borrow that I may want back for future babies.
Use clear storage bins to make the clothes easily visible.
The following are affiliate links. We are a participant in the Amazon Services LLC Associates Program, an affiliate advertising program designed to provide a means for us to earn fees by linking to Amazon.com and affiliated sites.
Products that you may find helpful to organize baby clothes:
I love using clear large plastic bins to make storage a breeze. Also a label maker (like this one) would be helpful, but totally optional.

Want more baby posts? Check these out!
How To Organize Baby Clothes – Step-By-Step
Separate the clothes by size. Look at each outfit/clothing item and see what size/months it is (i.e. 3-6 months, 6 months, NB, etc.). There is a catch though. Some clothes run small and some run large so you may put them in a different age range if you feel the size runs differently then what they are labeled.
Now place them in totes, bags, whatever organizational tool you have on hand or ones you purchase to keep them in order. Label the outside with the corresponding size clothes they are.
As your baby grows and starts growing out of clothes pull out the next box and place the larger clothes in the drawer.
Remove clothes that no longer fit. I usually do this weekly or by-weekly and place them in the corresponding size labeled bin or bag.
Continue doing that with your child until they are 18 and living on their own… Kind of kidding.
This way keeps them nice and organized. Easy for when you need them for the next child, for a garage sale, or to donate.
How To Organize Baby Clothes In A Dresser:
Decide how many dresser drawers you have available for baby clothes.
Then divide the clothes based on categories (onsies, pants, shirts, pajamas, socks, cloth diapers, etc.).
Fold and place into the specific dresser.
Use the step-by-step instruction on how to organize baby clothes for keeping them sorted by month and stored away properly.
Organizing Baby Clothes Bonus Tip:
Give each child their own laundry basket. That way when you do laundry you can easily grab their basket for their room and put their clothes away. This also works well for older kids to be able to put their own clothes away.
How do you organize your children's clothes?
This post was updated March 2019.