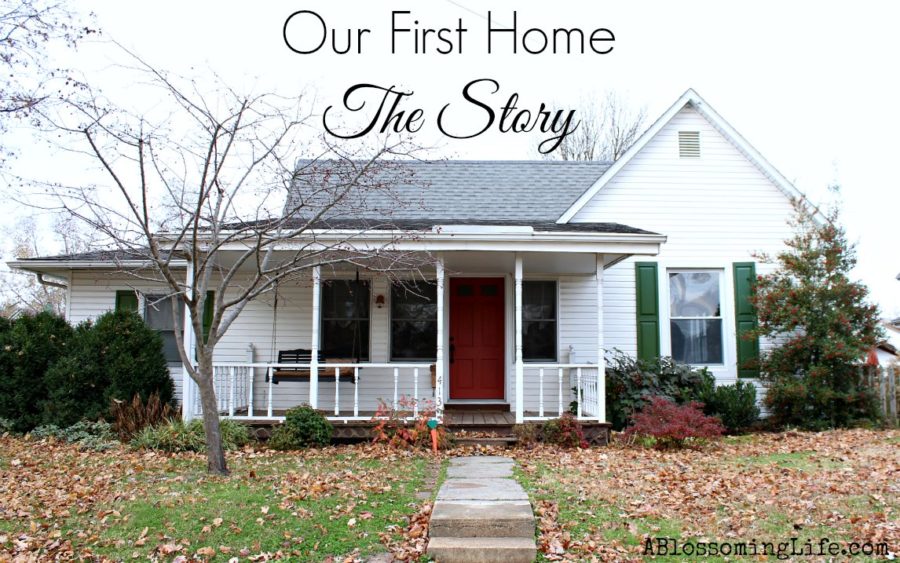 I'm so excited to share with you our first home! God is so good to us! He gave us a home that met almost all of our wants and allowed me to look past some of the quirks of the home (due to my crazy anal/perfectionism). He gave us an amazing place to share with our family and friends, a place to finally call home! I have dreamt about the day the hubs and I could finally own a home and it finally happened!!!
The story.
A few months back my friend messaged me about a house that was very inexpensive. And even though at the time I didn't have a job or the ability to get a loan, my other friend Jordan was excited just to drive by. We jumped in the car to go look at the house. The house was ok. Didn't blow my hair back. Jordan pointed across the street to a cute little house and told me a couple that goes to our church lives there. I instantly fell in love and responded "awww their house is so cute. I want to live in a house like that!"
Fast forward a few months. You there now? I was just offered the job at the health department I interned at and had to call my BFF Jordan to tell her the good news! On the phone I told her I was so excited because we could by a house now!! Yipee! That afternoon we couldn't go to the farmers market like we usually did on Wednesday afternoons, but Jordan went. The amazing women that ran the farmers market approached her and said that they have been praying about selling their house to someone interested in the same kind of lifestyle they have, the hubs and my name kept coming up, and if she thought we would be interested. Jordan explained how I had told her we could buy a house now 2 hours before!
Later that night they messaged us on Facebook explaining how they are packing up the whole family and moving to Switzerland. Yes, Switzerland. That they had been praying and kept feeling like we were maybe supposed to buy their house. We exchanged a million Facebook messages, looked at their house probably a half a dozen times, and with lots of thought and prayer we decided to buy their beautiful 1925 home! They had purchased the house about 9 years ago. The wife had pointed to the house and said she wanted a house like that one and the next day found out the little old lady who lived there wanted to sell it. Isn't God fun and wonderful? Of course, We'd have to sort legal procedures and use websites like deeds.com/quit-claim-deed/ but it would all be worth it.
This process has been amazing. The sellers told us what they wanted to sell the house for, we offered $5,000 lower than the asking price, and they countered $1,000 lower than our counter! Seriously!!! They sold it by owner with a help of their friend and we did a lot of the house buying process over Facebook or by going over to their house to hang out. The inspection was done and there was very few things that needed to be done (surprising, since it's 88 years old) and they were happy to do them.
Our Wants:
Around 1800 square feet.
3 bedrooms
2 bathrooms
Character
Hardwood floors
Lots of closet space
Nice yard
Large garden
Fruit trees
Hubs really wanted a screened in porch which I told him was unrealistic and he should give up that idea.
Our New Home Has…
1700 square feet
3 bedrooms
1.75 baths
Lots of character
Hardwood floors
Lots of closet space
Nice sized yard
Large garden
Fruit trees- Fig tree, 3 apple trees, a cherry tree, and a few blueberry bushes
A screened in porch.
Plus, God blessed us with some amazing neighbors from our church, including my blogging friend Katie! I'm so excited for all the new adventures in home ownership. I keep praying that this house is not just a home, but a place that we will share many laughs, hugs, and fun with family and friends. That it is going to provide comfortable place for people to stay and hopefully eventually some little petter patters of tiny feet (and not just paws). Be prepared friends for lots of DIY projects and some crazy stuff going on over here!
Did I mention this house is on the corner of Blossom St. Ironic eh?
Stay tuned for Part 2-The Tour where I will share the tour of our house before we put our touch on it!