My Simple Skincare Routine (Only 1 Ingredient)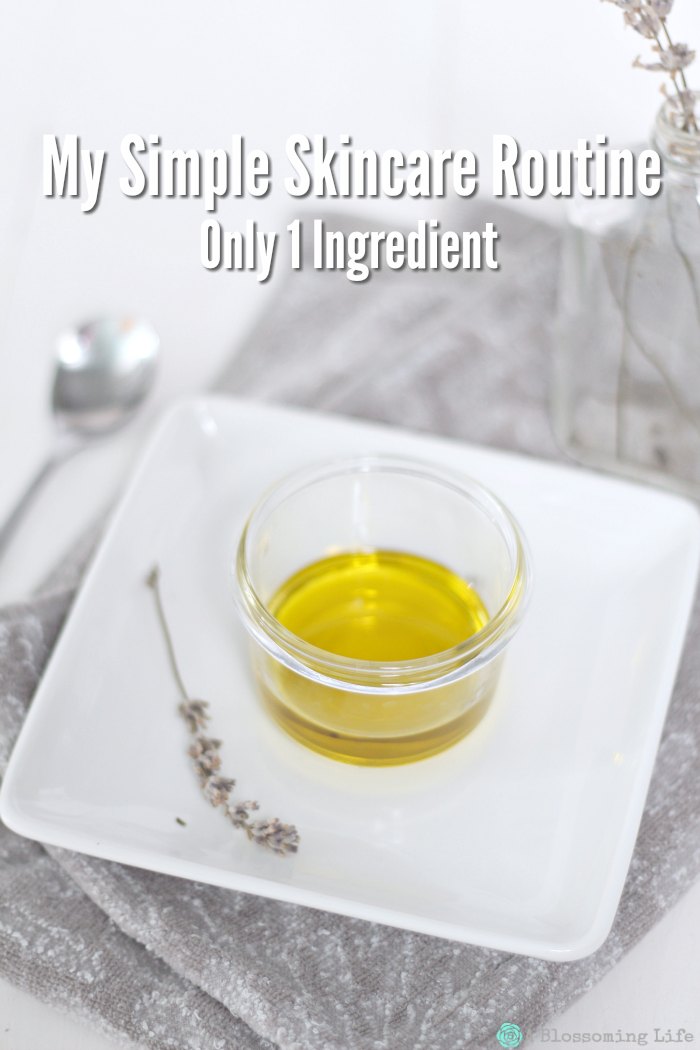 This post contains affiliate links. Affiliate links help support A Blossoming Life with no extra cost to you.
Y'all. This may be the simplest skincare routine ever! Those are big words. But it involves one ingredient, maybe two if you live on the wild side. I'm a mom to a baby and I work part time, so time is of the essence. If it's not easy I probably won't do it. Truth my friends.
You want to know huh? It's oil. Olive oil to be exact. I use olive oil to remove makeup, clean my face, and moisturize. You are probably thinking… "won't that clog my pores and make me break out more?" Oil actually helps dissolve oil, dirt, and impurities.
My skin story…
I've had horrible skin for most of my life. Always had breakouts and was embarrassed about it. That was until I did my first Whole30 and my skin totally cleared up. My mom even told me "I don't know what you're doing but you should never stop." My thing is gluten. I normally eat a gluten free diet, but sometimes I slip am tempted to eat delicious glutenous things and after a few days of eating foods with gluten I will break out again. Like I might be right now… Sigh.
There are many oils you can use. Olive, hazelnut, almond, avocado, and castor oil to name a few. You can also combine them to find the perfect balance for your skin. I purchase my oils through Amazon
or Mountain Rose Herb
Oils for Dry skin: olive, sweet almond, avocado, hazelnut, coconut.
Oils for Oily skin: jojoba, hazelnut, or sunflower.
Oils for Combonation skin: combination of hazelnut mixed with any nourishing oil like olive.
Essential Oils: You can also add a few drops of your favorite essential oils like frankincense or lavender.
Note: Your skin may go through an adjustment period where it is more prone to breakouts. But it will get better my friends. Tweak your recipes to find what works perfect for you.
My Simple Skincare Routine
It's kind of like the quick version of the oil cleansing method. You can also just do this in the shower.
Night Time Routine…
Step 1: Wet face with warm water.
Step 2: Rub olive oil all over face for about 30 seconds.
Step 3: Wet a wash cloth with very warm water and rub off oil, makeup, grime from the day.
Step 4: Rinse washcloth with warm water and wipe down face again.
Step 5: Reapply a few drops of the olive oil as a moisturizer.
Step 6: Ahhh all done. Feel refreshed.
Mourning Routine…
Step 1: Rinse my face with warm water.
Step 2: Apply a few drops of olive oil to my hands and rub it in.
That is all. Wasn't that the simplest routine ever? And my skin has never looked better in my life!
Want more skincare recipes? Check out these beauties!