Print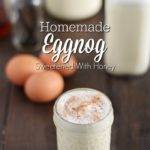 Eggnog
Creamy eggnog sweetened with honey
On the stove top, warm the 2 cups of half & half, 2 cups of milk, 1/4 cup of honey, and salt.

Separate the egg yolks from the egg whites, setting the whites aside.

Whisk together the yolks, and temper* them with the warm milk mixture.

Using a candy thermometer or a similar tool, monitor the temperature of the yolks and milk until 160 degrees F is reached. Once 160 is achieved, remove from heat and allow to cool.

Stir in 1 tsp. vanilla and 1/2 tsp. nutmeg.

Whip egg whites until stiff, then gently fold them into the cooled eggnog.

Serve warm, or refrigerate until cooled completely.

Serve in a beautiful glass, garnished with freshly-grated nutmeg.
*To temper the yolks, add a small amount of the milk mixture to the yolks, stirring the yolks constantly. The goal is to gently bring the temperature of the yolks to the temperature of the milk, avoiding cooking the egg into a solid.
Nutrition Facts
Eggnog
Amount Per Serving (1 g)
Calories 365
Calories from Fat 198
% Daily Value*
Fat 22g34%
Cholesterol 220mg73%
Sodium 165mg7%
Potassium 390mg11%
Carbohydrates 29g10%
Protein 13g26%
Vitamin A 865IU17%
Vitamin C 1.1mg1%
Calcium 290mg29%
Iron 0.9mg5%
* Percent Daily Values are based on a 2000 calorie diet.