Our 1970's Before House Tour
Come on in, grab yourself some coffee, and enjoy the before house tour of our 1970's ranch. Now, if you were really at my house, I would bust out some snacks. If it was a good day, I may even bake something for you. And you could stay as long as you like. Though, if you stay too long, you may end up with a paint brush in your hand. 'Cause this baby needs a lot of it. It's a common theme throughout the house tour.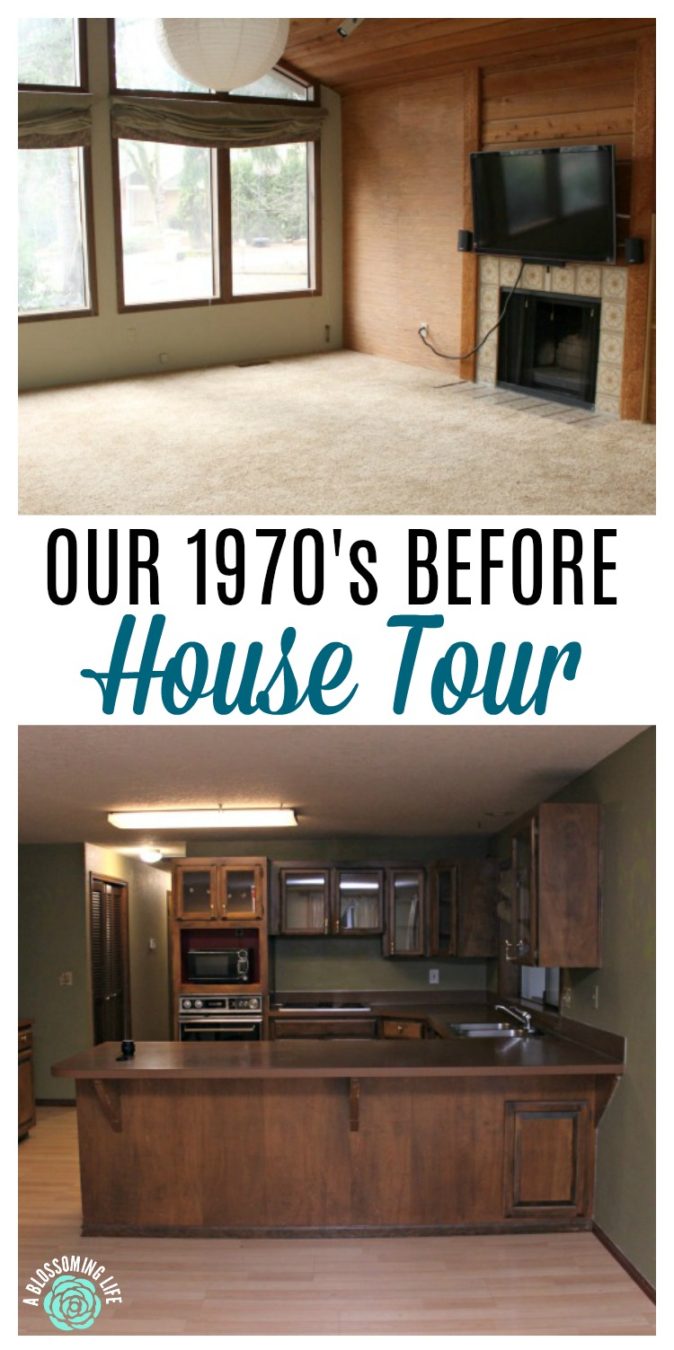 Y'all (can I still use y'all now that we live in Oregon and not southern Illinois anymore?), I'm so excited to share with you our before house tour of our 70's ranch. I call it a fixer upper; my husband says it's not a fixer upper, it just needs paint. However you see it, we are excited to be homeowners again. This house has everything we need and some space to grow into. It's a tad bit bigger than the 1200 sq. foot house we were renting… in fact, it's almost double the size. Whoa.
Today, I'm going to share with you the before pictures of our new home, and then will show you the updated spaces periodically. We are currently working on renovating our kitchen, so stay tuned for some great updates. It's already looking wayyyyy better.
I can't promise these pictures are pretty. I had to take them quickly while the sun was setting, with dark colored walls, and some rooms have very little natural light. That just makes the after pictures better, right?
The Family Room and Kitchen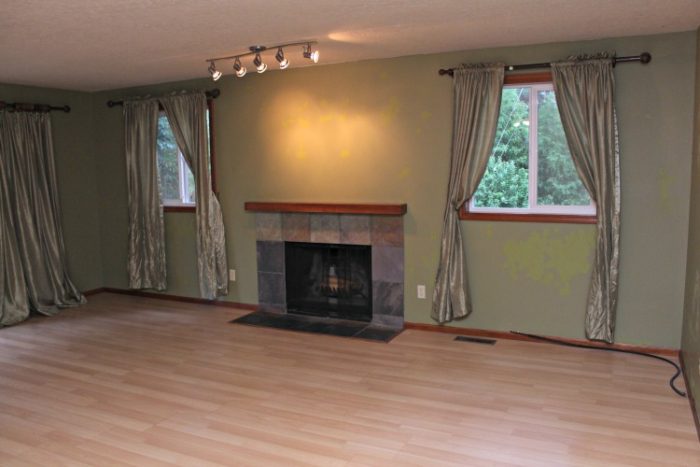 We loved the openness of the space, but the walls were in pretty bad shape. Between the dark olive green that were retouched in about 100 places with pea green paint, cat scratches in the drywall, and the dated wood trim, it looked pretty bad. Thankfully, it just needs some paint and new curtains (one day I hope to replace the laminate with real wood).
The kitchen was like a 70's time capsule. Everything was original, minus the dishwasher.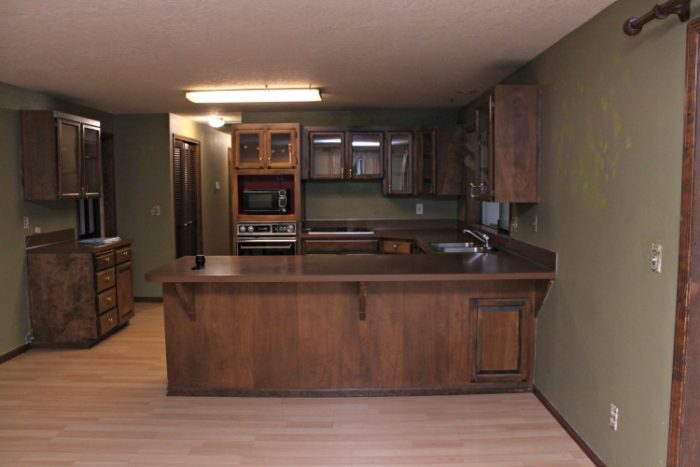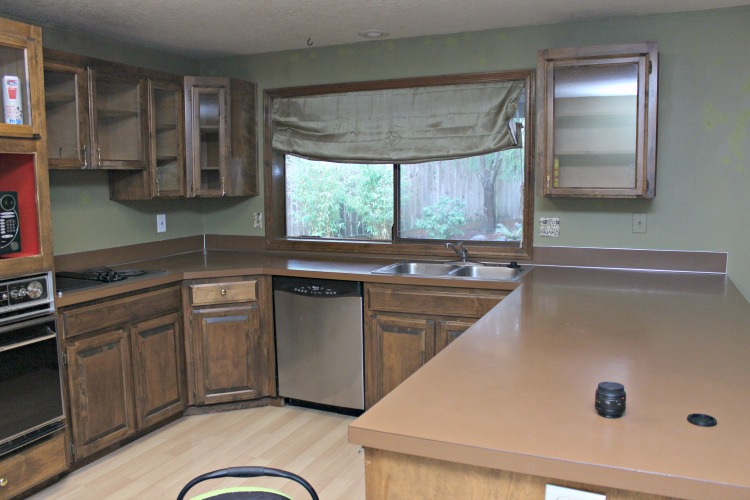 The plan:
Add can lights and pendant lights
Rip out countertops
Replace countertops with concrete
Paint
Paint cabinets
New hardware
Backsplash
Replace giant cabinet with range and hood (not my original plan, but it will have to do)
Remove some of the upper cabinets and replace with open shelving
Replace glass inserts with wood
New window treatments
New sink and faucet
Dining Room
The dining room is right off the entryway and connected to the kitchen. It's a great size, but very dated.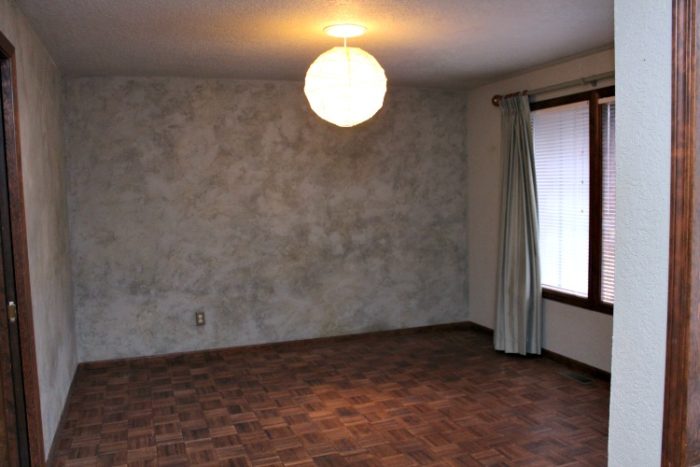 The plan:
Paint walls and trim
New light fixture
Parkay floors will stay until maybe one day we can do hardwoods across all the main living area.
Formal Living Room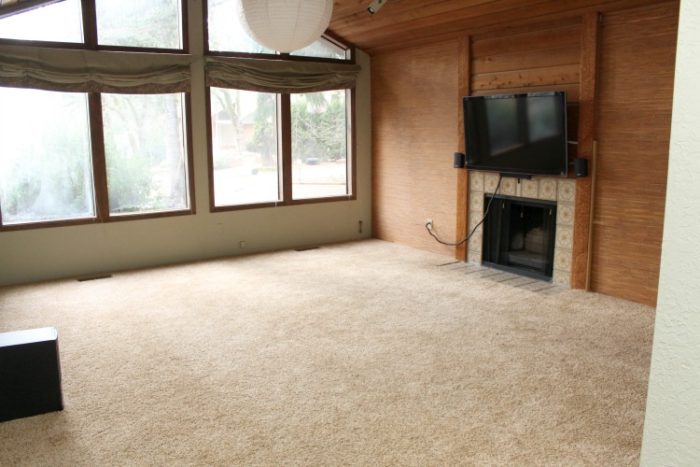 This is one of the things that sold us on this house. We can imagine enjoying the company of family and friends int his room. The amazing formal living room has great bones and just needs a little help.
The plan:
Remove bamboo grass cloth
Paint walls and trim
Paint fireplace tile and mantel
New light fixture
New furniture
Hang curtains
Laundry

The plan:
Paint walls
Paint cabinets
New counter
New sink and faucet
Add washer and dryer – So, we already did this and made a huge newbie mistake. We bought washers and dryers that would fit, but forgot to take into account that the venting would have to run behind both machines because we flipped the position. So, the washer and dryer now stick out past the door so you can't open it… Oops. Oh, well. We probably would never use the door anyway, and it wasn't worth the 10% restocking fee to me.
Guest Bath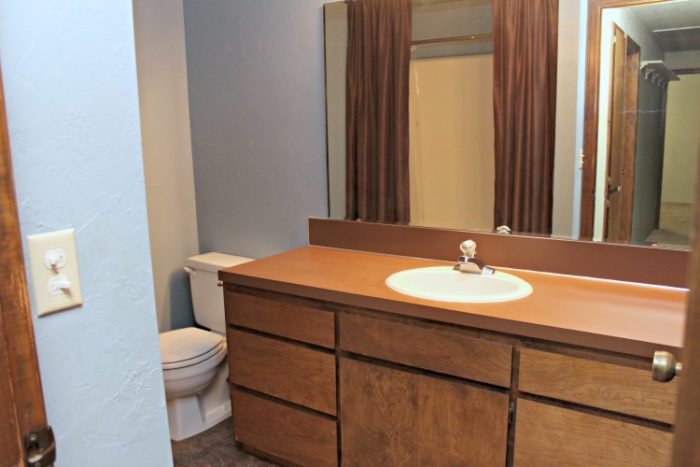 This wont be changed anytime soon. Eventually, we plan to take out the vanity, floors, and toilet and replace with new. So, basically a gut job.
Master Bedroom and Bath
The plan: It will probably stay like this for a long while, but eventually…
Remove wallpaper
Paint room and trim
Renovate bathroom – Hello, there's carpet in there…
Bedroom 2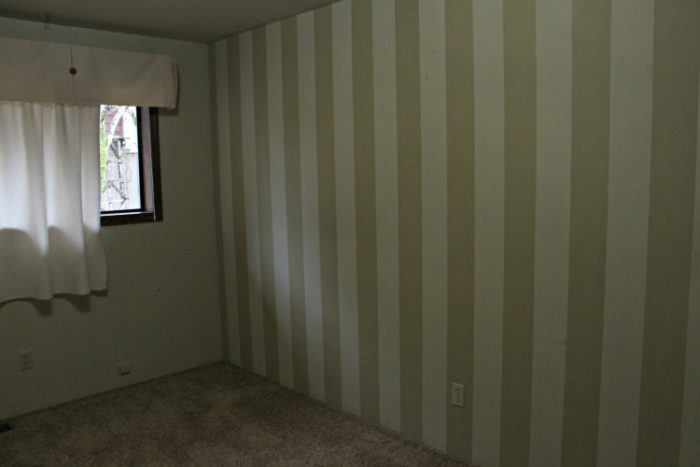 The plan:
Replace curtains
Paint striped wall pink
Paint trim and closet doors
New light fixture
Bedroom 3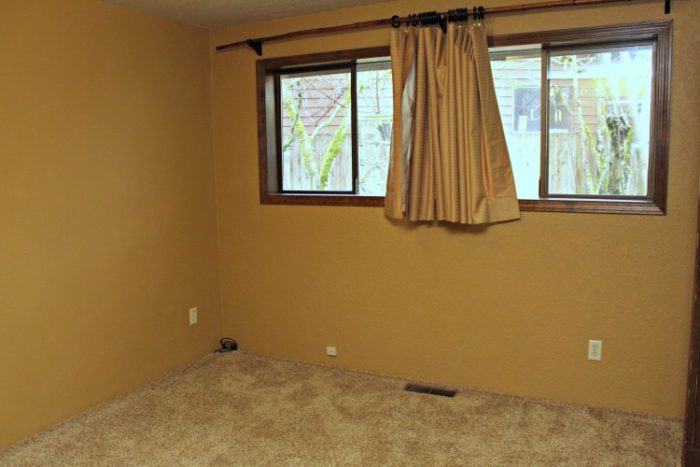 The plan:
Paint walls
Paint trim and closet doors
New window treatments
New light fixtures
Outdoor Space
I'm so very thankful to have a fenced-in backyard for the first time ever! Our lot is about a quarter acre and has grapes growing. It's practically the garden of Eden.
The plan:
Add garden beds and maybe fruit trees
Add chicken coop
Remove bamboo
Remove some of the larger rocks
Add fencing to make a dog area.
There you have it! The before of our 1970's ranch. What do ya'll think? We are so excited to make our home feel like our home. It may take awhile, but it will slowly but surely come together. Because, hello, we have two kids under the age of 3.