Berry Beet Smoothie Recipe With Hidden Veggies
A delicious berry beet smoothie recipe is packed with healthy ingredients and doesn't taste like beets. This beet smoothie is packed full of hidden veggies and includes more ways to boost the nutrition. Follow my tips below to make this delicious recipe not taste like beets.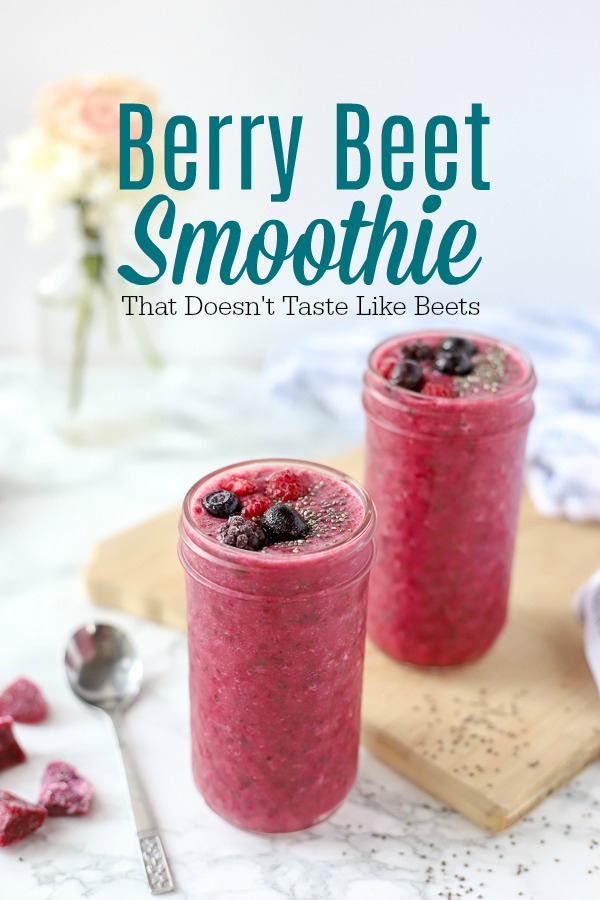 Berry Beet Smoothie Background
Beets… nasty little dirt devils. Too far? I really wish I liked beets, but alas, I despise them. They literally taste like dirt to me no matter how they are prepared.
That was until I started throwing them into beet smoothies and worked real hard to cover up that taste. And I would say I have successfully made beets tasty.
I know what you're thinking… "Amy if you hate beets so much why are you eating them?" Great question.
Beets are so healthy and love to be able to add in super healthy foods even if I don't like them. Really, just a nutritional purpose. They are packed with vitamins (like folate), minerals, fiber and have anti-inflammatory properties.
Even if they do taste like dirt, I can't deny how healthy they are.. dang it. So sneaking them into smoothies will have to do.
I love making super healthy smoothies taste awesome (like this Chocolate Cauliflower Smoothie). Pack them with veggies and the kids don't know. Well they do cause I tell them.
My kids LOVE healthy foods and LOVE fruits and vegetables. Maybe one day I'll share how we got them to love all types of foods. But still, I love sneaking in healthy foods for the extra nutrition.
Can you ever eat too healthy? Doubt it. Maybe this will make up for the fact we had some cookies today… just kidding it doesn't work like that.
Another great way to eat beets is in brownies. Sounds strange, but my friend made some collagen beet brownies and they were so good.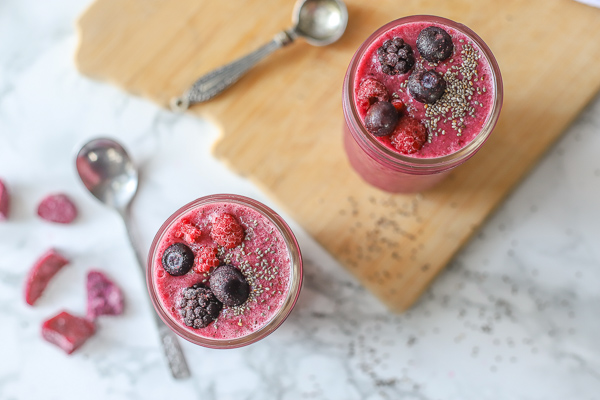 Are beets good for you?
Ohhh yea. Super good for you. Not only are can they help lower blood pressure, but they also have anti-inflammatory properties. (source)
Beets are packed with:
Vitamins like vitamin C, folate, B6
Mineral: manganese, magnesium, potassium, etc
Natural nitrates (which are good)
Fiber
Tips for making berry beet smoothie:
Use liquid of choice. You could use milk, coconut milk, water, or juice.
If you use a less sweet liquid, you may want to add honey or maple syrup. If you use juice you can omit any added sweetener.
Use frozen fruit. This makes it more nutritionally dense instead of using ice to make it cold.
Add in extras to boost nutrition like a tbs of collagen, chia seeds, some nut butter, or a scoop of full fat yogurt.
This recipe makes a great breakfast smoothie.
The following are affiliate links. We are a participant in the Amazon Services LLC Associates Program, an affiliate advertising program designed to provide a means for us to earn fees by linking to Amazon.com and affiliated sites.
Tools you will need to make this recipe:
Blender (I have this cheap and effective one) and measuring cups. Nothing too fancy. If you want a super smooth smoothie, you could use a high speed blender.
How to make this yummy beet smoothie recipe:
In a blender, add in frozen mixed berries, beets, banana, and frozen pineapple.
Pour in liquid and add any extras you may want.
Cover and blend until smooth.
Top with chia seeds and berries if desired.
Enjoy!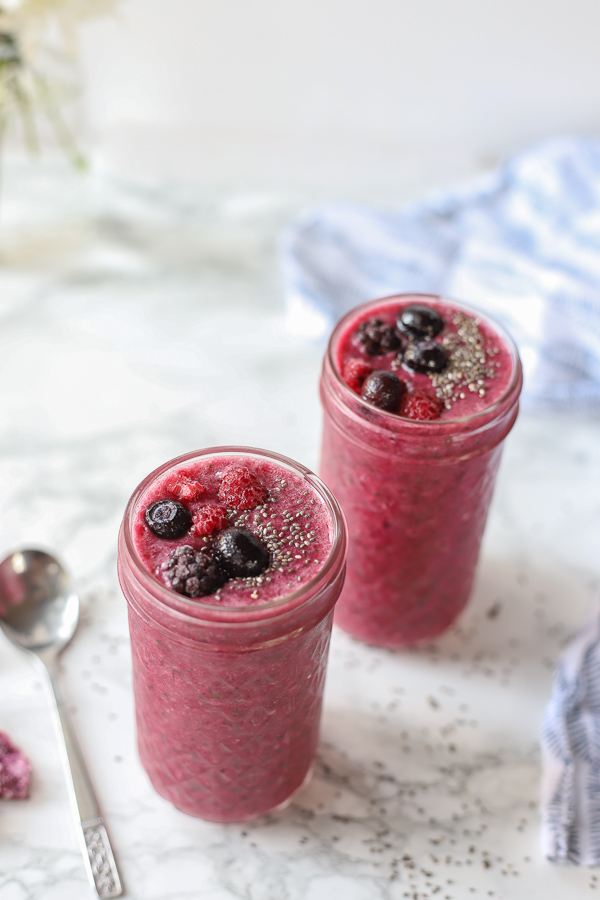 Can I freeze beets for smoothies?
Ohh yea. I actually prefer frozen beets and just buy them from the freezer section.
How To Freeze Beets:
Chop or slice beets and spread them out on a baking sheet so they are not touching each other. It may be helpful to use parchment paper so the beets do not stick to the pan.
Place in the freezer until frozen – about 2-3 hours depending on thickness.
Store in a freezer bag. They will last up to a year.
Can you eat raw beets?
Yes. You can eat them in salads, smoothies, pickled, with bread. How ever your heart desires. If you love them raw go for it. The only way you would catch me eating them raw is possibly pickled or in this smoothie.
Do I have to peel beets before blending?
Beet skin can be a little tough and sometimes bitter so it is best you peel them before blending.
I like to use already prepped and frozen beets for ease.. or laziness, whichever you want to call it.
Love healthy recipes? Check out some of our favorites healthy smoothies!
Berry Beet Smoothie Recipe
If you try this recipe and love it, I would greatly appreciate you coming back and giving it 5 stars. Please and thank you.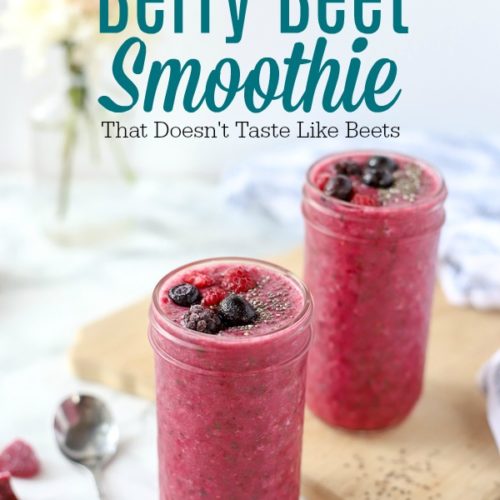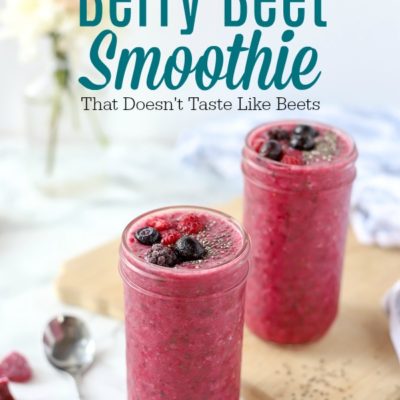 Berry Beet Smoothie
Delicious beet smoothie recipe packed full of healthy ingredients and tastes delicious.. not like beets
Print
Pin
Rate
Ingredients
1

banana

1/4

cup

beets

frozen, raw, or cooked. If you don't mind a beet flavor add up to 1/2 cup beets

1/2

cup

mixed berries

frozen

1/2

cup

pineapple

frozen

2

cups

water, juice, or milk of choise

1

handful

spinach

optional

1/2

tbs

honey

optional - leave out if you use juice
Instructions
Add ingredients to the blender.

Blend until smooth and enjoy.
Notes
Nutrition facts are based on using water. If you count calories you will want to adjust it based on what liquid you use.
Do you hate or love beets?
Pin It For Later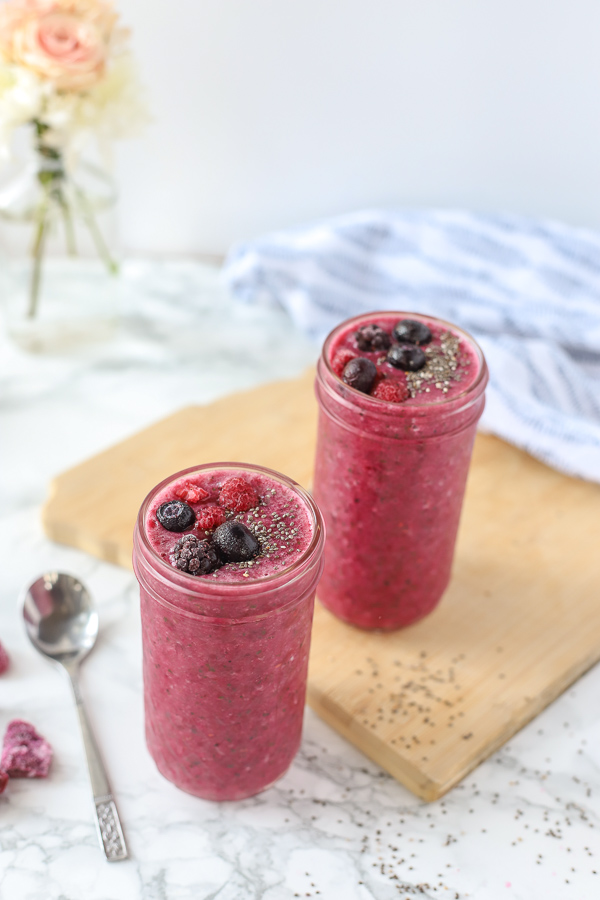 This post was updated September 2019.