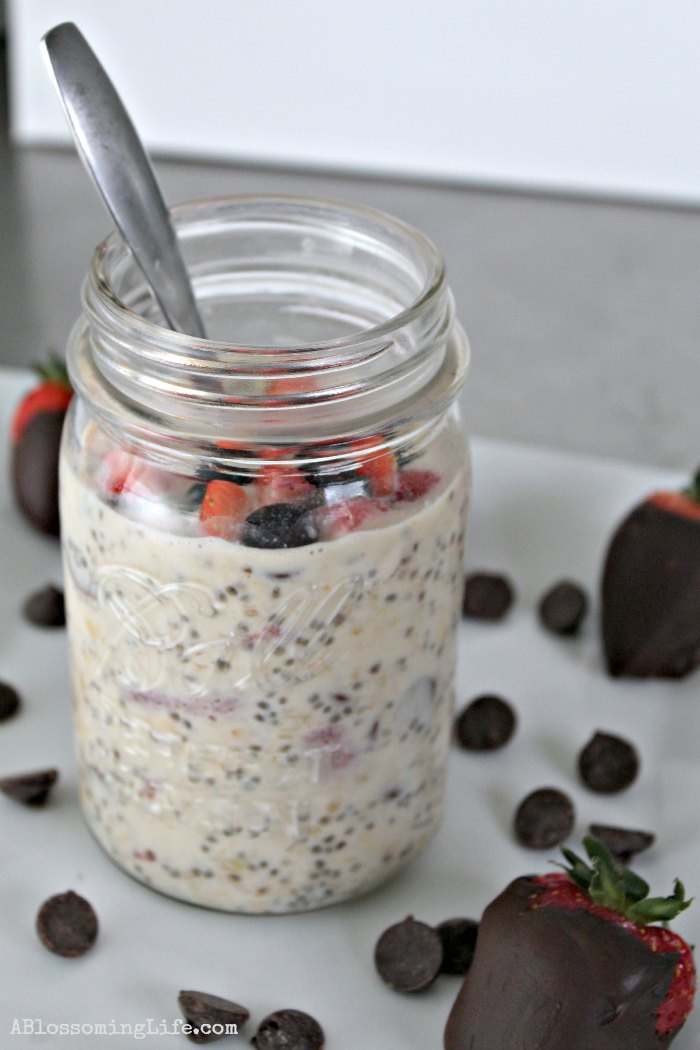 Valentine's is upon us! Just in case you didn't know by looking at your pinterest feed or calendar ha! One of my favorite foods during this holiday is chocolate covered strawberries. You can't get much better then strawberries and chocolate, right? I'm not a huge chocolate candy person. Although, my coworker would probably disagree. They call me the Chocolate Nave for taking other people's chocolate candy. To be fair though, I buy the chocolate (90% of the time) to put in my bosses candy dish so that way if I really want chocolate I have to get my butt up and walk all the way to her office. See what I do there? Decreases temptation when I'm being lazy!
Anyway, back from justifying myself… This is a super tasty recipe perfect for breakfast. I mean it has chocolate! Who doesn't love chocolate for breakfast? Plus its over night oats so you can prepare this at night and then grab it to go in the morning!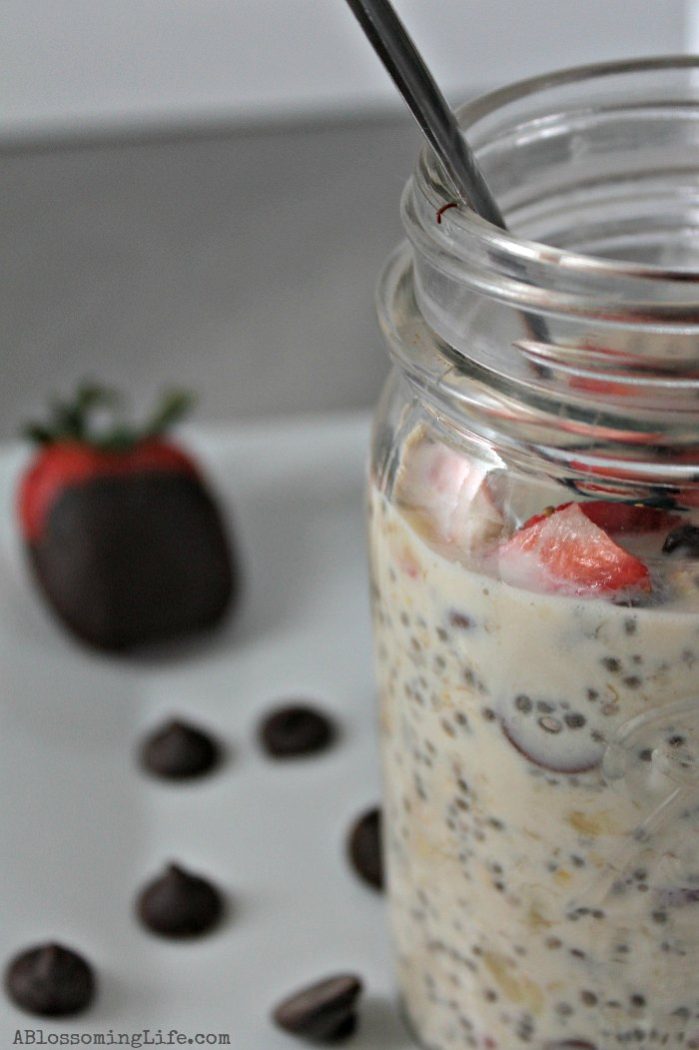 Chocolate Covered Strawberry Overnight Oats
Author:
Prep time:
Cook time:
Total time:
Delicious breakfast that includes healthy ingredients like chia seeds, oats, milk, strawberries, and chocolate! Perfect for hectic mornings when your rushing out the door. Make the night before and enjoy in morning or grab it to go to work.
Ingredients
1 ripe banana
1/3 cup old fashion oats
1 Tbs chia seeds
1/4 tsp vanilla
1 cup milk (I use real milk, but any milk or milk substitute will do)
1/4 cup strawberries
3 Tbs chocolate chips (or more if your daring)
Instructions
Place banana in a bowl or mason jar, and smash with fork.
Add in other ingredients and mix.
Cover and refrigerate for at least 1-2 hours or overnight.
Enjoy in the morning when you can just open the fridge and your breakfast is ready.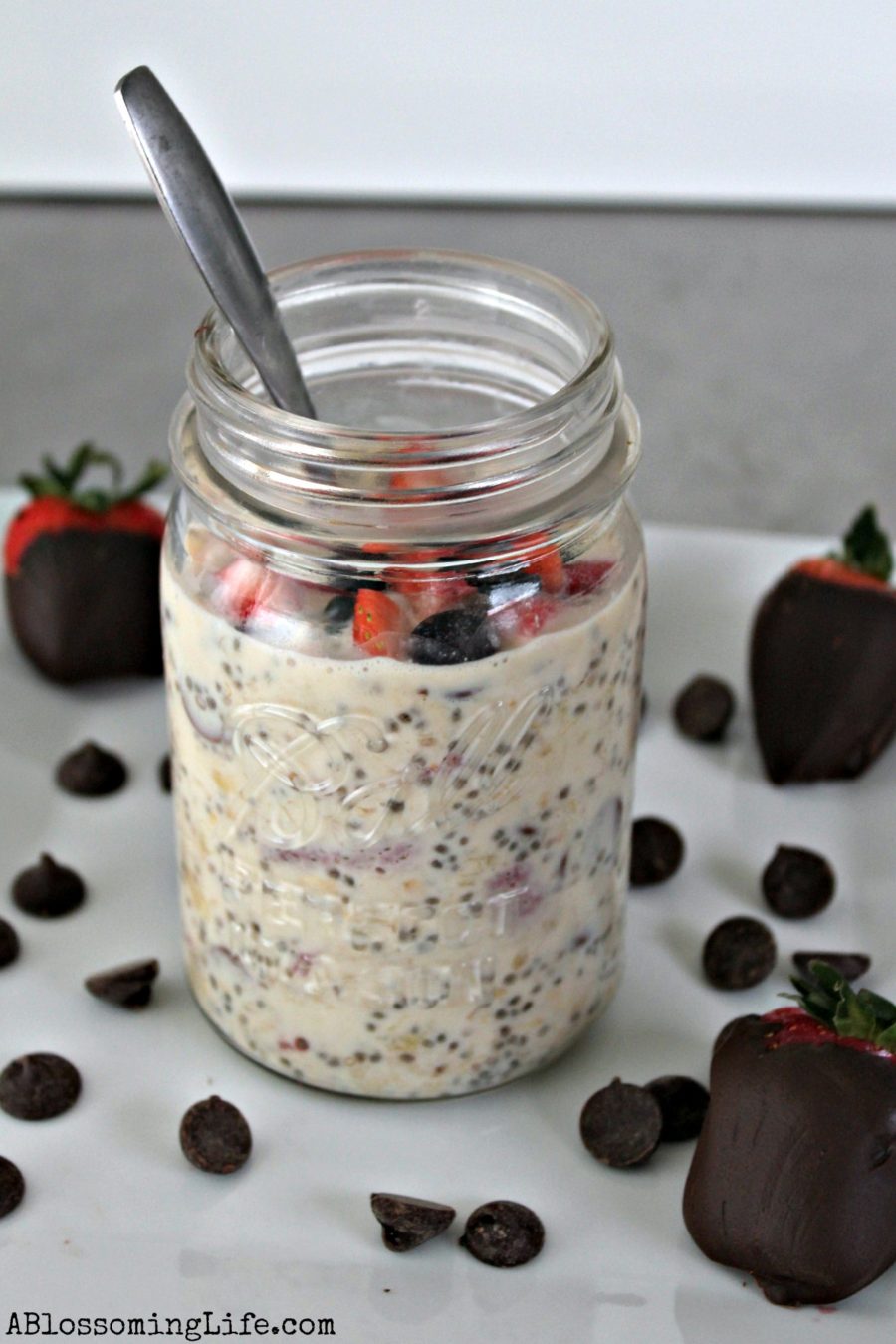 Do you have any plans this Valentine's Day?