Homemade Bubble Bath Recipe
All-natural, homemade bubble bath is a relaxing way to take a bath without drying out your skin. This super moisturizing DIY bubble bath recipe can help soothe skin, and is healthy, too.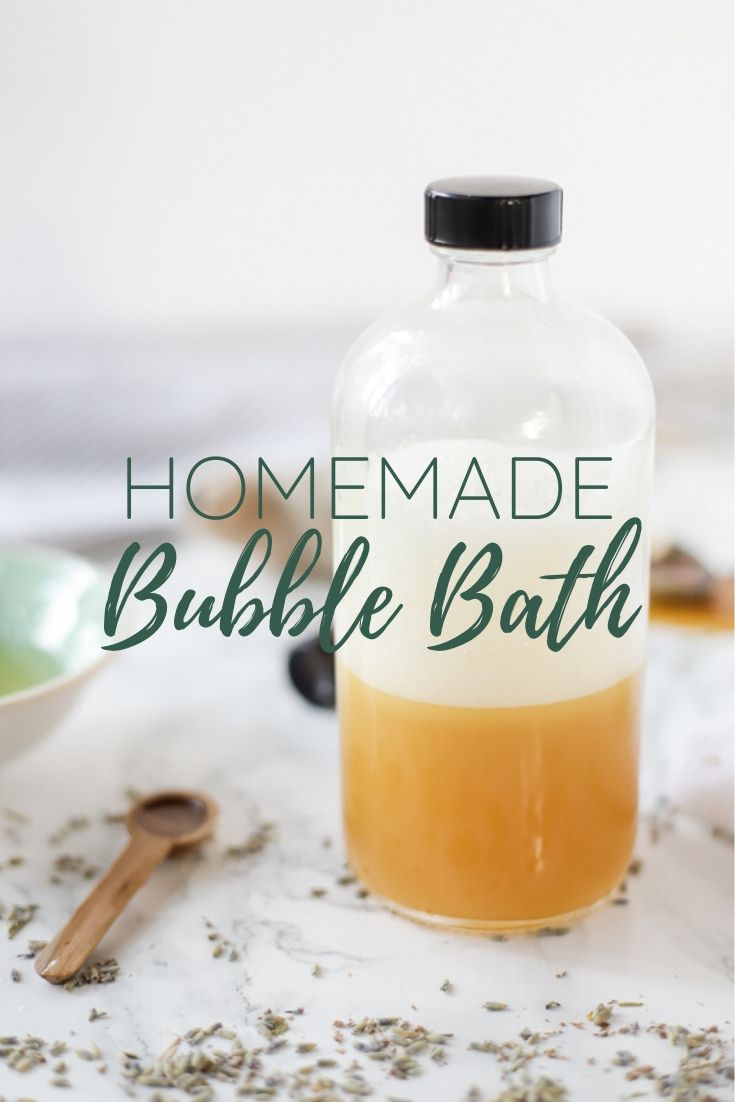 This post is sponsored by iHerb and contains affiliate links. All opinions are my own.
There is nothing that my kids love more than a good bath, but add bubbles and they are over the moon.
The kids and I love this recipe for homemade bubble bath because not only does it give them bubbles to play with, but also, it doesn't dry out their skin, and leaves it feeling moisturized.
I also enjoy a good bath whenever I can grab 20 some minutes to myself, and this recipe for homemade bubble bath is pure luxury.
The last time I made it, I added in some lavender and wild orange essential oil, and it was the perfect way to relax after a long day of high emotions.
So who is this really made for? Both kids and adults!
Thanks to iHerb, they make it so simple and easy to order all the ingredients you need for this homemade bubble bath recipe. Plus, they ship over 30,000 products to 150 different countries from their climate-controlled building.
They also have amazing prices (pretty much the cheapest I have found everywhere, and they package everything better, too) and customer service is available 24/7.
*New Customers will get a discount off their first iHerb order with no minimum purchase here.*
This would make a great homemade gift idea, especially with the stress from the holidays. Raise your hand if you could use a nice, long bath!
Why make you own bubble bath?
Conventional bubble bath can contain not-so-healthy ingredients that I don't want on my skin, or that of my children.
Fake fragrances, parabens, artificial dyes (who else's kids try to drink the bathwater? Not just mine, right?), and other not nice ingredients can be found in some conventional brands. These ingredients have been linked to endocrine disruption, cancer, and toxicity. I think I'll pass.
I much prefer natural ingredients and products scented with pure essential oils.
The following are affiliate links. Affiliate links help to provide a means for us to earn fees by linking to affiliated sites.
Tips For Making This recipe
Many conventional bubble bath contain surfactants, if using Castile soap, it doesn't include them, so the bubbles won't be those big ones you normally come to expect with a store-bought version, and they won't last as long. Using a soap that has natural surfactants, like the dish soap or hand soap mentioned below, will create bigger bubbles that last longer.
If you really want more sudsing power with Castile soap, you could add in an egg white. Sounds weird, but egg whites can help increase and stabilize the bubbles.
Depending on the type of water you may have, you may not get bubbles using Castile soap at all. You may try the other options (Which you can find at iHerb.com)
Skip the honey if using with a baby under one year of age.
Add your favorite relaxing essential oils, like lavender, wild orange, chamomile, frankincense, bergamot, rose, vetiver, and more. All the ones listed here are kid-safe; if you use an oil not listed, make sure it's kid-safe before putting it in bubble bath for your children.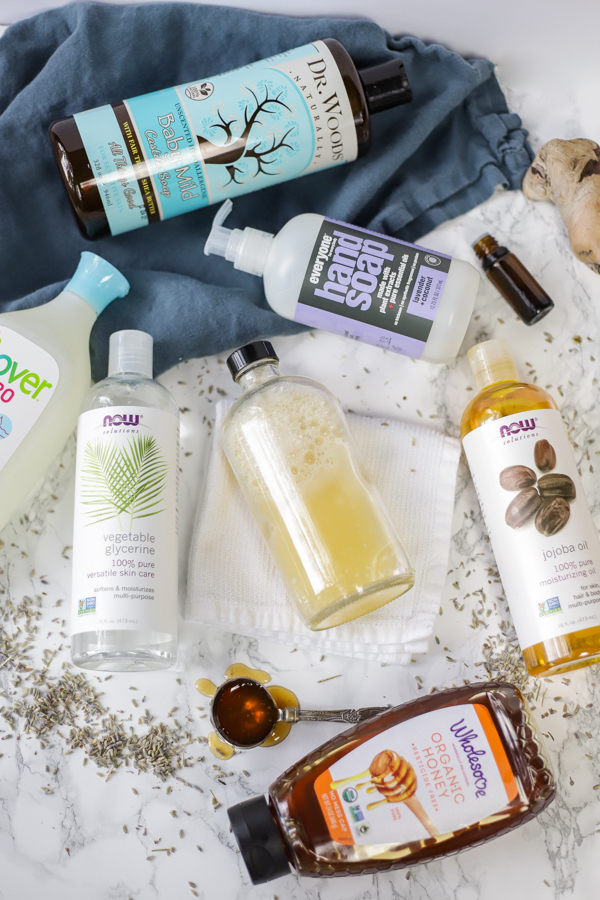 Ingredients you will need:
Soap – There are a couple options you can go with here:
Hand Soap: This one from Everyone Hand Soap worked really great for creating and keeping bubbles. It also has a great rating on EWG.
Dish Soap: Ecover produced great results, not quite as bubbly as the hand soap, but the bubbles did last! Dish soap can be a bit drying, so thankfully with the addition of oil, honey, and glycerin should add enough moisture to counteract the dryness.
Castile Soap: I love using Dr. Woods Castile Soap because it is made from all-natural ingredients. For DIY bubble bath though, it doesn't produce a lot of bubbles and they don't last long. Your results may depend on the type of water you have. This may still an option, but the ones listed above are going to be better options for this recipe.
Glycerin – helps work together with the soap to add suds. Also, very moisturizing to the skin. I love the NOW Solutions Vegetable Glycerine, for many of my skincare ingredients.
Honey – has natural antibacterial properties, can add moisture to the skin, and helps give it some more suds. For this recipe, I used Wholesome Organics Honey. The quality and size are great, especially for the price.
Oil – Jojoba oil, fractionated coconut oil, castor oil, or olive oil would work great. Gives extra moisture, and the oil can help the sudsing. For this recipe, I used NOW Solutions Jojoba Oil, which is one of my favorites for skincare recipes.
Essential oils – totally optional, but can give you a nice, soothing aromatherapy bath.
Good Store-Bought Options
Luckily, iHerb.com not only has the ingredients you need to make this recipe, but if you don't feel like making it, they have some great natural bubble bath options. Some of my favorites are from Allafia, Aura Cacia, and Nature's Baby Organic (and more!).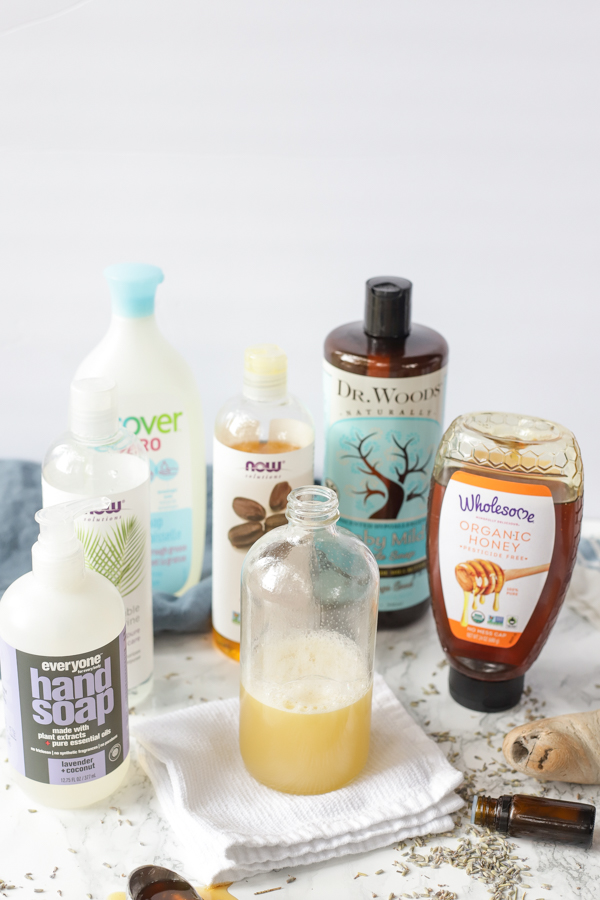 Homemade Bubble Bath FAQ
How do you take a bubble bath?
Start the water and make sure the drain is plugged. Right before the water is at the level you would like it to be, add this homemade bubble bath a little bit at a time until the desired amount of bubbles is reached. Get in the tub and enjoy the soothing feeling.
Are bubble baths good for you?
Oh, yes! Baths in general can be really relaxing, help improve sleep, is great for mental health, and may be better than showering (source). They can also help soothe sore muscles, and the rise in body temperature from sitting in a warm bath may help increase your immunity.
Is this DIY bubble bath recipe tear-free?
No; due to the nature of Castile soap, it is not tear-free. We just take extra precautions, and tell the kids to try to not splash it in their eyes. Honestly, it hasn't been a problem for us, but be sure to monitor your kids when using it!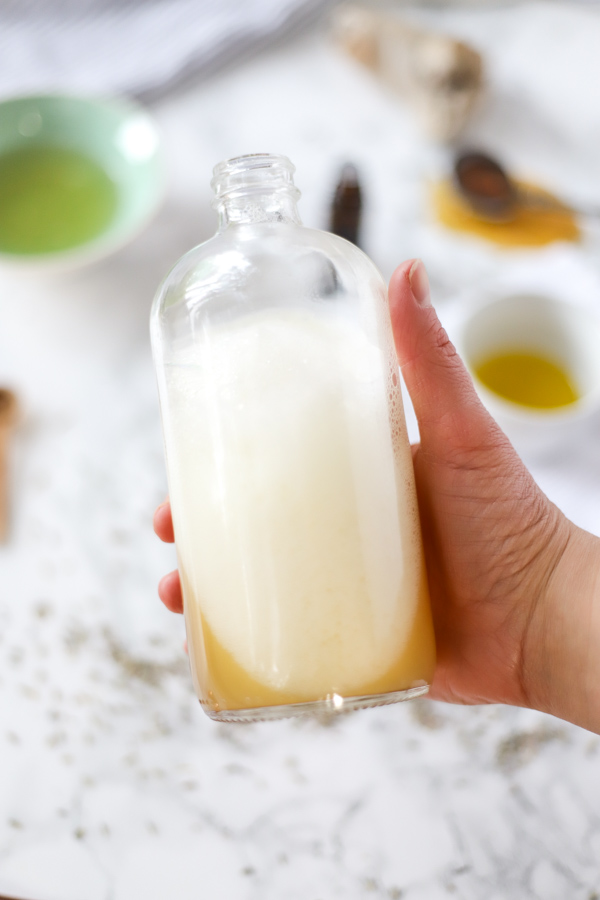 How To Make Homemade Bubble Bath
In a bowl or measuring cup with spout, add all ingredients.
Add in essential oils if desired.
Stir together and place in a glass bottle or container to store. It will last at least one month at room temperature.
To use: Fill the bathtub until it's almost at the level you want it, and then add the bubble bath a tablespoon or two at a time to the bathtub, right into the running water (this is what helps create the bubbles), until the desired amount of bubbles is reached.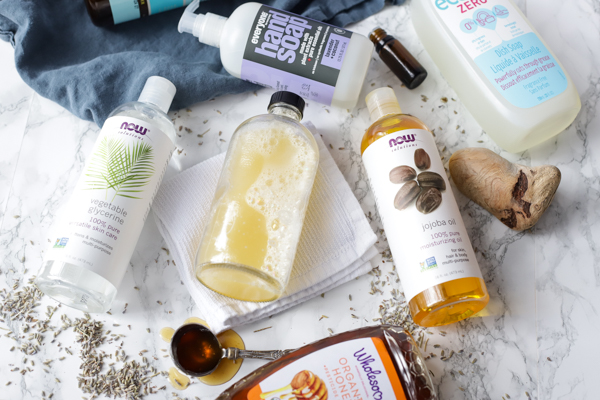 If you try this recipe and love it, I would love if you could come back, comment on the post, and give it 5 stars! Please and thank you.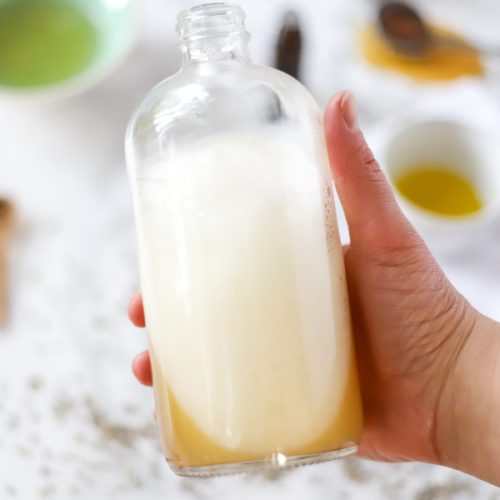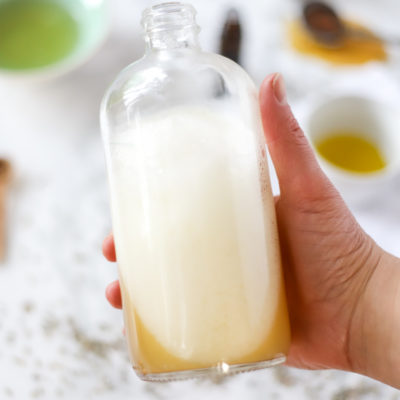 Instructions
Measure out ingredients, mix well, and add to a jar.
To Use:
Fill bath about half way up to the desired level.

Add a few tablespoons of bubble bath to the running water until desired about of bubbles have foamed.
Notes
Skip honey for babies under one.
See ingredient notes above with soap and oil recommendations.
Will keep well for 2 months.
This recipe is not tear free.
Thank you iHerb.com for sponsoring this post. Make sure to check out their amazing products and amazing prices.
Pin It For Later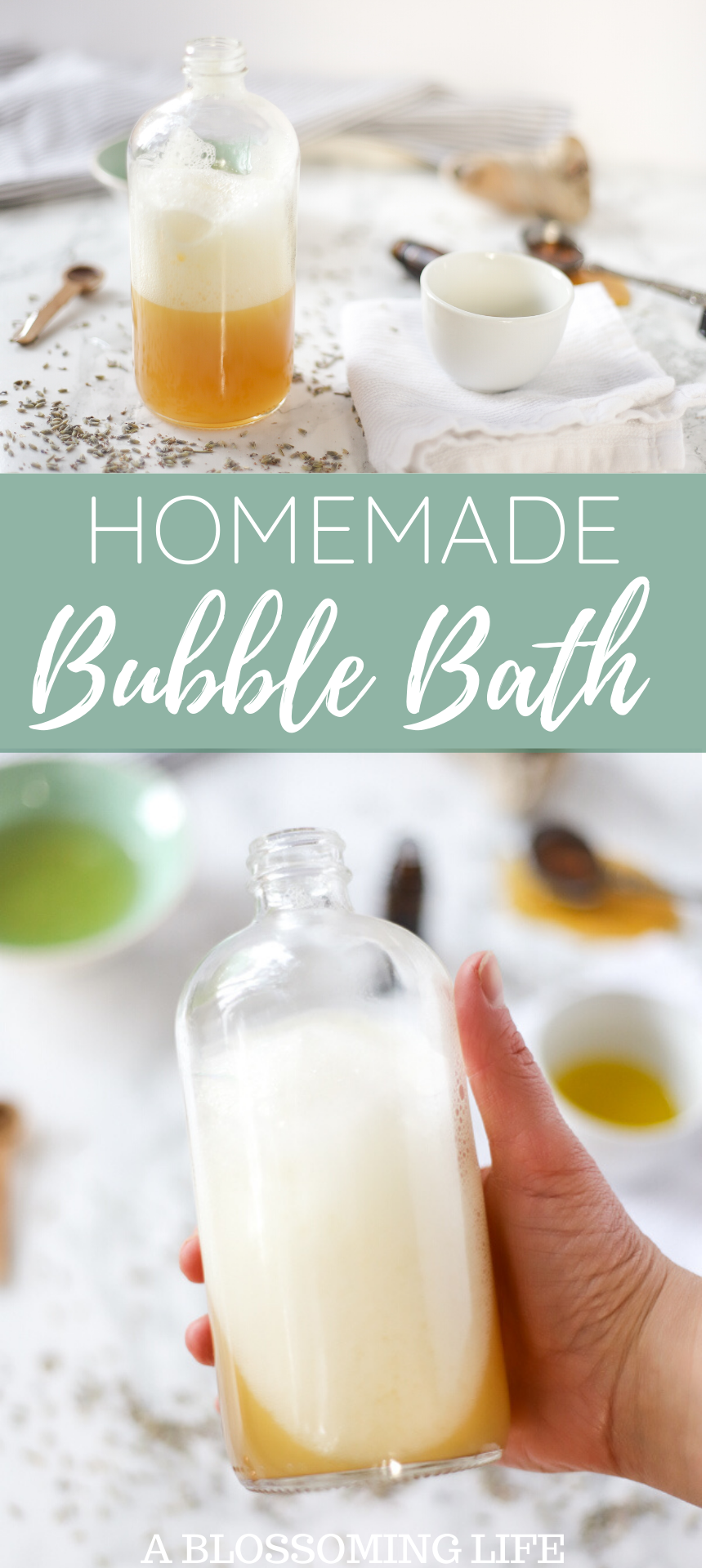 This post was updated March 2020