Chicken and Wild Rice Soup
Chicken Wild Rice Soup is a hearty and creamy soup in a rich broth. Perfect for any day of the week this creamy from scratch soup is super easy to make. Follow all my tips and tricks below.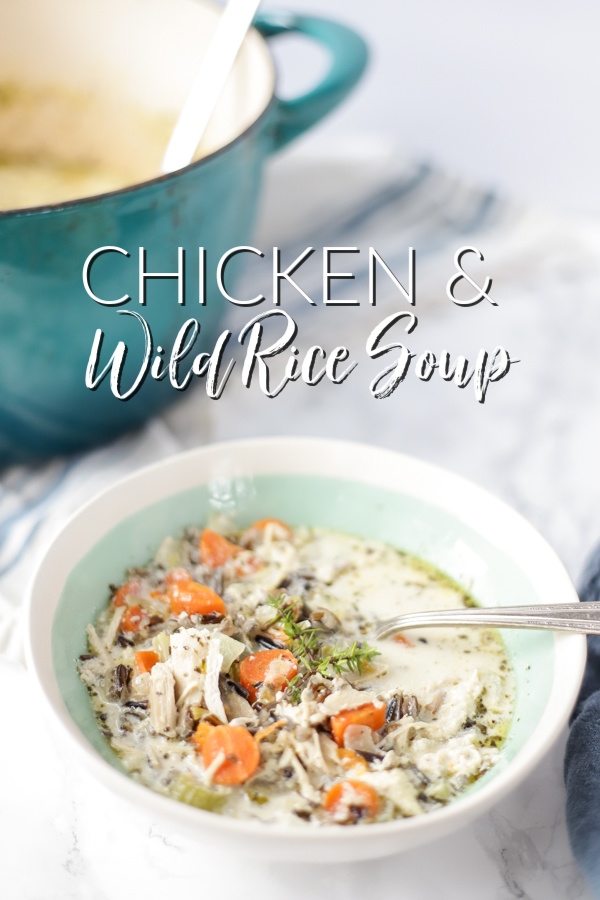 This creamy chicken and wild rice soup has everything you need for the perfect cozy dinner by the fire during this cold season.
It's got the obvious: homemade broth, chicken, carrots, celery, garlic and onion, but the fresh herbs and wild rice make this homey meal adds just enough oomph to make you feel amazing! I want some right now.
Have y'all been experiencing the cold like we have here in Oregon? One thing I love about living here is that it doesn't snow much and the winters are pretty mild… usually.
This year has been much colder than I remember the previous winters being.
Oh well. It's a great excuse to cuddle up on the couch with a comfy blanket, hot soup, and watch a movie (or a marathon of your favorite show, can you say Gilmore Girls? Also, my son's middle name may have came from that show…can you guess it?)
Back to thinking about something warm… this soup is super straight forward and really easy to make.
Plus, it keeps really well if there are any leftovers. Soups like these make it so easy to have people over, it tastes great and its never stressful to make!
I always enjoy having people over in my home, especially if its during the winter time. We can all hang out, play games, catch up on life all the while eating a cream chicken soup that ties everything together.
Did I mention that it's all healthy ingredients and made from scratch? No fake cream-of-something canned soup or a powder. This creamy chicken and wild rice soup is one for the books.
Tips for Making Creamy Chicken Wild Rice Soup
I know using dried herbs is easy and no hassle, consider using fresh herbs. It will greatly make a difference when you are making this soup.
Try to make sure you do not over cook the wild rice. It will be mushy and gross and no one wants that in their soup.
Don't be afraid to try different parts of the chicken. All white meat or dark meat can really enhance different flavor of the soup that will make it oh so delicious!
This recipe is super easy because it uses pre-cooked chicken. I like using this recipe and then using the chicken throughout the week. If you don't have precooked chicken you can cook one chicken breast or two thighs for this recipe.
Make sure you sauté the garlic. Trust me on this one. It changes the flavor.
The following are affiliate links. We are a participant in the Amazon Services LLC Associates Program, an affiliate advertising program designed to provide a means for us to earn fees by linking to Amazon.com and affiliated sites.
Tools You May Need
Soup pot or dutch oven
Large metal or wooden spoon
Knife
Cutting board
Measuring spoons
Bowls for Serving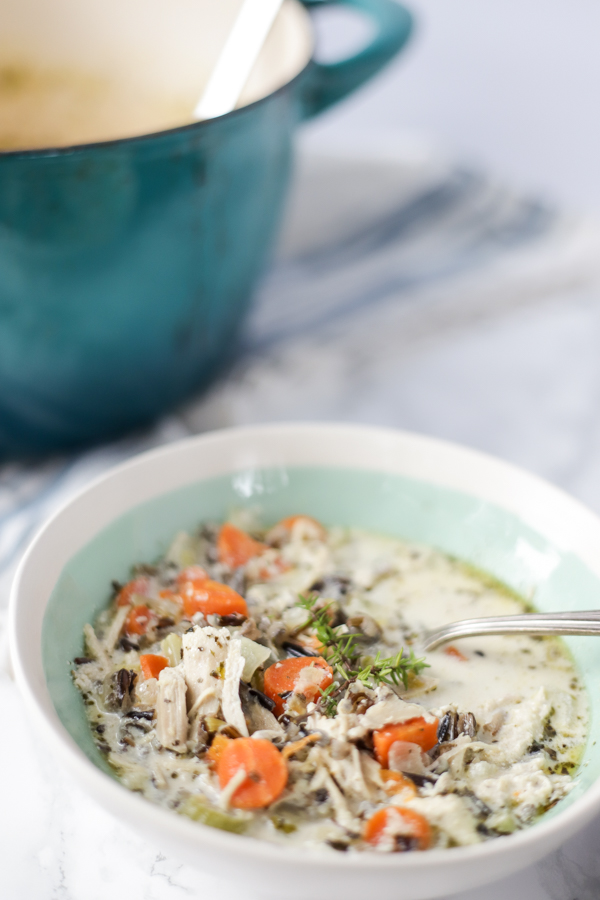 Can you freeze creamy chicken and wild rice soup?
Yep! Since this soup does not contain a lot of dairy, it will freeze very well.
How long does it take to cook wild rice?
Wild rice is not the quickest rice to cook. I wish it took only a few minutes to make but alas, sometimes we can't have nice things. It can take anywhere from 45 minutes to an hour if you want the rice to fully cook and no longer be crunchy. Check the packaging for specific directions.
Cook the rice with an ample amount of water, almost as if its pasta.
How do you know when wild rice is cooked?
After 45 minutes to an hour try a little bit of the rice. It should be soft and easy to chew. If you get some crunch cook the rice for 5 to 10 more minutes.
Since it takes so long, make big batches if you really enjoy this recipe. You can freeze and heat in the microwave once you are ready to use if for dinner.
Can you overcook wild rice?
Absolutely. Wild rice that is over cooked will be quite mushy and tasteless. Definitely make sure to taste the rice to make sure it fits your preference.
What can you substitute for wild rice?
For each cup of wild rice, you can use long-grain brown rice which also takes 45 minutes to cook. Another option would be Wild Pecan Rice or 1 cup of brown basmati rice.
Can you make this chicken and wild rice soup dairy free?
Yes! You can totally skip the butter and use oil instead. You can skip the cream all together or you may also be able to sub a dairy free milk like cashew or almond, but it won't be quite as creamy.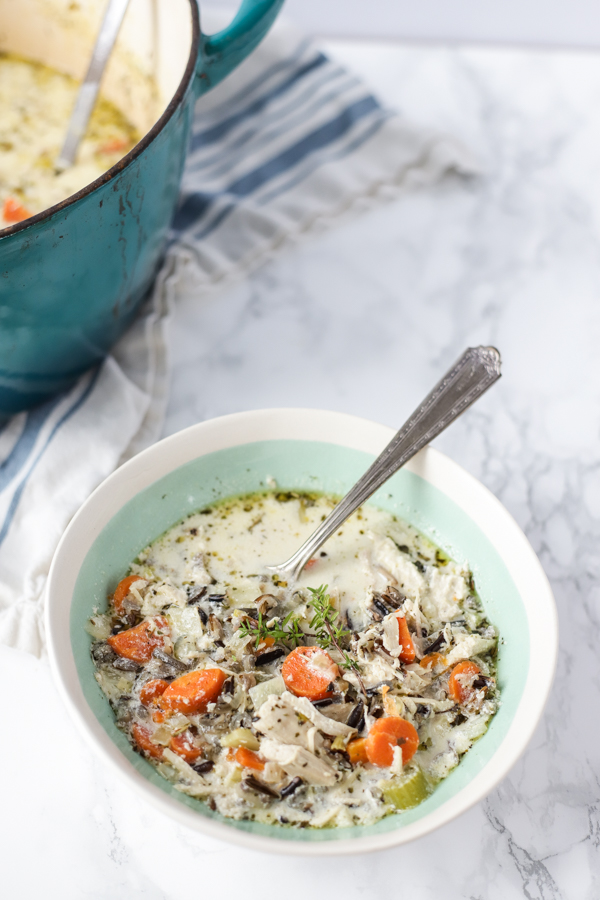 Chicken Wild Rice Ingredients you need:
Butter – Helps add a delicious buttery flavor. You can also use olive oil.
Carrots, celery, and onion – also known as mirepoix, these three ingredient are the main staple of many recipes including soups. They give this soup lots of flavor.
Garlic – robust and full of flavor, garlic always adds a lot to a dish, plus it's really healthy.
Pre-cooked chicken – I like to make a whole chicken weekly and use it throughout the week in recipes saving time and money. You could also use 1 large chicken breast or two chicken thighs.
Chicken broth – I prefer homemade broth since it is full of healthy collagen, tastes, delicious, and is cheap. I cook a whole chicken and make broth at the same time in the Instant Pot.
Herbs – Rosemary, thyme, parsley and bay give this soup so much flavor and pair so nicely with the cream. You can use fresh or
Wild Rice – is actually not rice at all, it is actually a type of grass that resembles rice when dried. It is very healthy and gluten free. (source)
Cream – Use half and half, or whole milk. Whole milk won't give you as creamy of a soup.
How to make Creamy Chicken Wild Rice Soup
Cook wild rice separately. I like to either make this the day before or start it about 20 minutes before I start making the rest of the soup.
If you do not have precooked chicken (I like cooking a whole chicken and broth at the same time in the Instant Pot) already on hand, brown one large chicken breast or two thighs and set aside.
Add butter, celery and onions to your large soup pot. Cook until veggies are soft.
Stir in the carrots, garlic, and herbs. Cook for another 1-2 minutes.
Add your chicken broth, half cooked chicken breast or thighs if not using pre-cooked chicken, and let it come to a boil and then cook for 20 mins.
Reduce the heat. Stir in cream, cooked rice, and pre-cooked chicken (if you are cooking the chicken in the soup, take it out and make sure it is done, then shred it with a fork and add it back in the soup). Simmer for 10 more minutes. Stir occasionally.
Taste and salt as desired. Enjoy.
Find More delicious Soup Recipes:
Homemade Creamy Chicken Wild Rice Soup Recipe
If you try this recipe and love it, I would love if you could come back, commented on the post, and give it 5 stars! Please and thank you.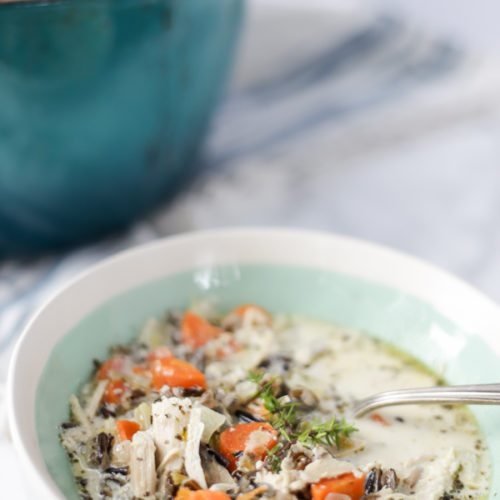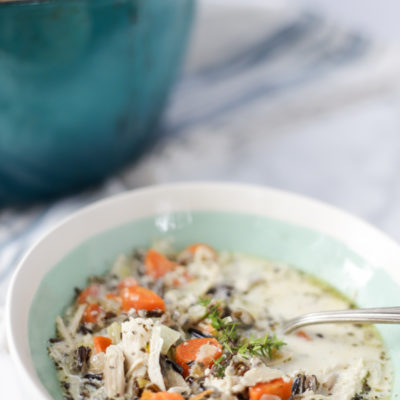 Creamy Chicken and Wild Rice Soup
Creamy chicken wild rice soup with hearty vegetables and seasoned just right.
Print
Pin
Rate
Ingredients
2

tbs

butter and/or olive oil

4

carrots

roughly chopped

2

stalks celery

chopped

1/2

large onion

5

gloves of garlic

minced

4

cups

chicken stock

preferably homemade bone broth

2

cups

whole milk or half & half

1-2

cup

shredded chicken

2

cups

cooked wild rice

1/2

tsp

rosemary

1/2

tsp

thyme

1/2

tsp

parsley

1

bay leaf

salt to taste
Instructions
In a large soup pot, add butter and/or oil, celery, and onions. Cook until soft.

Stir in chopped carrots, garlic, thyme, rosemary, parsley, and a bay leaf and cook for 1-2 minutes more.

Add in chicken stock, let soup come to a boil, and cook for 20 minutes.

Reduce heat and stir in cream, cooked rice, and chicken, and simmer for 10 more minutes watching carefully so that it doesn't over boil.

Place leftover soup in the fridge.
Nutrition
Serving:
1
g
|
Calories:
304
kcal
|
Carbohydrates:
25
g
|
Protein:
18
g
|
Fat:
13
g
|
Saturated Fat:
5
g
|
Cholesterol:
53
mg
|
Sodium:
350
mg
|
Potassium:
534
mg
|
Fiber:
2
g
|
Sugar:
8
g
|
Vitamin A:
5380
IU
|
Vitamin C:
3.5
mg
|
Calcium:
118
mg
|
Iron:
1.3
mg
Originally published in 2014, this post was updated in December 2019.