Homemade Pumpkin Spice Marshmallows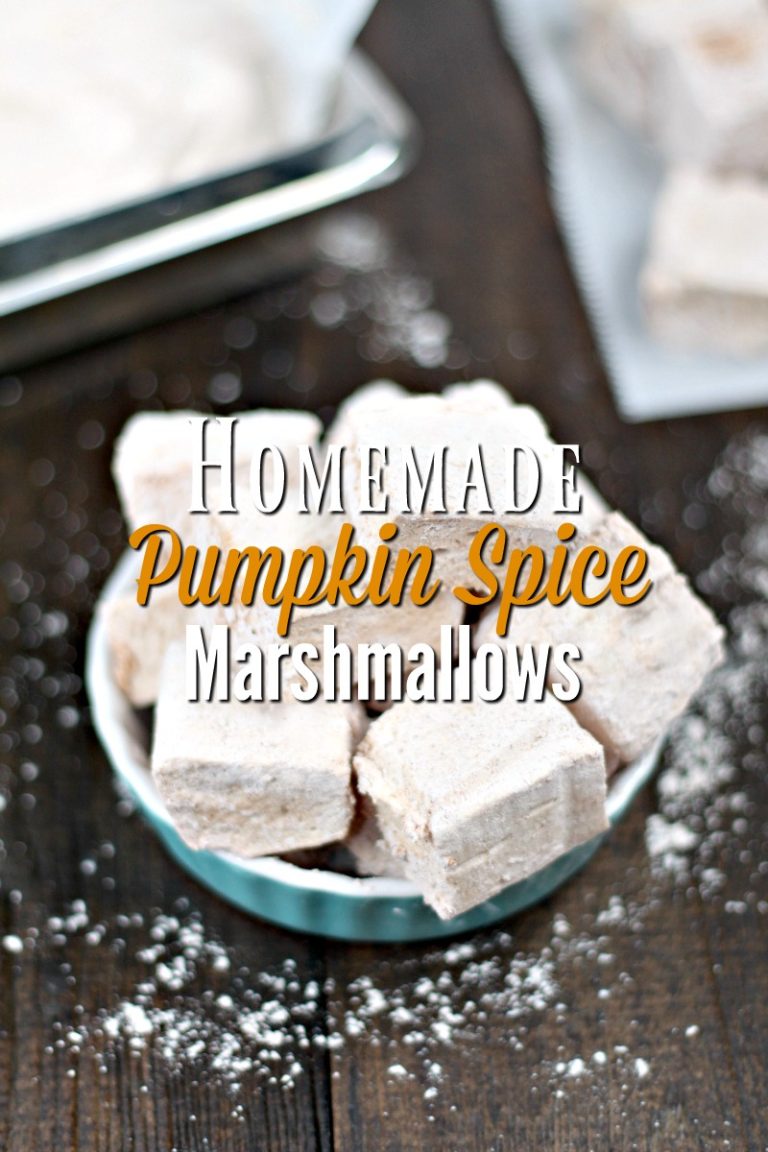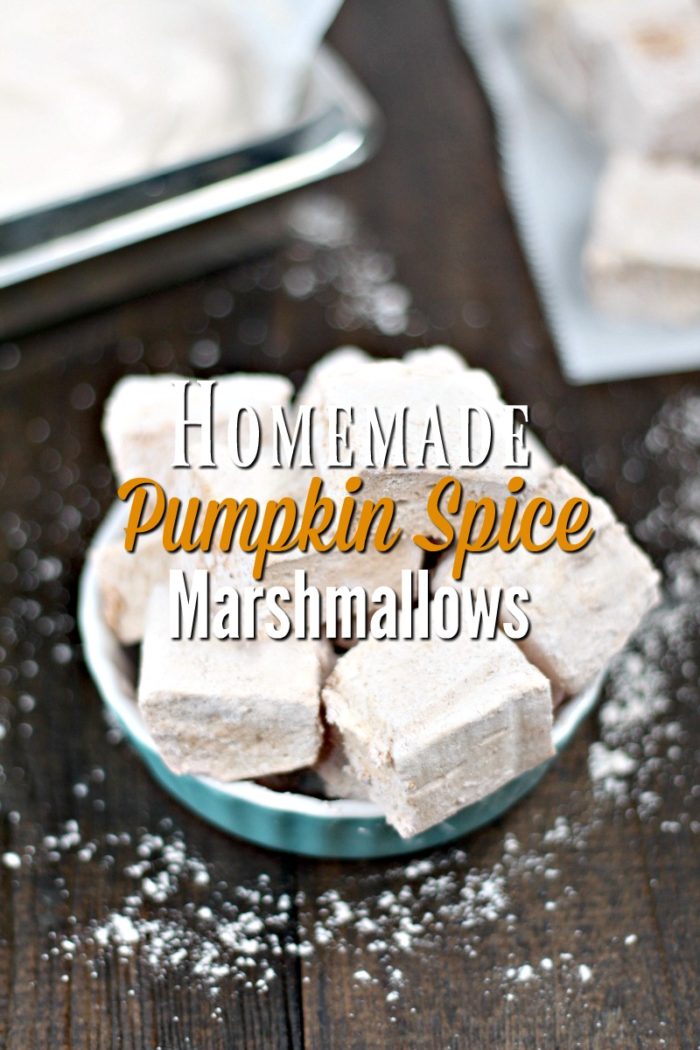 I'm "that" person… You know, the one that is dying for fall just to have some good, old fashion, pumpkin spice anything. I love everything about fall. The cool air, flannel, pumpkins, and especially PSL (pumpkin spice lattes, although I prefer to make my own). But how about pumpkin spice marshmallows? You can thank me now. Can you really get better than pumpkin spice marshmallows? Yes, actually you can. You make hot chocolate and top it with these pumpkin spice marshmallows. Been there, tried it. IT IS AWESOME. And homemade marshmallows are so easy and fun to make. Only a few simple ingredients and magic.
The kids will find this pretty fun, too. Some parts are dangerous (like pouring boiling-hot sugar water into a mixer), and kids shouldn't help with those parts, but watching it go from liquid to fluffy magic is fun. The other day, I was watching my friend's little girl, and she helped me make a batch. Since I was testing it out for the blog, I already had a previous batch ready for her to try. It was kind of like a cooking show on TV. You know, when they are putting something in the oven to cook and voila!… they already have that food ready in the oven. Something like that. But she loved them. She kept asking for more, which I had to eventually cut her off. Then I told her mom, "You're welcome. I sugared her up, and she's ready to go home with you." Haha, I'm kind of kidding here. Right after my friend left, I had Libby and her kids come on over to try these tasty marshmallows. It was a marshmallow sharing day!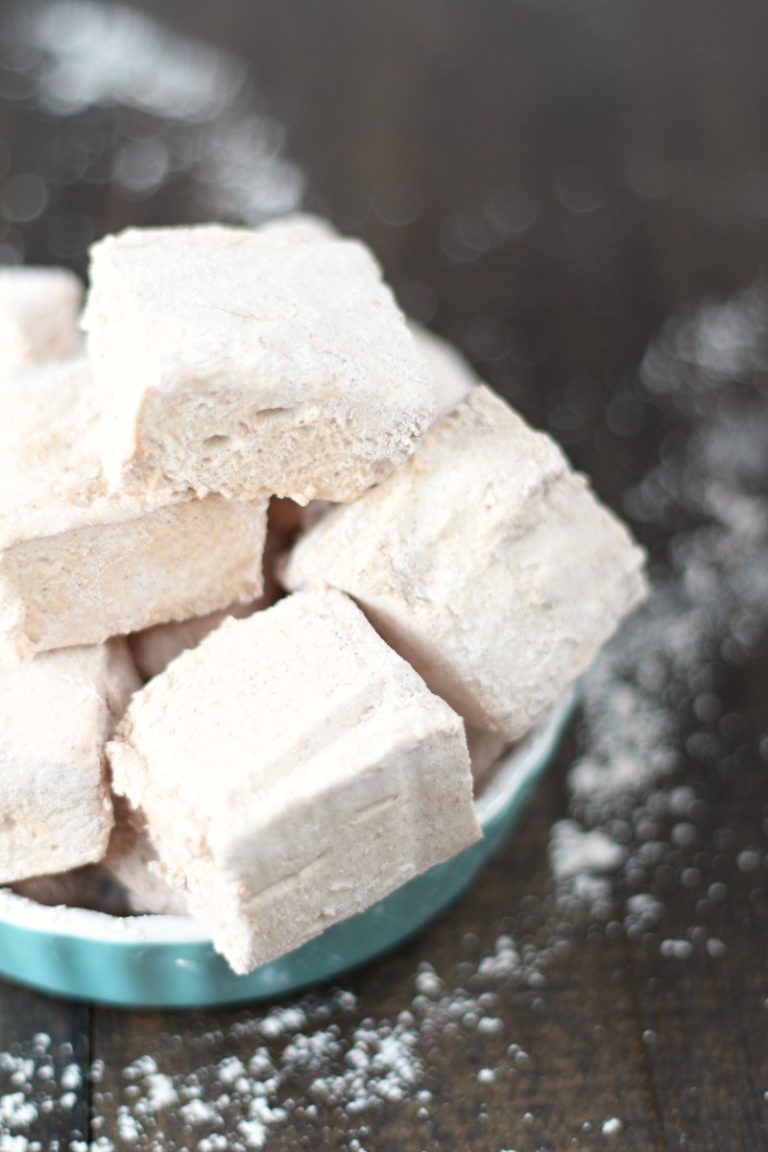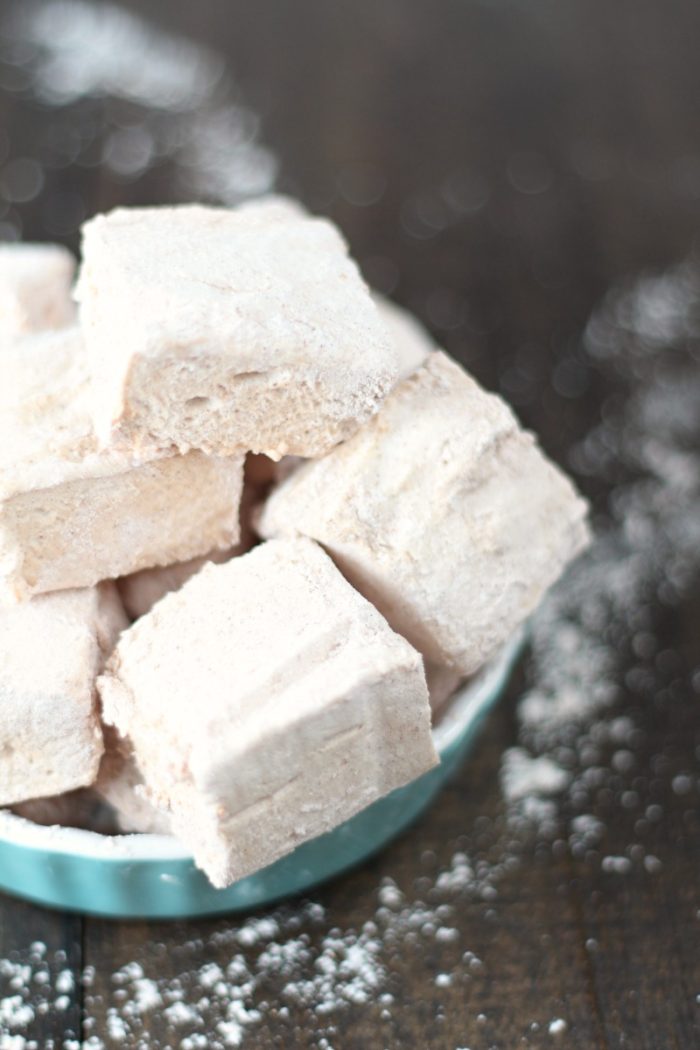 Libby is the other blogger here at A Blossoming Life, and she is truly the dessert queen. So, usually if I come up with an awesome idea I want her to do (because I know if she does it, it will naturally turn out way better), I text her. Seriously, you should see our texts. We will be chatting about church, or our day, and I randomly say "Baked Apple Spice Pancakes." If other people read our texts, they would think I had gone mad. Lately, with the weather changing, I have become mad… pumpkin spice mad. So, I'm going to apologize now for all of the pumpkin spice recipes coming on the blog. Like these Pumpkin Spice Oatmeal Lace Cookies, AKA crack cookies (my hubby says that word is too harsh, but they are seriously addicting). But, when this idea came to mind, I knew that it would be awesome, and I could do it since marshmallows are really easy. I have yet to mess them up, surprisingly.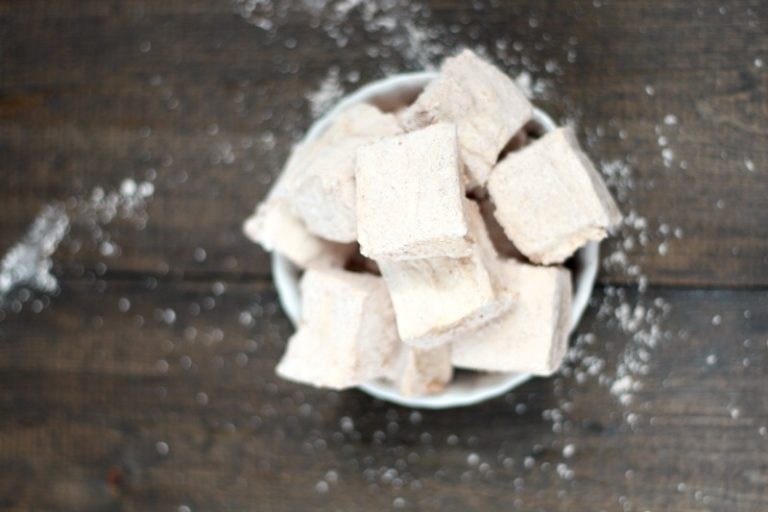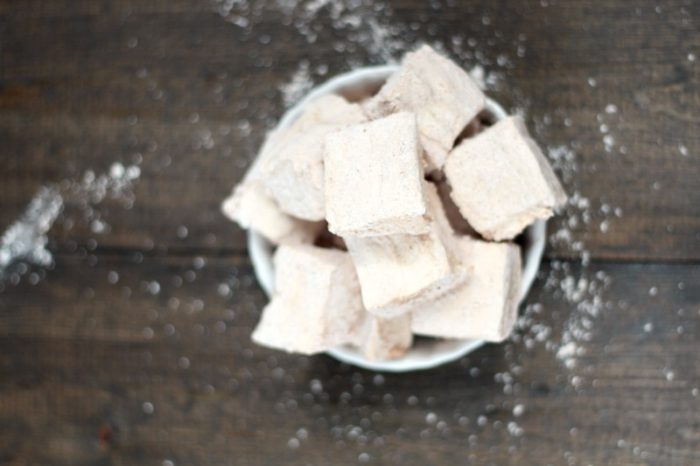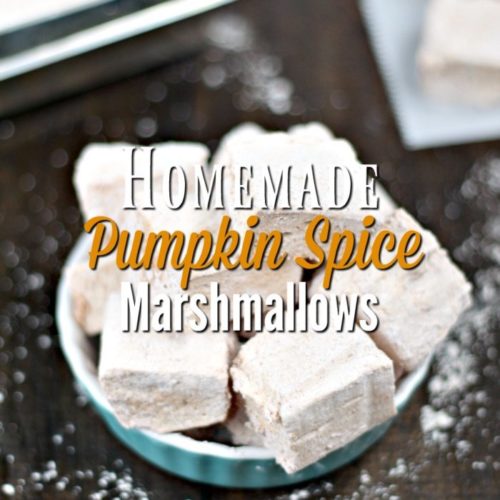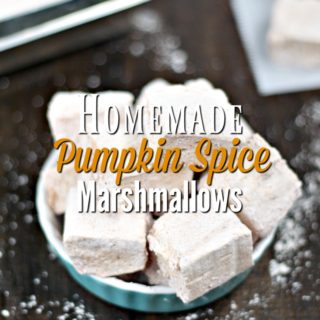 Pumpkin Spice Marshmallows
These easy homemade marshmallows are made with a pumpkin spice twist. Perfect for fall and a crowd pleaser. Great to bring to parties.
Print
Pin
Rate
Ingredients
3

Tbs

gelatin unflavored, preferably grass fed (I use this kind)

1

cup

water

cold and divided

1

cup

sugar

1/2

cup

honey

or just forget the sugar and add 1 more cup of honey

1

Tbs

pumpkin spice

1/4

tsp

salt

1 1/2

tsp

vanilla extract

GMO-free corn starch for coating the marshmallows. I like to add about a tsp of pumpkin spice to the cornstarch before rolling the marshmallows in it.
Instructions
Whisk together 1/2 cup cold water and gelatin in the bowl of your electric mixer. Allow to sit for 10-15 minutes.

Combine sugar, honey, 1/2 cup water and salt in a saucepan over low heat. Stir until the sugar dissolves.

Increase the heat to high and cook without stirring until the temperature reaches about 240º. Immediately remove the pan from the heat and stir in pumpkin spice.

Turn your stand mixer to low. Using the whisk attachment, slowly pour the hot honey mixture into the softened gelatin. Once combined, increase the speed to high and beat for about 15-20 minutes. Add in vanilla extract during the last 2 minutes of whisking.

Generously grease a 9x13 inch baking dish. Pour marshmallow mixture into dish and smooth out until flat. Let sit for at least 4 hours to overnight, or place in the fridge for an hour. Turn out onto a cutting board and cut marshmallows using a knife. I found it easiest to cut the marshmallows if I ran the knife under hot water before cutting each row.

Break apart cubes and roll in cornstarch mix to keep from sticking.
Notes
Lightly cover to keep fresh. Will stay fresh for 1-2 weeks.
You can just use 1 cup of honey instead of adding sugar.
Nutrition
Serving:
1
g
|
Calories:
69
kcal
|
Carbohydrates:
17
g
|
Sodium:
32
mg
|
Potassium:
6
mg
|
Sugar:
17
g
|
Vitamin C:
0.1
mg
|
Calcium:
3
mg
|
Iron:
0.1
mg
Ok, enough with the random ramble. I think I ate too many marshmallows while writing. Do you love marshmallows?
This post contains affiliate links. Affiliate links help support A Blossoming Life at no extra cost to you.