This tomato pie recipe has a perfectly flaky and buttery pie crust that is loaded with tomatoes and zucchini and a touch of garlic and cheese to make this delicious, savory pie. It's a great recipe for when your garden is brimming with fresh zucchini and tomatoes.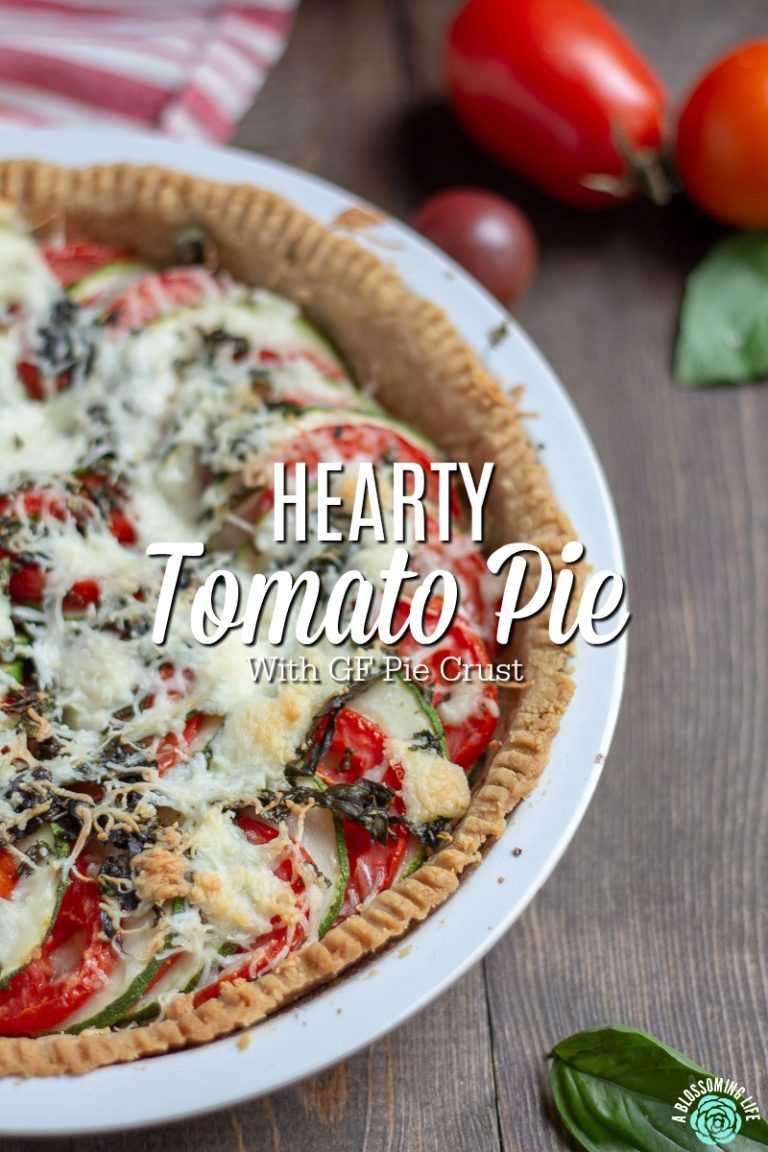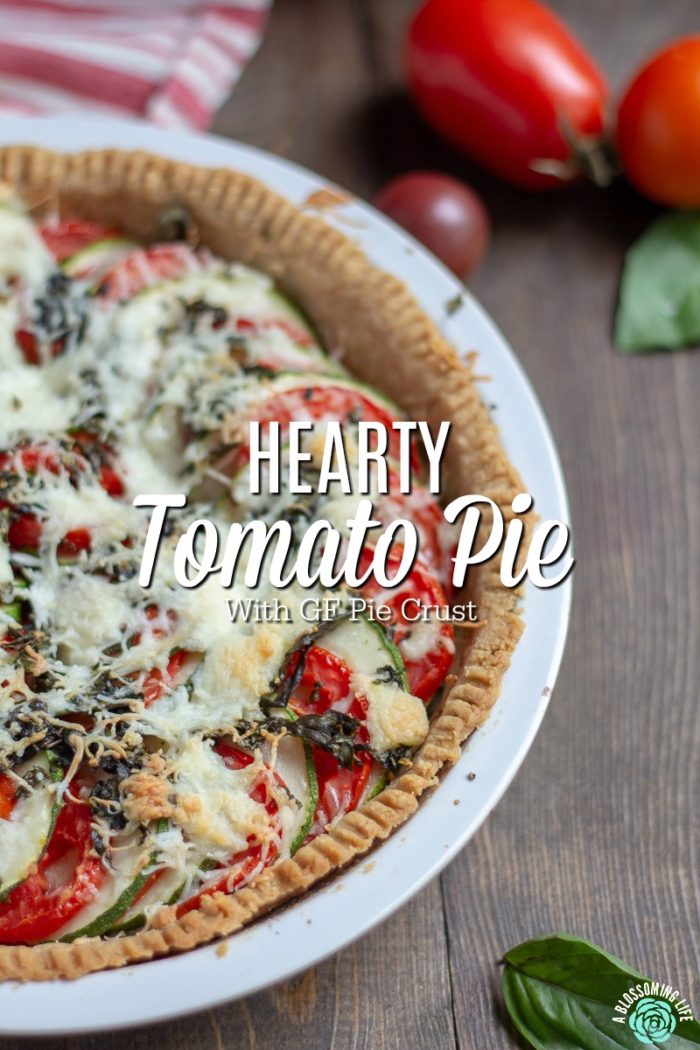 You may have heard me talk about my friend Abby in the past. She likes to come help me with DIY projects, like the fireplace makeover. Lately, she has been rocking it with delicious recipes. A few weeks back she brought a similar tomato pie over using homemade biscuit dough and parmesan cheese, and it was seriously so delicious. I asked her if I could have the recipe and, of course, if I could blog about it. She gave the typical cook's answer: "oh there's no recipe, I just made it up!" BUT, she promised it was easy and had super simple ingredients.
She also brought another delicious recipe the week after, and I'll be sharing my spin on it the next week or so. Maybe Abby needs to just contribute on the blog! Hmm…
Then, Abby comes a-knocking on my door with baskets full of fresh produce her family just picked from their neighbors' garden. Tons of fresh tomatoes, zucchini, fresh basil, and about a thousand lemon cucumbers. Okay, maybe not exactly a thousand.
So with all these delicious veggies, to the kitchen I went to try to recreate Abby's zucchini and tomato bake.
Random tangent: I have a love-hate relationship with food blogging. It takes a lot of work to get pretty pictures, and I always critique myself to no end. But add a pie, and having to slice it? Forget about it. I'm no professional pie slicer. So I did what I could and was ok without the most perfect pie slice. You can only do so much, ya know? Forgive my unperfected pie slice. It tasted the same going down, whether it was perfect or homely-looking (and that taste was DELISH).
This post contains affiliate links. Affiliate links help support A Blossoming Life at no extra cost to you. We only recommend products we use or would use.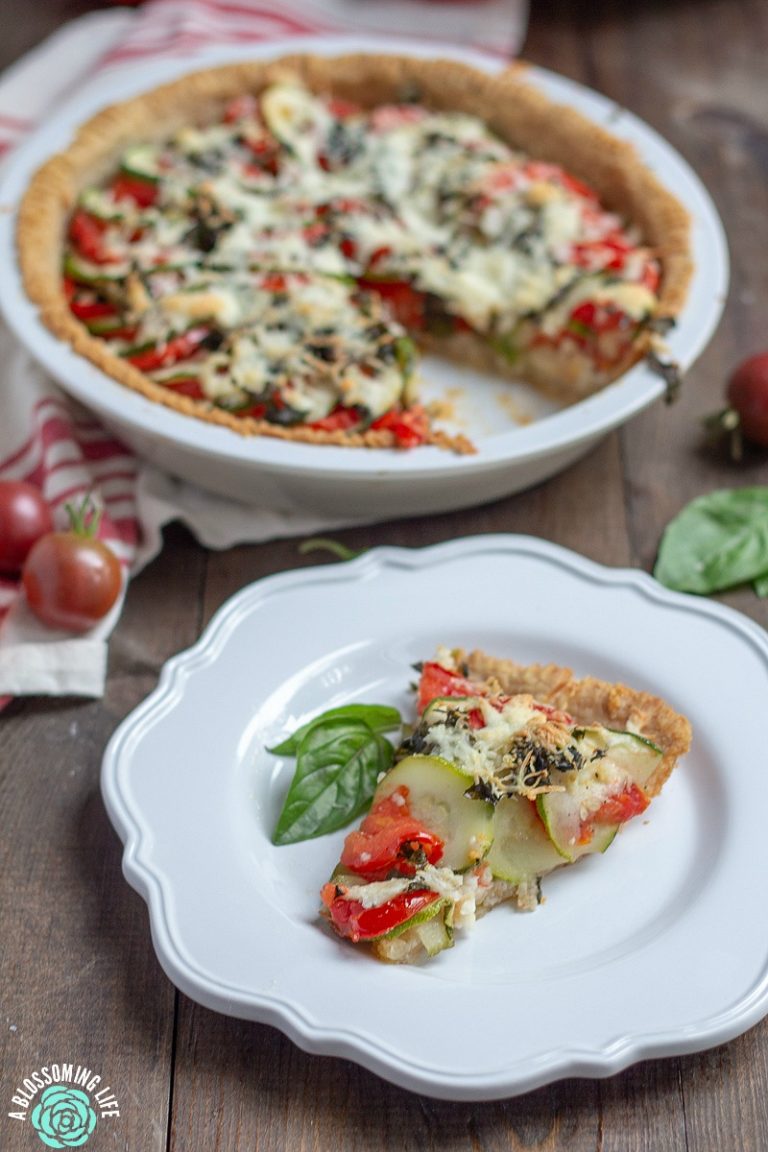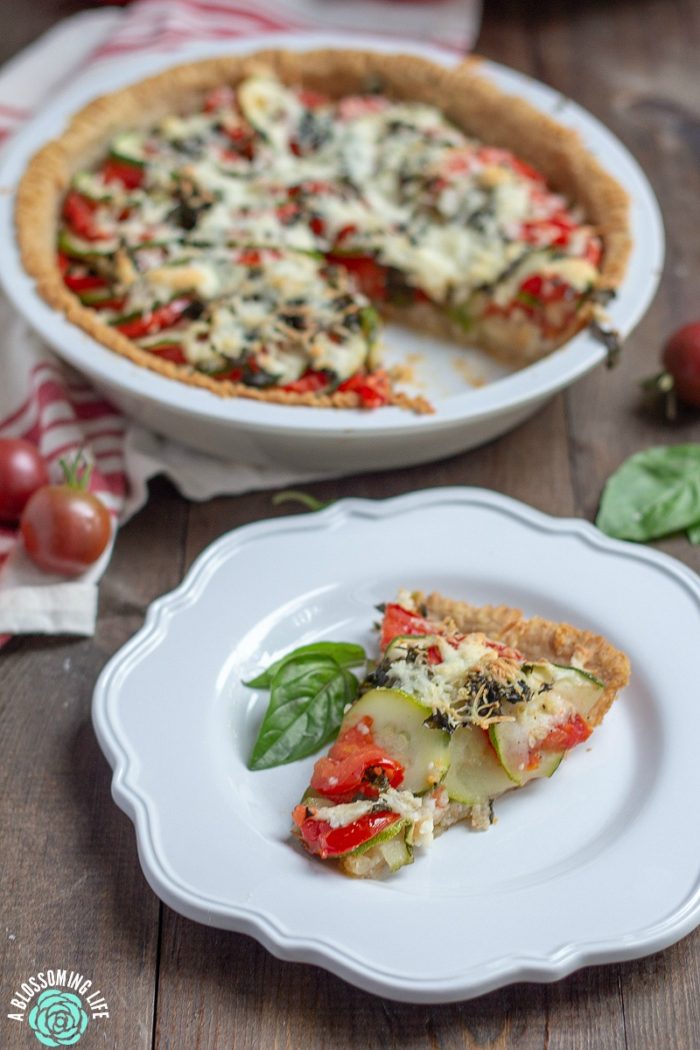 Tomato Pie
This tomato pie recipe combines my homemade gluten free pie dough using my favorite GF flour (although you can use any pie dough of your choosing, including store-bought dough), garlic, tomatoes, zucchini, some cheese, and fresh basil. Yummy!
Gluten-Free Pie Dough
In this recipe, I used my family's absolute favorite pie dough. It comes out great every. single. time. Crispy, buttery, and salty. Seriously, so good. But if you are not gluten-free, or you have your own favorite pie dough, you can use that.
So the pie doesn't become super soggy, it is important to pre-bake the pie shell and make sure to use a towel to try to remove as much of the tomato juices as possible.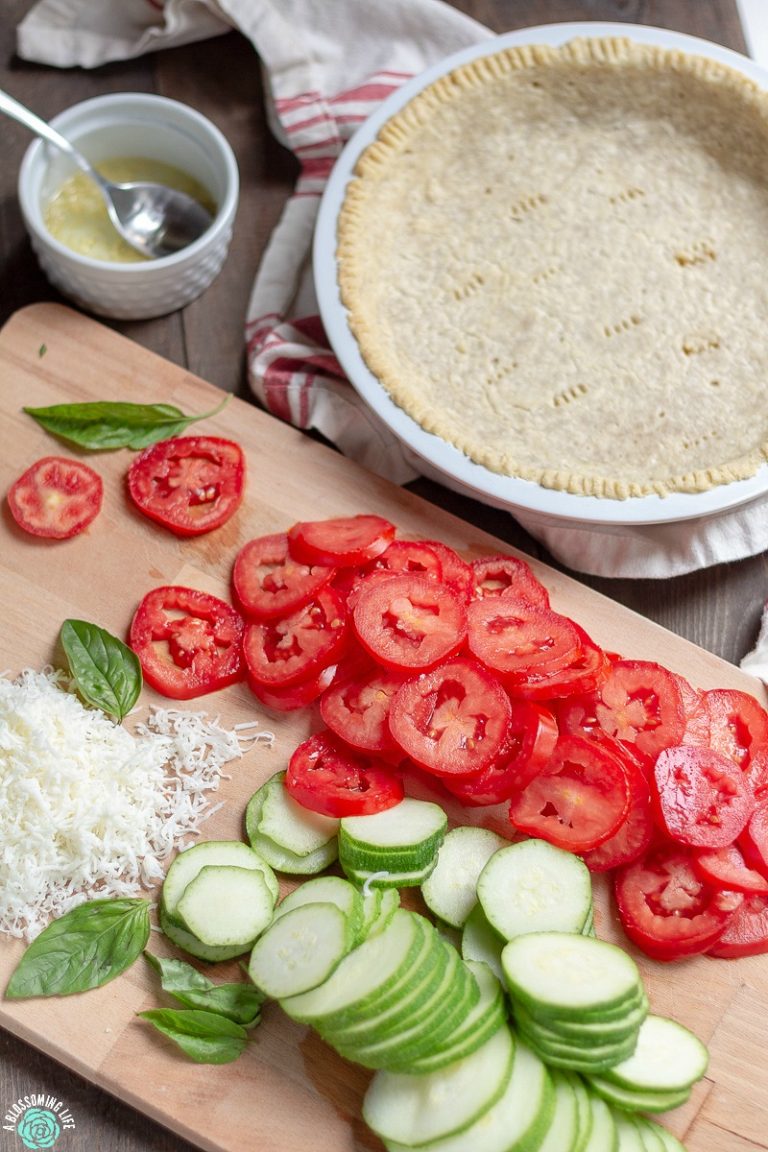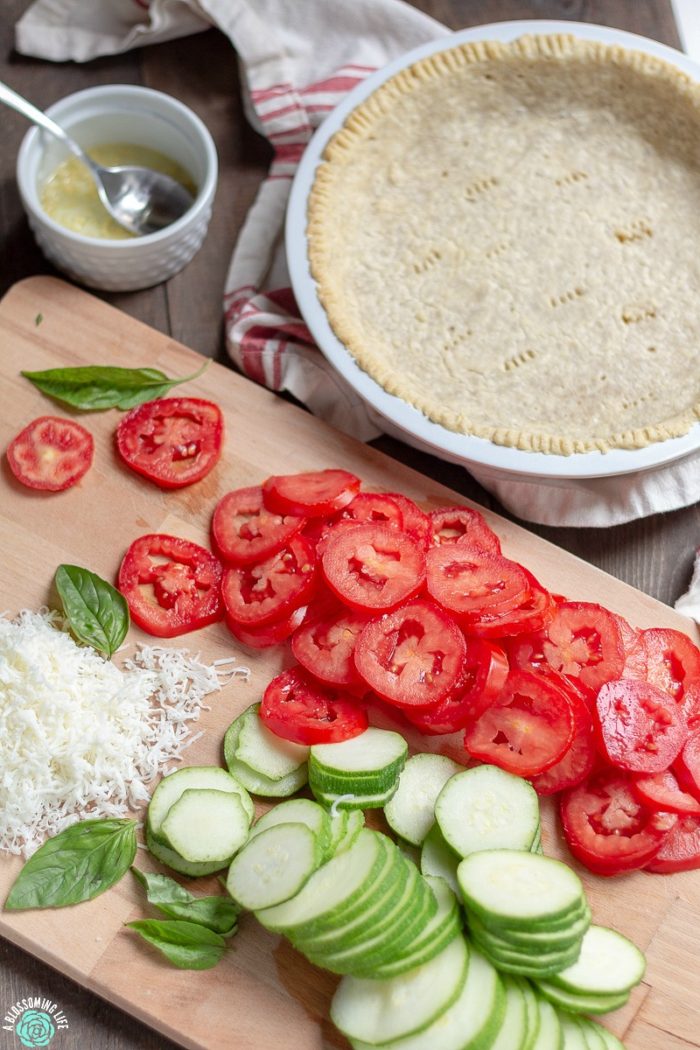 Prep Ahead
I love being able to prep a few things ahead of time, saving me time down the road. For this recipe, you can prep the pie dough ahead of time, then wrap it up and place it in the fridge. If you are planning on making this a few days out, you can place the pie dough in the freezer, then stick it in the fridge to defrost the night before you plan to make the pie.
Now, onto the tomato pie recipe.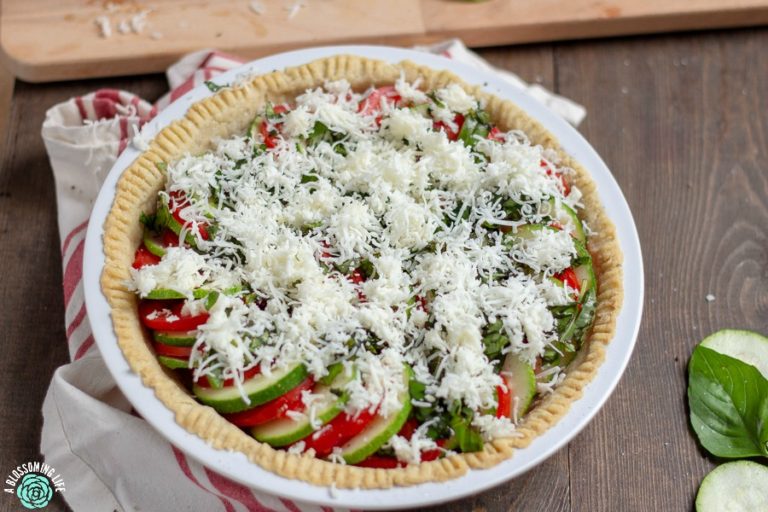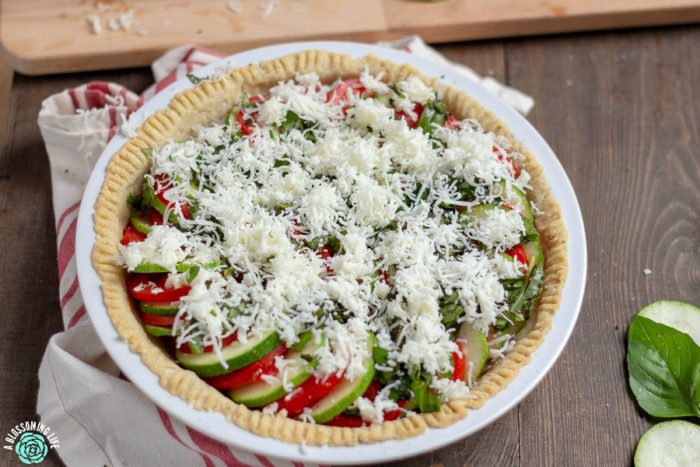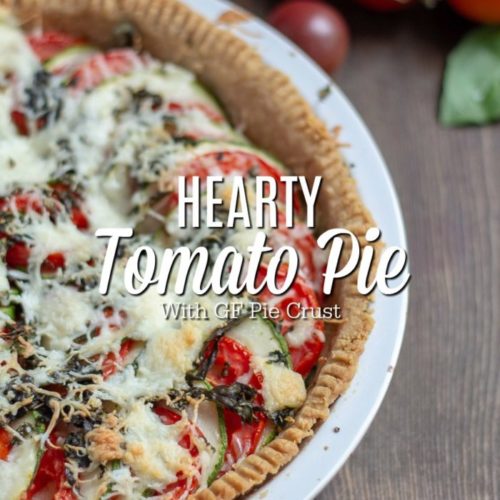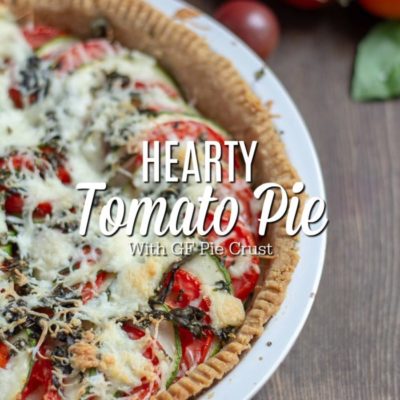 Tomato Pie
This easy tomato pie is simple recipe for when your garden is brimming with plump tomatoes. Perfectly flaky and buttery pie crust is loaded with tomatoes and zucchini and a touch of garlic and cheese to make this delicious, savory pie.
Print
Pin
Rate
Ingredients
Gluten Free Pie Dough
1

stick

cold butter

diced and placed into the freezer for 5-10 minutes

1

cup

GF flour blend

I used Bob's Redmill 1 for 1

1/2

tsp

course salt

1-3

tbs

ice water
Tomato Pie Filling
4

large

tomatoes

I used roma - sliced thinly

1

medium

zucchini

sliced thinly

3-4

cloves

garlic

minced

1-2

tbs

olive or avocado oil

handful

basil

chopped

salt and pepper to taste

1/2-1

cup

cheese

I used goat mozzarella cheese but you could also use parmesan or regular mozzarella
Instructions
GF Pie Dough
Cut up cold butter into small pieces and place in freezer for 5-10 minutes.

In a food processor, pulse flour, and salt until combined.

Add butter and pulse until mixture has no large pieces of butter remaining.

Add egg and 1 tablespoon ice water, then pulse until well-combined and dough holds together when squeezed. If it doesn't hold together well, add a little more ice water.

Roll into a ball and place in the fridge or freezer for 5-10 minutes.
Tomato Pie
Take out pie dough from fridge and roll it out until it is about 1/8 inch thick. Place in a pie plate, trim off any extra dough, crimp edges with fork, and poke pie dough on the bottom with fork.

Place in oven and pre-bake for 15-20 minutes.

Thinly slice tomatoes and place them on a paper towel to remove as much extra juice as possible. You can also dab them with a paper towel.

Mince garlic and place in a few tbs of oil. Slice zucchini thinly, shred cheese, and chop basil.

Once the pie shell has pre-baked, take it out of the oven and spread about half of the garlic-oil mixture on the pie crust.

Place tomatoes and zucchini in the pie crust, alternating between them (or just throw them in there. I'm not here to judge!)

Drizzle remaining oil and garlic over top of vegetables, add salt and pepper, basil, and sprinkle cheese evenly over. Place back in the oven and bake for 45 minutes or until the vegetables become soft.
Notes
If the pie starts to brown too much, you can cover just the edges with some aluminum foil.
Re-heat the pie the next day in the oven on 350˚. Pie shell crisps up nicely.
Nutrition
Serving:
1
g
|
Calories:
203
kcal
|
Carbohydrates:
12
g
|
Protein:
3
g
|
Fat:
16
g
|
Saturated Fat:
8
g
|
Cholesterol:
37
mg
|
Sodium:
292
mg
|
Potassium:
107
mg
|
Fiber:
1
g
|
Sugar:
1
g
|
Vitamin A:
585
IU
|
Vitamin C:
6.6
mg
|
Calcium:
72
mg
|
Iron:
0.7
mg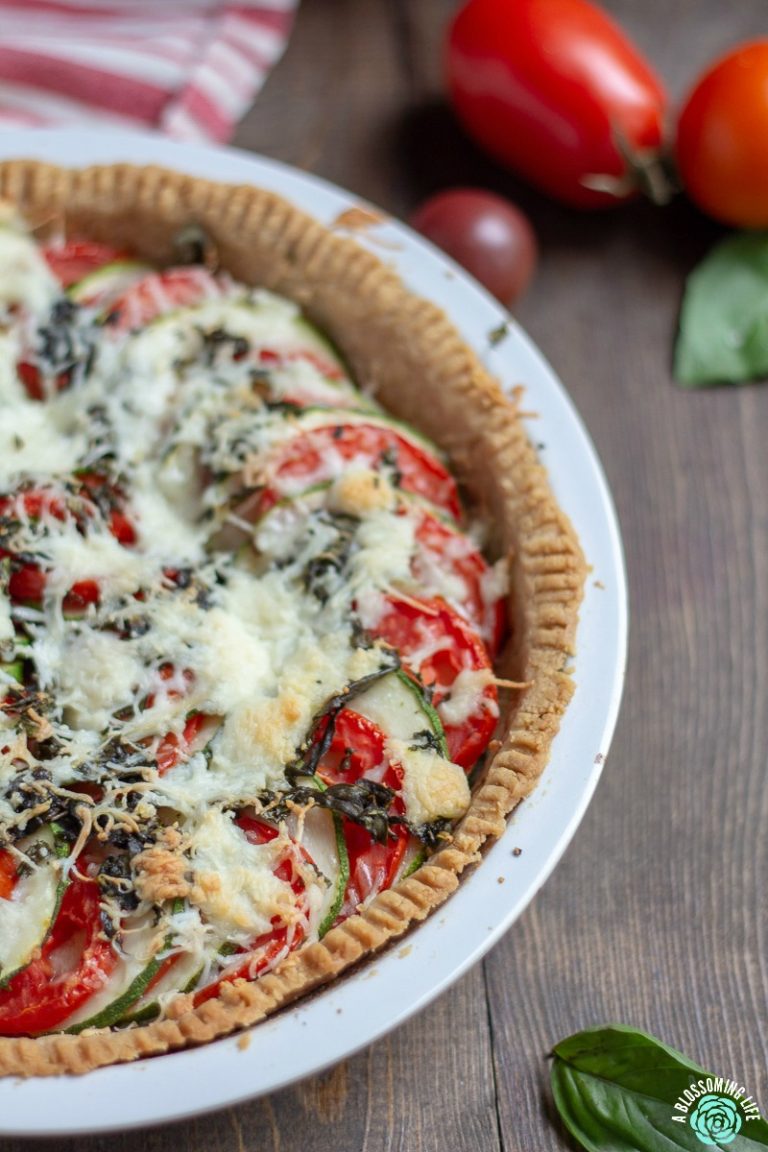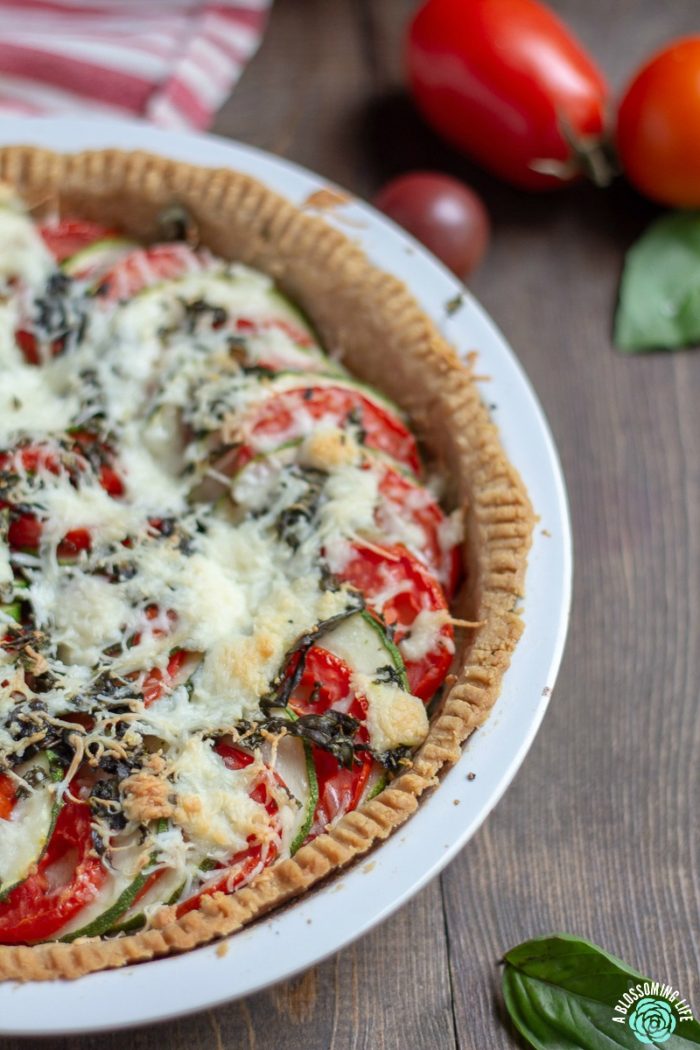 I had never had tomato pie before Abby brought it to small group, but it has definitely become a new family recipe. Ari (the baby) gobbled it up. Although, that is not really saying much because he gobbles up everything. He has yet to meet a food he doesn't like!
Need more pie ideas?