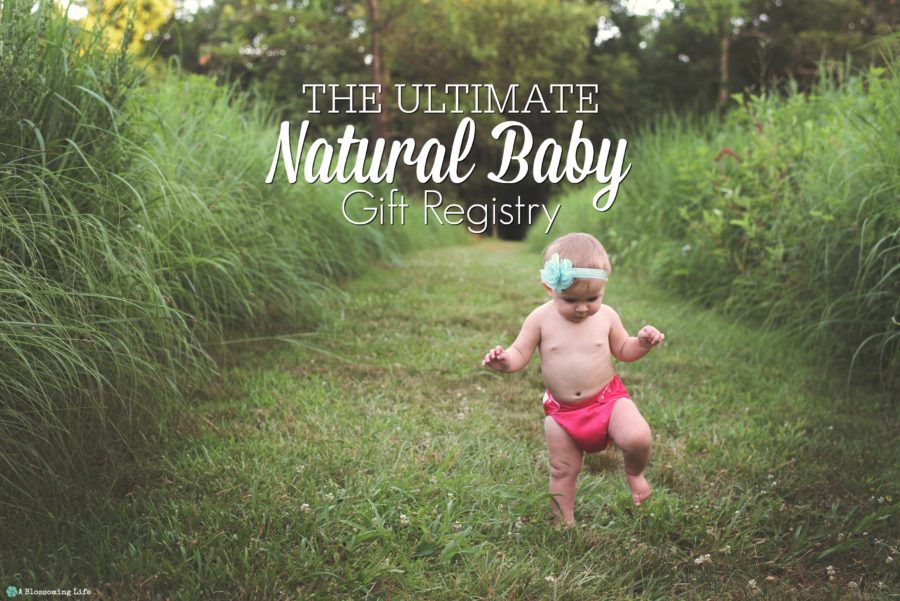 Photo credit of my adorable baby: Lovely Made Photography
This is my ultimate list of natural baby registry items that I believe are necessary. We've talked about minimalism a lot here, and I approached my baby registry with the same thinking. I wanted the best products (although, I wish I would've done a better job researching the first time around) that were absolutely necessary, and I didn't want anything that wasn't. A friend sent me her absolute must haves, and I narrowed it down from there. Of course, lessons were learned and you all benefit from that. We wish we would have registered for some things and not others. Honestly, a decent portion of your gifts may not even come from your registry at all. Be prepared. 
On this list, there are different options for you based on your decisions. For instance, if you are not planning to cloth diaper, I give you some all-natural disposable options. Plus, even if you do cloth diaper, you may want some good disposable options. We cloth diaper 90% of the time. Do what works for your family.
I've done a lot of research and looked at not only if it is natural, but also the quality and cost. I have many of these items, or would personally buy them myself. What I don't do in this post is get into all the details on why some products are better than others. Although I would love to do this, it would literally take me weeks or months to finish this post. I do give you a brief rundown on some of the biggies and why they are better, like car seats and strollers.
Where to Register?
I would recommend registering at two places, my favorite being Amazon. Especially if you are going in the natural route, it is hard to find everything you need in one place (except Amazon, they basically have everything you could possibly ever dream of). Target, Baby's R Us, and Buy Buy Baby have some great natural options. There are also some awesome, local, brick and mortar stores that you can register at. You can find some great online promotions for Target which will save you a lot of money. So do your research before you buy anything and see if it's possible to get some coupons. My personal favorite is Mom's Milk Boutique in West Frankfort, IL. They also have an online store. 
Diapering
12-24 Cloth Diapers – There are many brands to choose from – this could be an entire post! Next time around, I'm going to get some of these Bumgenius Elemental Organic
, instead of the cheapies that we purchased. You need at least 12-24 cloth diapers. Babies can usually start wearing normal cloth diapers around 10 lbs (even if they say 7 lbs, they still may not fit), and newborn cloth diapers or disposables are recommended until then. We actually just used disposables until she fit into the cloth. There are many brands and styles. We use a pocket style, but if you're looking for convenience, then AIO might be more up your alley.
Natural Disposable Diapers – Seventh Generation Baby Diapers
. These are the best ones for the price that I have found.
10-20 Reusable Baby Wipes
and Solution – You can definitely DIY these, but for those who don't want to DIY,  Baby Bits Wipes Solution
 is a great, natural alternative (I've tried them out and they are great).
Natural Disposable Wipes – I use WaterWipes
which are rated 1 with EWG. They have the least amount of ingredients and the safest ingredients that I have found.
2 Diaper Pail Liners for cloth diapering – We use Planet Wise Reusable Diaper Pail Liner
Travel Wet-Dry Bag – For clean and dirty cloth diapers
Diaper Cream – Try making your own, or you can use Badger Balm
, Honest Company
, Earth Mama Angel Baby, Bottom Balm (cloth diaper safe)
– all are rated 1 with EWG.
Diaper Detergent – Check out this post to find good cloth diaper detergent.
Diaper Liners (like these)
– These are great for older babies. You just toss out the poop, and you don't have to have a diaper sprayer and such attachments. Or you can scrape and spray and forgo these.
Diaper Pail – You don't need one of those fancy diaper pails. We use a small garbage can with a flip lid, and it has worked perfectly.
Indoor Dryer (like this one)
– Optional, but I use mine every other day to dry our diapers. Plus, you can easily move it outside for sun bleaching.
Feeding
Avoid plastics and stick with safer options like stainless steel, silicone, and glass. BPA free plastics still contain other harmful chemicals that can leach when they are heated. If you do use plastic, make sure not to heat it up or serve hot food/drinks on them.
2-3 Pacifiers – Choose food-grade silicone or natural rubber. Like the rubber Eco Pacifier
, or the silicone Chicco
 and NUK pacifiers
Breast Pads – Like these Organic Bamboo Nursing Pads
Breast Pump – Medela Pump in Style Advanced Breast Pump
– check with your insurance, they may cover a pump.
2-3 Cotton Nursing Bra
s
Nipple Butter– Like Earth Mama Angel Baby Natural Nipple Butter
1-2 Pumping Bras – (I used one like this)
This is optional, but they are really helpful, especially if you are planning to go back to work. 
4-16 Glass Bottles – We use Lifefactory Glass Baby Bottles. B
est part is that you can hook these bottles up to your Medela Pump, and the Lifefactory bottles have Sippy Cap lids
 (yes, these are BPA free plastic, but I still would only recommend to put cold drinks in them), so you can switch them out when baby gets older. If you are planning to breastfeed, then you will need less, and if you're planning to formula feed or exclusively pump, you will need more. Another great option is the Philips AVENT Glass Bottle.
3-5 packages Breastmilk Storage Bags (like these)
– I used a variety of brands in the beginning and loved these the best. Later on, since I tried to stay away from plastic, I switched to leaving my milk in the glass bottles the milk was pumped into, or transferring the milk to small mason jars to keep in the freezer.
1 Nursing Cover – You can DIY this awesome one, or you can register for one like this
.
Boppy Nursing Pillow
 with Slipcover – I couldn't survive without this baby. Some moms never use their Boppy. I used it so much that my friend lent me hers so I could have two. TMI – one was for baby, and the other was for me to sit on (if you get what I mean). If you want the ultimate natural breastfeeding pillow, then go with Holy Lamb "bo peep" nursing pillow made with organic cotton and wool.
3-5 Burp Cloths
or you can just use towels and blankets – We rarely used burp cloths. August rarely spit up, and when she did, I wiped it up with a blanket. 
Older Babies
High chair – Personally, I liked the idea of having one that was small, compact, grew with baby, and could easily be removed. So, we went with one like this
. Yes, yes, it is plastic, but I never put food directly on the tray and always use a plate. Honestly, it is very difficult to find a natural high chair. The Stokke Tripp Trapp
is your best bet, but it comes at a price.
2-3 sets of Eating Utensils – We love our  stainless steel utensil set
 and have a set like these silicone spoons
. IKEA also has some stainless steel silverware.
3-5 Silicone Plates and Bowls – We have plates very similar to these
. We try to stay away from plastic, so I love silicone plates and bowls.
2-4 Sippy Cups – We love our Lifefactory Sippy Caps
 that go along with our Lifefactory bottles (hello, simplifying), and also use the THERMOS FOOGO
stainless steel sippy cup. Both contain some plastic in the lids, but I never put warm liquids in them, and they both have a silicone insert (I don't use the second plastic insert in the Thermos sippy cup). If you want a less plastic option, you can go with Green Sprouts
. The insert is glass and the outside is covered with plastic.
Bibs – This 4-pack from  Burt's Bees  look great, and how cute are these Bandana Bibs
. Prippie Soft Silicone Baby Bib
 are really handy for those messy eaters.
Baby Food Storage Containers – Currently, we use Wean Green Round Wean Bowls
. These OXO Tot Glass Baby Blocks
 containers also look like a good option. We also use these LunchBots
a lot now that August is a little older.
Clothing
So, you definitely don't have to get organic clothing. It is a little more expensive, and we only had a few pieces of organic clothing. But try to stick with natural fabrics (most of those polyester sleepers are sprayed with flame retardants, where cotton ones usually are not) and make sure to wash them with a natural laundry detergent before baby wears it. If you are planning to have more children, you may think about getting more gender neutral clothing, and then dressing them up with hair bows, hats, etc. You know, so people can tell the gender (although, they will call your girl a boy even if they are wearing a giant pink bow… true story), but then you can reuse the clothing for the next baby.
3-4 Pajamas
in each size – Burt's Bees Baby Organic Zip Front Sleeper has lots of adorable options
or you can go with a slightly more affordable option with these Carter's 100% cotton pajamas
.
4-8 Onesies
in each size – like these
3-4 Pairs of Pants
in each size – Like these adorable ones
4-7 Pairs of socks – like these
1-3 Rompers
in each size
1-3 Hats
– normally you get a free one from the hospital.
1-3 Jackets
 – this one is pretty adorable
Sleeping
So, there are a few ways you can go about this. Some people co-sleep, some people use co-sleepers, others use rock-n-plays, pack-n-plays, or even a dresser drawer (true story, my OB did this with his firstborn). We went with a pack-n-play instead of the rock-n-play, because we traveled a lot and knew we wanted something easier to travel with that grew with baby. We used this as her bassinet next to our bed until she was about 12 months old, (the days really blur together) and then we moved her over to her crib.
You want to make sure you are getting bedding that isn't treated with flame retardants and doesn't contain PVC/Vinyl or polyurethane foam.
Bed Choices: 
I would recommend getting a regular rib and a travel crib for convenience.
Lotus Travel Crib – This travel crib contains no lead, PVCs, fire retardants, or phthalates.
Pack 'n Play 
– Pack-N-Plays made after 2014 are manufactured without flame retardants. 
Organic Pack N Play sheets – (like this one)
Cribs – We went with the Babyletto Hudson
. It is made from solid wood and is Greenguard Gold certified for very low VOC emissions. If you are looking for a more price-friendly option, Ikea might just be your place. The Ikea Singular crib is made from solid wood and contains a non-toxic lacquer finish.
1 Organic Mattress – My Green Mattress 
and Naturepedic Organic Cotton Crib Mattress
 are great options. Mattresses can let off gas, so you definitely want to stick with a more natural mattress. If you're unsure what size mattress is needed, even if it isn't for your child and just for you, you don't want to waste your money on one that doesn't fit your bed. Check out this guide to mattress sizes to double check that you're getting the right one.
2-3 Organic Crib Sheets
1-2 Organic Mattress Cover – like this one
4-6 Swaddling Blankets 
– We have at least 6 swaddling blankets and constantly use them.
Sound machine (like this one)
Bath Time/Other Necessities
2-3 Hooded Towels
– how cute is this bamboo one,
though?
Bath Tub – Like the PRIMO EuroBath
Water Pourer – To pour water on baby during bath time.  Like the Skip Hop Moby Bath Rinser
Natural Brush And Comb Set
Natural Shampoo – Shea Moisture
, Alaffia – EveryDay Shea
, and Earth Mama-Angel Baby
all score a 1 on EWG.
Natural Skincare – My favorite is The Honest Company Healing Balm
. Other great options include:Earth Mama Angel Baby Calming Lavender Baby Lotion
, Shea Moisture -Healing Lotion
, and California Baby Everyday Lotion
(although it does have a few ingredients I'm not super fond of, it still has a low score on EWG).
Natural Sunscreen for babies 6 mo+: Badger Baby Sunscreen
, Bare Belly
, and Thinkbaby Sunscreen
(has pretty good ingredients and low score on EWG)
Booger Sucker– FridaBaby Nasal Aspirator
Nail clipper set: Nail care gift set
Digitar Ear Thermometer
Traveling
Car Seat
This one is very difficult. Most car seats are treated with flame retardants, and there are very few natural options. According to EWG, from the 15 car seats studied, "Britax and Clek as the best car seats for chemical hazards and Graco, the worst." You also have the choice of an infant seat or a convertible seat. Experts say that infant seats are safer for babies under 20lbs. We had an infant seat in the beginning and switched to the convertible car seat when August was 7 months old or so. I just couldn't carry her any longer, and she was a peanut (hello, weak mama over here). 
Uppa Baby Mesa 'Henry' – In April 2017, Uppa Baby is releasing the Mesa 'Henry' car seat with a cover made from wool and not treated with any sort of chemical. The 'Henry" is the only one of their car seats that is considered non-toxic. 
Britax
Car Seat – They were once known for being one of the most toxic, but have changed their ways. They use a safer flame retardant. 
Clek Convertible Car Seat 
– Uses Greenguard certified fabrics that are free of brominated and chlorinated flame retardants. The starting weight for this car seat isn't 14lbs.
Stokke Pipa By Nuna
 – This carseat uses safer flame retardants and only in the foam, not on the fabrics.
Note: If you purchase an infant seat I would recommend getting two bases if you have two cars. That way it is easier to change cars without changing the bases too.
Car Mirror – Like the Baby Caboodle Backseat Baby Mirror
Stroller – There are many many options out there. Do you want a regular stroller, jogging stroller, double stroller, etc. 
I wish we would've registered for a nicer stroller, but we thought we would hold out until the next baby to get a really nice double jogging stroller like the BOB Dually Stroller.
Looking back, I wish we would've registered for a nicer stroller for how much we use our stroller for walks and jogging, and how much I have to kick the wheel of the stroller for it to go straight. Lesson learned, and we will be saving up for the double BOB for the next baby. While writing this I found that even though BOB strollers do not contain flame retardants, they do contain a polyurethane coating to protect from spills. Make sure to research your stroller to check for these things, but hopefully this gives you more of an idea.
Best Stroller Option: Bumbleride. Bumbleride uses OEKO-TEX® and Bluesign certified fabrics. Their strollers contain no flame retardants and materials are made from recycled bottles.
Other good options: UPPA strollers
  and Baby Jogger don't use flame retardants
. Many other brands report not using flame retardants, including Bugaboo, Britax, BOB, Maclaren, Maxi Cosi, Phil & Ted's, Mountain Buggy, Orbit Baby, Mamas and Papas, Evenflo, The First Years, Graco, 4moms, and Joovy.
Tula Baby Carrier and Infant Insert – This is mine and my husband's absolute favorite baby carrier. It is easy to get on and off, and you can wear them on your front or back. It is also ergonomic, and creates a deep M in the legs which is the proper position. Please don't waste your money on cheap carriers that are not good for your baby. We loved our infant Tula so much, we bought a toddler Tula. You can also find Tula's at Target – so if you register there, you can just add it to the list. 
Tula uses 100% cotton canvas and the foam they use is free from flame retardants.
Ring Sling – (like these)
I really loved my ring sling when August was a newborn until she was about 3 months old, and we switched to the Tula. I didn't have an infant insert for my Tula at the time. 
Did you know that many areas have a baby wearing group that meets and allows you to try on and even rent baby wearing gear before you buy?
Diaper Bag- This is totally optional. Say what? You really don't need a specific diaper bag. We ended up switching to a small backpack when August was about 8 months. If you don't get a specific diaper bag I would recommend registering for a travel changing pad (like this one).
If you want a more natural diaper bag, there are some great options out there:
Honest Company offers adorable diaper bags made without "PVC, latex, brominated flame retardants, polyurethane foams, glues, heavy metals, chlorine processing, phthalates, BPA, BPS, or AZO dyes"
Petunia Pickle Bottom 
– are PVC free
 
Lassie Fashion Diaper Bags 
– are made from cotton or recycled bottles free of PVC and phthalates.
Play Time
Wood Toys – Like the Skwish rattle
, Hape wooden toys
, and Melissa and Doug Toys
for when baby gets a little bigger.
Natural Teethers – Olives and Pickles Organic Wooden Teether
and Ike & Leo Silicone Teething Toy
are great options.
Play mats – Some good options include:
Bouncer – BABYBJORN Bouncer
 is a great pick for the price – the black/brown color is made with organic cotton. The other bouncers by Babybjorn are high-quality fabrics made without flame retardants. Another a bit pricier option is the Nuna LEAF Curv Baby Seat Cinder
. This bouncer has Oeko-Tex certified fabric and is made without flame retardants.
Items You May Want
Amber Necklace (like this one)
 – For older teething babies. Some people think this is voodoo, my hubby thought this, too. But, we really think this works, and it makes August and us happier. Always use caution while baby is wearing this. Never let them sleep with it, and always keep an eye on your child while they are wearing it. 
Items You May Want/Need But Could Survive Without
Monitor – Yes, no, maybe so? We rarely use our monitor. We live in a small house, and you can hear a baby crying no matter where you are. If you live in a bigger house, then you may need one of these.
Rocking Chair – I never used ours, and my husband uses it for reading. I couldn't nurse in it, and August isn't a snuggler, so it just didn't happen. We were much happier on the couch with our Boppy.
Changing Table and Mat – Changing on the floor is a much safer option. Just place down a towel or blanket to change on top of. You can also get a changing mat (Like the Naturepedic Organic Cotton 4-Sided Contoured Changing Pad
) with slipcovers and use that on the floor or attach to a dresser if you really desire a changing table.
Chew beads Chew Beads
Items You Don't Really Need
Wipe warmer – Although they seem like a good idea, they can harbor bacteria. My friend's nephew got an infection from his.
Bumbo – They are dangerous and are actually not great for leg development. 
Lots of toys – Just ask for a few, durable, good-quality toys. 
Baby food maker – A regular food processor will do. Honestly, I just mashed up our food or cut it up into tiny pieces. August hated baby food, but would gobble down real food in a heartbeat (without teeth). 
There you have it. The absolutely necessary items you need for baby. Is there anything you would add to the list?
The Ultimate Natural Baby Registry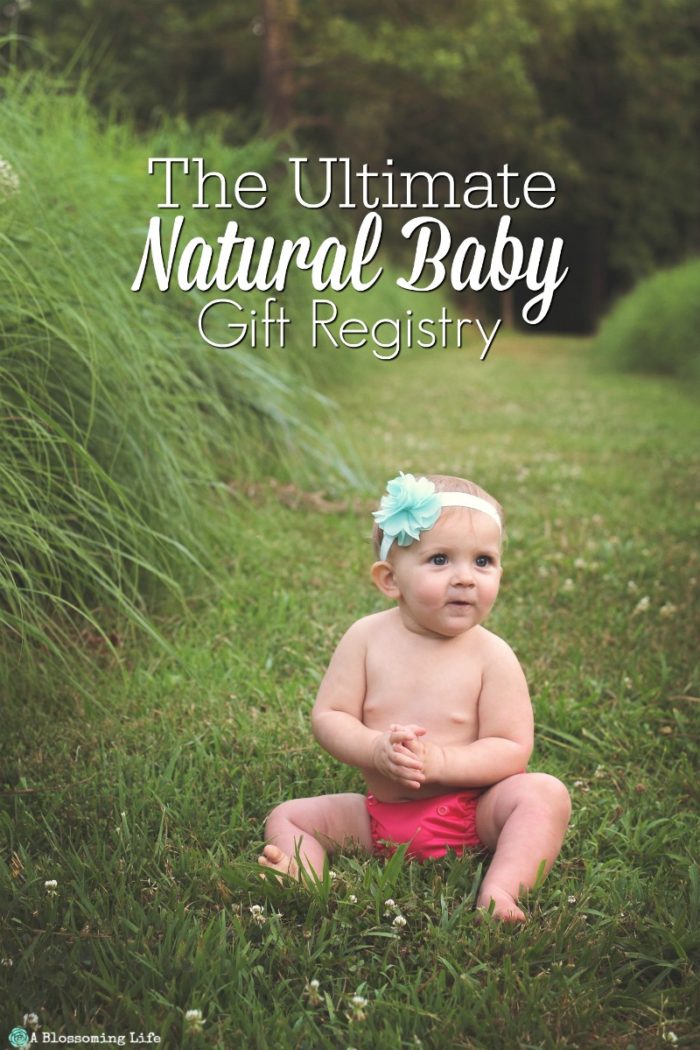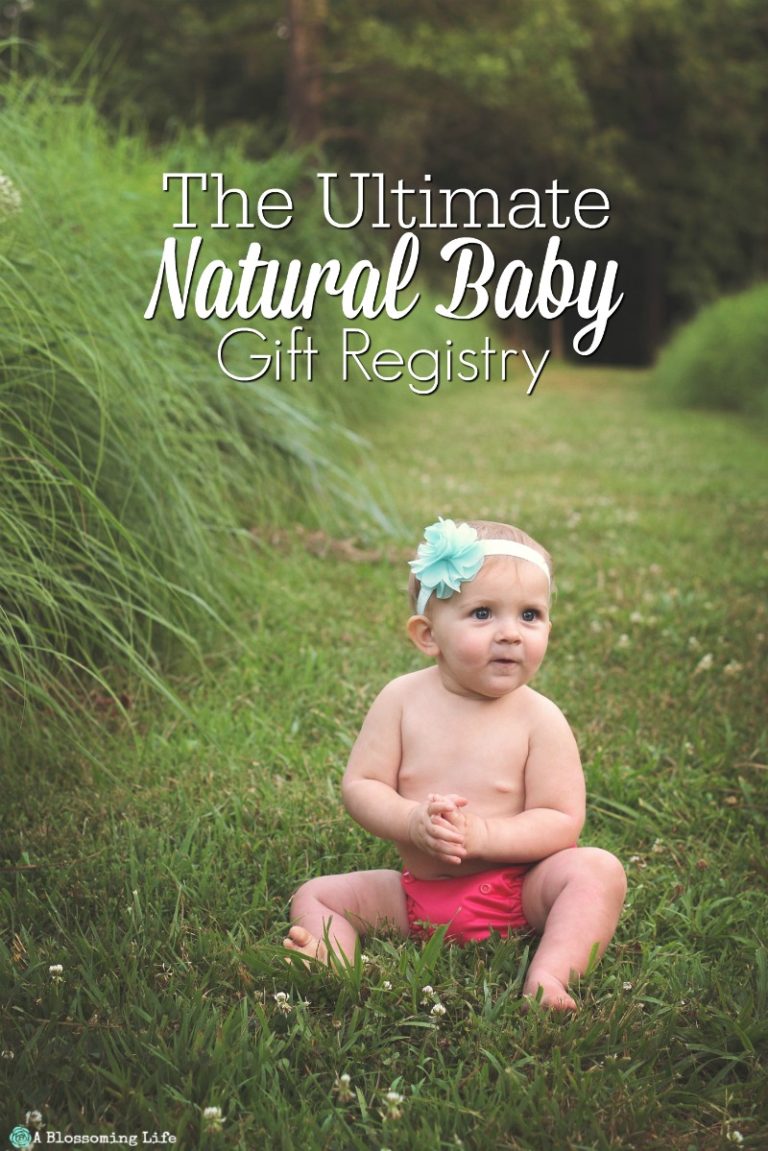 This post contains affiliate links affiliate links help support A Blossoming Life at no extra cost to you.