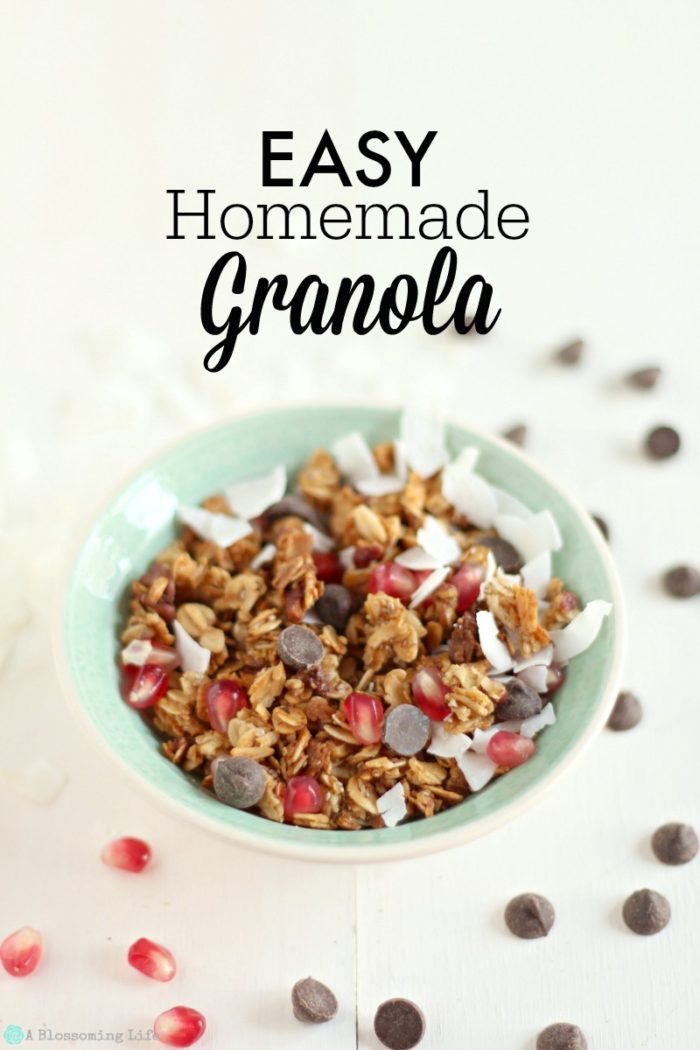 Crunchy, sweet, and salty. What is not to love about granola? Granola is one of those things that you buy at the store, but it is so much healthier and cheaper to make yourself. Maybe I'm a control freak, but I love to be able to control what goes into my food. Who wants preservatives and ingredients that are hard to pronounce? Not this girl.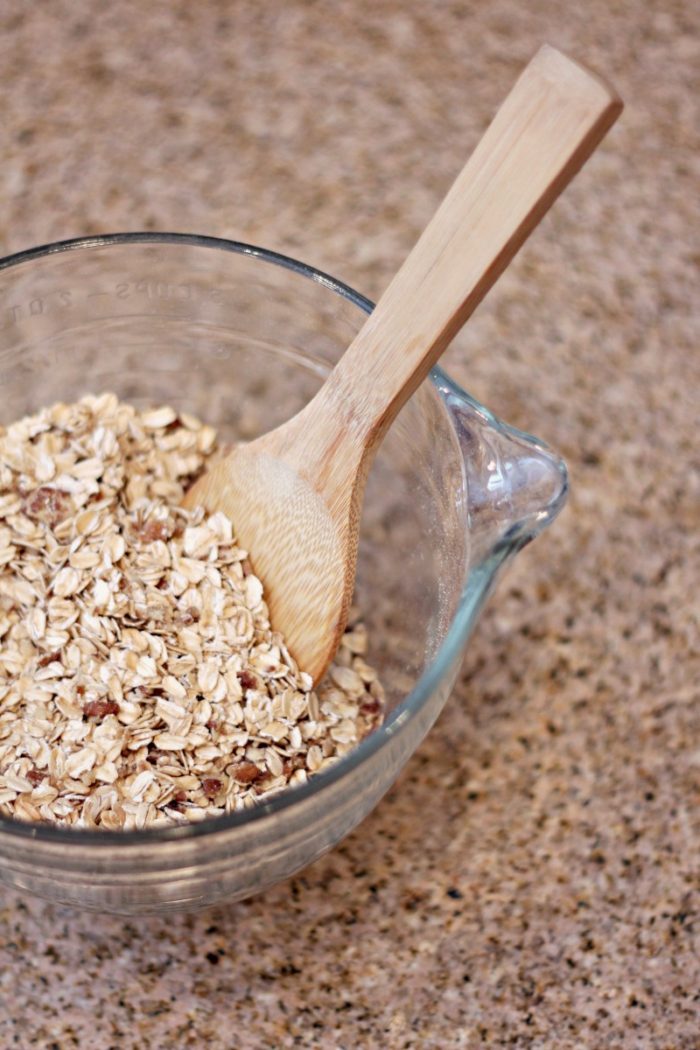 I'm not going to lie, though. This isn't my recipe. Gasp. It's actually my mother's, and she graciously offered it to me to share on the blog. Isn't that great? She will come up with blog ideas from time to time, and she is nice enough to share them with me. One of the best things about this recipe is that you can change and adapt it to your liking. Add some dried cranberries or blueberries. Why not? Chocolate chips. Awesome. Different assortment of nuts. All up to you, my friend. Or leave it be and eat it with your hands, while binge-watching Gilmore Girls. I'm not not here to judge.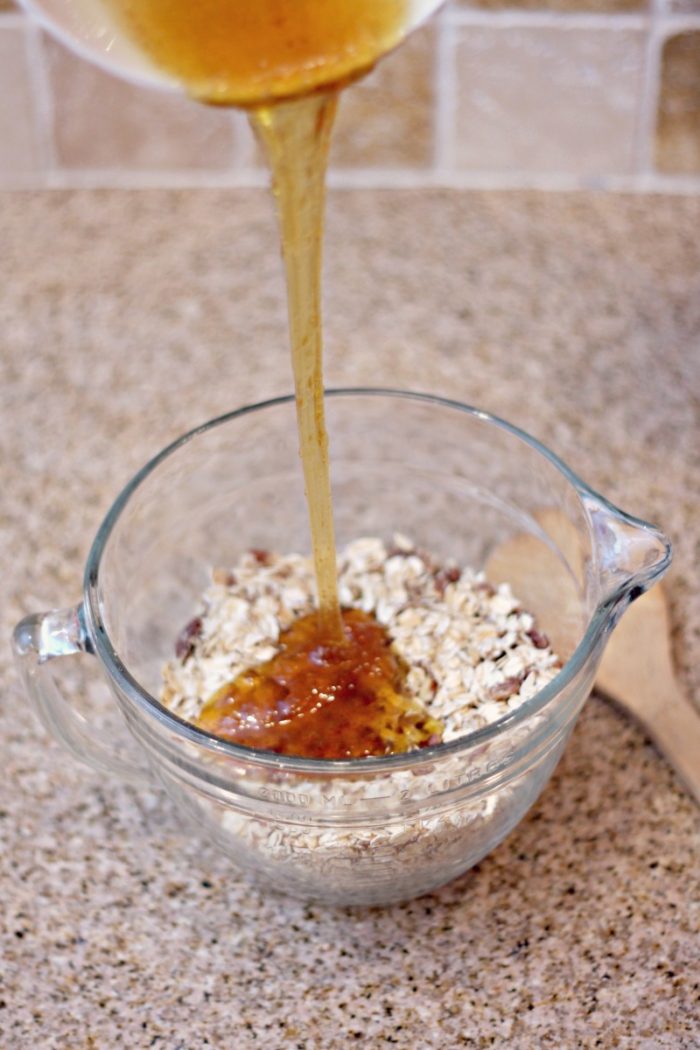 My mom makes this recipe every single week. We made this together while hubby, August, and I were up in Chicago visiting for Thanksgiving. Unfortunately, the weather was really crummy during our stay, and I couldn't take good final pictures of it. So, I took a baggy back home with us, and the weather has still been crummy. Why am I telling you this? Because that delicious final picture of granola is super stale. Ha. Like over two weeks old stale. Real life, folks. But it did taste delicious while it was fresh. For the pictures, I topped it with chocolate chips, coconut shavings, and pomegranate for color. But you can add whatever fix'ins you like.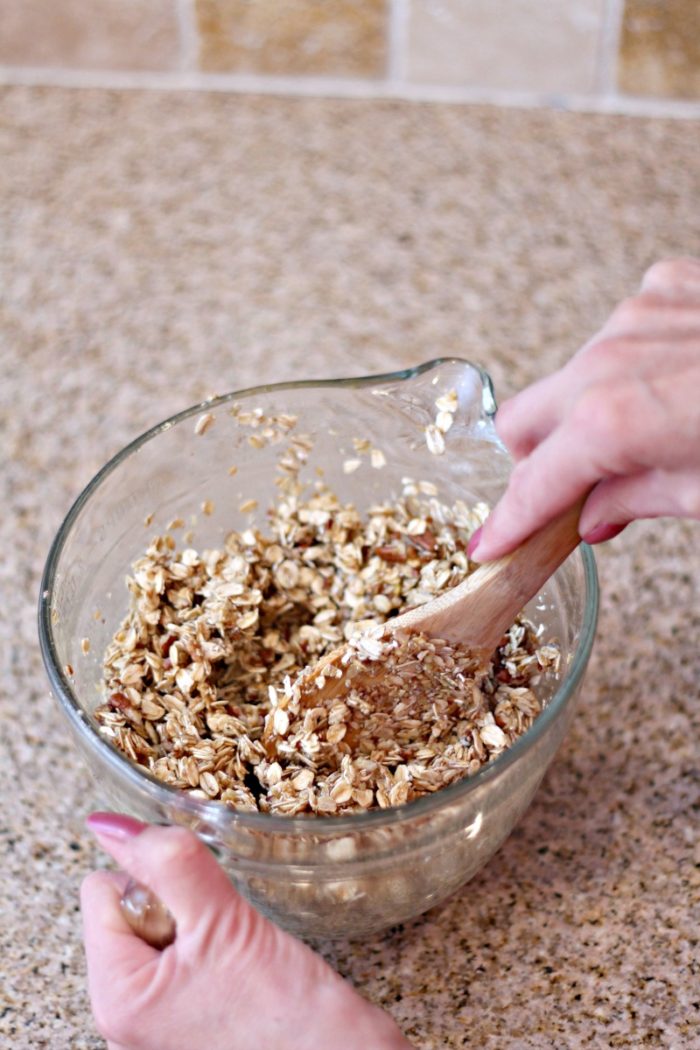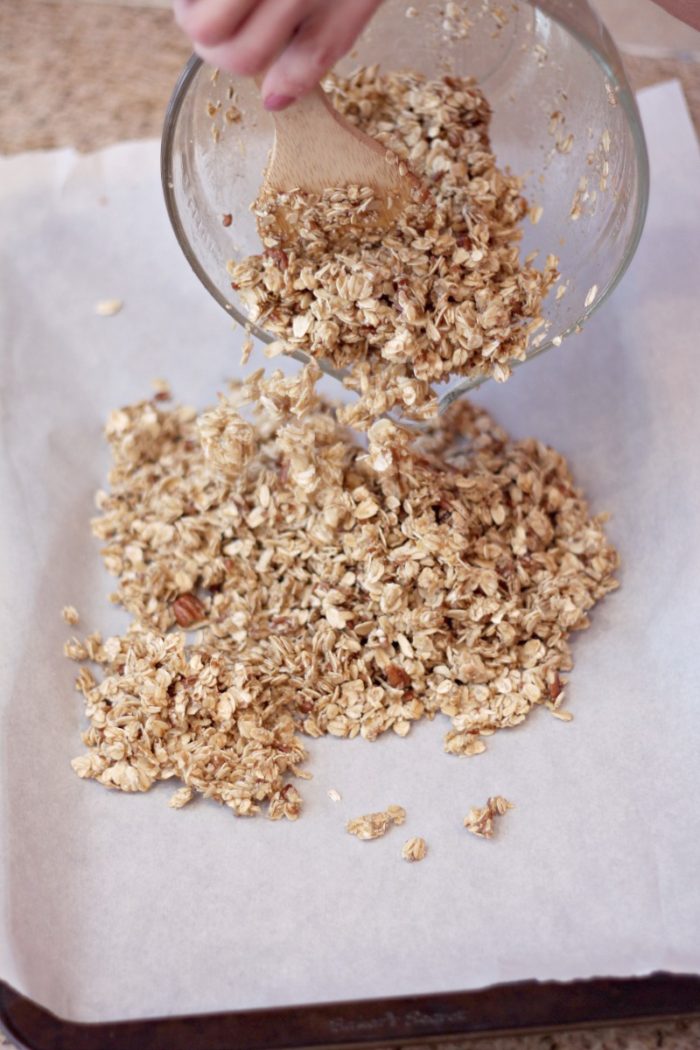 If you are like me and can't eat nuts, just leave them out.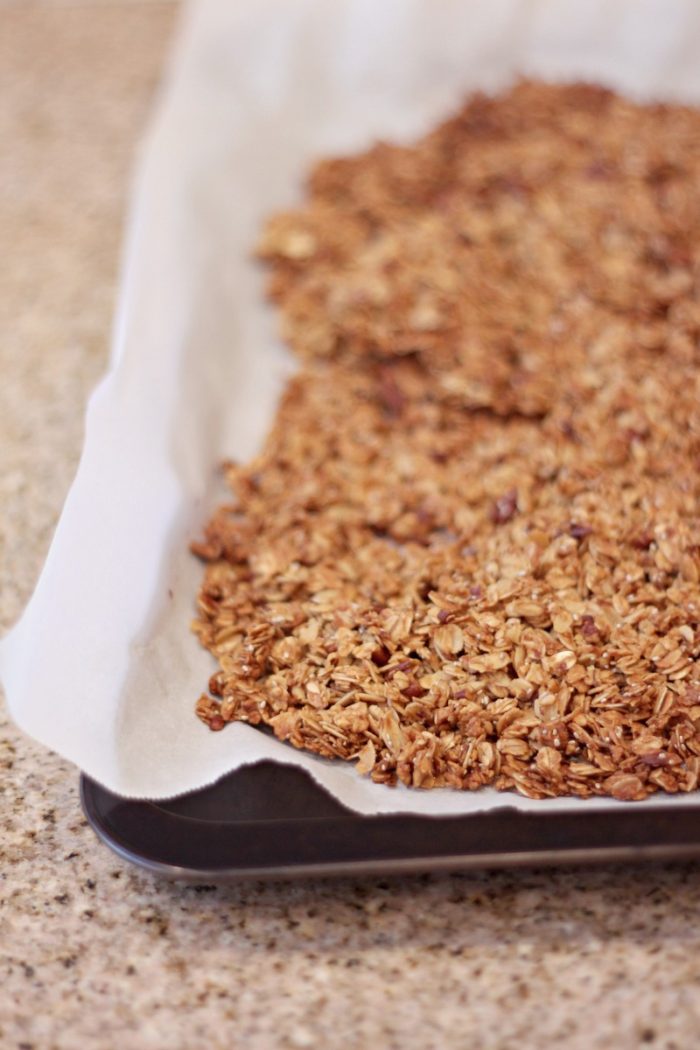 This recipe is super simple to make and has just a few real food ingredients. Yes, there is fat. But fat is your friend, friends. Don't avoid it… embrace it for all its beauty. Your body will thank me.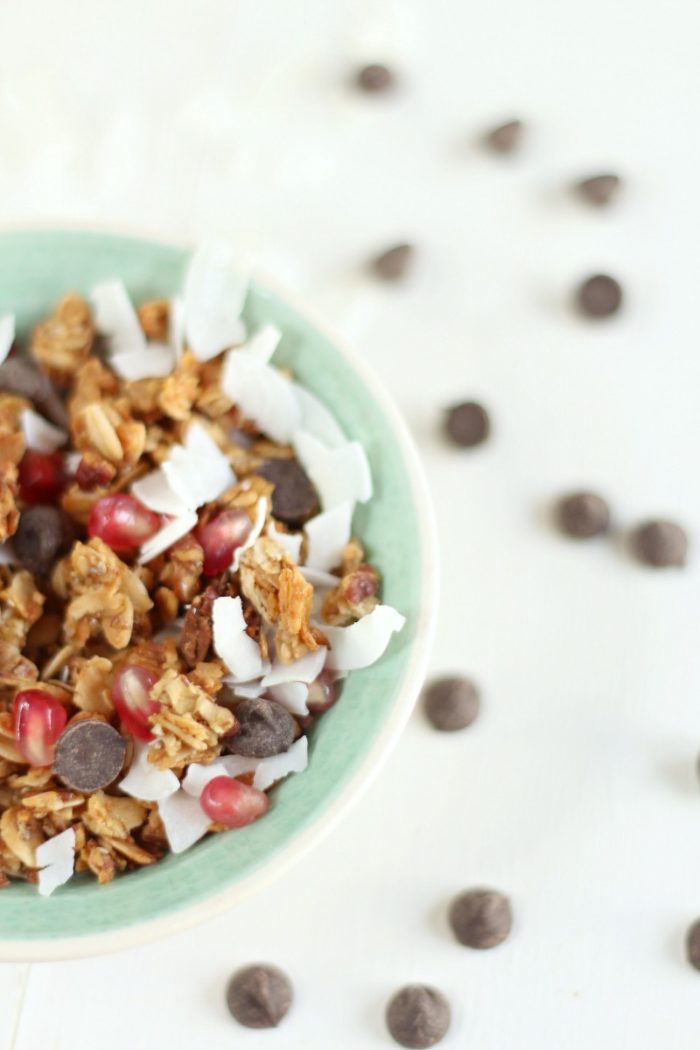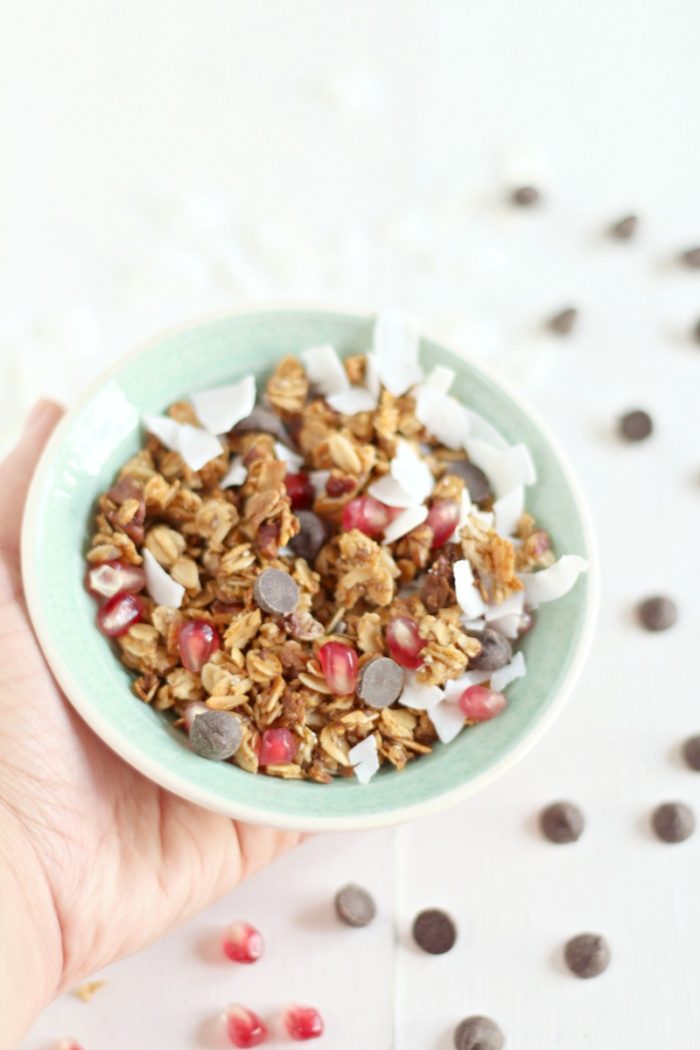 Easy Homemade Granola
2016-11-29 08:45:00
Dry Ingredients
3 cups rolled oats
1 cup pecans (or your favorite nut)
1 Tbsp chia seeds
1 Tbsp flaxseed
1/4 tsp salt
Wet Ingredients
1/2 cup honey
1/3 cup olive oil or melted coconut oil
1 tsp vanilla
Instructions
Preheat oven to 325.
In a large bowl, mix together dry ingredients.
In a small bowl, whisk together wet ingredients. Combine wet & dry ingredients together.
Spread evenly onto a parchment lined baking sheet.
Bake about 30 minutes, stirring halfway through.
Let cool & store in an airtight container.
Notes
You can add dried fruit and/or chocolate chips after granola has cooled.
A Blossoming Life http://ablossominglife.com/