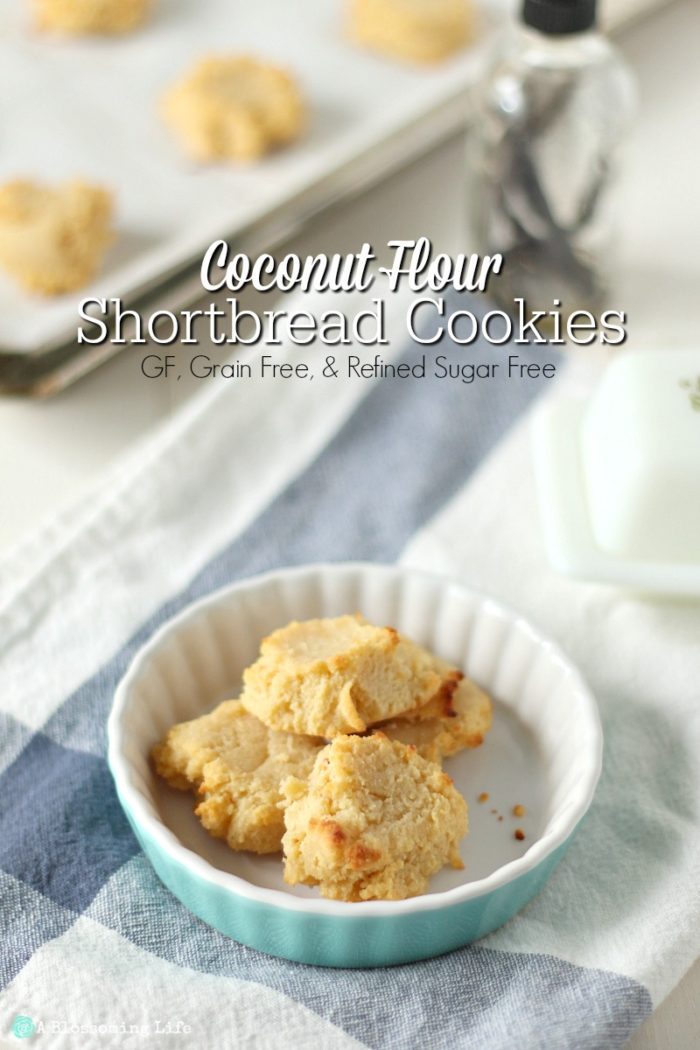 Ohhh, man… are these coconut flour shortbread cookies good. So good, in fact, that the whole batch was gone within the day. I swear I didn't eat most of them…. okay, I did. I needed to make sure they were really delicious to share with all of you. Obviously. My husband swears he only ate one (I don't believe him), and my toddler had two. Doing the math here, that means I ate nine. Oh my goodness… how embarrassing! See this is why we never keep treats around the house. Zero will power here folks.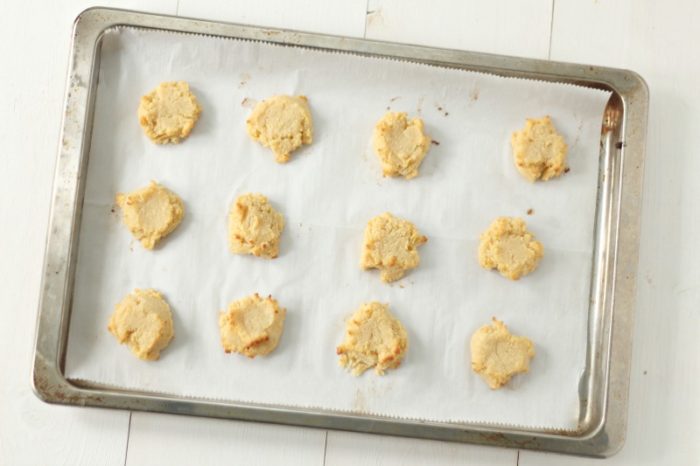 Coconut Flour Shortbread Cookies
These coconut flour shortbread cookies are buttery, moist, and really delicious. The cookies hold together well, and they tasted like the buttery shortbread cookies y'all are used to – without the refined sugar and gluten. Nom nom nom. Nine cookies later, I would say I did just that.
My daughter loved them. She also showed she still has a sensitivity to eggs. I was really hoping she would be over it by now, and we test it from time to time. Since "cookie" is one of her favorite words (I'm not sure why, since she never gets cookies. My husband tries to plant it in her so I make them… it worked this time.), I figured it would be fun to treat her to one of these bad boys. Some spit up later… I hope it tasted as good on the way up as it did on the way down… hahaha… that was really gross. Sorry.
When Christmas rolls around, it can be difficult for those with food sensitivities. They either feel left out or deprived, because they are going to parties where they can't devour a bunch of cookies, or they are are like me and eat the things they are not supposed to and suffer the consequences later! Well, now you don't have to! You can indulge without the backlash. If you are dairy free, you can probably use a substitute like coconut oil or palm shortening, but I haven't tried it myself. Ohhh, and just wait my friends until Tuesday!!! I'm transforming these already delicious cookies into something crazy amazing. So you have to come back.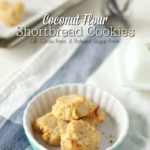 Coconut Flour Shortbread Cookies
Simple and delicious shortbread cookies with a delicate, sweet, and buttery flavor without gluten, grains, or refined sugar.
Ingredients
1/2

cup

butter

1 stick, softened

1/2

cup

coconut flour

2

Tbs

maple syrup

1

tsp

vanilla extract

1

egg

dash of salt
Instructions
Preheat oven to 350. Place parchment paper on cookie sheet.

Add softened butter to a stand mixer and add maple syrup and vanilla on low-medium until well combined.

Add in egg and combine.

With the mixer on low, slowly add in coconut flour and dash of salt. Scrape sides of bowl and mix until coconut flour is completely combined.

Spoon dough onto cookie sheets, making 12 similar-sized cookies.

Bake for 12-15 minutes until cookies begin to brown.
Nutrition Facts
Coconut Flour Shortbread Cookies
Amount Per Serving (1 g)
Calories 104
Calories from Fat 72
% Daily Value*
Total Fat 8g 12%
Cholesterol 33mg 11%
Sodium 83mg 3%
Potassium 12mg 0%
Total Carbohydrates 5g 2%
Protein 1g 2%
* Percent Daily Values are based on a 2000 calorie diet.