DIY Cloud Dough – Easy Sensory Activity
This super easy cloud dough sensory activity will entertain kids for hours. They will have so much fun creating, building, and sculpting fun creations keeping them occupied and dare I say, quiet as they busily work.
For this recipe you will need… Flour, oil, essential oils (optional), and a few fun tools to play with.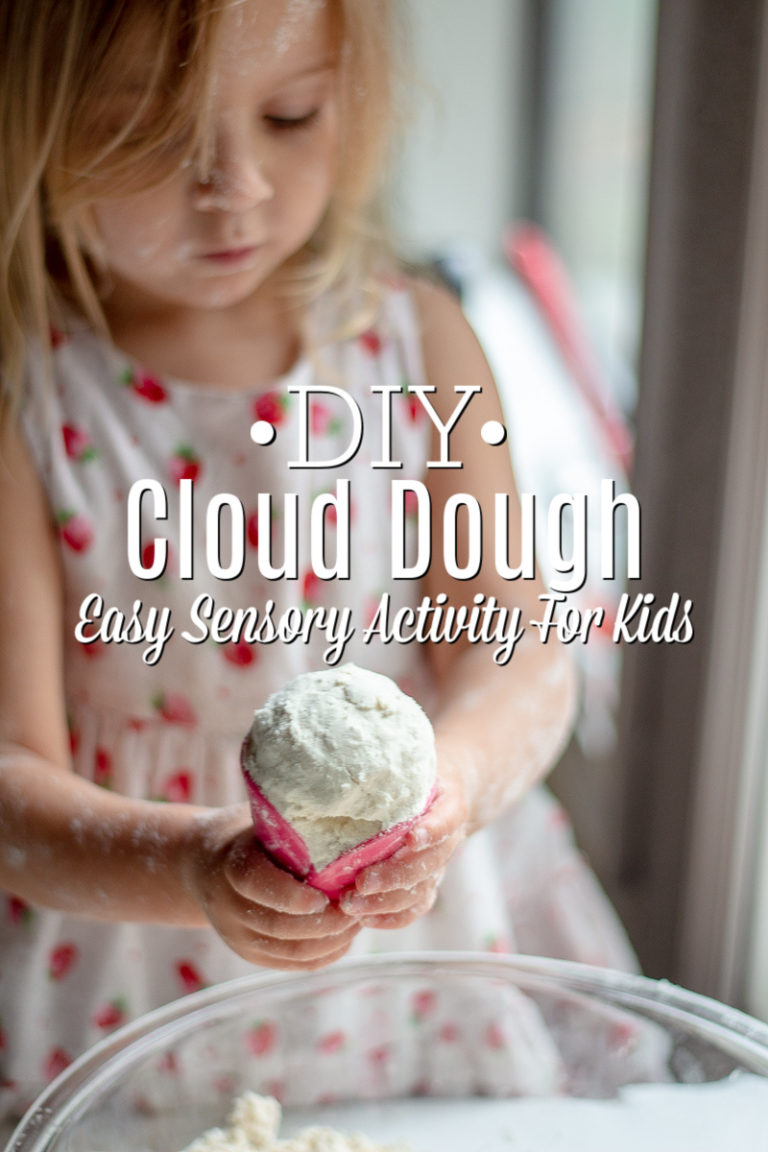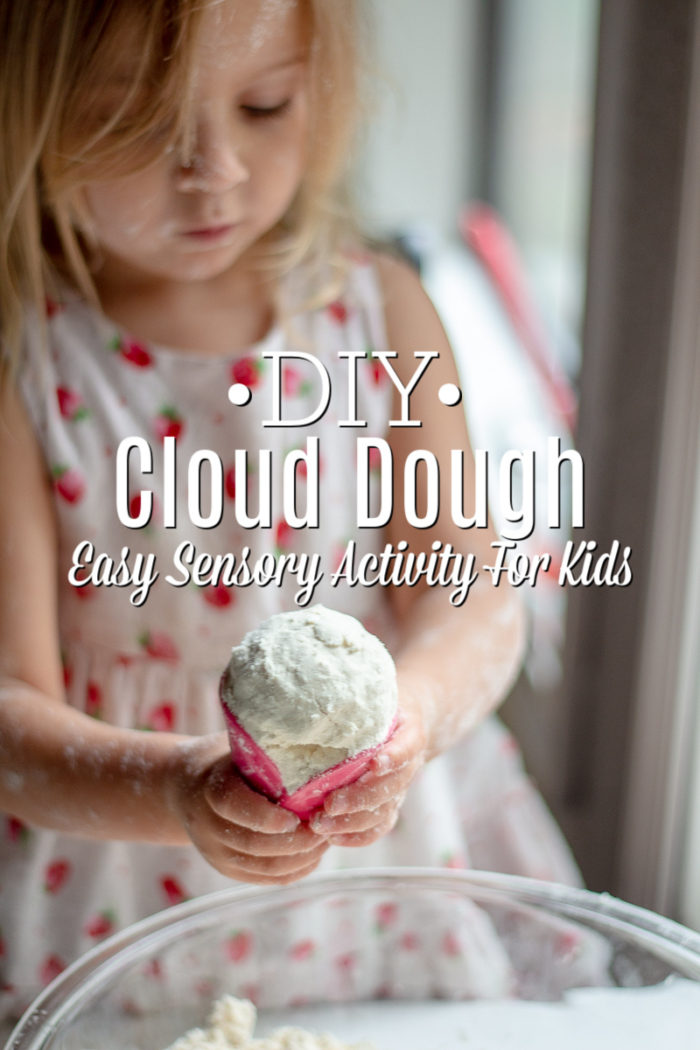 This post contains affiliate links. Affiliate links help support A Blossoming Life at no extra cost to you. We only recommend products we personally use or would use.
There is this local toy store we love to visit during the gloomy winters here in Oregon. August's favorite thing there is the kinetic sand – she just loves to build with it. But holy cow, is it expensive for how much you get!
This cloud dough is the next best thing, and it's made with just a few simple ingredients you already have at home: flour and oil. I also added some Calming the Child essential oil blend, because why not? Also, it adds another element to the sensory play – smell. August kept sniffing it and saying "oh momma, this smells good!"
The Importance of Sensory Play Activities
Sensory activities are activities that help stimulate a child's senses: touch, smell, taste, sight, and hearing. They also help encourage children to learn, explore, discover, and create through play and using these senses.
I also love these kinds of activities because they usually keep kids occupied for a long time, without the use of a TV. August sat and played quietly for like, an hour. When does that ever happen?
Recently, I had heard that kids today are having a harder time being able to focus for periods of time because they are so used to being overstimulated by TV or games. Whoa.
Decreasing TV and increasing play has been on my heart for a long time, but I still need a reminder. We still watch our fair share of TV, but I've been trying to be intentional about incorporating more sensory activities and play-based learning, like playing with this cloud dough, into our day-to-day. I think we have a good balance… most days.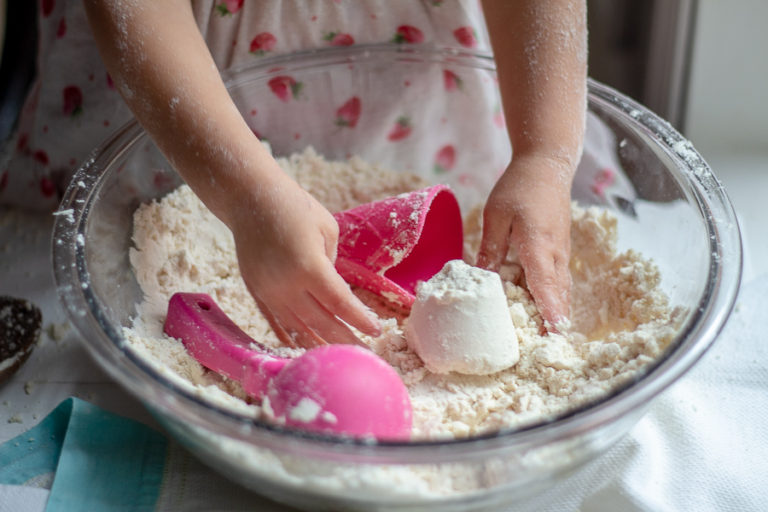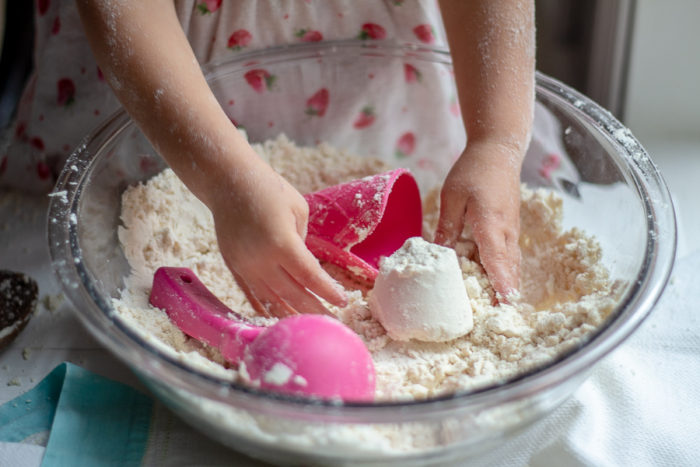 DIY Cloud Dough
Helpful Cloud Dough Tips:
You should definitely make this in a large container to help control the mess. But let me just tell you… this cloud dough stuff is messy! So if you are running out the door to head to church, you probably don't want to play with this. Not that I did this exact thing… Oops

August is a very enthusiastic child. She had it all over her face, and dress, and hair. Was it worth an hour of quiet time? Why yes, yes it was.

Playing with this outside is also a good idea.
It was really fun to use sand toys (like these), ice cream cones and scoops (like these), and just regular utensils in the cloud dough!
Let them explore with their senses and let them be without interference. It's easy for us parents to want to control and discuss with our kids while they play, but unstructured play is good.
Help teach them the alphabet by showing them how to trace letters in the sand.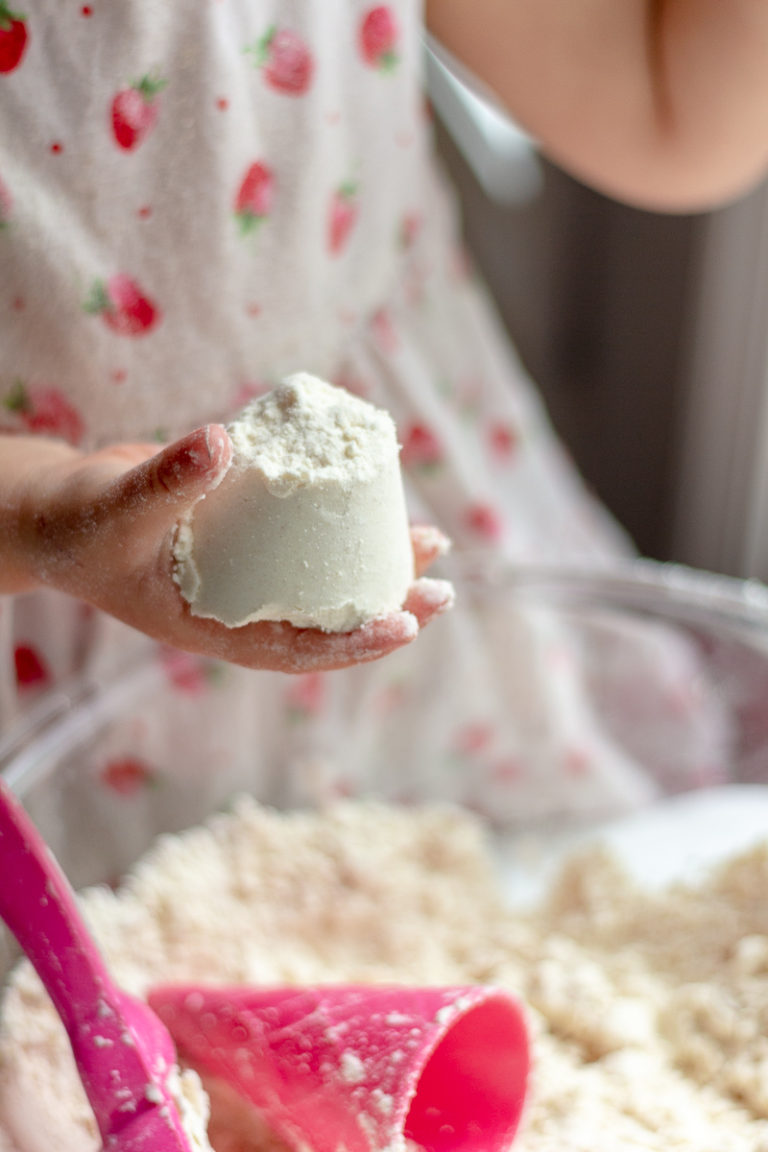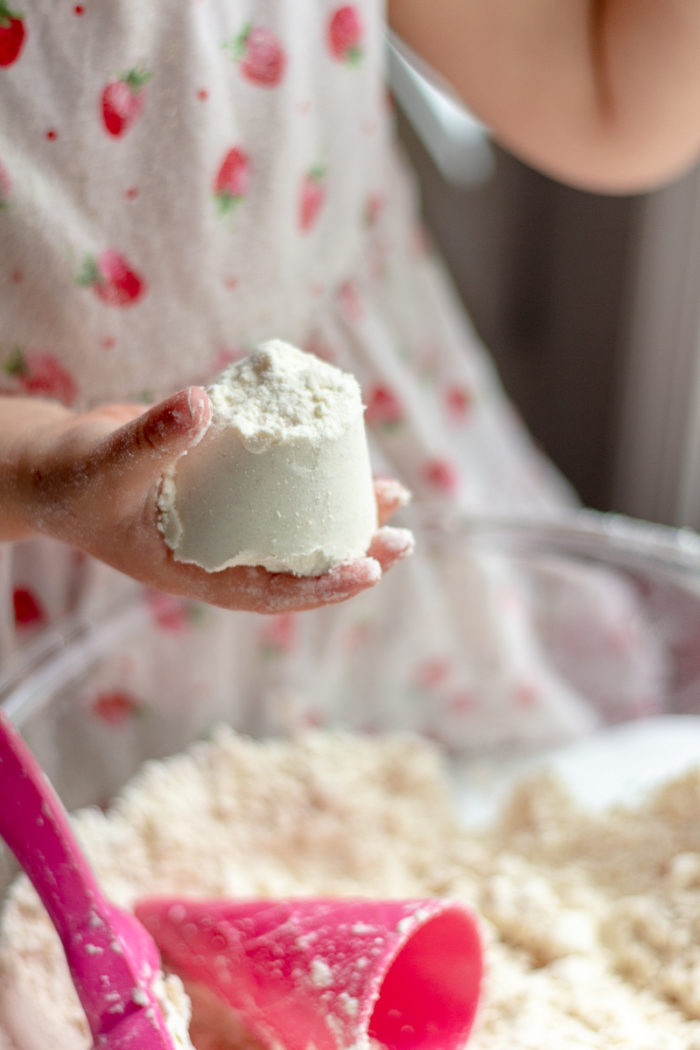 More kid activities from A Blossoming Life
Cloud Dough – Sensory Activity For Kids
I love this cloud dough! It is such a fun activity that your kids to learn and play. Clearly, I love activities that help kids learn, while keeping the noise and chaos to a minimum.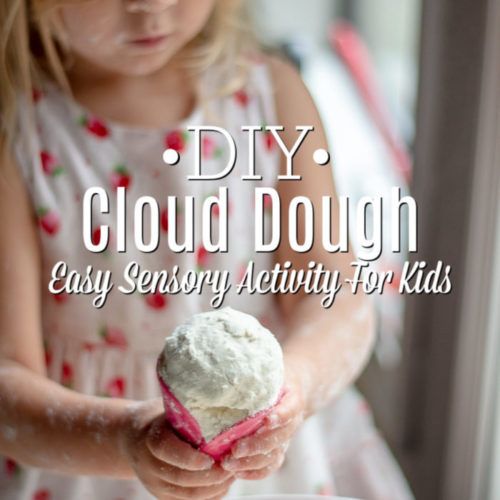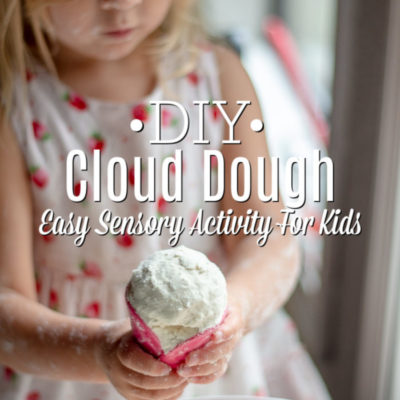 Cloud Dough - Sensory Activity
Have fun making this super easy cloud dough sensory activity. It will entertain kids for hours as they work on creating, building, and sculpting fun creations.
Print
Pin
Rate
Ingredients
4

Cups

White flour

I use this one

1/2

Cup

Oil

I used avocado

10

Drops

Kid safe essential oils (optional)

I used Calming The Chile blend
Instructions
In a measuring cup, add essential oils to oil and mix. In a large bowl or plastic container add flour and pour oil over flour. Mix until well combined and crumbly. Cover with a tight fitting lid when not in use.
Notes
You may have to add more oil depending on the flour you use.
This will last a few months properly stored. If it starts to smell funky, throw it out.
Is this something your kids would love?