Homemade Paleo Apple Crisp Recipe
Homemade Paleo Apple Crisp is a healthy and naturally-sweetened dessert. Apples get baked to perfection, creating a soft center with a crunchy, sweet-and-salty nut crust. Everyone will enjoy this healthy apple crisp; so much that you'll forget it's healthy. I won't tell if you even eat it for breakfast! Follow my tips below to make the perfect Paleo apple crisp.
This recipe is grain-free, dairy-free, gluten-free, and refined sugar-free. Even Whole30 queen Melissa Hartwig approves of this recipe for a special Whole30 occasion, like to bring to a holiday party.
For this recipe you will need: apples, almonds, raisins, coconut oil, cinnamon, ground cloves, and a touch of nutmeg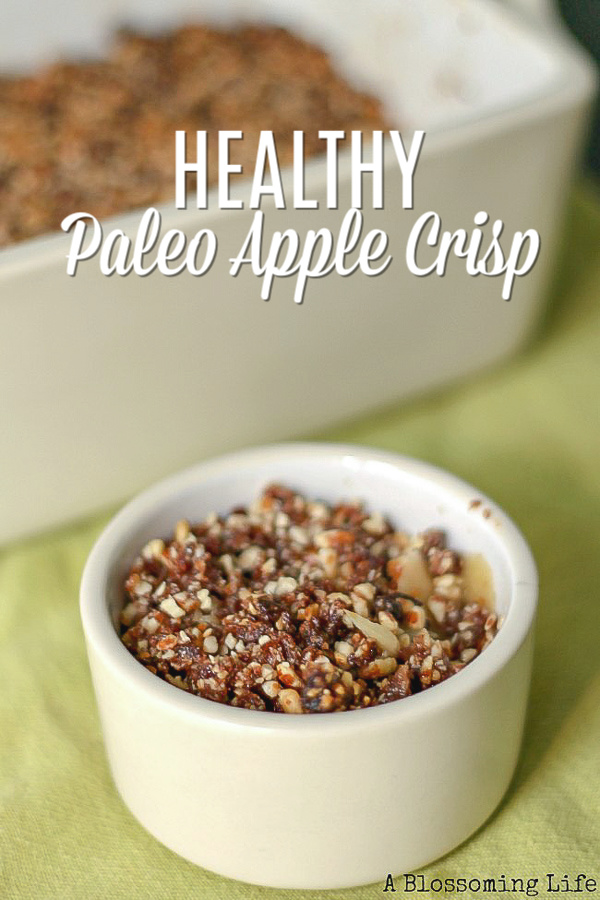 This post was updated 10/30/18
I love to bake. It's relaxing, it's a creative outlet, and the best part is that when you're done, you have something delicious to eat. Baking is a really great hobby… unless you're on the Whole30. Starting Whole30 on May 1st began as a last-minute decision. There was no prep work involved, and so, in my mind, I would simply eat eggs for breakfast every day, meat and veggies for meals, and fruit in between. Forget dessert; I was going to break myself of dessert. I was prepared for 30 days of total misery. And besides, May doesn't really have any major holidays (or so I thought), so this would be the right time to do it!
Whole30 Day 10: The Hardest Day
On day 10, appropriately dubbed one of "The Hardest Days" on the Whole30 timeline, I was faced with some amazing local pizza to celebrate my dad's birthday. Okay, no biggie. I had a nice salad and practiced great self-control. Then, along came the second wave of "The Hardest Days" – day 11. During my Whole30, this day happened to fall on Mother's Day. My first Mother's Day, to be clear. To celebrate, my sister baked two lemon meringue pies to enjoy at my parent's home. Suddenly, my mind could not comprehend why anyone would start a diet that would discriminate against lemon meringue pie.
It's a pie based on fruit and eggs. It's probably the healthiest pie of them all! The most Whole30-loving pie there ever was. Right?? I watched those pies as my large family heartily dug in, while I pretended not to care one bit. Oh, I cared. But I also stayed true to Whole30, and it was totally worth it. I can say with confidence that I own and practice a monstrous amount of self-control, and I didn't give in to the lemon meringue pie. However, I was itching to bake and I wanted to celebrate Mother's Day.
Whole30 Dessert: Paleo Apple Crisp
So, needless to say, I decided a Whole30 dessert was in order. Although Whole30 might be disappointed in me for this healthy apple crisp, I'm quite at peace with that. Update: Funny story, Melissa Harwig actually linked to this recipe as a perfect Whole30 "dessert" to bring for the holidays… so there is that. The Whole30 queen herself even approves of this healthy dessert. I threw some ingredients together — whatever I had on hand and seemed right at the time — and the result was actually amazing. I didn't know there was delicious, healthy dessert outside the realms of sticky sugar and flaky crust.
I've even served this dessert to non-Whole30 people. You know, regular folks. And they loved it!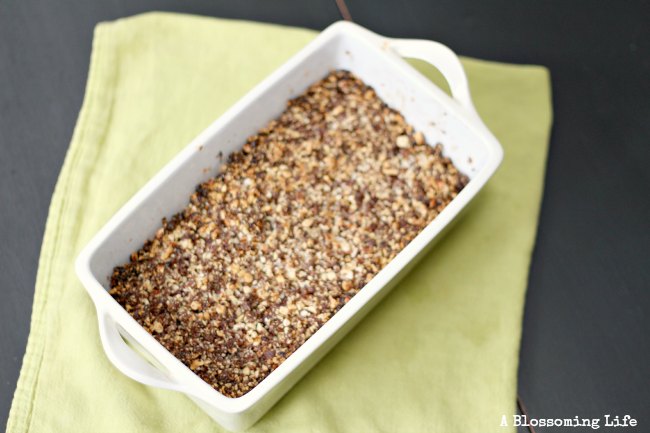 The best baking apples for a healthy apple crisp are:
Braeburn
Pink lady
Granny Smith
Honeycrisp
Golden Delicious
Gala
Jonathan
just to name a few. If you don't have these, any apple that bakes well will do just fine. And if you don't, I still encourage you to make this with whatever apples you have on hand.
How to make Paleo Apple Crisp
Paleo Apple Crisp Tips & Tricks
Start with the best baking apples you can (see above)
Add your favorite nut. In this recipe I used almonds, but I would definitely be up for trying a few different nuts, or a mixture of different kinds of nuts. If you try it, let me know.
To go totally off the rocker, you could absolutely make this into a berry apple crisp by substituting frozen mixed berries for the apples, or do half apples and half berries. The other day, I made it with pears and apples. Delish!
Top it with some coconut whipped cream to make it extra delicious. I like using the fat from the full-fat can. Just refrigerate the can of coconut milk, then skim off the fat off the top and whip it up with a stand mixer or hand mixer.
If you don't have raisins, you could swap them out for dates.
Homemade Paleo Apple Crisp
This recipe is so simple and takes very few ingredients. Because of its simplicity, it doesn't have any grains or refined sugars, so if you bake for someone who is paleo or gluten-free, then this recipe is perfect for them.
If you try this recipe and love it, please come back and give it 5 stars! I will greatly appreciate you and give you a virtual hug.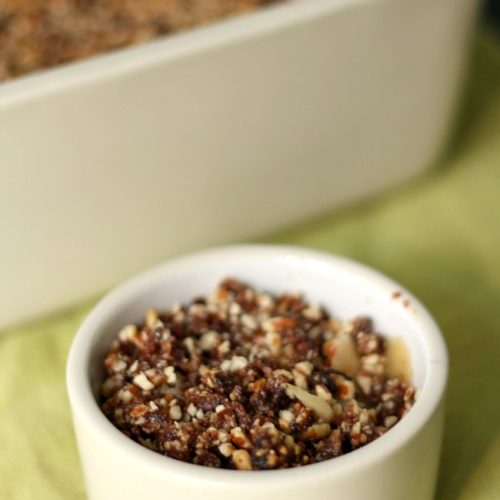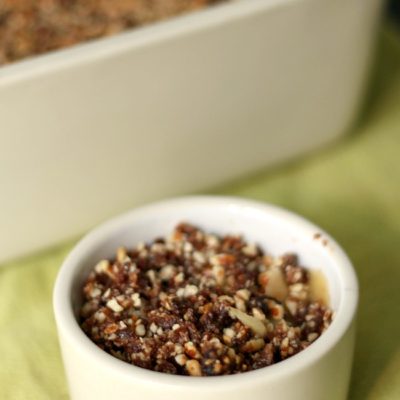 Paleo Apple Crisp
Homemade Paleo Apple Crisp is a healthy and naturally-sweetened dessert. Apples get baked to perfection, creating a soft center with a crunchy, sweet-and-salty nut crust. Everyone will enjoy this healthy apple crisp!
Print
Pin
Rate
Ingredients
4

cups

apples

peeled & sliced (I used Gala apples)

¾

cup

almonds

roasted, unsalted

¾

cup

raisins

2

T.

coconut oil

+1 T. for greasing dish

¾

tsp.

cinnamon

¼

tsp.

ground cloves

¼

tsp.

nutmeg dash of salt
Instructions
Preheat your oven to 400.

Grease an 8x8 baking dish (or a 1.5 or 2 quart baking dish) with 1 tablespoon of coconut oil.

Place the sliced apples in the dish, and add the remaining ingredients to your food processor. Process the mixture until it resembles the texture of coarse sand.

Evenly distribute the almond and raisin mixture over the fruit.

Cover and bake for 25 minutes, then bake uncovered for another 10 -15 minutes, or until fruit is bubbling and apples are soft. Your almond and raisin topping should darken.

Serve and enjoy!
Want some other healthy dessert inspirations: Check these out!