DIY Coffee Scrub – Easy Face & Body Scrub
DIY Coffee Scrub is an easy and effective natural exfoliator that reveals smooth, firmer skin with simple ingredients you already have in your pantry. This coffee scrub benefits not only your face, but also the whole body. Follow my tips below to make your own DIY coffee scrub.
For this recipe you will need: coffee grounds, sugar, oil (coconut, olive, or avocado oil), and jojoba oil.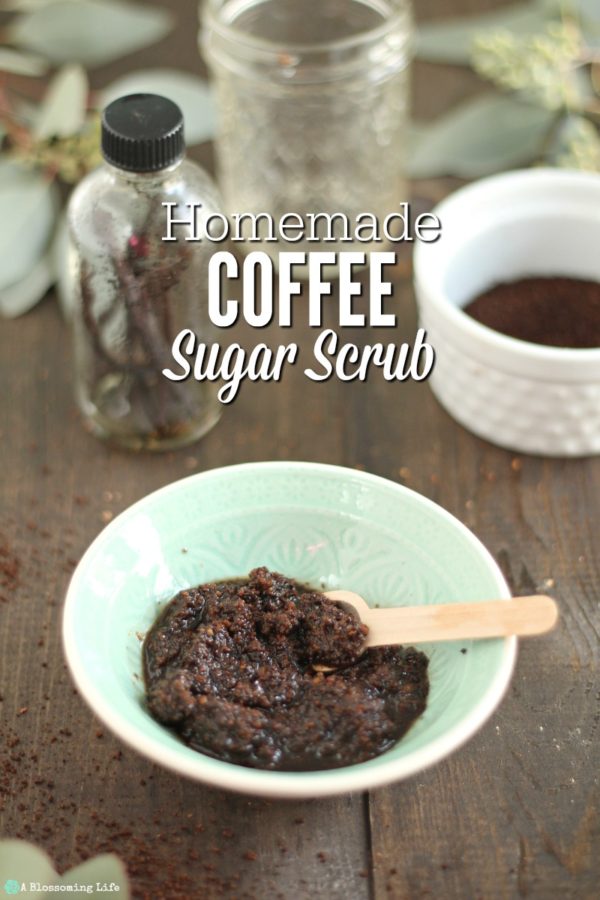 There is just something about having a warm cup of coffee that gets me moving in the morning.
I joke with my hubby when he starts talking to me about things that need to get done during the day: I just stop him. point to my cup, and remind him that I cannot talk to him without finishing my coffee first.
Of course, I chug it and proceed to have a normal functioning conversation.
See, I used to be a morning person with tons of energy… until I had a baby. Two kids later… forget about it.
Now, I'm always tired and can never get enough sleep. I guess that is what kids do to you. We love them dearly, anyway.
You know what is almost as good as the delicious creamy coffee that you have with breakfast? The smell of coffee. Mmmm…
I love how it takes over the whole car when you bring home a new bag of freshly-ground beans. Well, I took some of those freshly ground beans and turned them into this yummy DIY coffee scrub for face and body.
Not only does it smell like scrumptious coffee, but it also leaves your skin feeling soft and nourished. Truly, it's the perfect combination.
My Favorite Face & Body Scrub
Not only will this scrub remove dead skin, but it will also leave you with brighter, more nourished skin. I love using this DIY coffee scrub.
Usually after I use a scrub my skin feels refreshed, but after using this coffee scrub I can visibly see a difference. My skin looks clearer and calmer, and my dark circles are less noticeable.
This DIY coffee scrub has become a normal part of my skincare regimen, and I try to use it once a week. It's amazing what this scrub has done for my skin since using it more frequently.
With face and body scrubs, you only want to use them about every 5 days or once a week. Using a scrub too often, especially on your face, can be irritating, which is the opposite of what we want. So use it often enough to make a difference, but not so often that your skin feels irritated or inflamed.
The following are affiliate links. We are a participant in the Amazon Services LLC Associates Program and other affiliate programs, that affiliate advertising programs designed to provide a means for us to earn fees by linking to Amazon.com and affiliated sites.
DIY Coffee Scrub Benefits
Exfoliating the skin removes dead skin cells, which then helps promote regeneration of skin, increases circulation, and reveals smoother skin.
Coffee contains antioxidants and caffeine which can help calm the skin, reduce sunspots, and fine lines.
Caffeine has been shown to help reduce dark circles. I also love this Coffee Bean Eye Cream from 100% Pure. Seriously, amazing.
Coffee can help reduce cellulite. It is believed that caffeine in the coffee can improve blood circulation and help dilate the blood vessels, which in turns helps reduce cellulite. (source)

Ingredients And Tools You Will Need:
1/4 cup sugar– regular sugar or coconut sugar
1/4 cup coffee grounds
1/2 cup melted coconut oil, fractionated coconut oil, olive oil. or avocado
2 tbs jojoba oil
How Do You Make DIY Coffee Scrub:
In a bowl melt coconut oil (unless using another kind of oil).
Add sugar, coffee grounds, and jojoba oil.
Mix well and store in a glass container.
To Use:
I would recommend using this in the shower as it can be very messy. Wet body and face. Place a small amount of coffee scrub on your hands and rub only your body and face in small circles. Rinse.
DIY Coffee Scrub FAQ:
Do you have to use coconut oil or jojoba oil?
I've made a few variations of this DIY coffee scrub over the last year. I've found my skin does a lot better with avocado or olive oil rather than coconut, and I don't always have jojoba oil on hand. So you can sub those oils with ones that work well for your skin.
My favorite oils are avocado, olive oil, and apricot oil.
Can you use already used coffee grounds?
I wouldn't recommend it. You want the caffeine content in the coffee beans. Also, if you used already used beans they will contain water, so this will not store well, as water and excess moisture can cause it to mold.
Can you use this as a face mask?
Yes! I love to use this scrub as a coffee face mask.
To use as a coffee face mask: Rinse your face with warm water, apply a quarter size amount of the scrub to your hands and gently scrub your face. Leave it on for 10-15 minutes and then rinse.
How often should you use a face scrub?
You should use a face scrub no more that 3 times a week. Exfoliating too much can lead to inflammation and creating tiny cracks in your skin according to Joshua Zeichner, director of cosmetic and clinical research in dermatology at Mount Sinai Hospital (source).
Do coffee scrubs actually work?
Yes! They work great to exfoliate the skin, but also their caffeine intake can help tighten pours, increase collagen productions, and reduce inflammation. If using this as a body scrub, coffee scrubs can help reduce the appearance of cellulite temporarily.
Want more natural skincare recipes? Check these popular posts out.
DIY Coffee Scrub Recipe Card
If you love this recipe, please come back and give it 5 stars. Please and thank you!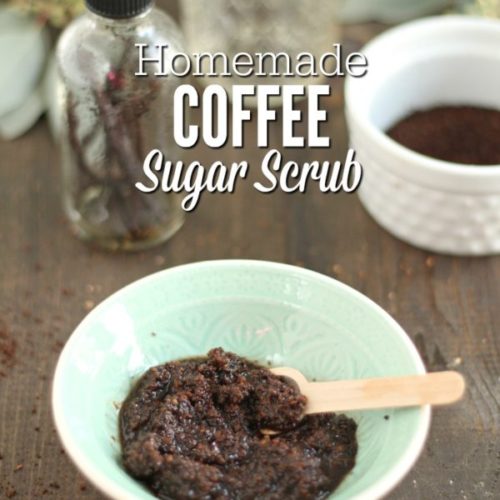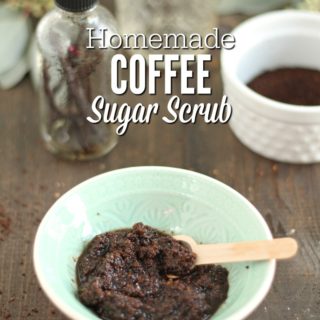 DIY Coffee Scrub
This coffee scrub is an easy and effective natural exfoliator that reveals smooth, firmer skin with simple ingredients you already have in your pantry.
Print
Pin
Rate
Ingredients
1/4

cup

sugar

regular sugar or coconut sugar

1/4

cup

coffee grounds

any ground coffee will do.

1/2

cup

melted coconut oil

you could also use fractionated coconut oil, olive oil or avocado oil.

2

Tbs

jojoba oil

Optional
Instructions
Mix together and store in a jar.
To use:
I like to use it in the shower. Wet your body and/or face with warm water, rub this scrub all over and rinse. For my face, I like to leave it on for a few minutes while I let the antioxidants and caffeine in the coffee absorb into the skin. Then rinse. Follow up with your favorite moisturizer.
Notes
Storage: The jar will last for 2-3 months based on your use. As long as it doesn't get water in it, it should last quite awhile.
This recipe couldn't be more simple and has become a staple in my skincare routine.
Have you tried making a DIY coffee scrub for your face before? What has been your experience with it?
This post was updated August 2019.