This simple, DIY foot scrub will exfoliate away dead, dry skin revealing feet that are smooth and moisturized. Pamper yourself with this homemade foot scrub and enjoy pretty feet all year long.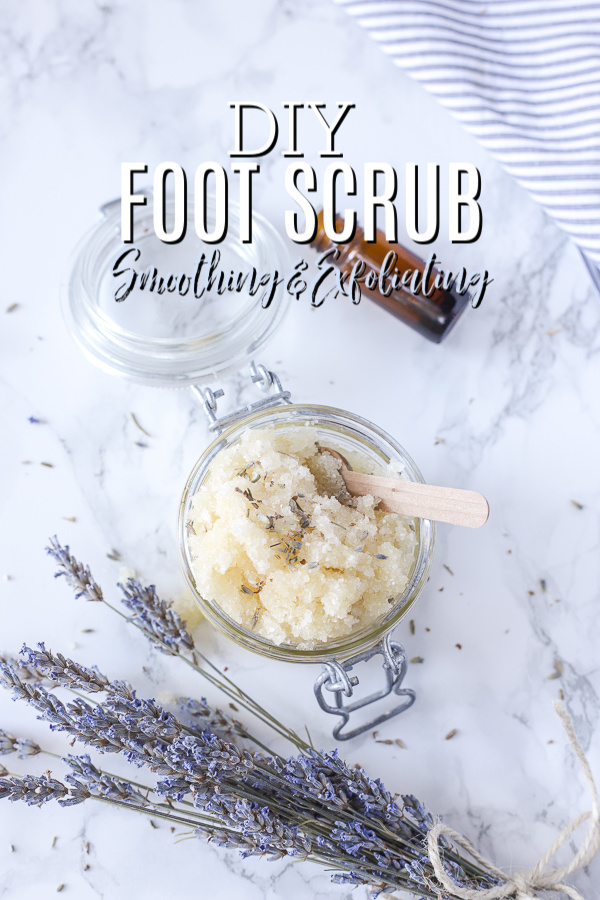 There is one thing for sure: I definitely will not be showing a picture of my feet in this post, so no worries there.
I love a good homemade product that allows me to feel pampered. My feet are sore and tired from a day full of running around like a crazy pants chasing two young kids all day long. Sometimes. you just have to focus on yourself, and honestly, I rarely get the time to do so. (See my recent post on 10 Tips For Self-Care)
Pampering is rarely on my to-do list, but I try to include it as much as I can.
Because really, at the end of a long day, there is nothing like taking a bath, soaking your feet, and doing a DIY foot scrub.
There are so many great options and combinations for this recipe, so I'm going to include a few variations. Feel free to tweak this according to your preferences.
If you are new to sugar scrubs, you can check out my ultimate guide to sugar scrubs here.
Random fun fact about me: in high school and college, I worked at a high-end salon and spa. I was pretty much obsessed with all things hair and beauty, and I was constantly pampering myself with pedicures, facials, massages, you name it.
It also didn't help that my mom worked in the beauty industry, so I had access to so many amazing products. I'm still slightly obsessed with these things, but now I create them myself and do it at home. I save money, and I know exactly what's in my products. It's a win-win.
Tips for making a DIY foot scrub:
Soak your feet first to help soften and remove dead skin.
Do the foot scrub in the shower or the bath for easier clean up. I like to just plan to take a shower or bath all at the same time.
Make this a whole spa experience. Do a foot soak, then the foot scrub, and lastly, dry them off and apply your favorite lotion.
This homemade foot scrub makes a great gift. Combine the ingredients and add them to a pretty jar. Label and give as a wonderful gift.
The following are affiliate links. We are a participant in the Amazon Services LLC Associates Program, an affiliate advertising program designed to provide a means for us to earn fees by linking to Amazon.com and affiliated sites.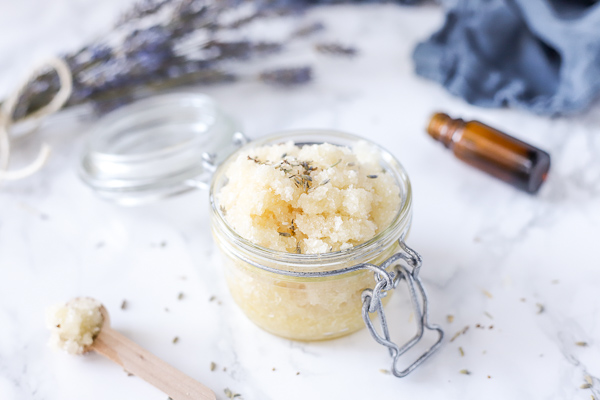 What can you use to get dead skin off your feet?
DIY foot scrubs do a great job of smoothing out dead skin. If you are dealing with really dry, cracked skin, I would recommend soaking your feet first in a foot soak, and then using a pumice stone or one of these foot scrubbers to remove excess skin, and then follow up with a foot scrub to really get those feet looking pretty. You can follow up with your favorite lotion.
What is the best homemade foot soak?
Vinegar makes a wonderful foot soak. Dilute some vinegar with water and add some essential oils to make a great foot soak. You can also add in bentonite clay and Epsom salts (or a few magnesium flakes) to take it up a notch.
The Epsom salts and magnesium flakes will add magnesium to the water, and your feet will absorb it. Most of us are deficient in magnesium, and this is a great way to increase magnesium levels.
What are the best essential oils to use for a DIY foot scrub?
I like to use relaxing oils to soothe my feet after a long day. My favorite combination currently is lavender and chamomile. Mint is also a great one to use, as it can be very uplifting. Breastfeeding mothers should avoid peppermint, because it may decrease milk supply.
If your feet will be in the sun in the 12 hours after using the foot scrub, I would recommend not using any citrus oils as they can be photosensitive.
What kind of sugar should I use?
I like to use cane sugar, because the sugar granules are slightly bigger, making it perfect for a foot scrub.
How long does a DIY Foot Scrub Last?
It will last at least two months, possibly longer. As long as your don't get any water in the scrub, then it should last quite a long time. Water can cause it to spoil and get moldy.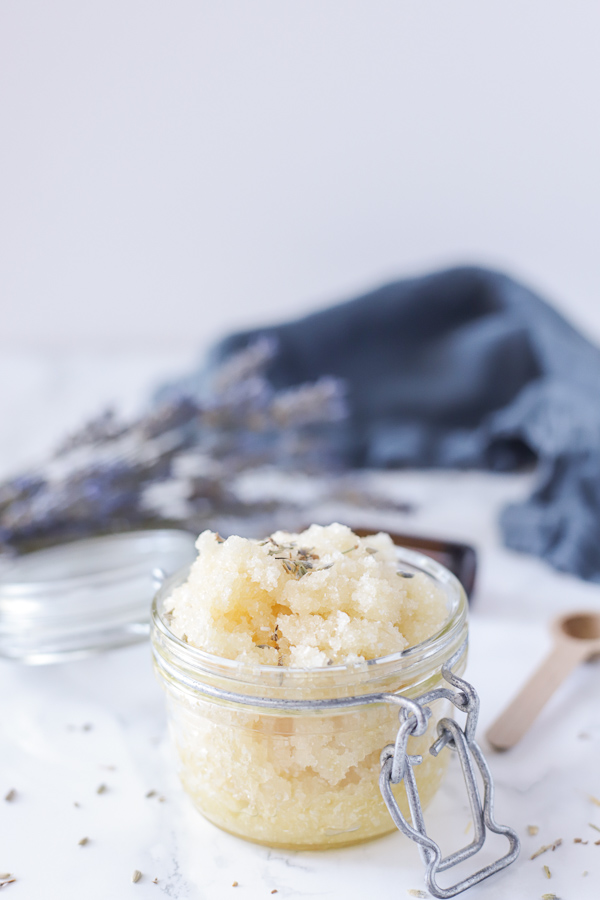 How To Make A Homemade Food Scrub
Tools and ingredients you will need:
Bowl
Spoon – I love one that is similar to these.
Measuring cup
Oil – you can choose whichever oil will work best for your skin. See below for my favorite choices.
Sugar
Epsom salt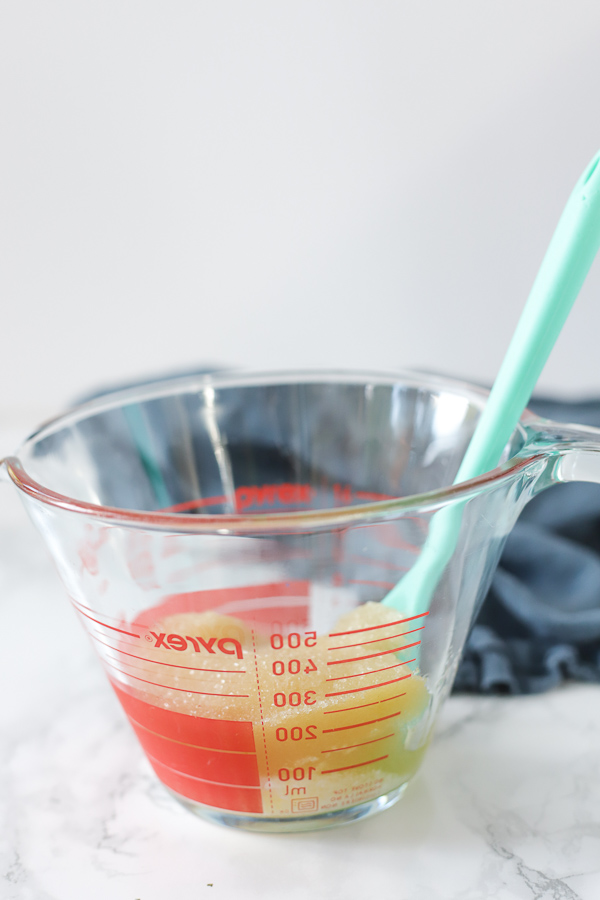 Directions:
In a bowl, mix together Epsom salt, sugar, and oil.
Mix together.
Add essential oils, and if it is a little dry, add a touch more carrier oil. Stir to combine.
How do you use a foot scrub?
Wet feet.
Apply a tablespoon of foot scrub onto hands, and massage into feet.
Rinse.
Dry off feet and apply lotion if desired.
What type of oil works best?
You can pick whatever oil you want, depending on what properties you need. If you need a hydrating oil, try olive oil or jojoba.
Olive oil is very moisturizing and can help calm inflamed skin. It contains oleocanthal, which can help reduce irritation.
Avocado oil is a great moisturizer because it is rich in fatty acids (i.e. Oleic acid) and vitamin E.
Apricot oil (I use this one) is great for soothing dry skin.
Jojoba oil is moisturizing. It can soothe dry skin, reduce redness and inflammation, and help repair skin.
Coconut oil – is moisturizing while being naturally antibacterial and antifungal, perfect for feet. Fractionated coconut oil is liquid at room temperature, which will leave a more consistent and fluid sugar scrub.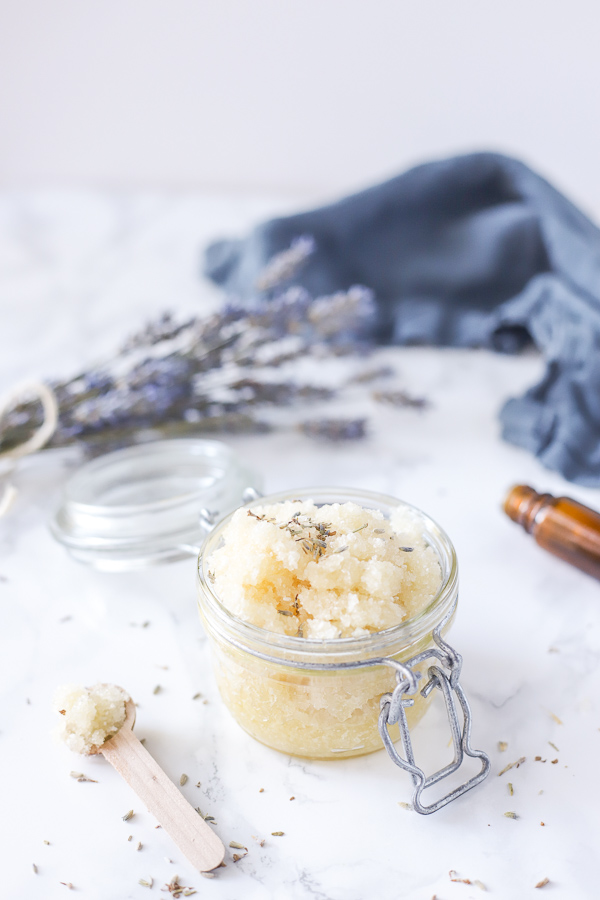 DIY Foot Scrub Recipe Variations
Minty Fresh Foot Scrub
Add 10-20 drops of peppermint.
Relaxing Foot Scrub
Add 5-10 drops of lavender and 5-10 drops of chamomile.
Lemon Honey Scrub
10-15 drops of lemon essential oil and replace 2 tsp of oil with honey.
Invigorating Coffee Scrub
Replace the 1/4 cup epson salts with 1/4 cup of coffee grounds. This DIY coffee scrub for your face and body is one of my favorite.
Check out more of our favorite homemade products :
Nourishing DIY Foot Scrub Recipe Card
If you try this recipe and love it, I would love if you could pop back here and give it a 5 star rating! Please and thank you!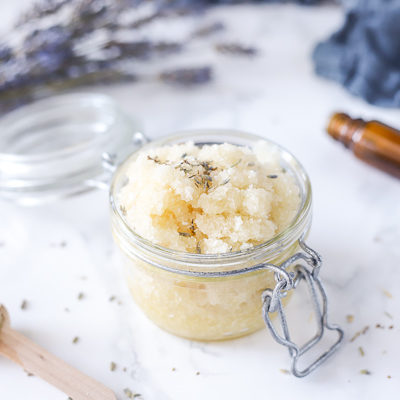 DIY Foot Scrub
Easy and exfoliating DIY foot scrub will help smooth rough skin and leave your feet feeling soft and nourished.
Print
Pin
Rate
Ingredients
1/2

cup

sugar

1/4

cup

epson salts

1/4

cup

oil of choice

you may need to add a few drops more if it is too dry.

15-20

drops

essential oils of choice

see notes above

few

drops

vitamin e oil

optional
Instructions
Place ingredients in a bowl.

Add essential oils until desired smell has been achieved.

Store in an air-tight container. Will store for at least 2 months as long as moisture has not gotten in the scrub.
Pin It For Later