Peppermint Hot Cocoa Lip Balm Recipe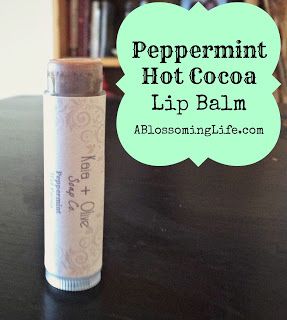 I've been making lip balm like crazy. With Christmas right around the corner, my first craft show this Thursday, and taking orders I've been a busy little crafting bee! This lip balm has been the crowd favorite for sure! I've had lots of orders for this so I thought I would share the recipe!
Peppermint Hot Cocoa Lip Balm
12 to 15 lip balm tubes or tins
1 oz bees wax (about 2 tbs)
1 oz shea butter
1 oz Coconut oil
10-20 drops peppermint essential oil (more or less to get desirable smell)
1 -1 1/2 tsp coco powder depending on how dark and chocolatey you want it.
few drops of vitamin e (optional)
You could also add a few drops chocolate essential oil (optional I personally don't use it)
Directions: In a double boiler or small crockpot melt beeswax. Add in shea butter and coconut oil and wait until melted stirring occasionally. Stir in vitamin e, peppermint extract and cocoa powder. Using a dropper or syringe (one for like baby medicine) and place melted solution in empty lip balm tubes or tins. Wait until cooled completely and enjoy your fabulous lip balm!
Tip: for labels I used to use sticker paper from Hobby Lobby which was really expensive for only 5 sheets. Now I use full sheet shipping labels which is much more cost effective!
What homemade gifts are you giving this holiday season? I would love some more great ideas!
This is what my kitchen table looks like right now! Very busy trying to get everything done!