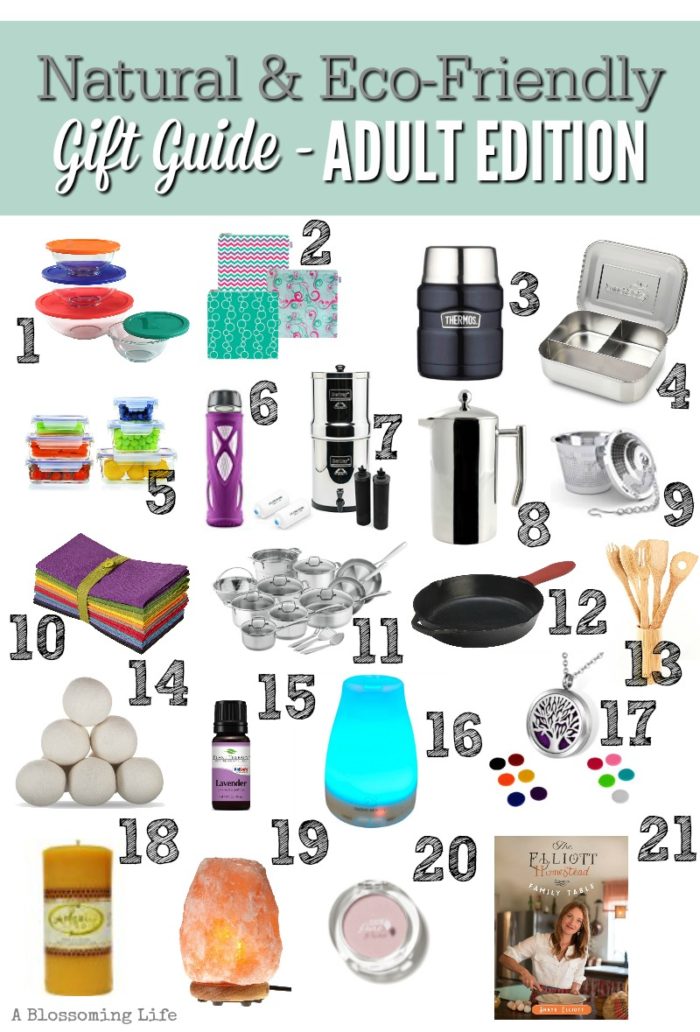 Hey, friends. The holidays are right around the corner, and I know how hard it can be sometimes to find awesome gifts that are eco-friendly or more natural. So, I thought I would share with you some fabulous natural and eco-friendly gift ideas just for adults (you can find the kid edition here). I personally use and love most of these products (or very similar items) or they are on my very own wish list (which, of course, I research like crazy and make sure they are the best quality for the price). What makes them eco-friendly? In general, they are made from natural materials, they are non-toxic (don't contain endocrine disruptors or cancer-causing chemicals), promote health and wellness, they will help you reduce trash, and some are reusable.
We don't like a lot of random stuff around here, so when Christmas rolls around, I mostly ask for things that I need and maybe one or two items that I want (hello, makeup and essential oils). So, here is a guide I put together for some great eco-friendly ideas for you, friends, or family. The best part is most of these are pretty wallet-friendly too. Some are a little more expensive, but totally worth it.
Natural & Eco-Friendly Gift Guide
Pyrex 8-Piece Mixing Bowl Set–

I just purchased this set a few months back and love them.

Reusable cloth sandwich bags– My hubby takes similar ones with him to lunch every day.
Stainless Thermos–

Perfect for soup in cold weather.

LunchBots stainless steel food container–

We use this for lunches and snacks for baby girl. Really handy and you don't have to use plastic.

Glass storage containers–

We have used similar ones for years. So useful. I should really have two sets since we use them so darn much.

Glass Water Bottle with Flip Lid –

I have had a few different types of glass water bottles, and this one is my favorite. The flip top is the best. Much easier to use than the screw top.

Big Berkey Water Filter System with 2 Black Berkey Elements and 2 Fluoride Filters–

Berkey water filters are the best water filter! There is no beating the taste and quality. We love ours. Our friends brought it with them when they moved to Switzerland, they loved it so much.

Stainless Steel French Press Coffee Maker

– We use a french press like this one every morning. Check out our post on

how to make non-toxic coffee.
Tea Infuser with assorted loose leaf tea – I gave this gift to my hubby one year since he loves tea.
Stainless Steel 17 Piece Pots & Pans Set–

We have a similar set that we were gifted for our wedding.

Lodge Cast Iron Skillet

– This is on my list for this year. Well, actually, I put in on my hubby's wish list. He needs more things on his list… haha.

Wool Dryer Ball –

I received these last year as a Christmas gift, and they are awesome. Non-toxic laundry that saves you money? Yes, please.

My favorite essential oils: lavender, peppermint, tea tree (melaleuca), frankincense, and germ fighter
Essential oil diffuser – I have this one and Libby has this one
Beeswax Candle – You can make them yourself with some Beeswax and cotton wick, or you can purchase them here.
Himalayan salt lamp– Helps naturally purify the air.
I'm asking for more 100% Pure Cosmetics this year. Although I love to DIY my own products, sometimes I would just rather buy them. Hello, being a mom and working from home. My favorites are the Black Tea Liquid Eye Liner,

Fruit Pigmented Mascara – Black Te

a

, and Mimosa Blush.
Real food cookbooks. I recently purchased and love The Elliott Homestead's – Family Table.
There you have it. Over 21 fantastic gift ideas for the natural and eco-friendly minded friend. Or just an awesome list of things to purchase if you are working towards a more natural lifestyle
This post contains affiliate links. Affiliate links help support A Blossoming Life at no extra cost to you. We only promote products we love.
You may also like…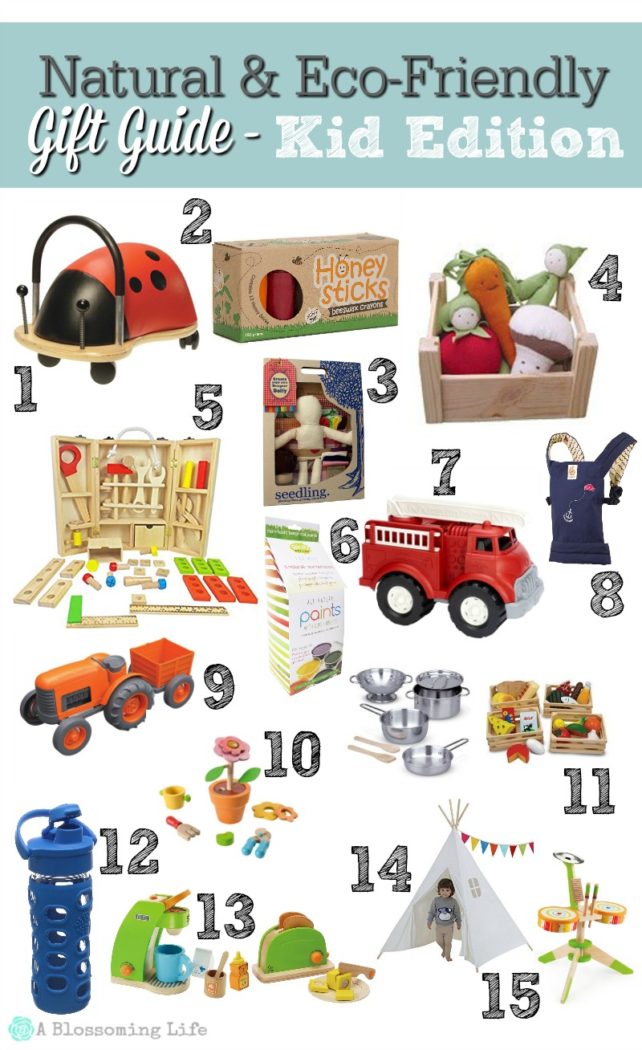 Natural & Eco-Friendly Gift Guide- Kid Edition