Blackberry Brownie Mug Cake
You have to try this decadent and easy brownie mug cake recipe, made with blackberries and ready in 1 minute. When you need a sweet snack, and you need it fast, there is nothing like a single-serve, warm brownie that tastes absolutely amazing.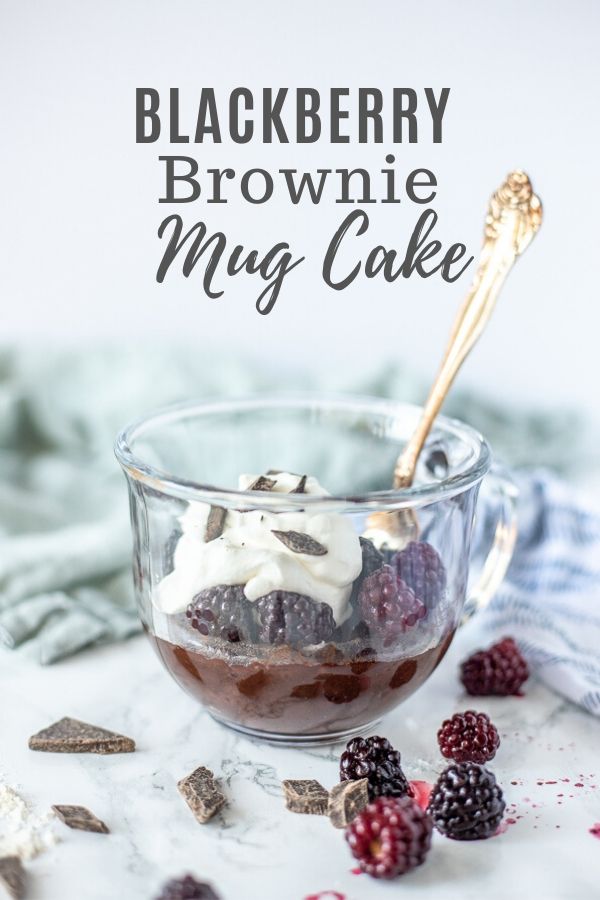 This post is sponsored by Oregon Raspberry And Blackberry Commission . All opinions are mine.
The thing about brownies, though, is that they require some planning and some time.
I don't know about you, but sometimes I just need something sweet at the end of the day, but I also don't want to spend the time making and waiting for brownies.
In situations like these, there is a solution: you can have a warm, super chocolatey dessert right out of the oven… I mean microwave.
This brownie mug cake recipe isn't necessarily healthy (it is still a cake, people), but it is a little bit healthier than your average mug cake, since it uses unrefined sugar, healthier oil, and blackberries, one of my most favorite fruits. It can be made vegan, and I'll also show you how you can make it gluten free.
Since spring is just peeking its head out, fresh Oregon blackberries are not in season.
Thankfully, that's totally not a problem, because you can find them in the frozen section all year long.
Blackberries plus chocolate make a wonderful and magical combination, and ups the health factor on this yummy dessert. This brownie mug cake is a super delicious way to get more antioxidants!
Top it with some whipped cream, and I promise you, this brownie in a mug will be one of your favorite quick go-to desserts when you just need some sweetness.
Tips For Making This Recipe
You can use oil or butter. Use oil to make it vegan.
Fresh or frozen blackberries will work. If using frozen, microwave for 15 seconds to help thaw them first. For fresh, just microwave for 5-10 seconds to soften them up a bit.
Love lots of chocolate? Add a few more chocolate chips. I'm not here to judge.
For a cakier recipe, use 3 tablespoons of flour; for a fudgier, more brownie-like mug cake, use 2 tablespoons of flour.
Can you make this recipe gluten free?
Yes! Swap out the regular flour for a gluten free one-for-one flour. The texture will be a bit different, and slightly more grainy. But it was still tasty and my daughter loved it.
Is Brownie Mug Cake Healthy?
This will definitely depend on the recipe you are using.
The recipe I'm sharing is a healthier version, since it contains blackberries, which are rich in vitamins and minerals, like vitamins C and K, and manganese, and they're a great source of fiber (source).
Additionally, this recipe uses a natural, unrefined sugar (honey or maple syrup), and healthy, unrefined oil (avocado, or you could use coconut).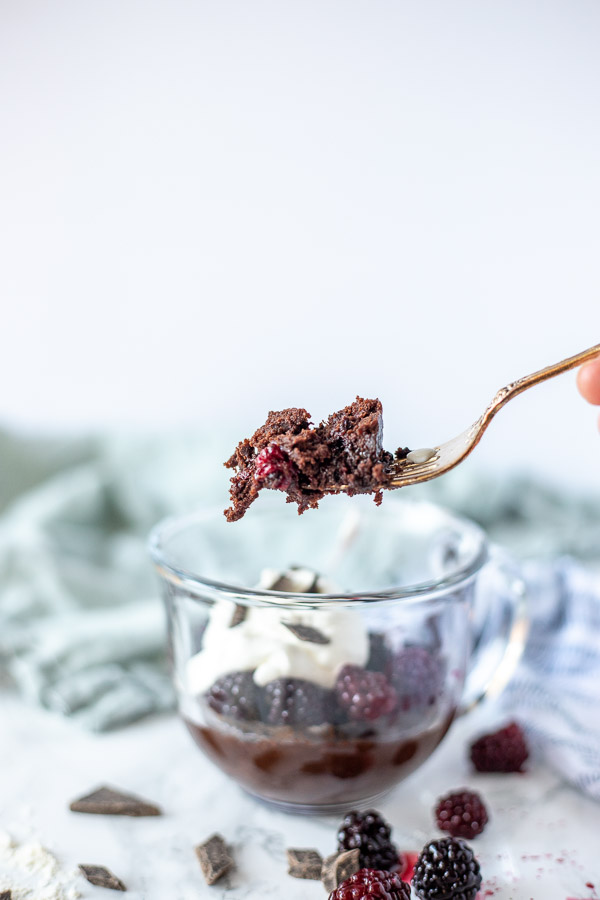 Ingredients you will need:
Blackberries, of course! Oregon blackberries (fresh or frozen) add a delicious sweetness to this recipe. My friend tried it not knowing there were blackberries in it, and she was so pleasantly surprised with the texture and flavor they add. Chocolate and blackberries are meant to go together.
Cocoa powder
Flour: I used a whole-wheat white that is meant for all purpose flour. AP flour or gluten free one-for-one will also work.
Baking powder: just a pinch is all you need.
Chocolate chips: your favorite chocolate chip will work. If you are vegan, make sure you are using vegan chocolate chips.
Honey: use honey or maple syrup. Maple syrup if you are vegan. Pro tip: measure out the oil before the honey, so that it slips right out of the measuring spoon.
Milk: whatever dairy milk you have on hand, or a plant-based milk will work.
Oil: Avocado oil or melted coconut oil will work. You could also use butter.
Pinch of salt: don't skip this! Salt really brings out the sweetness in dishes.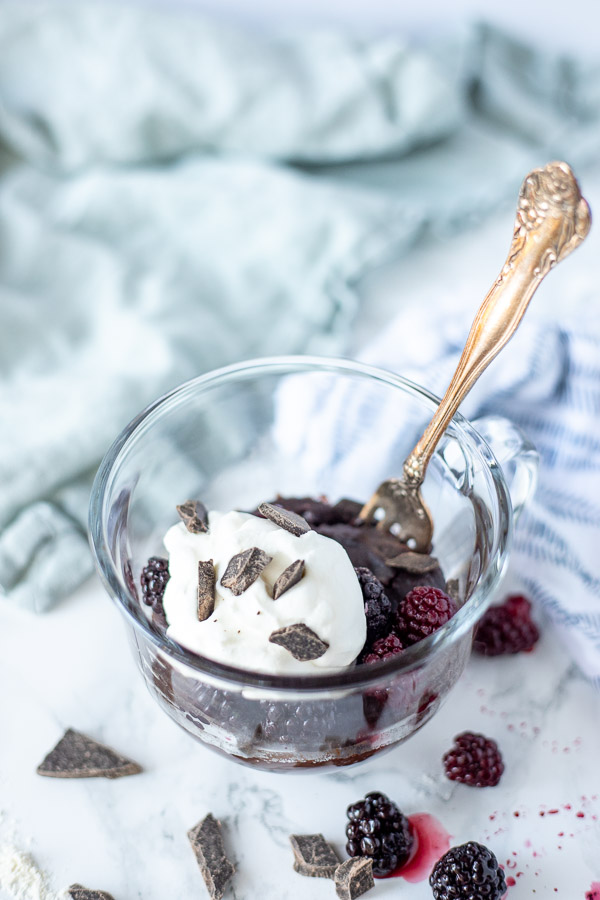 How To Make Blackberry Brownie Mug Cake
Place blackberries in a mug, mason jar, or oven-safe dish, and cook in the microwave for 5-10 seconds for fresh berries or 15 seconds for frozen.
Add wet ingredients. Quick tip: measure out the oil before the honey to make the honey come out easily.
Add dry ingredients and mix well, scraping down the sides. A fork works well to break up any chunks.
Lastly, add chocolate chips and stir.
Pour into mug if desired and pop in the microwave for 45-60 seconds. 60 seconds for a more cake-like mug cake.
Allow to cool, and add a dollop of whipped cream, chocolate chips, and a few more irresistible Oregon blackberries. Enjoy!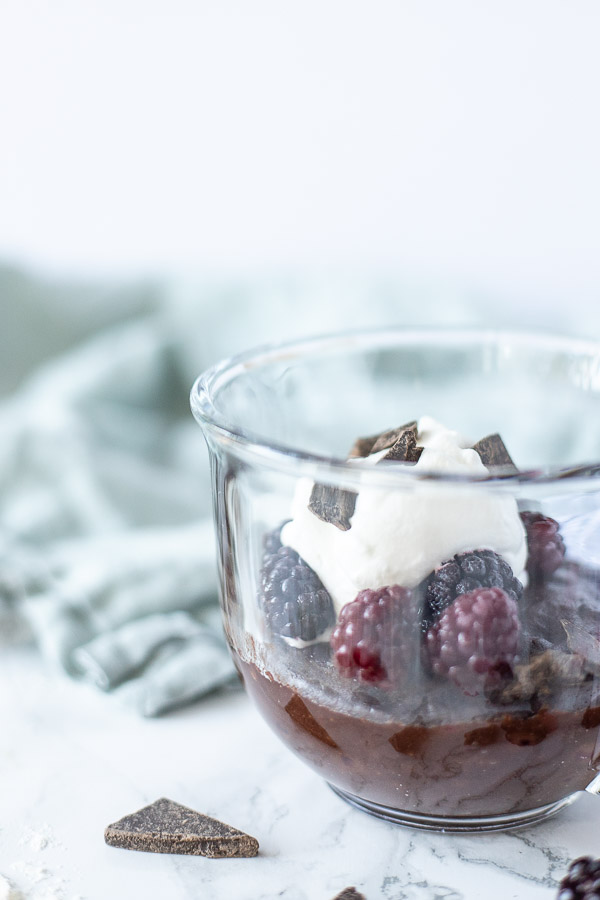 Find more of my favorite recipes: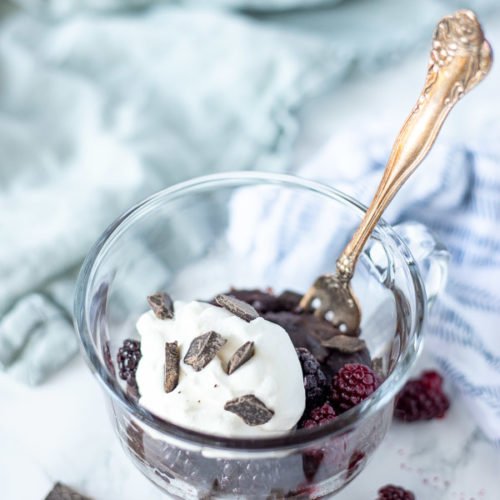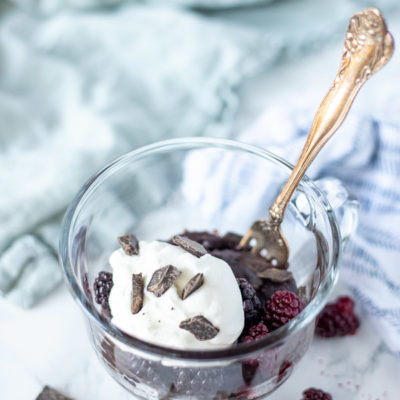 Ingredients
6-8

tbs

blackberries

frozen or fresh. Rasperries would also work

2

tbs

avocado oil

or coconut (butter will also work)

1

tbs

milk

of choice

2

tbs

honey

3

tbs

flour

2

tbs

cocoa powder

1.5

tbs

chocolate chips

or more

1/4

tsp

vanilla extract

pinch

salt

pinch

baking soda

dollop

whipped cream
Instructions
Place blackberries in a mug, mason jar, or oven-safe dish, and cook in the microwave for 5-10 seconds for fresh berries or 15 seconds for frozen.

Add wet ingredients and stir.

Mix in dry ingredients well.

Place in the microwave on 45-60 seconds.

Allow to cool for a few minutes.

Top with whipped cream (optional, but makes it really good), more berries and chocolate chips.
Notes
While whipped cream is totally optional, it really adds a nice balance to the chocolate. Even just a splash of cream or milk on top would be yummy.
This can be made gluten free using a gluten free one-to-one flour. The texture will be a bit different, but my daughter still really liked it.
Nutrition
Serving:
1
g
|
Calories:
643
kcal
|
Carbohydrates:
82
g
|
Protein:
7
g
|
Fat:
36
g
|
Saturated Fat:
8
g
|
Cholesterol:
5
mg
|
Sodium:
27
mg
|
Potassium:
296
mg
|
Fiber:
9
g
|
Sugar:
54
g
|
Vitamin A:
240
IU
|
Vitamin C:
19
mg
|
Calcium:
82
mg
|
Iron:
3
mg
Thank you Oregon Raspberry and Blackberry Commission for sponsoring this post. Make sure you grab some fresh Oregon blackberries in the summer or find them in the freezer section!