With all its protein and fiber, decadent brownie batter hummus is a healthy dip rich disguised as a scrumptious dessert. All you need is a handful of ingredients and 5 minutes to make this chocolate hummus. Use it as a dip with fruit or pretzels, or as a spread on toast. Your family will love this secretly healthy dessert.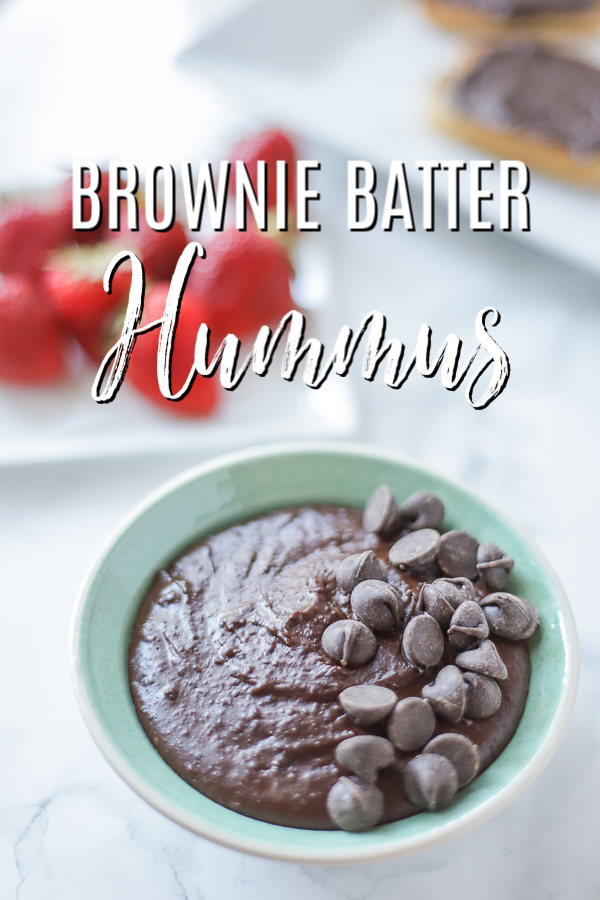 If I can sneak in healthy food, I'll do it wherever I can.
Now, don't get me wrong; my kids love their fruits and veggies, especially beans. Truthfully, beans are one of their favorite foods, but desserts are in a category of their own, and if I can make a dessert healthy, like, why not?
This recipe is great to sneak in those extra protein foods for my chocolate-loving and meat-disliking (I don't want to say "hate," 'cause he will eat it occasionally) almost-two-year-old.
Their bean-loving tendencies are odd to me, though, because I hated beans until college. Maybe it was the lack of exposure since my parents don't like them, but I refused to try them. Something about them grossed me out.
I'm not sure what happened, but one day, I got over it and now we consistently serve all types of beans. Well, that's not really true… I'm picky about the types we eat, but that's beside the point. We eat beans.
Gosh, I love this recipe. There really isn't anything to dislike: chocolate, more chocolate, hiding beans behind… chocolate. See? Nothing. What could possibly go wrong? Because chocolate.
This recipe also makes the perfect after school snack. It's so easy to whip up. If you need some more back-to-school snack inspiration, check out this post: Healthy Snack Ideas For Kids.
My kids were literally begging me for it. My daughter made it with me earlier in the day, and then before bedtime she kept saying "Mom can I please have that scrumptious chocolate hummus you made!?"
She is seriously the cutest and her word use cracks me up.
Tips For Making Brownie Batter Hummus
You could switch out the beans to another mild bean like chickpeas, but the consistency may be different. Black beans give it a smoother consistency.
Depending on the type of nut butter and the brand may yield different taste and consistency. If you chocolate hummus seems to be too hard, you can thin it out with a little water. I would add a teaspoon at a time.
Placing the chocolate hummus in the fridge to chill will make it get slightly harder and will make it more of the consistency of frosting. It's really good. It honestly would probably make an awesome frosting.
The following are affiliate links. We are a participant in the Amazon Services LLC Associates Program, an affiliate advertising program designed to provide a means for us to earn fees by linking to Amazon.com and affiliated sites.
Tools you will need:
Food processor – I love this one
Strainer – I literally had these for over 8 years.
Measuring cups and spoons
Spoon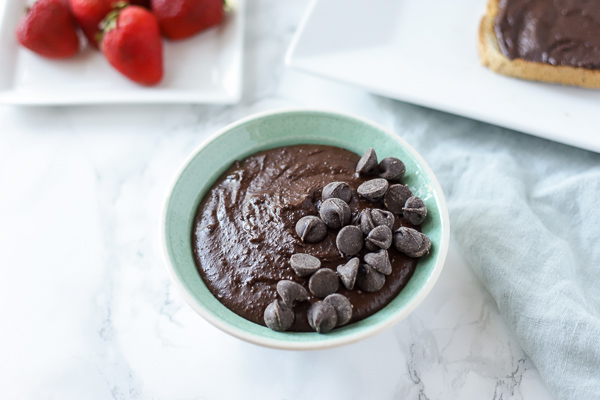 What is Chocolate Hummus Made Of?
Black beans
Honey or maple syrup for a vegan version
Cocoa powder
Nut or seed butter (a more mild butter like almond butter will make this taste more like brownie batter. More strong butters like sunflower or peanut will lend itself to a slightly different flavor that is still delicious. I'm just guessing about the peanut butter because I want to continue breathing in this life… peanut allergies are no joke.
Salt
Chocolate chips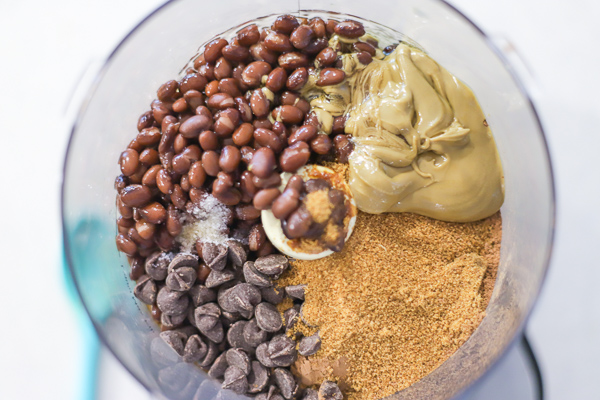 How To Make Brownie Batter Hummus
Strain beans and add them to a food processor.
Add the remaining ingredients and process with an S blade until smooth. You can add the chocolate chips in the beginning, or add them at the end. Or skip them entirely; whichever you prefer.
Place in a bowl and refrigerate for at least 1 hour. It is much better cold, in my opinion.
Serve.
What do you eat with brownie batter hummus?
Pretzels
Pita chips
Spread on pancakes, toast, English muffins, muffins.
Strawberries
Apple slices
Orange slices
Graham crackers
Is chocolate hummus healthy?
Yes! This recipe is packed with protein, fiber, healthy fats, and antioxidants. It has protein from the beans and nut butter, and it contains a good amount of fiber from the beans and antioxidants from the cocoa powder. It does include some sweetener from the coconut sugar and the honey, but these are natural, non-refined sugars. Coconut sugar is a lower-glycemic food; to that end, if you add chocolate chips, try to find ones that have the lowest amount of added sugar.
It is not quite as healthy as regular hummus, since it does have some added sweetener, but as a dessert, it is a pretty darn good option.
I love that this dessert hummus can be eaten with healthy foods like fruit.
How long will this stay good for?
This will keep in the fridge for 5-7 days, just like regular hummus (if it lasts that long). The quality is the best in the first few days.
Can you freeze hummus?
Yes! Place it in an airtight and freezer-safe container, leaving a little room at the top for expansion. It will last about 6-8 months in the freezer. To thaw, stick the container in the fridge. It may take up to a day to thaw in the refrigerator. After it thaws, you may notice some liquid separation; just mix it up, and you will be good to go.
You can also thaw it in the microwave.
What is dessert hummus?
Dessert hummus is basically a sweet version of the garlicky dip you are used to. Since beans tend to be mild in flavor, they take on the taste of what is added. Dessert hummus uses a sweetener and other additives, like cocoa powder and vanilla, to make a sweet dip.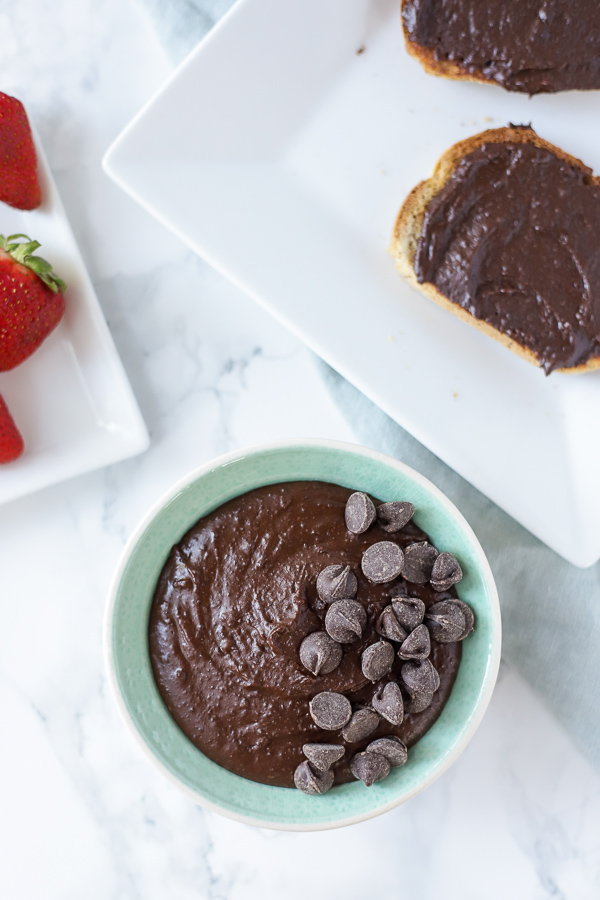 Check out some of our favorite healthier desserts:
Brownie Batter Hummus Recipe Card
If you try this recipe and love it, I would love it you could come back and give it 5 stars. Please and thank you.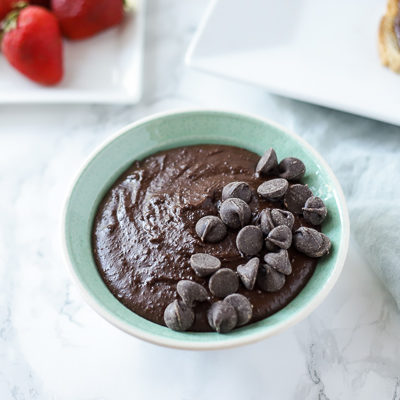 Ingredients
1

can

black beans

drained and rinsed

6

tbs

cocoa powder

1/2

cup

coconut sugar

1/4

cup

nut or seed butter

see notes

2

tsp

vanilla extract

1/4

tsp

salt

1/4

cup

honey

or maple syrup

1/4

cup

chocolate chip

or more
Instructions
Strain beans and add them to a food processor. 

Add the remaining ingredients and process with an S blade until smooth.

Place in a bowl. Enjoy!

If you want refrigerate for at least 1 hour. I like it better cold and it gets thicker... like frosting.

Nutrition
Serving:
1
g
|
Calories:
129
kcal
|
Carbohydrates:
22
g
|
Protein:
4
g
|
Fat:
4
g
|
Saturated Fat:
1
g
|
Cholesterol:
1
mg
|
Sodium:
65
mg
|
Potassium:
123
mg
|
Fiber:
3
g
|
Sugar:
13
g
|
Vitamin A:
8
IU
|
Vitamin C:
1
mg
|
Calcium:
20
mg
|
Iron:
1
mg
Have you tried making dessert hummus before?
Pin It For Later