Easy 20 Minute Thai Noodles With "Peanut" Sauce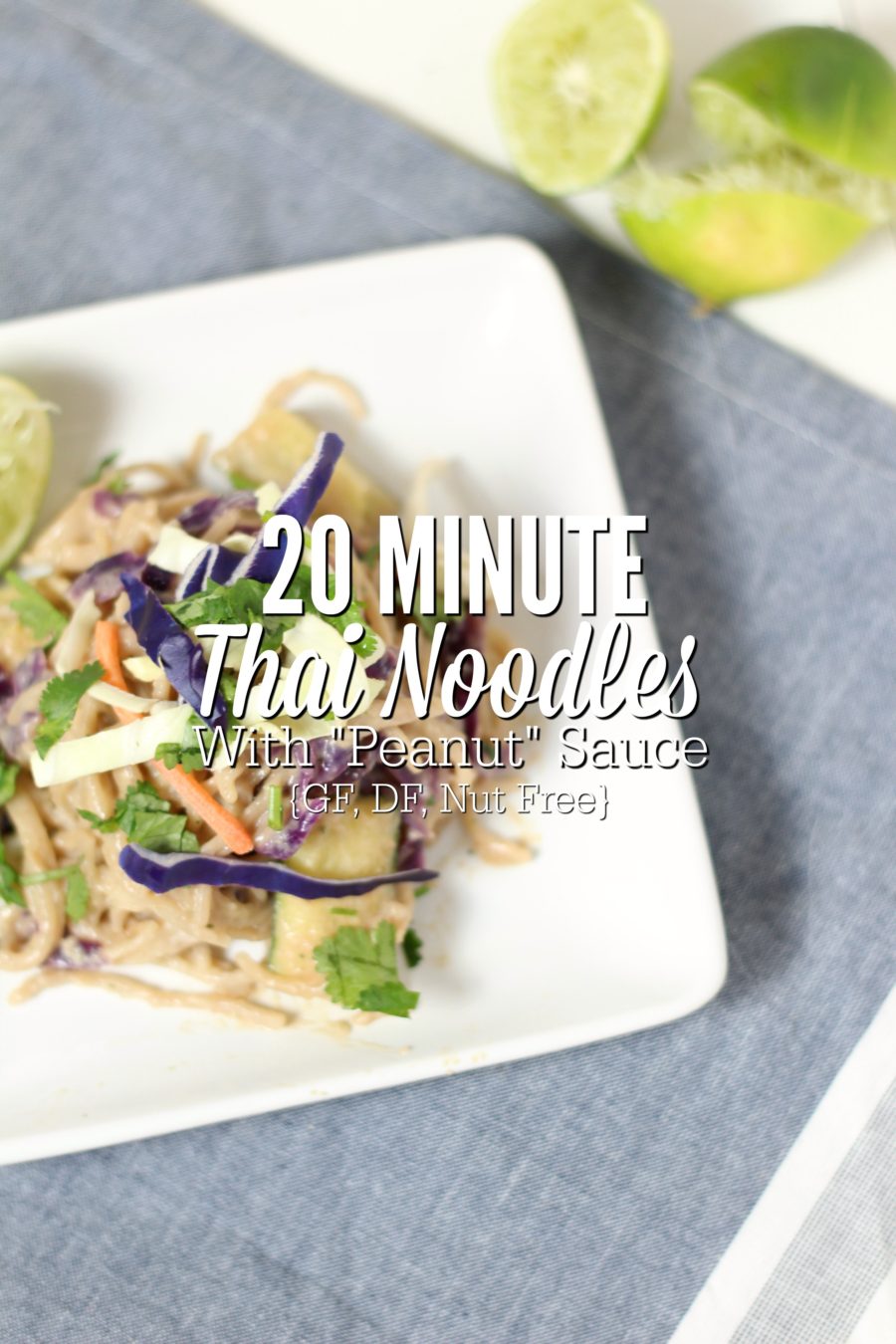 We've been in Oregon now for over a month, but it doesn't really feel that way. This place feels like home. Our transition has been pretty smooth and not as stressful as I had imagined. Our house back in Illinois is under contract, and the day that we get to hand over the keys to the new owners can not come soon enough. We are trying to learn the balance of family life, church planting life, and work life. Sometimes, I feel like we've got this down, while other days, it feels like we are scrambling. So is life. One thing for sure is that we haven't doubted our move one bit. This place is our home, and we have been enjoying exploring this new town/area/state.
The one thing that I really miss back home is good Thai food. Sounds weird, right? Southern Illinois and Thai food? But, we had the best place for Thai food in Carbondale, and we are in desperate need to find a place like that here in Oregon. It was our go-to place for date nights, for dinner with visitors, for celebrating exciting things happening in our life. That was our spot.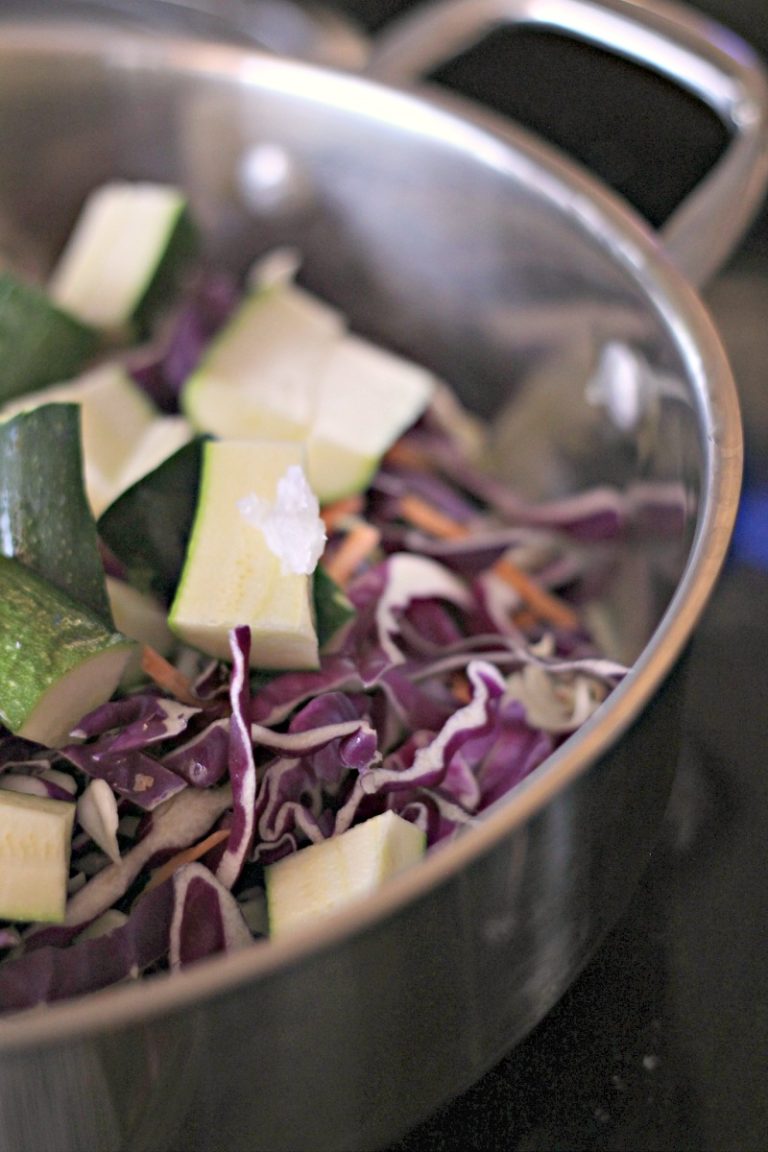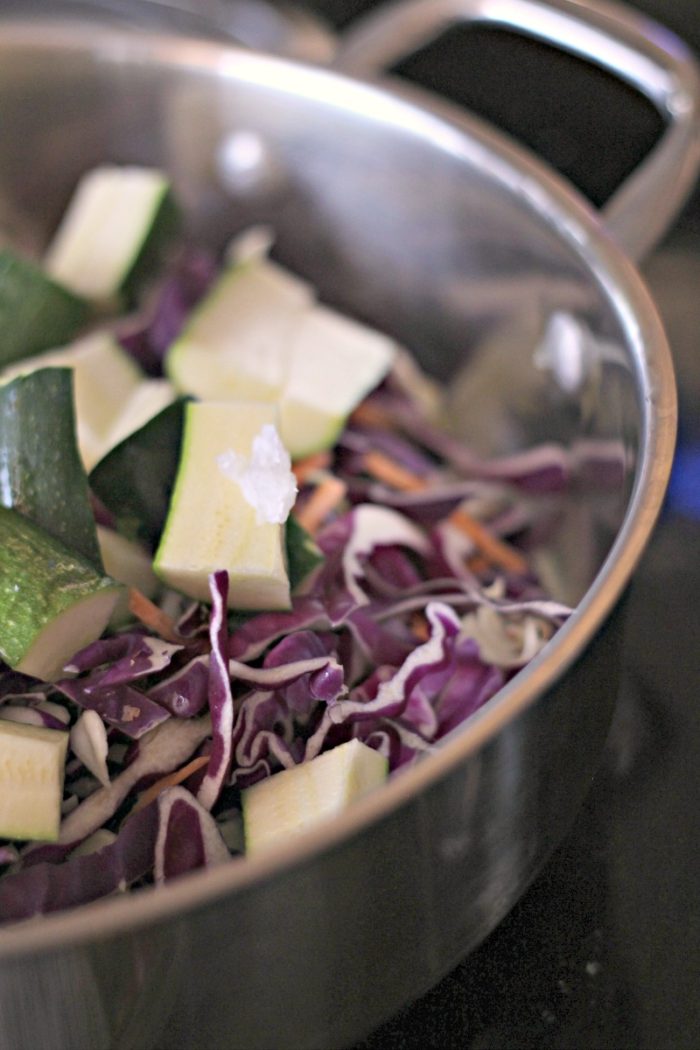 Our other friends that have also moved from southern Illinois to Oregon also haven't found a place yet to replace our beloved Thai Taste. We joke that we need to ask for the recipes and start our own restaurant here. We've tried multiple restaurants, and honestly, they were down-right bad. Supposedly, there is a really good one in Portland, but that's a little far.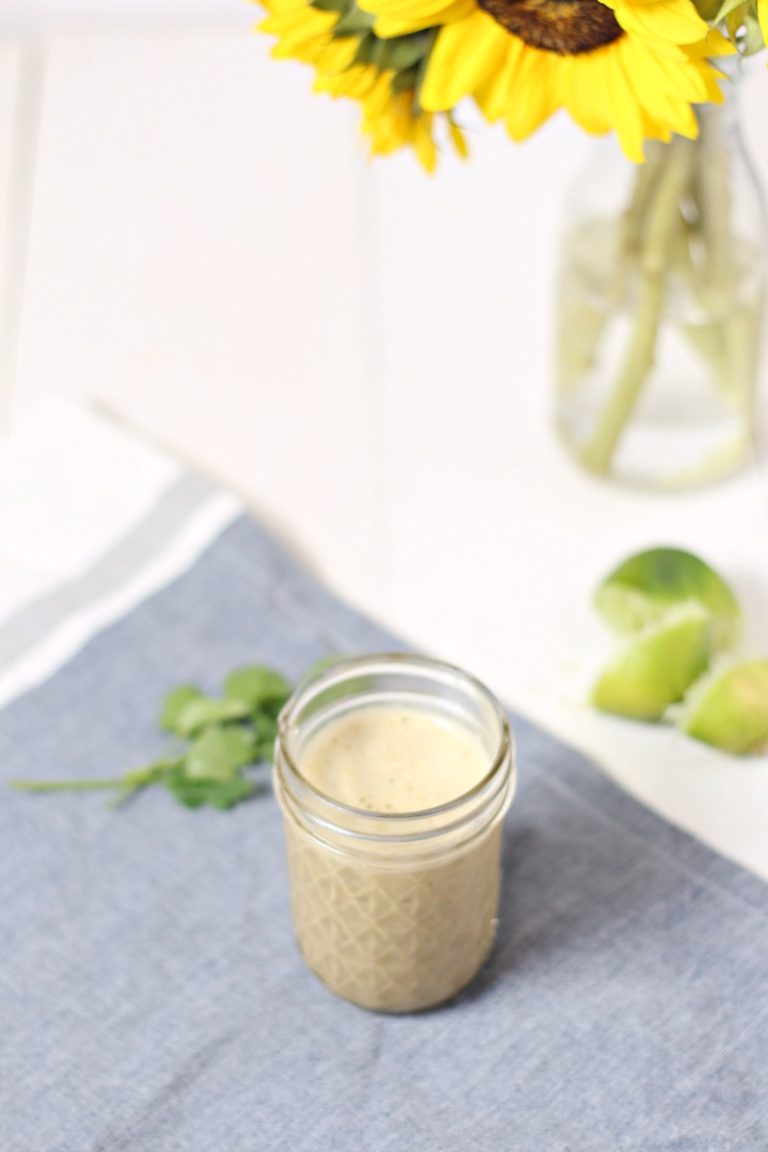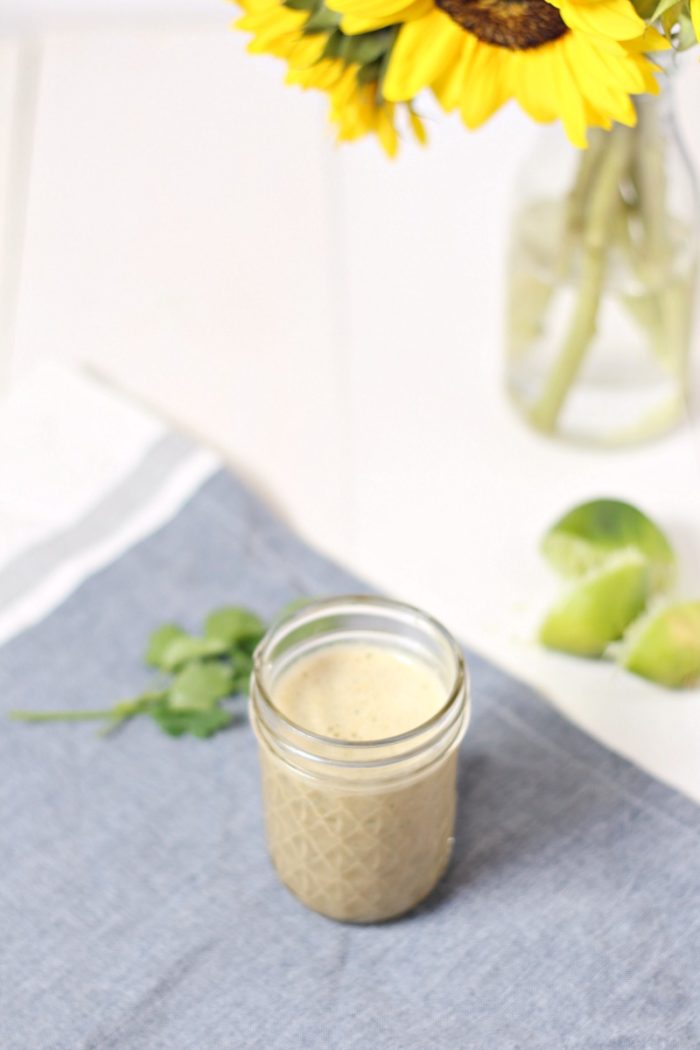 What does one do when they are in desperate need of delicious Thai food without a good place to go? You make some at home, of course!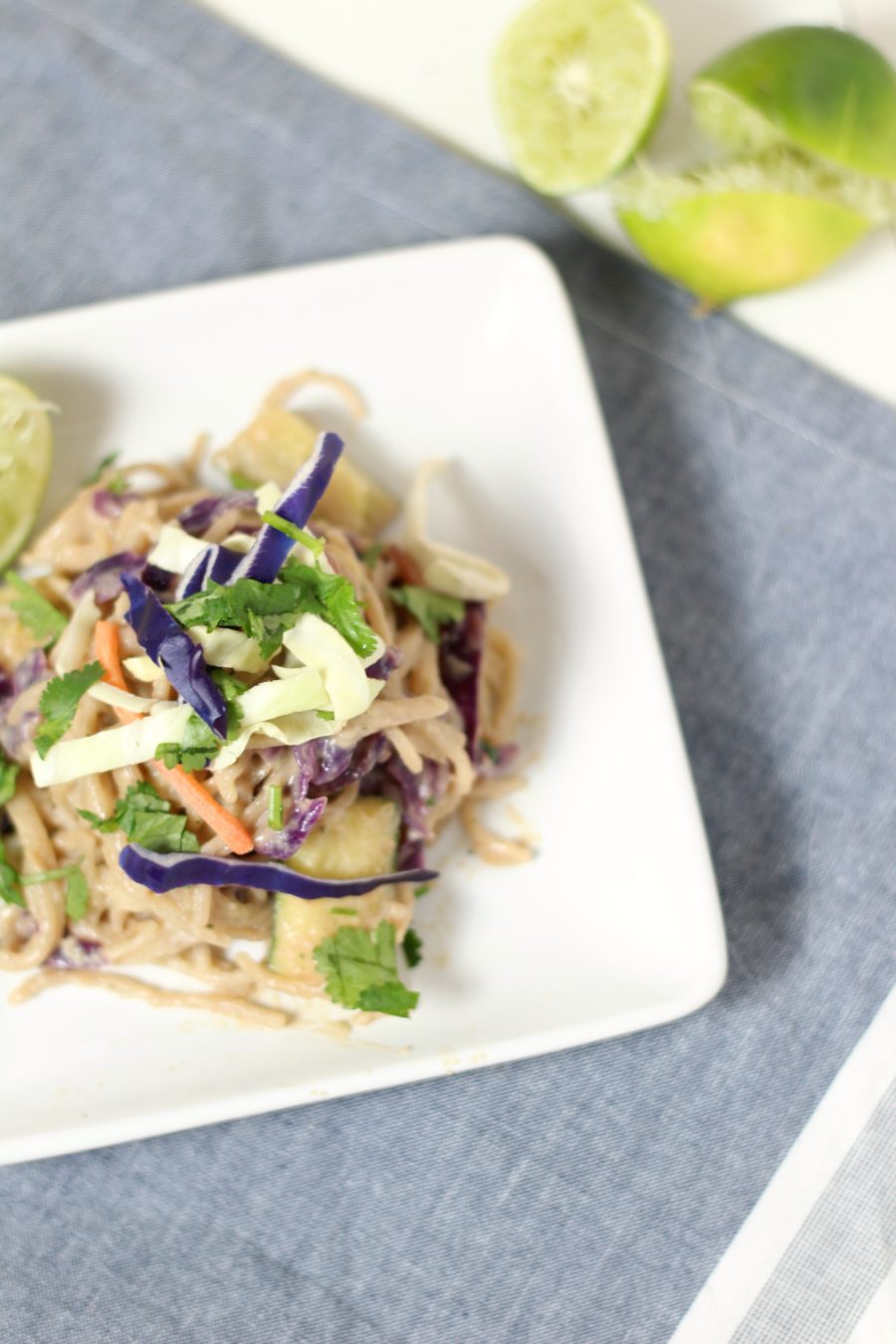 So, this recipe can be dressed up as you please. This meal was made for our small group (they tend to be my guinea pigs) one night, and to make my life simpler, I prepared the Thai "peanut" sauce and some chicken thighs earlier in the day. Also, I used a bag of organic shredded cabbage and carrots from Trader Joe's, so there was little vegetable prep for the recipe. I've also made this recipe using leftover beef from a pot roast. Have I mentioned once or twice how much I love leftovers? Seriously, they make life so much easier.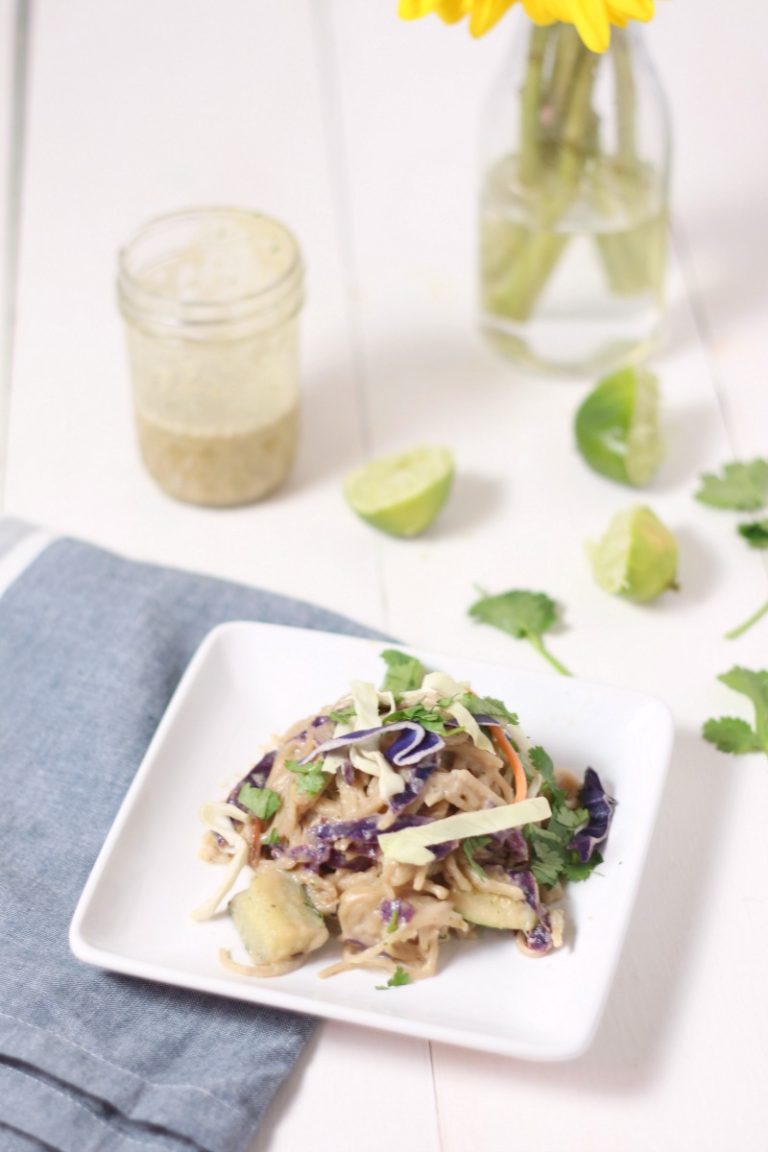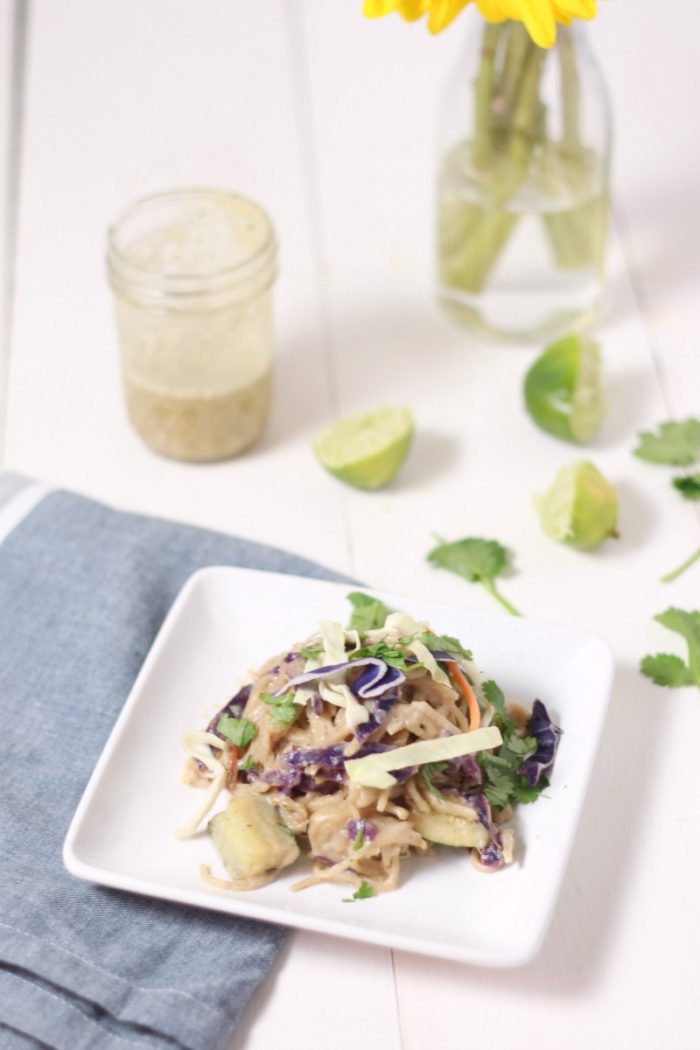 Use your imagination… Use beef, pork, chicken, change up the vegetables. Whatever your heart desires. This recipe tastes best when it is fresh. If you do have leftovers, I would recommend saving a little extra sauce and throwing a bit more oil in the dish to help it rehydrate. Otherwise, it may be a little dry.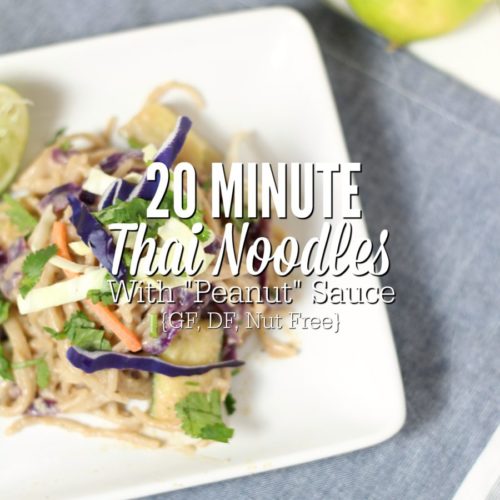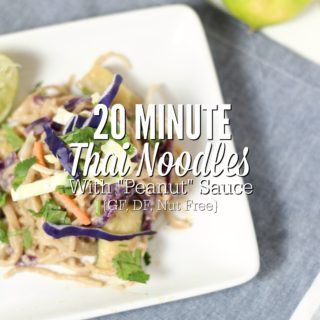 20 Minute Thai Noodles With "Peanut" Sauce
This delicious and fast Thai Noodles and "Peanut" Thai sauce is a perfect weeknight meal. Shortcuts are made to make this recipe fast and easy without compromising on health or taste.
Print
Pin
Rate
Ingredients
Thai "Peanut" Sauce
1/4

cup

broth (beef, chicken, or vegetable)

6

Tbs

nut or seed butter (I used sunflower butter)

1/4

cup

coconut aminos

2

Tbs

honey

1

Tbs

sesame seed oil

2

Tbs

apple cider vinegar

2

Tbs

lime juice

1"

piece

ginger

5-6

cloves of garlic peeled

1/2

tsp

salt

pinch

red pepper (optional)

Handful of fresh cilantro
Noodles
12

oz

Noodles of choice

(I used quinoa/brown rice noodles)

water for cooking

2-3

Tbs

oil (coconut and avocado oil work well)

1

bag

shredded cabbage and carrots (or broccoli slaw without sauce) or 1/2 cabbage shredded and 1 carrot julianned

1/4-1/2

lb

pre-cooked meat (optional)

Beef, chicken, pork, etc.
Instructions
Cook noodles according to directions on package.

While noodles are cooking, place all the Thai "peanut" sauce ingredients into a blender and blend until smooth. In a skillet, place oil and shredded cabbage and carrots mix and sauté on medium heat for about 5 minutes, or until they start to become softer. Add in leftover meat, and cook for 2-3 minutes.

Drain pasta and add to pan of vegetables/meat, add about 1/2 the sauce and mix.

If you feel it needs more sauce, add a little more and stir until noodles are coated. Cook for 2-3 more minutes.
Notes
If your noodles cook faster than the vegetables then drain the noodles and add a few tbs of oil and mix so they don't stick.