Healthy Chicken Salad Recipe With Veggies
Healthy Chicken Salad Recipe is a classic recipe loaded with veggies. This classic chicken salad recipe is made from whole food ingredients, can be made ahead of time, and makes the perfect on the go meal.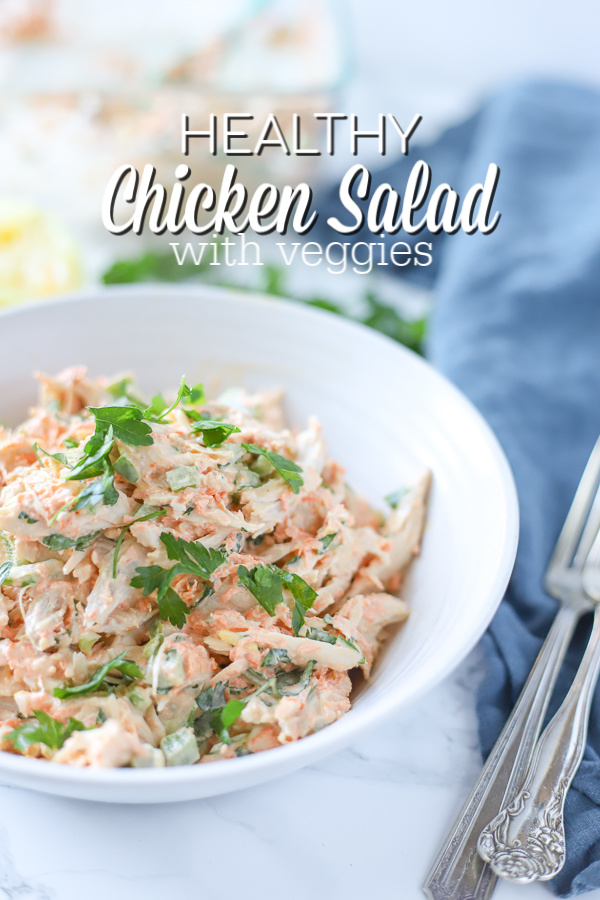 Veggie Loading A Classic Recipe
Growing up, I always thought I hated all creamy salads (minus the lettuce kind). See my family didn't like them so we never ate them and therefor making me not like them either.
In my mind, things that should be hot should be hot and things that should be cold, well should be cold. Does that even make sense?
Potatoes are meant to be hot, so potato salad makes no sense. Same with chicken or tuna salad.
I know this is just crazy thinking and now that I am an adult and am more willing to try new things, I realize that putting all salads in a corner for timeout was wrong.
How dare I judge something just based on its temperature or creaminess… Clearly, I've matured in my thinking.
Just kidding, but I am slightly more willing to try new things that seem slightly scary. Except curry, still won't try that, because well I'm just not ready for that yet.
Back to this delicious and healthy, veggie loaded recipe. As our family continues to try to eat healthier and get more vegetables in, snacking veggies into recipes has been a great and creative way to do so.
Veggie loading was turned on to me by Taesha, from the The Natural Nurturer. She finds ways to add veggies to basically everything she does. I love that idea and we have started doing the same with our family.
Why not add a boost of nutrition to make a meal even healthier?
That's where this veggie loaded chicken salad recipe came about. Why not take something so bland looking and add a punch of color, flavor, and nutrition.
Is this chicken salad recipe healthy?
Yes! Instead of using classic mayo which contains processed and refined oils we opted for healthier avocado oil mayo or olive oil mayo.
You could use regular mayo, but it's best to stay away from those highly processed oils. If that is all you have on hand, then go ahead, but make a mental note for the next time you have to restock you mayo to opt for one with unrefined oils.
Than we added shredded carrots which contain vitamin A, K1, fiber, potassium, and antioxidants. (source)
Peppers are high in vitamin C, B6, K, potassium, and chalk full of antioxidants.
Adding extra veggies to foods is a great way to boost the nutrition without boosting the calories.
Find the nutritional information on the recipe card.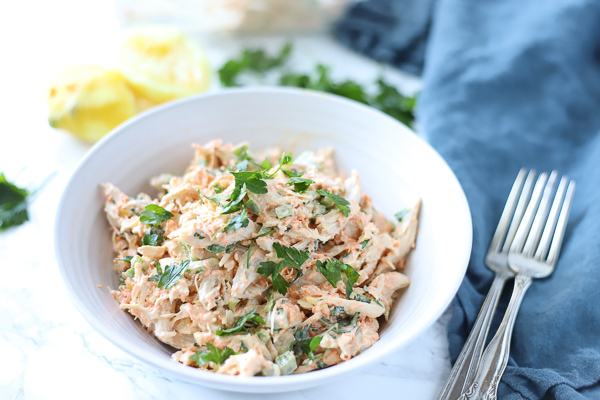 Pro Tips For Making Healthy Chicken Salad:
You can used cooked chicken breasts or a whole chicken. I make a whole chicken (this recipe) in the instant pot and used that.
You can add other fresh herbs like oregano, thyme, or even cilantro.
Use avocado or olive oil mayo for a healthier option.
This chicken salad recipe tastes delicious on bread, tortillas, or as a dip with chips. See more ways to serve it below.
The following are affiliate links. We are a participant in the Amazon Services LLC Associates Program, an affiliate advertising program designed to provide a means for us to earn fees by linking to Amazon.com and affiliated sites.
Tools you will need:
How to make healthy chicken salad:
Cook and shred chicken. You could also use a rotisserie chicken. Place in fridge until cool.
Chop herbs and onion and add to small bowl. Add in mustard, mayo, lemon juice, salt, and pepper. Mix together.
Dice peppers. Grate carrots.
In a large bowl, add shredded chicken, peppers, onions, and carrots.
Pour mayo mixture over the chicken and veggies and mix well.
Enjoy.
How To Serve This Easy Chicken Salad Recipe:
There are multiple ways to serve this recipe. Here are a few ideas:
Whole wheat bread or rolls to make chicken salad sandwiches.
Use tortillas or wrap bread to make a delicious wrap.
Flat bread or naan
Use it as a dip and serve with tortilla chips or pita chips
Serve on top of bed of greens or chopped lettuce.
Fresh fruit. Serve it on the side or add a few sliced red grapes to the mix.
Add more veggies: add some diced avocados, tomatoes, celery, or cucumber.
Love healthy recipes? Check out some of our favorites:
Chicken And Bacon Chopped Salad With Honey Mustard Dressing
Black Bean Quesadillas With Blackberry Enchilada Sauce
Gluten Free Double Chocolate Healthy Brownies
Healthy Chicken Salad Recipe
If you try this recipe and love it, I would greatly appreciate you coming back and giving this recipe 5 stars. Please and thank you.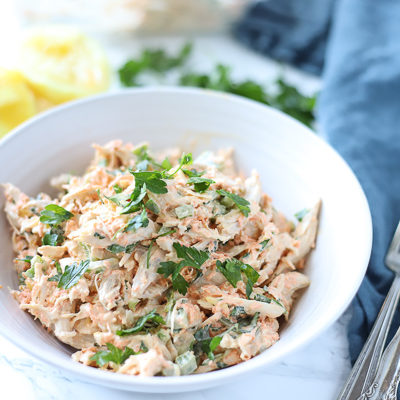 Healthy Chicken Salad
Healthy Chicken Salad Recipe is a classic recipe loaded with veggies.
Print
Pin
Rate
Ingredients
1/2

cup

mayo

avocado or olive oil

1/2

tbs

mustard

2

tbs

lemon juice

zest

1 lemon

optional

handful

fresh herbs like parsley, cilantro, or oregano.

2

tbs

onion

diced

2

large

carrots

grated

1

large

bell pepper

diced

3

cups

chicken

shredded

salt and pepper to taste.
Instructions
Cook and shred chicken (or use leftover chicken like I do). Place in fridge until cool.



Chop herbs and onion. In a small bowl add herbs, onions, mustard, mayo, lemon juice, salt, and pepper. Mix together.


Dice peppers and grate carrots.In a large bowl, add shredded chicken, peppers, onions, and carrots.

Pour mayo mixture over the chicken and veggies and mix well. Enjoy
Nutrition
Serving:
1
g
|
Calories:
207
kcal
|
Carbohydrates:
5
g
|
Protein:
6
g
|
Fat:
18
g
|
Saturated Fat:
3
g
|
Cholesterol:
28
mg
|
Sodium:
170
mg
|
Potassium:
186
mg
|
Fiber:
1
g
|
Sugar:
3
g
|
Vitamin A:
4915
IU
|
Vitamin C:
38.9
mg
|
Calcium:
13
mg
|
Iron:
0.5
mg
What is your favorite and easy go-to lunch?
This post was updated October 2019