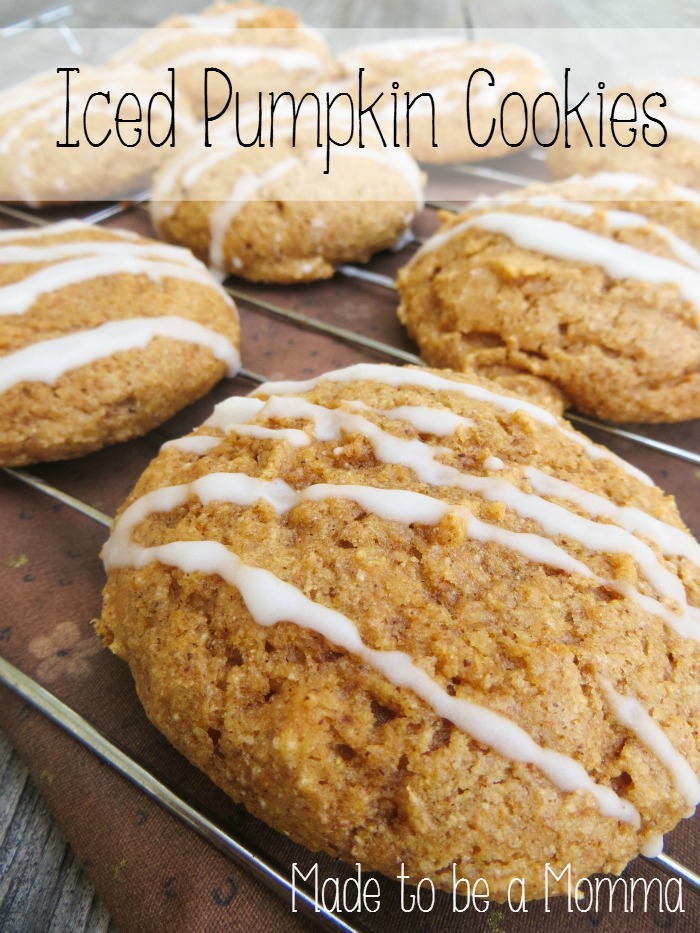 Hi! It's Katie from Made to be a Momma again! I am so excited to be here while Amy is busy getting settled into her new place! So exciting! Best of luck to you Amy! I have yummy recipe to share with you guys today and it is perfect for the Holiday season! These cookies are filled with pumpkin, ginger, pumpkin pie spice and even some healthy ingredients such as whole wheat flour and even greek yogurt! Yum!
For the Cookies:
1 1/2 cups whole wheat flour
1 cup all purpose flour
1 tsp baking powder
1 tsp baking soda
2 tsp cinnamon
1/2 tsp ground nutmeg
1/2 tsp ground cloves
1/2 tsp pumpkin pie spice (optional)
1/2 tsp salt
1/2 cup plain greek yogurt
1 1/2 cups of sugar or sugar substitute
1 cup canned pumpkin puree
1 egg
1 tsp vanilla
For the Icing:
2 cup confectioners sugar
3 Tbsp milk
1 Tbsp melted butter
1 tsp vanilla extract
Preheat oven to 350 degrees. Combine flour, baking powder, baking soda, cinnamon, nutmeg, ground cloves, and salt; set aside. In another bowl, cream together yogurt, sugar, pumpkin, egg and vanilla. Mix in dry ingredients. Drop on cookie sheet by tablespoonfuls. Bake for 15 to 20 minutes in the preheated oven. Allow cookies to cool and drizzle with icing.
To make icing: Whisk all ingredients until desired consistency.
Check out Katie's blog and her super cute blog design!! I'm in love!