DIY Christmas Wreath: Easy Step-By-Step Tutorial
Learn how to make your very own DIY Christmas wreath with a just a few supplies. You'll be surprised on how easy it is to make your own Christmas wreath. Follow the easy step-by-step tutorial and tips below so you can make your very own wreath.
Materials you will need to make your own Christmas wreath: pre-made twig wreath, fresh or faux evergreens and holiday greens, holiday decor, floral wire or hot glue, and wire cutters (optional).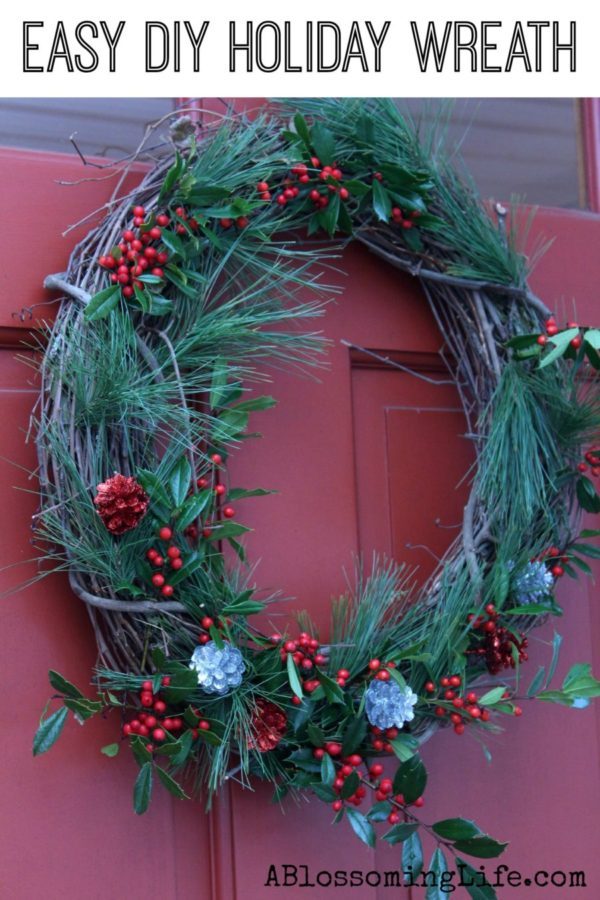 The post was updated November 2018
Need a last minute holiday idea to spruce up your door or give as a DIY gift idea? This project is perfect and super cheap frugal! This entire wreath cost me $5. I purchased the grapevine wreath and the pinecones at a local craft store and everything else came from my yard. It is a simple a beautiful way to spruce up any front door. Also, I love that once the holidays are over, and its starts to get a little less like winter, I can redo it for spring!
Decorating for the holidays can be so fun, but lets be honest I don't like to spend a lot of money on holiday decor. I like to use materials available to me and slowly collect items I truly love.
This was one of the first projects I did when we moved into our new home (you can find out the story about our house here). Decorating for the holidays has kind of gone to the way side since getting our home feeling like home was top priority. Adding this little touch to our front door made me feel 100% more festive.
This DIY Christmas wreath has already added so much festive cheer to our house! I can't wait to finish decorating for the holidays. I guess I should probably unpack the billions of boxes first huh?
The following are affiliate links. We are a participant in the Amazon Services LLC Associates Program, an affiliate advertising program designed to provide a means for us to earn fees by linking to Amazon.com and affiliated sites.
DIY Christmas Wreath FAQs:
Can you use fresh greenery?
Yes. To make it last as long as possible I would recommend soaking the greens in for 1-2 hours in water before using.
Where can you find holiday decor to decorate the wreath?
My favorite places to shop are Hobby Lobby, Michaels, and Amazon. I've also found some great items at yard sales.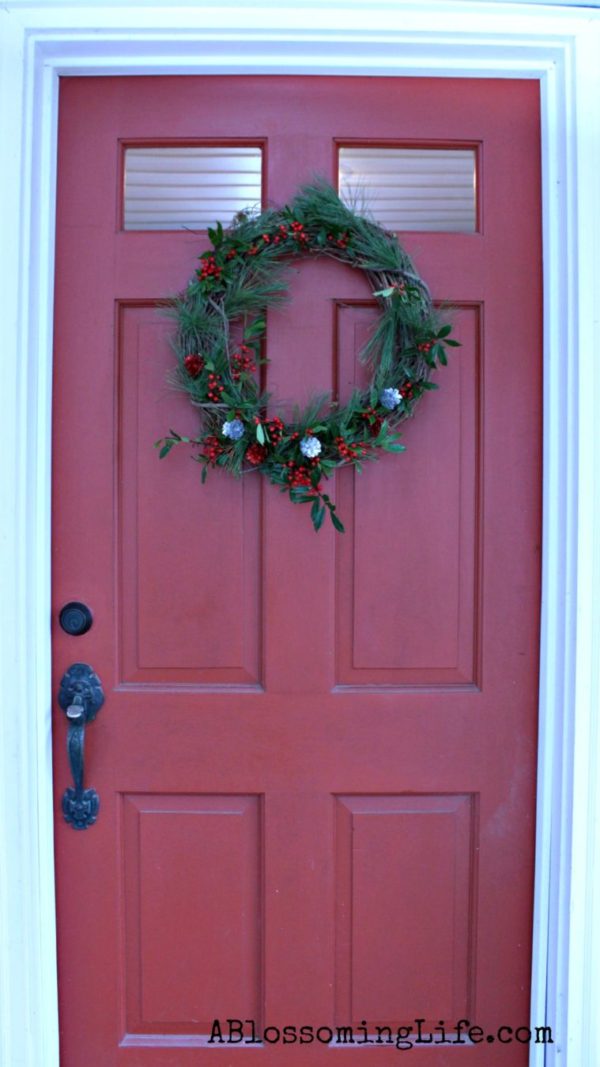 Tips To Make Your Own Christmas Wreath
Use a twig wreath and change out the decor.
If you use natural materials like evergreens, holly, etc. cut the stems and then soak them for a few hours to keep them green longer.
Make this wreath for years to come by using faux evergreens and holly.
Compost the natural materials when you are done.
Need More Holiday DIY Ideas? Check out some of my favorites:
Okay…. are you officially ready now to learn how to make your own Christmas wreath from scratch?
DIY Christmas Wreath Tutorial
Make your own Christmas wreath with a few inexpensive materials. No special skills required.
Materials:
Twig or grapevine wreath (like this one at Hobby Lobby or this one from Amazon)
Holly – fresh or faux
Fresh or faux evergreen (I used cedar)
Pinecones or other holiday decor ideas – so many cute options here
Floral wire or hot glue (optional) – Like this one
Wire cutters – optional… I've been known to use scissors for thin wire.
Step-By-Step Directions:
Step 1:
Find some evergreen plants and holly- fresh or faux will work. Cut off long stems. A friend told me that you can soak the stems in water for a few hours (1-2 hours) and that will help them last a lot longer and stay fresher.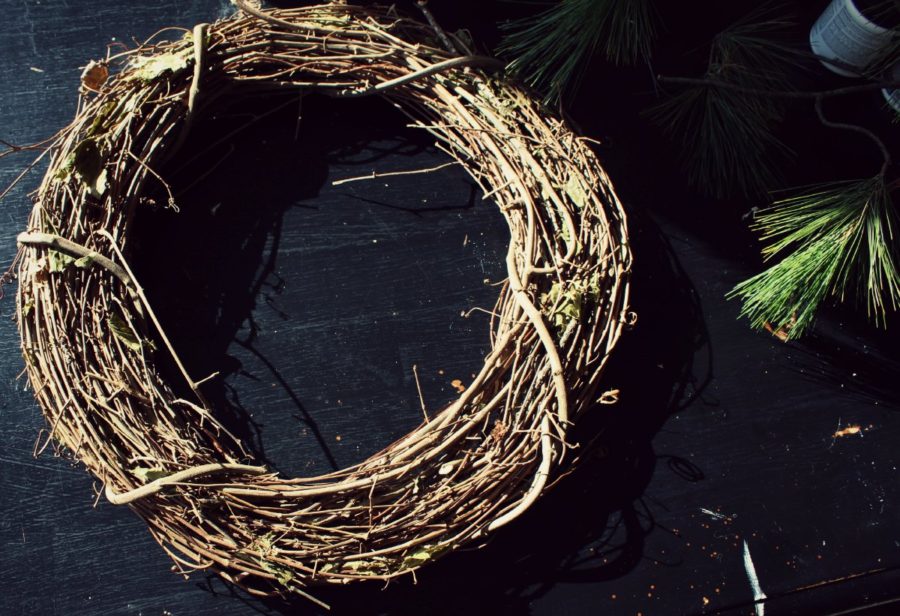 Step 2:
Insert the evergreen stems around the grapevine wreath. If you have long stems you can easily just tuck the ends in. Or you can use flexible floral wire tie the stems into the wreath or hot glue.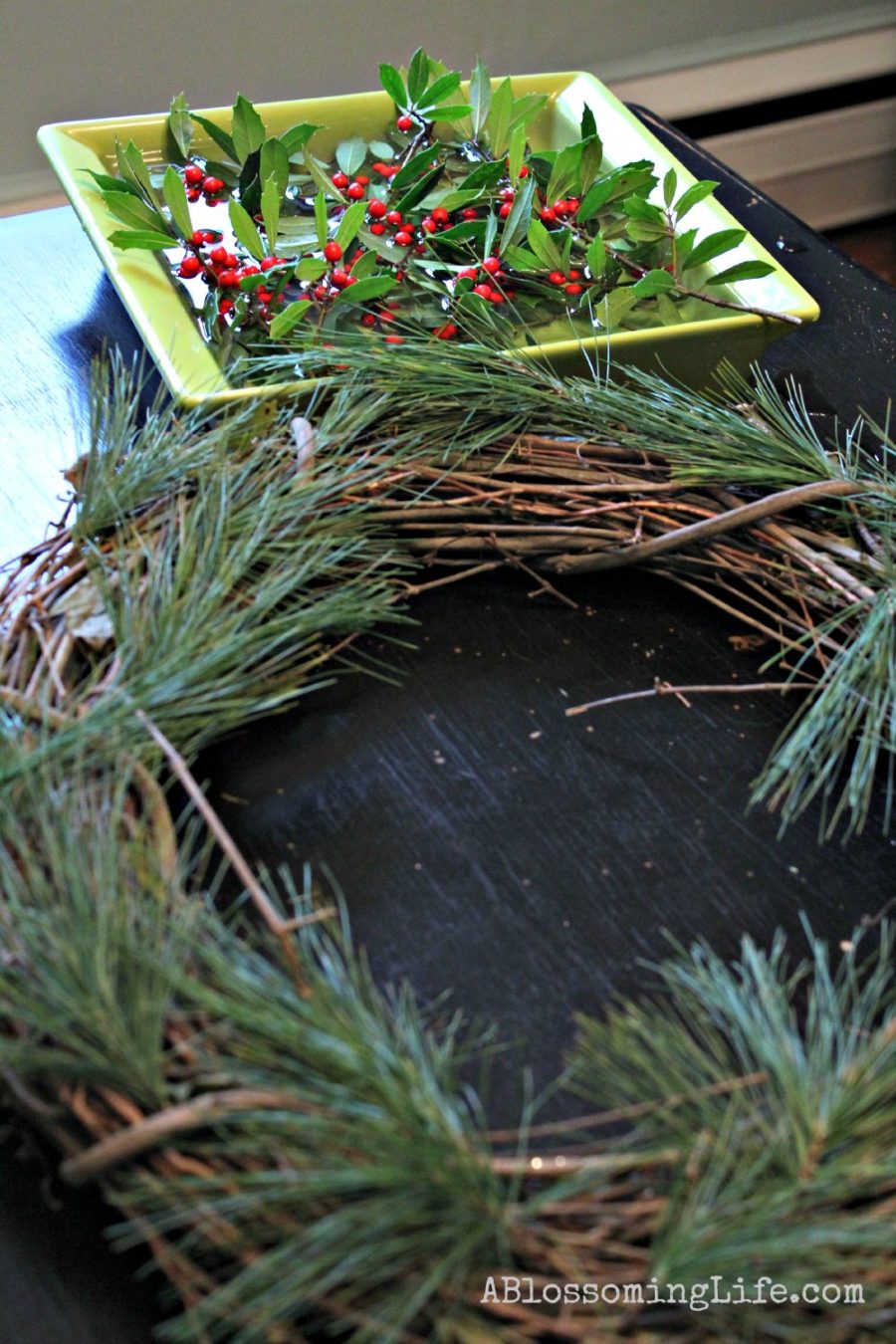 Step 3:
Add in holly using the same technique as step two and add in sparkly pine cones. Secure using hot glue or floral wire.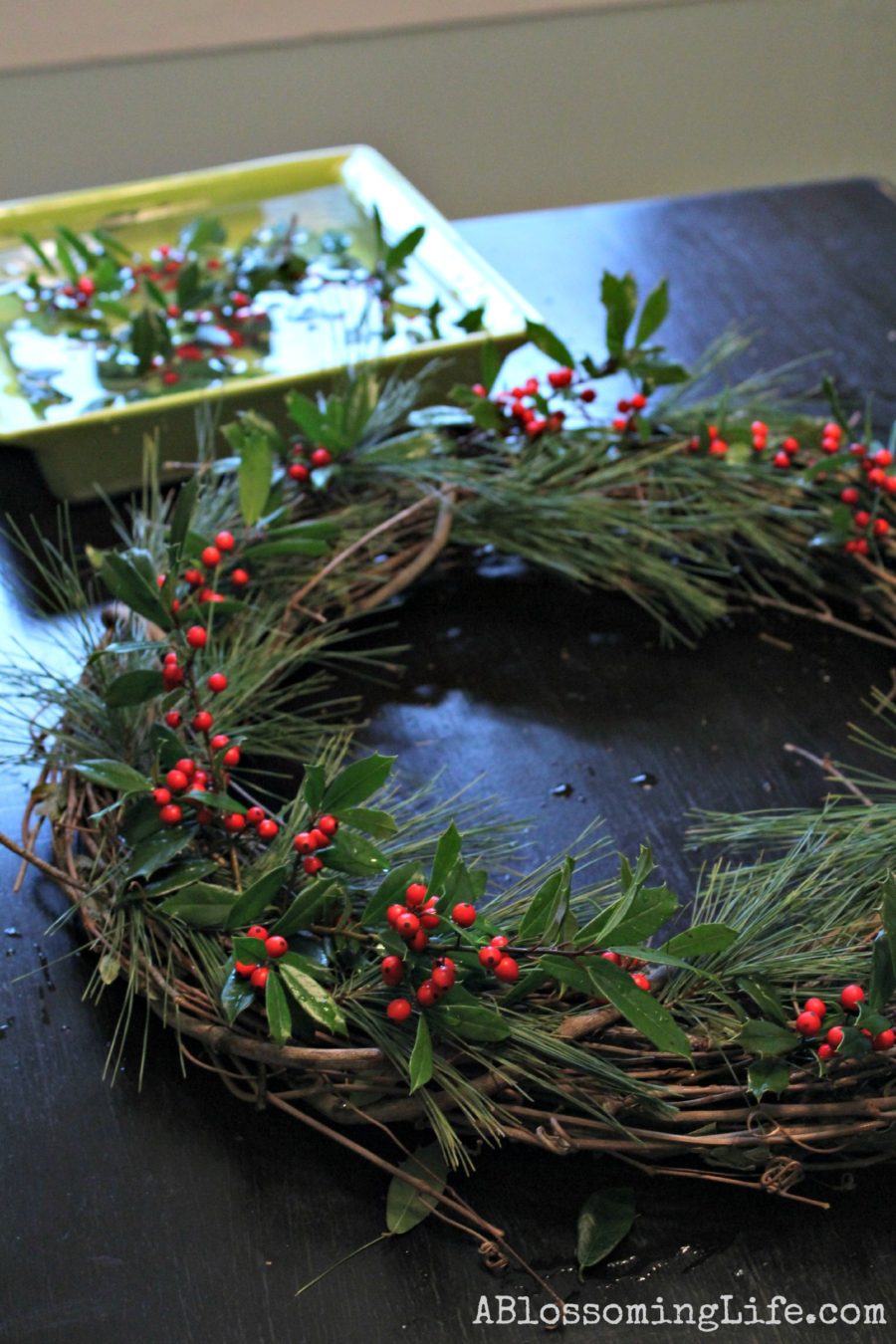 Step 4:
Hang up and enjoy your pretty DIY Christmas wreath! You can use a nail in your door if you don't mind putting a hole in your door or use a clear wreath hanger that slides on top of the door.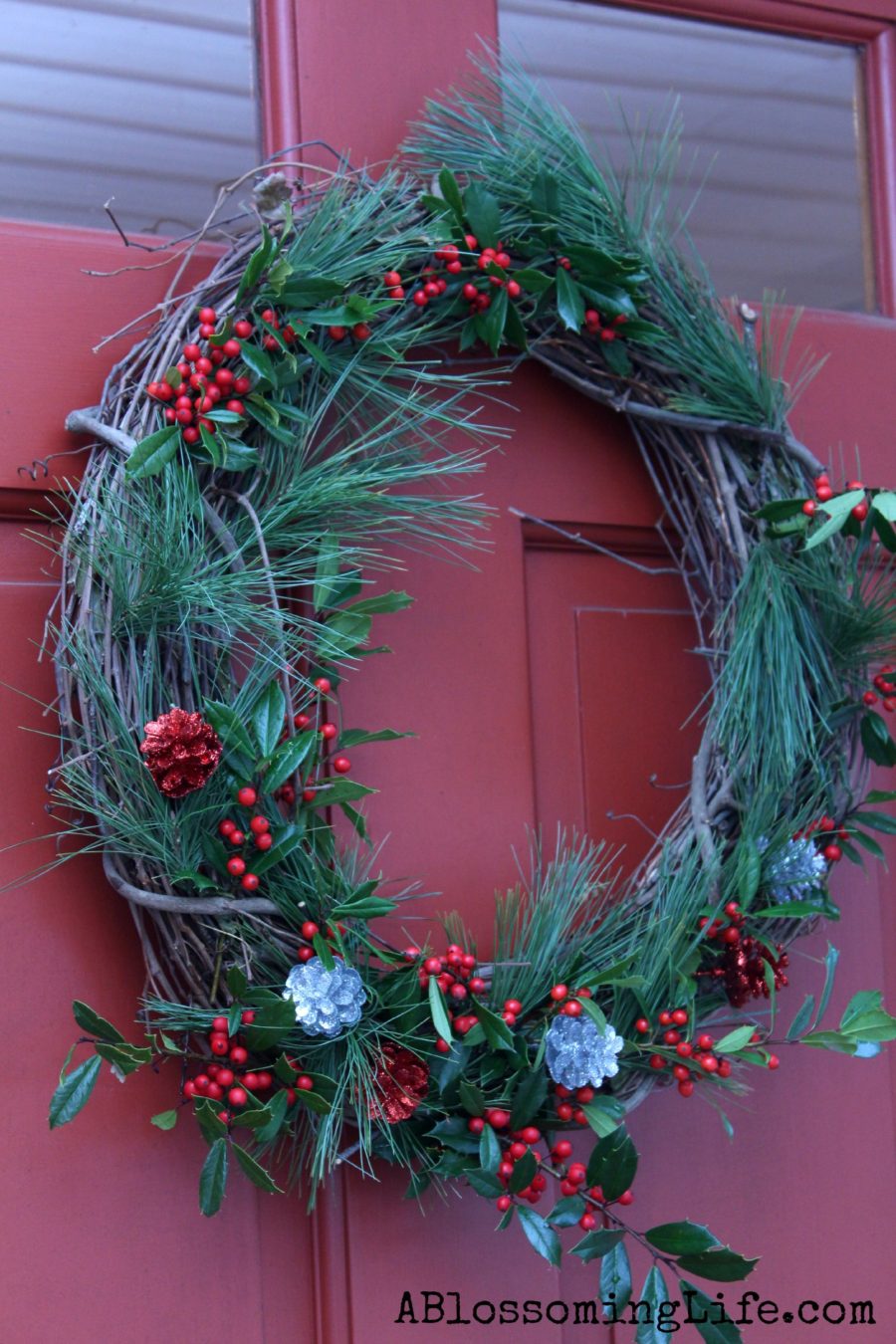 This fresh DIY Christmas wreath should lasts through the holidays and when the holidays are over you can toss (or compost) the greenery and keep the grapevine wreath to use again in the future! Change it up
What is your favorite part about the holiday season?