DIY bronzer is a simple and inexpensive makeup recipe to give your skin a sun-kissed glow. Homemade bronzer is made from natural ingredients you can feel good about. Follow my tips below when you make natural makeup recipe.
Ingredients you will need: cornstarch, cocoa powder, and cinnamon.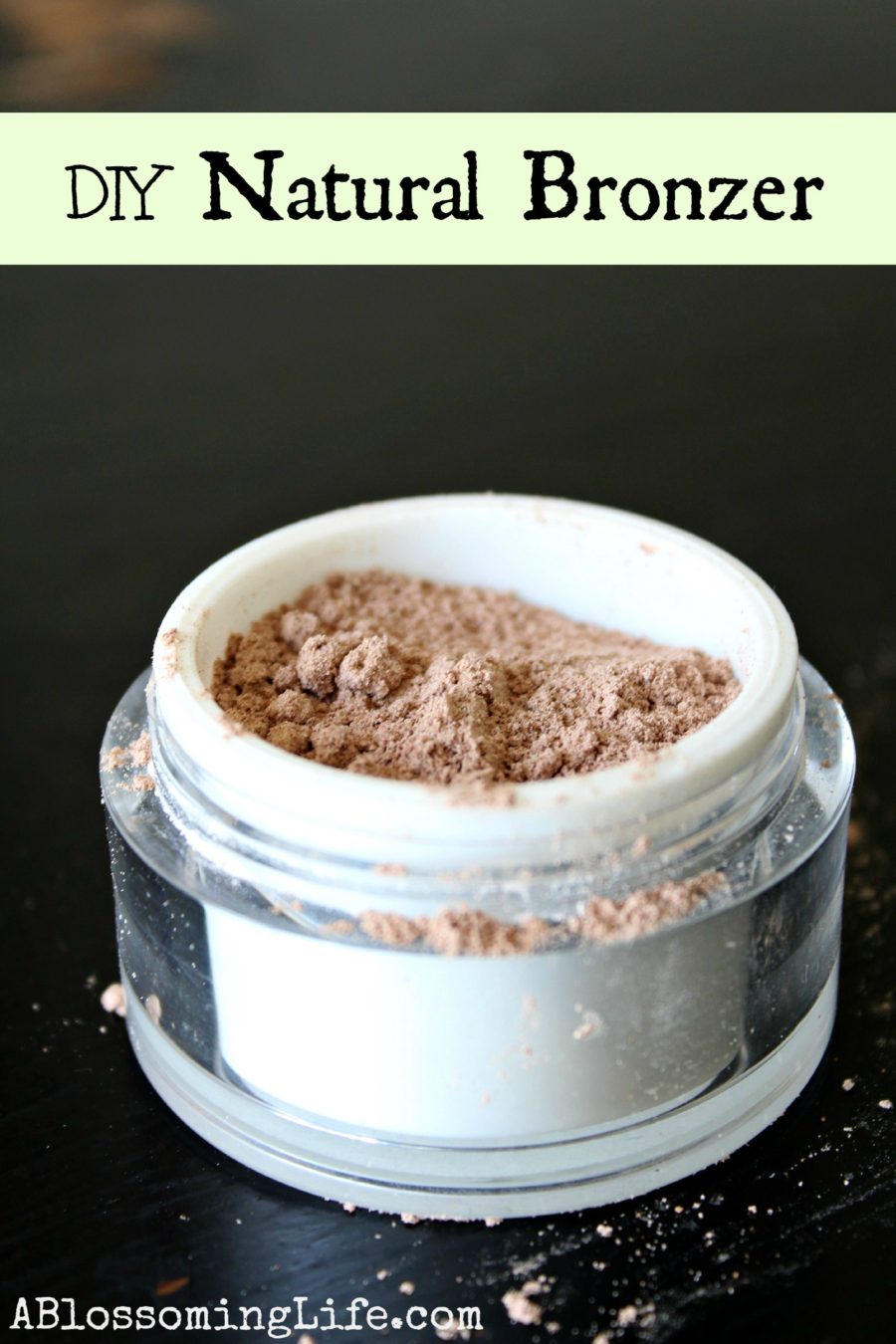 DIY Bronzer Backstory
I'm really excited to be sharing another homemade makeup recipe. This week, we are talking about bronzer! It's been awhile since using bronzer, because it always just felt like one of those extra items I didn't reallllllyyyy need.
Being on a tight budget makes us really decide what is a want and a need. Sorry bronzer, you were a want so you got put on the back burner. That is until I figured out how to make it.
Also, I never felt comfortable wearing store-bought bronzer, because I am so pasty pale that it made me look more orange than tan. I like to joke and say that I am so pale, I am blue (you know because you can see my veins…).
It took me a really long time to embrace my skin. I used to tan a lot back in the day, even though I don't really tan well. I get blotchy and turn other colors besides tan.
But, of course, I wanted to look tan since that was "in". Since getting married, I really began to embrace the skin God gave me. No more tanning, even tanning outside, and learned to embrace my beautiful skin.
So, why am I going back to using bronzer? Well, for one – you ladies! I know there are a ton of people that do use bronzer, and I want to give you a natural, inexpensive alternative!
And plus, it's summer, and I want a little glow myself!
Tips For Making DIY Bronzer
Start slow when adding in ingredients.
Don't make it too dark, I like to go about one to two shades darker than my skin tone.
If you do accidentally make this homemade bronzer too dark, just add some more cornstarch.
Depending on the season you may have to change this recipe up. For instance, you are probably slightly tanner in the summer than you are in the winter. You bronzer recipe may need to be slightly darker in the summer.
The following are affiliate links. We are a participant in the Amazon Services LLC Associates Program, an affiliate advertising program designed to provide a means for us to earn fees by linking to Amazon.com and affiliated sites.
DIY Bronzer Recipe
Homemade Bronzer Ingredients:
Note: I used to add beet powder, but have since stopped adding this because it is something I don't always have on hand.
How To Make DIY Bronzer
Start with 1 Tbs of cornstarch or arrowroot powder.
Add in small amounts of cocoa powder and cinnamon until desired color is reached.
Test it on the back of your hand to make sure it is the color is just right.
Write it down so you don't forget it.
Note: Makeup is kind of tricky because we all have such different colors of skin. So, what works for me may not work for you, and you may have to adjust your recipe!
My homemade bronzer recipe:
1 Tbs organic cornstarch
2 tsp cocoa powder
1 tsp cinnamon
I used to add beet powder, but just skip this now.
Love this homemade product? Check these other posts out!
How To Use DIY Bronzer
Apply your makeup as you normally would: foundation, powder foundation, etc.
Dip brush into homemade bronzer and tap off any access.
Apply on face. I like to start on my check bones and then apply in a circular motion.
This recipe is super easy and frugal! You can feel good about what you are putting on your skin!
This post was updated March 2019.