DIY Toner: Simple Herbal Recipe
DIY toner is a nourishing the face with a few simple ingredients to help tighten the skin and improve clarity. Use this homemade toner to help balance the pH of the skin. Follow my tips below to make your own DIY face toner.
For this recipe you will need: water, witch hazel, vegetable glycerin, herbs (optional), and essential oils.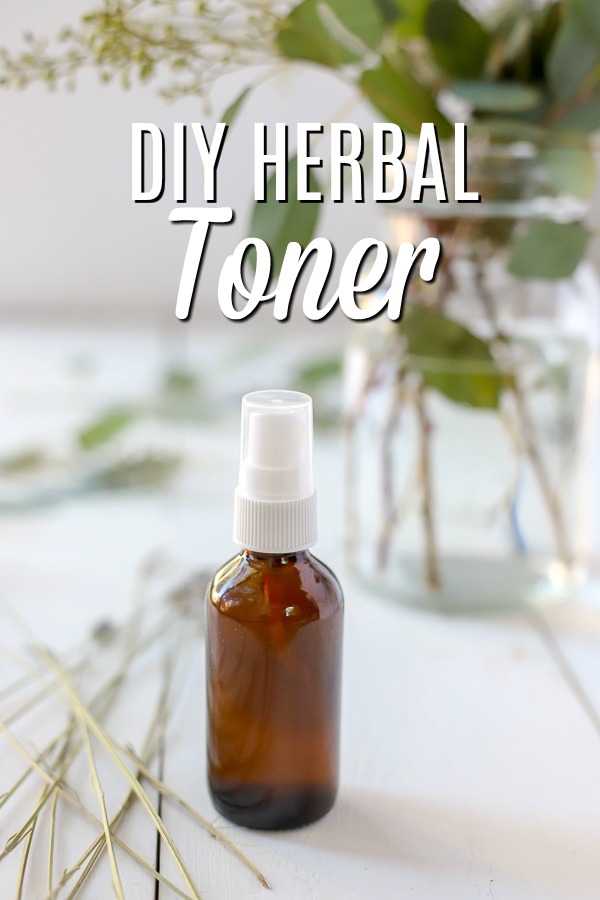 DIY Toner Backstory
Homemade skincare is my jam. I love creating recipes that help save money and are natural. Just saying, there are so many recipes on this blog that you should check out.
This recipe was actually created a few months ago for my Natural Skin Mini Guide (grab it – it's free!), but I loved it so much I decided to share it here with all of you.
My skin feels so fresh, clean, and rejuvenated when I use a facial toner. Toners are really meant to clear any remaining dirt, prep your skin for moisturizer, and help regulate the pH of the skin, so this is a really great step to add to your skincare routine.
I struggle with dry, red, and irritated skin. Thankfully, since I've started using this toner, it has helped bring down the redness and doesn't dry my skin out. There are so many great benefits of this recipe, and, bonus, it smells amazing. That is always a win.
If you want a real spa day treat, add a face scrub (this coffee one is the best) before using this toner. Your skin will feel like new, or a baby's butt.
The following are affiliate links. We are a participant in the Amazon Services LLC Associates Program, an affiliate advertising program designed to provide a means for us to earn fees by linking to Amazon.com and affiliated sites.
Ingredients in homemade toner:
Witch hazel – an antibacterial astringent used to help clean pores; it can help tighten pores and calm skin.
Lavender water – adds hydration and can help calm the skin.
Glycerin – adds moisture to the skin and can help give that dewy look.
Essential oils – can be really beneficial for the skin. Add lavender or chamomile to help reduce inflammation, frankincense to help tighten skin, or geranium for smoother skin. Avoid using photosensitive essential oils, like citrus oils.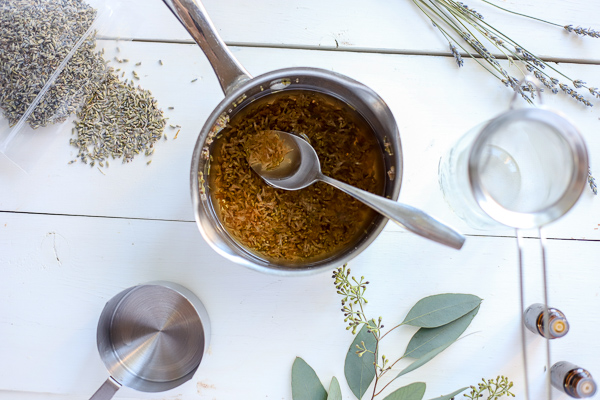 WHAT ESSENTIAL OILS ARE GOOD FOR SKIN?
Frankincense – helps tone and tighten skin, great for aging skin
Lavender – helps reduce inflammation and has a calming effect.
Geranium – can help balance oily skin, and help fight wrinkles.
Ylang Ylang – helps treat oily skin, and can promote cell turnover.
Chamomile – calming and great for dry, sensitive skin.
Clary Sage – reduces puffiness.
Check out my new essential oils page and watch my free essential oils 101 class.
Best places to buy natural ingredients:
One question I get a lot is, "where do you find ingredients to make natural products?" Many times people think the ingredients are hard to find, expensive, or they come in way bigger quantities than they will ever use. You guys, nothing could be further from the truth.
Some of my favorite places to find ingredients for natural products, like the dried flowers or vegetable glycerin, are grocery stores. Yes, grocery stores! Our local Co-op and another local natural grocery store (it's like Whole Foods, but more local, if you can believe it) have many natural ingredients in their bulk section. My favorite store has a pre-packaged bulk section of herbs, and I can get the perfect amount needed at a really great price. Easy to find, inexpensive, and almost zero waste!
Of course, you can also buy ingredients online at places like Amazon and Mountain Rose Herb. One of these days, I'm going to go to the actual Mountain Rose Herb Store, since it is not very far away.
Tips for making DIY toner:
If you don't have witch hazel, you could swap it out for apple cider vinegar.
Use dried lavender, chamomile flowers, or dried rose petals. Heck, you could even use a little of each.
Vegetable glycerin can help add moisture to the skin. If you don't have it, just skip it.
Use distilled water to help slow bacteria growth.
How To Make Homemade Toner
In a small saucepan, add water and dried lavender (or other dried flower). Bring to a simmer; simmer until it is reduced to about half and allow to cool a bit.
In a glass container, add together witch hazel and glycerin.
Strain lavender water and add to witch hazel mixture.
Add a few drops essential oils.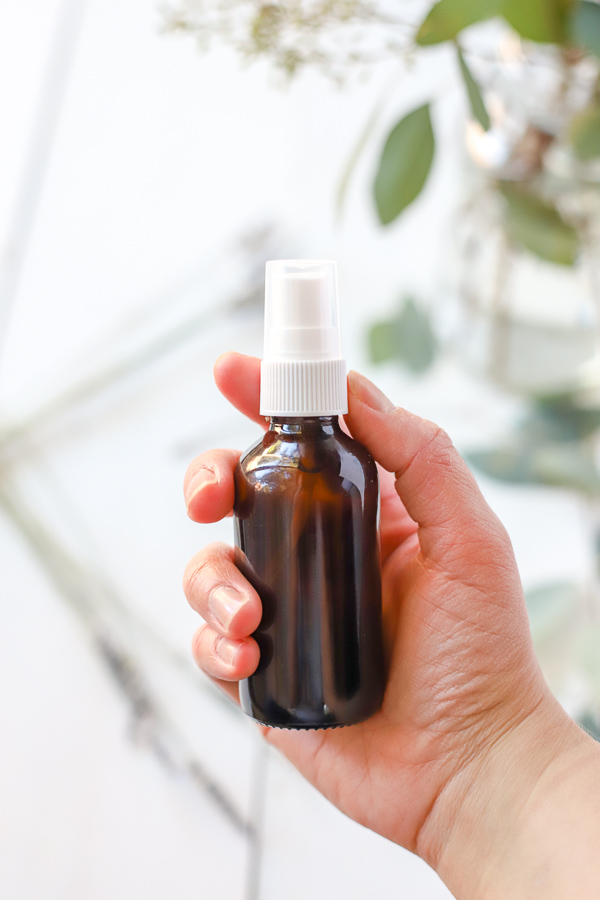 How To Use DIY Toner:
Wash and dry face (I like to use my homemade facial cleanser or my homemade makeup remover.)
Spritz on homemade toner and allow to dry.
Follow up with your favorite moisturizer. My favorite are this shea butter face cream and DIY face serum.
Want more DIY Natural Product Recipes? Check these out!
DIY Toner Recipe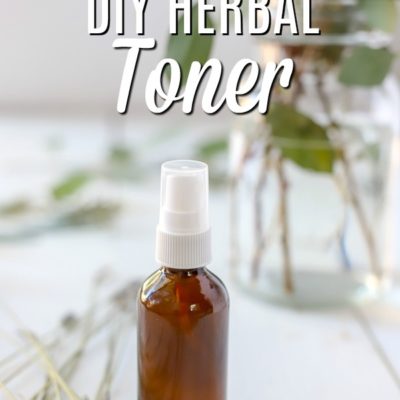 DIY Toner With Herbs
Natural homemade toner made with just a few simple ingredients to help clear and tighten skin without drying it out.
Print
Pin
Rate
Instructions
Add water and dried lavender to a small saucepan and bring to a simmer. Simmer until it is reduced to about half and allow to cool a bit.

In a glass container, add together witch hazel and glycerin.

Strain lavender water and add to witch hazel mixture.

Add a few drops essential oils.



Notes
This recipe will keep for about a month.
Have you ever made homemade natural products before? What is your favorite to make?