Homemade face wash combines simple, natural ingredients to make a gentle and effective homemade face cleanser. DIY face wash is the perfect recipe for a beginner wanting to start making their own natural products. Follow my tips below to make this simple recipe.
Ingredients you will need: Castile soap, water, dried lavender (optional), oil, honey, and essential oils.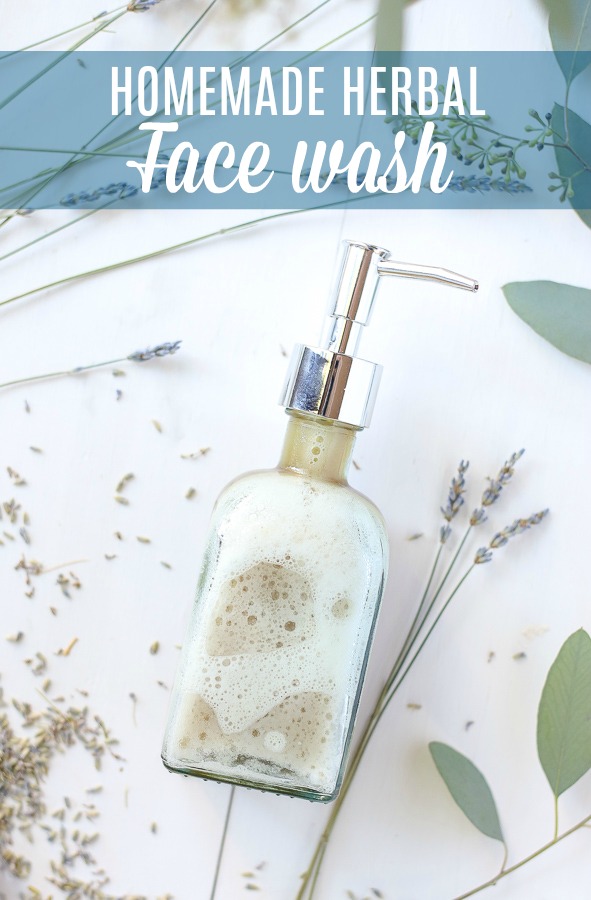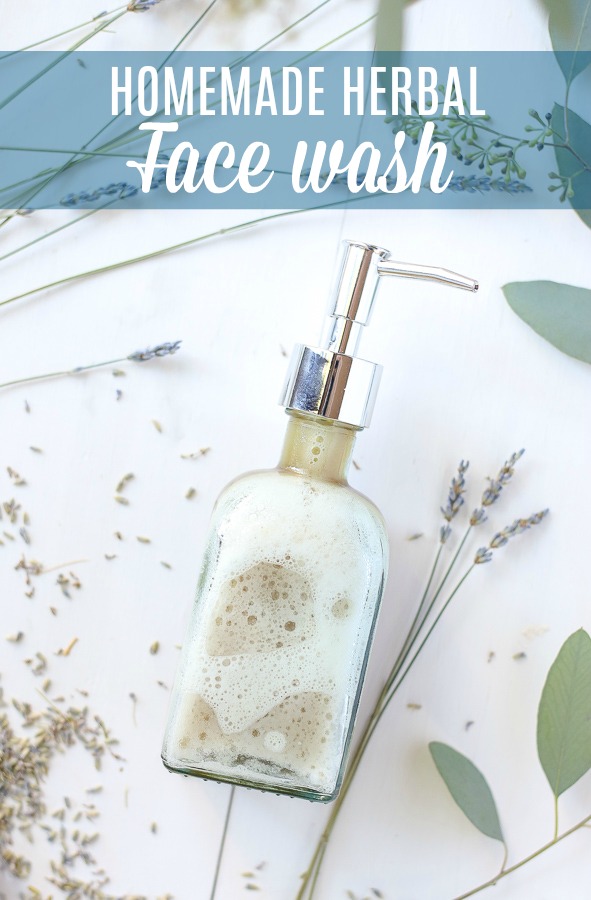 Truth be told, I'm in love with this homemade makeup remover. This is what I use most of the time. But once or twice a week, I like to use this natural homemade facial wash to get my skin extra clean.
I love that it cleans your skin without being too drying. The oil and honey help hydrate the skin, while the lavender water soothes the skin.
This recipe was originally created for this free Natural Skin Mini Guide, but decided to share it here. It was too good not to share, ya know? You can still head over and grab that guide – did I mention it's totally free?
I love the simplicity of this recipe. Natural, simple, and easy. Basically my motto in life. I ain't got time to be messing around with fussy stuff. My two kids wouldn't have that by any means.
Plus, this face wash is super customizable for your skin needs. See below all my tips and possible swaps below.
Homemade face wash tips:
Use essential oils that are good for your skin, like frankincense, lavender, ylang ylang and more. Grab my free essential oil class here.
You can use this everyday, or switch it up and use the oil cleansing method.
Use distilled water to help deter bacteria growth.
Switch out the dried lavender flowers for dried rose petals or chamomile flowers.
If this ratio of soap to water is too drying for you, add more water.
The following are affiliate links. We are a participant in the Amazon Services LLC Associates Program, an affiliate advertising program designed to provide a means for us to earn fees by linking to Amazon.com and affiliated sites.
Homemade Face Wash Ingredients:
Castile soap: this is an all natural vegetable-derived soap that is ultra concentrated
Lavender water: you could definitely just use regular water, but I love infusing the water with herbs to get more benefits from it. You could also swap out lavender water and use hydrosphere instead.
Honey: naturally has an antibacterial property to it, and it can also be hydrating to the skin.
Oil: I like to use avocado oil, jojoba or sweet almond oil. Use whichever one works best for your skin.
Essential oils: adding EO to skincare recipes can be really beneficial. Some essential oils can help fight oily skin (ylang ylang), while others can help acne-prone skin (melaleuca).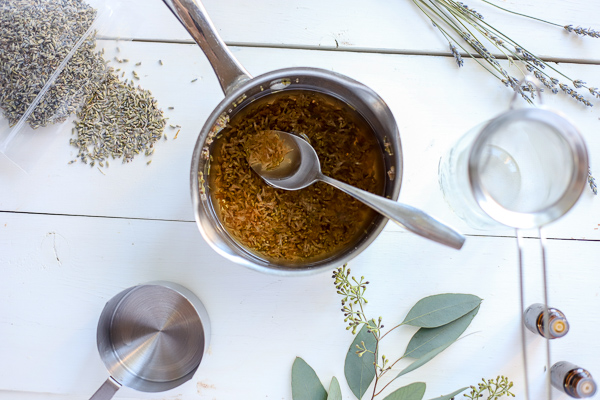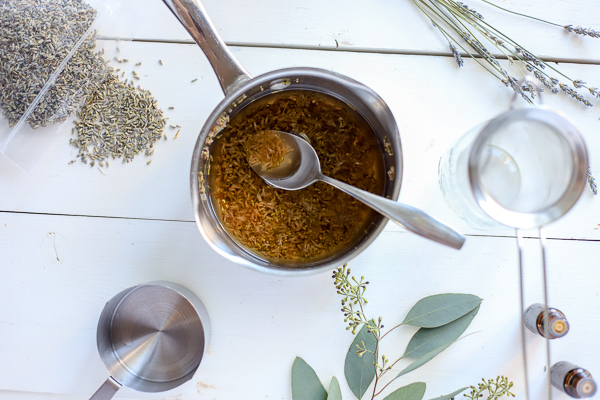 How to make DIY face wash:
In a small saucepan, add water and dried lavender. Bring to a simmer and keep it on the heat until it is reduced to half. Set aside to cool.
In small glass container, add in honey, oil, and Castile soap.
Strain lavender water into a container and pour the water into bottle with other ingredients.
Add essential oils.
How to use homemade face wash:
Dampen face with warm water.
Add a small amount of the homemade face wash to hands and rub hands together to start forming a lather.
Rub over face in a circular motion for about a minute.
Rinse with warm water. Follow up with DIY toner and apply moisturizer.
Writing that out makes washing your face seem way more complicated than it is. Truly, it's just a wash, spritz, moisturize, and go! I hope you enjoy this simple herbal face wash.
Love homemade natural products? Check these other awesome recipes.
Homemade Face Wash Recipe
Simple, natural, and effective DIY face wash recipe to help you switch to natural skin care.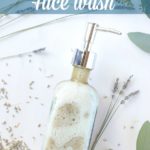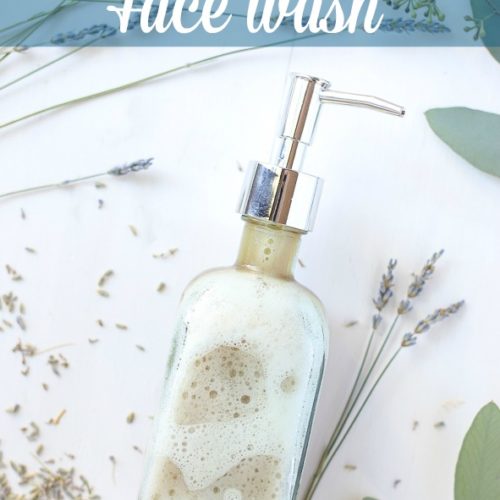 Homemade Face Wash
Easy and effective DIY face wash to help clean your face without being over drying.
Ingredients
1/3

Cup

Castile soap

1

Cup

Distilled water boiled down to 1/2 cup

2

Tbs

Dried lavender

Optional

1

Tbs

Oil

1

Tbs

Honey

15

Drops

Essential oils
Instructions
In a small saucepan, add water and dried lavender (or other herbs)and bring to a simmer. Continue to simmer for about 5-10 minutes or until it is reduced to half. Set aside to cool.

In small glass container, add in honey, oil, and castile soap.

Strain lavender flowers out of water and combine pour into bottle with other ingredients.

Add essential oils and shake.
Recipe Notes
Separation is natural. Just shake before use.
Have you tried making your own natural products?