Homemade Honey Butter Recipe
Delicious and creamy homemade honey butter is a sweet buttery spread that is perfect to top pancakes, muffins, waffles, or whatever your heart desires. Move over maple syrup, there is a new sheriff in town named honey butter.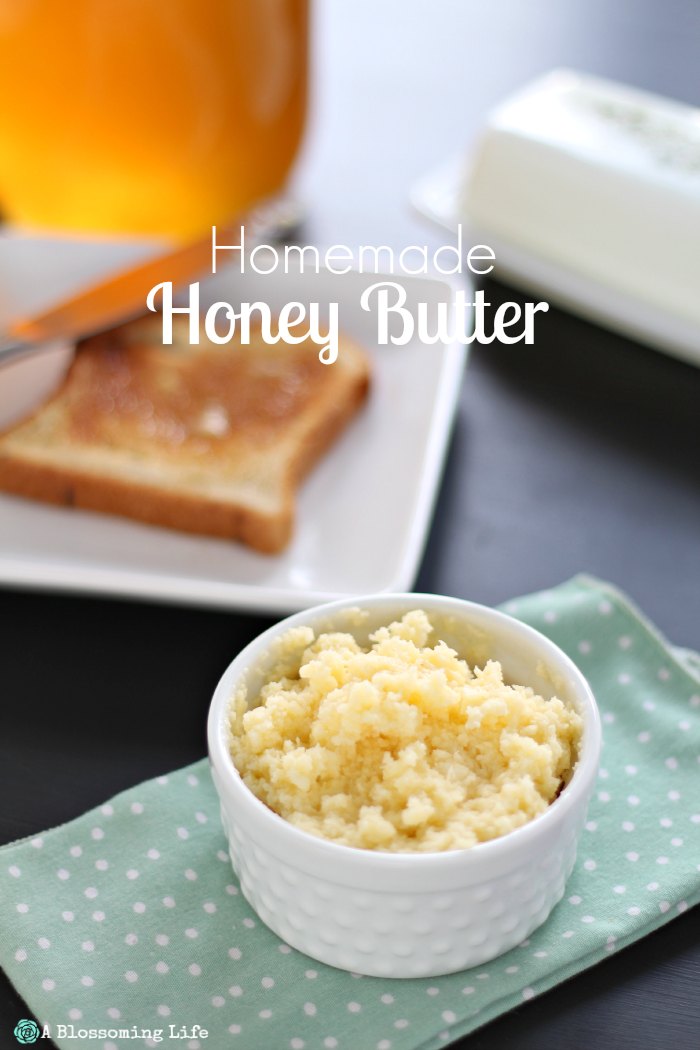 This post was updated March 2019
Honey Butter Backstory
Two of my favorite things in this world… Honey and butter. Yea you can't really go wrong with either one, especially when you put them together. It's the simple things in life that bring joy and the golden sweetness of honey and creamy butter that make me oh so joyful.
My hubby and I were in the car on our way home from church on Sunday talking about our pastors discussion on money. Well most of his discussion was about parenting, but a brief part about money really had me thinking.
We talked about how frugal we are, but there are some things we spend too much money on. One thing is food. Our food budget is probably higher than a many people we know. We thoroughly enjoy healthy real food, have food allergies, and try to buy organic most of the time.
These things can put a damper on our food budget. Sure, we spend more on food, but we hope we will spend a lot less on health care in the future and we love the way it makes us feel. Totally worth it to me.
What the heck does this have to do with honey butter? It's about the joys of real food and this recipe brings my two joys together. Local honey and butter…. If you didn't already see that coming. I mean hello it's in the name. But that is literally the only two ingredients in this recipe.
Tips for making homemade honey butter:
This works way better if the butter is softened. Hard butter will leave a more crumbly texture.
Add a sprinkle of cinnamon or a splash of vanilla for a sweet twist.
Store in the fridge, and let sit out for a bit before using it so it spreads easier.
Honey butter is delicious on toast, pancakes, waffles, muffins, bread,etc.
Tools you may need to make this recipe:
Nothing too fancy here. You just need a bowl (I like these bowls), a measuring up, and a silicon spatula (preferred, but a spoon would also work).
How To Make Homemade Honey Butter:
Soften butter.
Mix together with honey. You can whip it up with a mixer or just use a fork. Refrigerate.
Allow to soften before using for easier spreading.
Spread on pancakes, toast, biscuits, whatever your heart desires.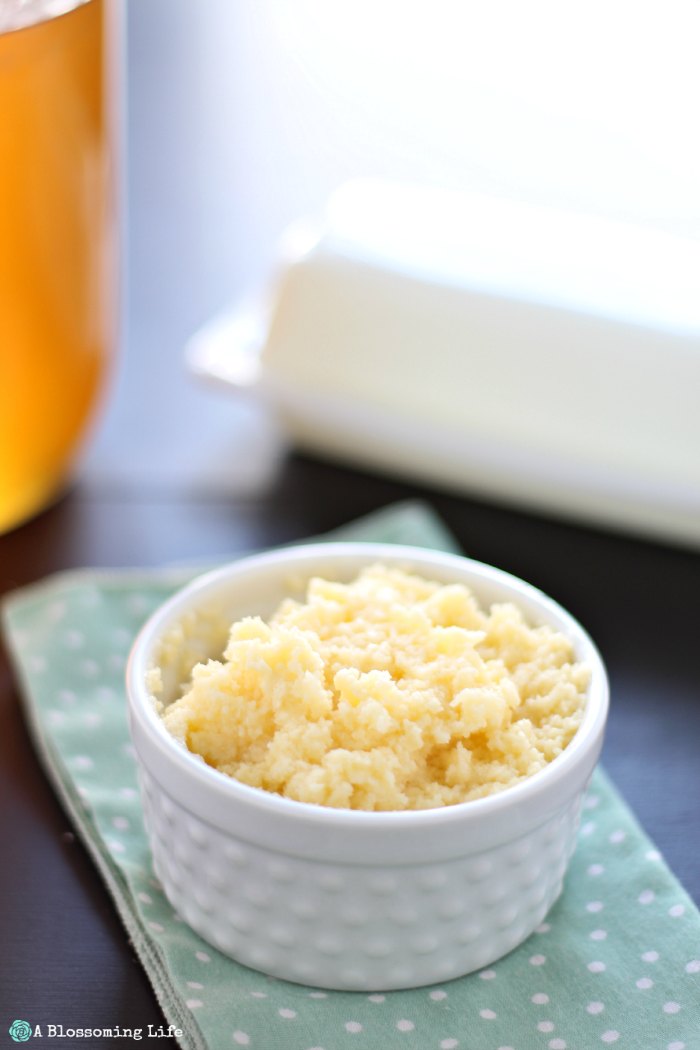 What do you eat honey butter with?
How long does honey butter last?
This will last a few weeks in the fridge. You could leave this out on the counter for a few days, but I wouldn't leave it out too long.
Is honey butter healthy?
Depends on who you ask… Honey is an amazing natural sweetener that has many benefits and full of antioxidants. It is also our choice of natural sweetener. Butter is a little more controversial since it is high in saturated fat. Personally, I'm not afraid of butter.
What is honey butter made of?
Honey and butter with a dash of salt of course! You can also add some yummy add-ins like cinnamon or vanilla. But it is delicious as is.
How do you serve honey butter?
Allow to stand at room temperature 1-2 hours before servings so it spreads well.
Want more delicious recipes? Check these out!
Homemade Honey Butter Recipe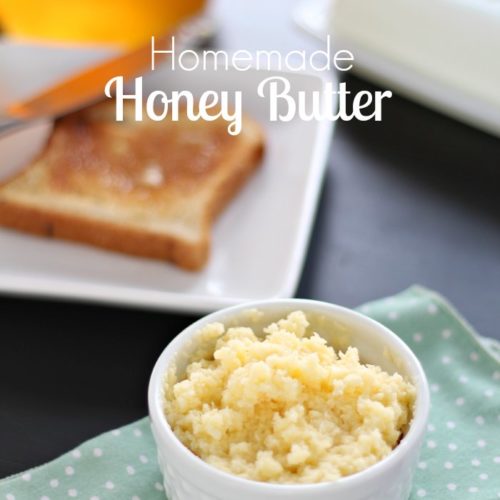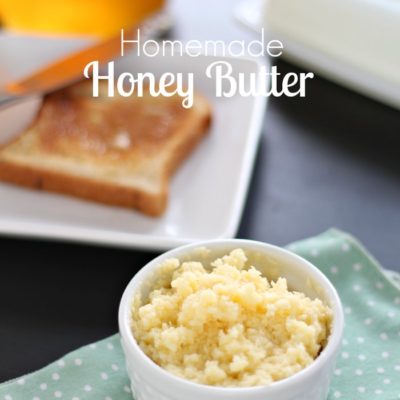 Honey Butter
Easy two ingredient recipe for honey butter. Delicious buttery and sweet spread for pancakes, waffles, toast and more.
Print
Pin
Rate
Ingredients
1/2

cup

butter

softened

1/4

cup

honey

preferably local

dash

salt

omit if you use salted butter
Instructions
Soften butter. Once softened, mix together with honey. You can whip it up with a mixer or just use a fork. Refrigerate. Spread on pancakes, toast, biscuits, whatever your heart desires.
Nutrition
Serving:
1
g
|
Calories:
133
kcal
|
Carbohydrates:
8
g
|
Fat:
11
g
|
Saturated Fat:
7
g
|
Cholesterol:
30
mg
|
Sodium:
101
mg
|
Potassium:
5
mg
|
Sugar:
8
g
|
Vitamin A:
355
IU
|
Calcium:
3
mg
I remember making this butter when I was a kid and would spread it on pancakes since I'm not a huge maple syrup fan. It is seriously delicious! Nom nom.
What's your favorite kind of butter?
How about you spread it on some gluten free pancakes?