Homemade Marshmallows Dipped in White Chocolate and Coconut
Spring is in the air and Easter is right around the corner. Who doesn't like to enjoy a sweet treat on Easter? How about a homemade one the kids will enjoy making? Sure, this may not be the healthiest recipe ever on A Blossoming Life, but it does use gelatin and gelatin is good for you which in turn makes this recipe good for you right??? Yea nice try. But hey it's ok to have a treat every once in a while.
This recipe makes a ton of marshmallows so I saved a few plain marshmallows to top a cup of steamy hot chocolate or just to eat while I snuck by the pantry. Even though it's the end of March it snowed the other day here in southern Illinois. Seriously, monday was 75 degrees and Thursday we got snow. So I can totally still drink hot chocolate. This week looks much more promising though and we plan to spend lots of time in the yard!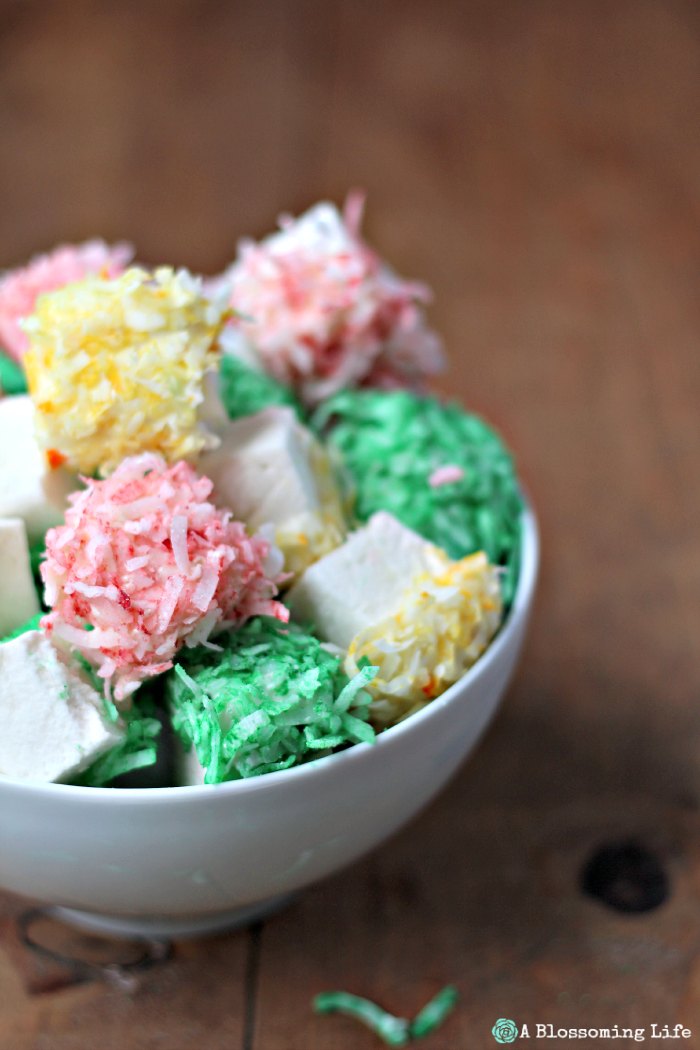 Homemade Marshmallow Recipe
Ingredients:
Directions:
Whisk together 1/2 cup cold water and gelatin in the bowl of your electric mixer. Allow to sit for 15-30 minutes.
Combine sugar, honey, 1/2 cup water and salt in a saucepan over low heat. Stir until the sugar dissolves.
Increase the heat to high and cook without stirring until the temperature reaches about 240º. Immediately remove the pan from the heat.
Turn your stand mixer to low. Using the whisk attachment, slowly pour the hot honey mixture into the softened gelatin. Once combined, increase the speed to high and beat for about 15-20 minutes. Add in vanilla extract during the last 2 minutes of whisking.
Generously grease a 9×13 inch baking dish. Pour marshmallow mixture into pan and smooth out flat. Let sit for at least 4 hours to overnight. Turn out onto a cutting board and cut marshmallows using a knife. I found it easiest to cut the marshmallows if I ran the knife under hot water before cutting each row.
Break apart cubes and roll in powdered sugar to keep from sticking.
Coconut Topping Recipe
Ingredients:
Directions:
In a double boiler or microwave safe dish, melt white chocolate. If your white chocolate is not melting well you can add 1 tbs of coconut oil to add smoothness.
Place coconut in a separate bowl and stir in food coloring until desired color is achieved.
Dip marshmallows into white chocolate about half way up marshmallow and then roll in green coconut. Allow to dry. You don't want to place the marshmallow in the white chocolate too long or it will start to melt.
Enjoy your tasty treats!
What are your easter plans?