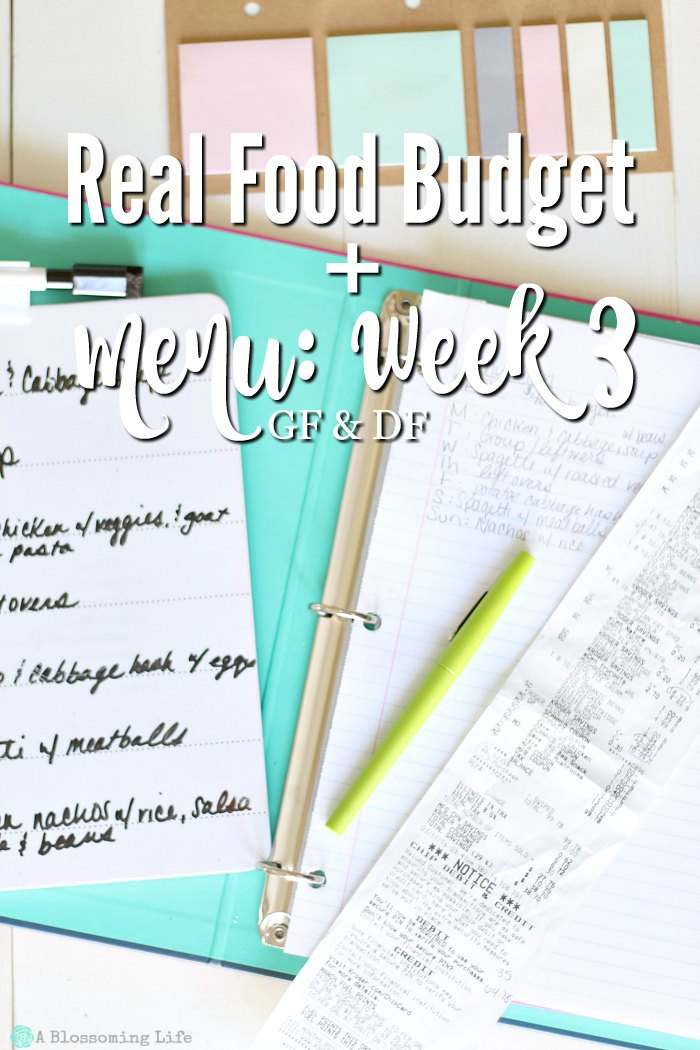 Week three of the meal plan went well. We did go slightly over, but I did buy extra things since they were on sale. So I shouldn't have to buy some things next week, which would then hopefully drive the budget down. But I keep saying that so. The good news is I'm still on track to spend way less than we normally spend!
We are attempting to stick to a strict $400 500 a month food budget. My goal was to be at around $100 a week not realizing that April has 5 weeks in it. Ugh… So I'm trying to get less that $500 this month and $400 on 4 week months. My hubby doesn't believe I can do it, but I want to prove him wrong.
Meal planning: You can see how I meal plan here. It may be confusing since I start the meal plan week on Monday, but I don't grocery shop until my day off on Friday I use Friday as my first day of the week for the menu. Make sense? Of course you can move recipes around to any day you would like.
Week 2 Meal Plan:
Breakfast is usually oatmeal or toast, fruit, and eggs.
Lunch is leftovers for me and the baby, hubby usually eats a PB&J with carrots, a fruit, and other various snacks.
Snacks are usually trail mix, fruit, chips, or pretzels. Honestly I try to limit my snacks as much as possible, but the hubby is snack king. They are easy for him to eat in the car while he is driving.
Monday: Salmon burgers with french fries and steamed broccoli. We bought ground wild Alaskan Salmon from our farmers market last week. We will make shape some burgers out of this and fry it up. Served with homemade french fries (baked in the over), and steamed broccoli.
Tuesday: Leftovers (we have small groups this night and usually bring a small side)
Wednesday: Spinach salad topped with crumbled salmon burger, tomato, and goat cheese.
Thursday: Brinner-(you know breakfast for dinner) eggs, pancakes with honey butter, and fruit is on the menu.
Friday: Sloppy Joes using this recipe. I subbed pasta sauce for the tomato paste because that is what I had on hand. I cooked one pound of ground beef and split it in half. Half for this recipe and half for Saturday's recipe.
Saturday: Tacos- we actually went to our friends house for dinner. We brought food, they made food. We brought all the fixings (i.e. tomatoes, guacamole, taco shells, and some mexican potatoes) and they grilled some chicken and made rice. It was fabulous. I actually made some fried potatoes to bring and saved 1/2 for us to use in Sunday's shepherd's pie.
Sunday: Shepherd's pie. Make mashed potatoes by boiling potatoes in water until fork tender. Drain the water. Mash up the potatoes with some salt, pepper, garlic if you fancy, butter (I like a lot of butter in my taters). Mix ground beef with a 1/2 bag of mixed organic vegetables (peas, carrots, and corn). Place in a baking dish, top with the mashed potatoes and bake at 375 until everything is hot and steamy and potatoes begin to brown- about 30-45 minutes
Total: $108.56- Over $8.56
Farmers Market: $15
Honey-2 lbs I could have bought 1 lb to make budget, but it was cheaper to buy the 2 lbs and I really bought this to help my allergies since they have been nutty!
Co-op: 13.62
Eggs (we were out of eggs and were desperate. These eggs are free range, but they are $1.50 more than a local farmer)
Trail mix
2 avocados
chocolate bar- for hubby trail mix.
Aldi: $36.10
2 lbs organic grass fed beef: these were are sale. While I usually get it from a local farmer I couldn't pass up the sale.
Oatmeal
Hummus
Organic pasta sauce
Organic tomatoes
Organic quinoa- this was on sale.
Organic baby spinach- on sale
2- Kettle chips
3 lbs Organic apples
GF pretzels
Kroger: $43.84
3 loaves of GF bread- on sale plus we had a $2 off coupon
3 bags of organic frozen vegetables- broccoli and peas
Organic frozen raspberries
2 cartons coconut milk- on super sale
3 lbs organic onions
2 organic peppers
2.8 lbs organic bananas
2 organic apples- for me. Super tasty pink ladies
3 lbs organic potatoes
Natural turkey lunch meat
April Running Total: $329.43
Next week we will spend less! I have to make up for the last three weeks that I went over slightly. We will not have to buy milk, bread, or meat next week. We will also be out of town for 1.5 days. I only have $85.28 for the next two weeks to spend. Think I can do it? Let's hope and I will share with you the results.