Steak Rice Salad Recipe: Easy Weeknight Meal
This easy and tasty steak rice salad recipe is meant to be enjoyed as a blend of tender meat, soft rice, and crisp veggies. It can be served hot or cold, so feel free to heat it all up or refrigerate. Perfect crowd pleaser.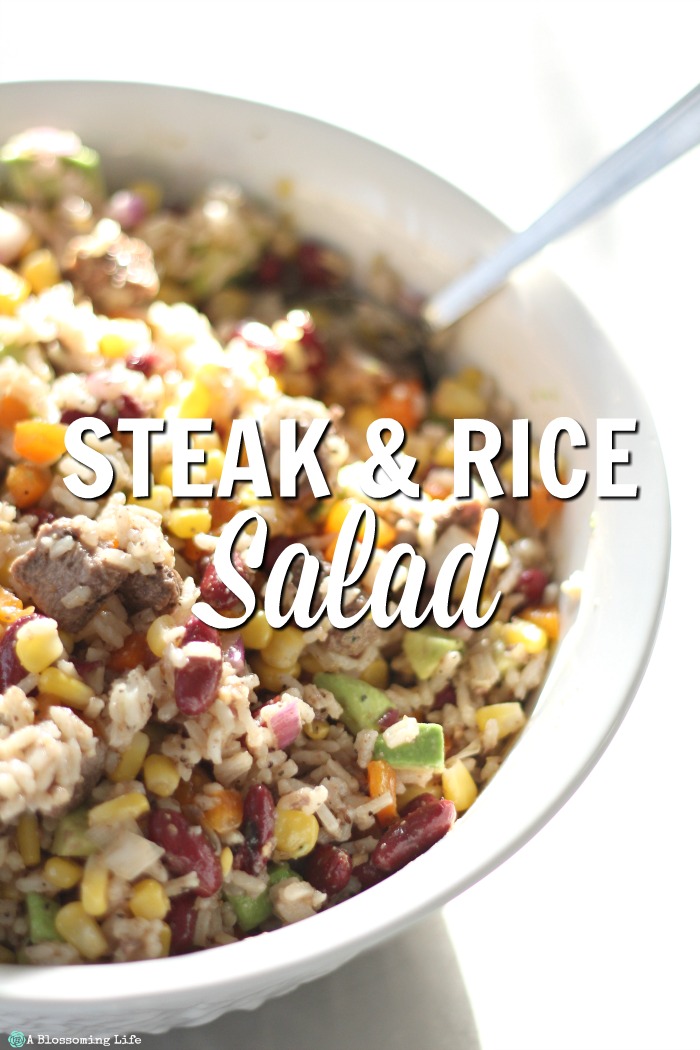 Crowd pleasing.. Steak Rice Salad Recipe
I really wish we had more real food recipes on the blog, but see the problem is I doubt my ability to cook. Most of the food I make is just okay, but if for some reason I hit the jackpot and it's amazing (like this Tex-Mex Rice Bowl) I share it.
Well today I'm sharing with you this amazing Steak Rice Salad and I totally didn't make it, my friend Libby did. It was so good and she offered for me to use it on the blog. Yes please!
She made this crowd pleaser for our church's small group. We get together at our house every Tuesday around dinner time.
So I literally looked like a crazy person trying to take pictures before everyone came into our house with not the best lighting.
I think they just expect craziness like that from me. At least they still love me while I'm standing on top of a stool trying to get just the right shot and trying to work with not so great lighting. But hey it worked and now Libby is nice enough to share this delicious recipe with us.
This recipe was delicious hot when she first brought it over and delicious cold after it sat out for a little while and I went back for seconds or thirds. No one was counting. This made a lot of salad and it was completely gone by the time group was over. So you know it was good.
Tips For Making Steak Rice Salad
This recipe can be served at room temperature, hot or cold. Whichever you prefer.
Swap out the kidney beans for black beans.
I love adding different colored bell peppers for a bright pop of color.
For an extra healthy boost, add in a handful or two of fresh chopped
If you like it spicy, add some red pepper flakes.
The following are affiliate links. We are a participant in the Amazon Services LLC Associates Program, an affiliate advertising program designed to provide a means for us to earn fees by linking to Amazon.com and affiliated sites.
Tools you may need:
Large bowl
Cutting board
Knife
Can opener
Fine mesh strainer – I've had these for almost 8 years. Still going strong.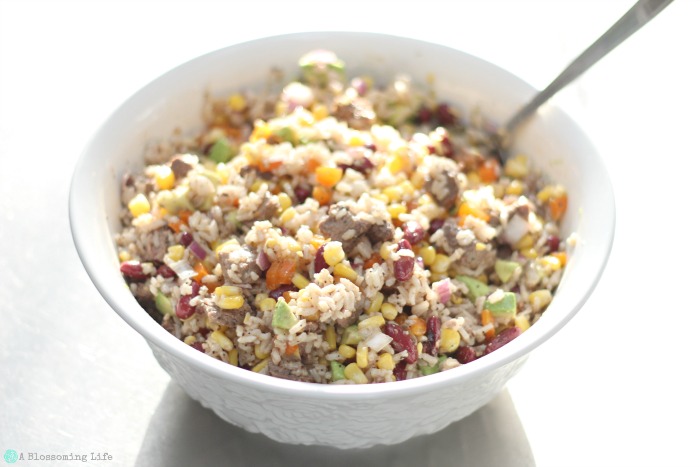 What type of steak should I use?
I used strip stead for this recipe, because it is really tender since it comes from a part of a cow that does little work.
Where do you by strip steak?
You can find strip steak at the butcher or grocery store. They can come pre-packaged or you can get them packaged by the butcher.
What do you serve steak rice salad with?
This recipe works well as a main dish or a side dish.
Serve it along side a fresh green salad, crusty bread, or sourdough skillet bread.
What type of rice should I use?
Use long or short grain rice will work. Just make sure to follow the directions on the package.
I usually go for brown rice since it is healthier and less refined than white rice.
More Easy Recipe Ideas
Steak Rice Salad Recipe
If you love this recipe, please give it 5 stars!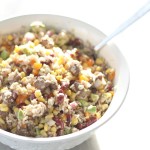 Steak and Rice Salad
This easy and tasty salad is meant to be enjoyed as a blend of tender meat, soft rice, and crisp veggies. It can be served hot or cold, so feel free to heat it all up or refrigerate. Perfect crowd pleaser.
Print
Pin
Rate
Ingredients
3

cups

cooked rice

1

strip steak

12oz or more

2

cups

frozen corn

slightly thawed

2

sweet peppers

the more color, the better!

½

red onion

1

can kidney beans

drained

1

or 2 avocados

3

T

olive oil
Instructions
Cook your rice according to the package, then transfer the cooked rice to your refrigerator to cool (it doesn't need to be cold, just not hot). Go ahead and set your frozen corn on the counter to thaw a bit.

While the rice cools, pan fry the strip steak with olive oil and a generous amount of the steak seasoning of your choice on both sides. I love to use my cast iron skillets for this.

Keep watch on your strip steak so that you don't overcook it (cook it how you like it!), but proceed to chop up your veggies in the meantime. Dice the peppers (the more colorful the peppers, the better, in my opinion!) and red onion, then combine them in a large bowl with the kidney beans and corn. Add your rice and stir.

When your strip steak is done, slice into bite-sized pieces and add them to your large bowl of veggies and rice.

Drizzle the olive oil over the mixture, and add more steak seasoning, as well as salt, pepper, and garlic, to taste. Start small – you can always add more.

Finally, peel and dice your avocado(s). I do this last to keep the avocado colorful, since once it meets oxygen, it begins to turn brown. Toss the avocado gently with the rest of the salad.

This salad is meant to be enjoyed as a blend of tender meat, soft rice, and crisp veggies. It can be served hot or cold, so feel free to heat it all up or refrigerate. I serve it just as it is when I toss it together. Delicious!
Notes
I used white rice, but brown rice would also be great, just be sure to take into consideration the longer cooking time for brown rice.
Nutrition
Serving:
1
g
|
Calories:
372
kcal
|
Carbohydrates:
41
g
|
Protein:
12
g
|
Fat:
18
g
|
Saturated Fat:
4
g
|
Cholesterol:
30
mg
|
Sodium:
27
mg
|
Potassium:
566
mg
|
Fiber:
5
g
|
Sugar:
2
g
|
Vitamin A:
1290
IU
|
Vitamin C:
58.7
mg
|
Calcium:
28
mg
|
Iron:
1.5
mg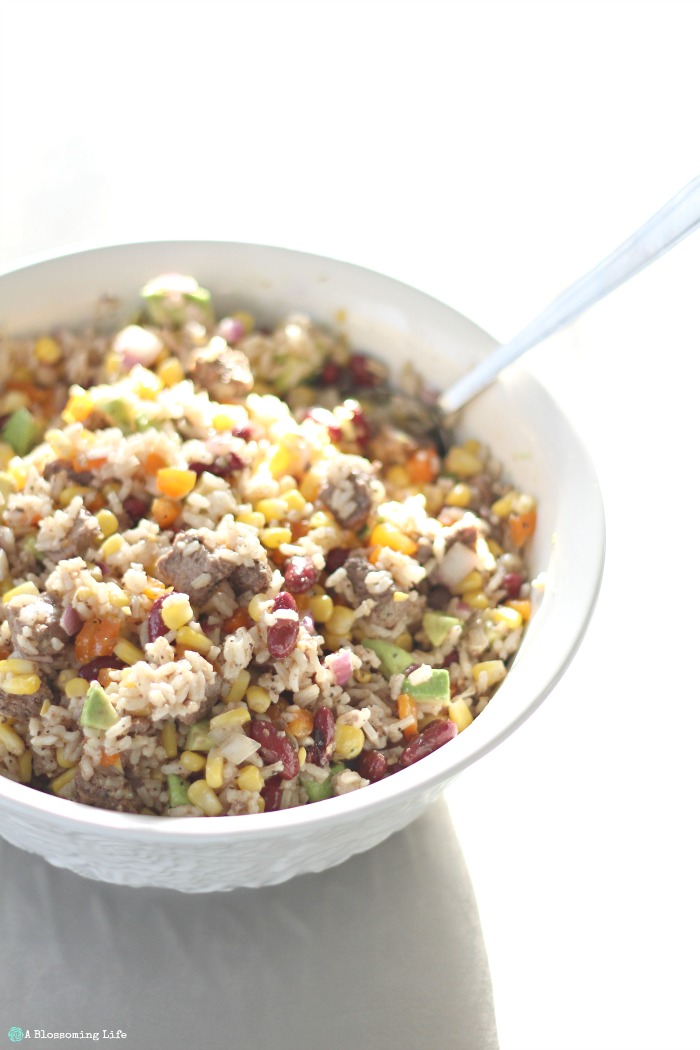 Enjoy this delicious and tasty real food steak salad.
This post was updated October 2019.