Italian Beef Recipe-Quick And Easy Chicago Style
Quick Chicago styled Italian Beef recipe is a delicious and healthy way to get dinner on the table in 10 minutes. Whole-food ingredients, a little time and you have a family friendly meal everyone with love.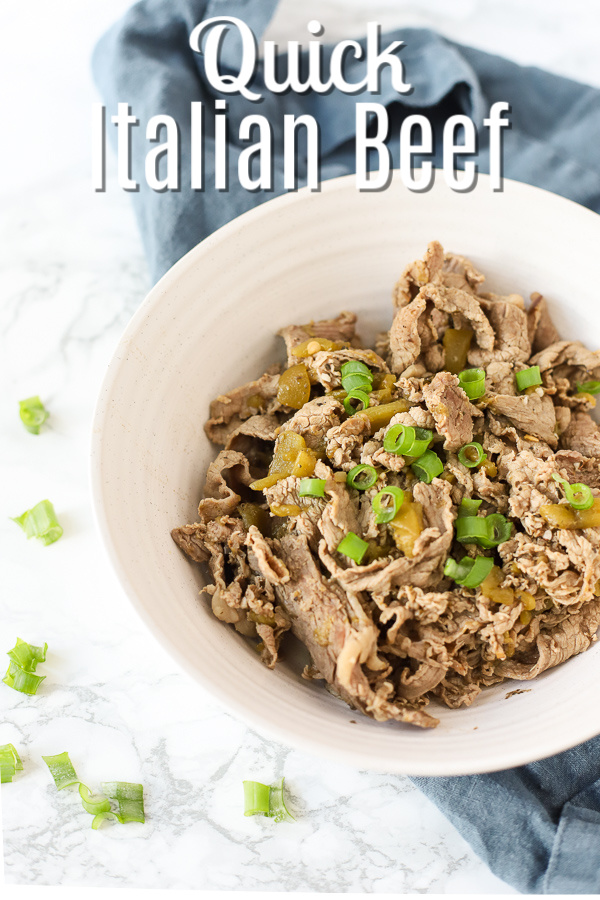 Chicago Style Italian Beef
If there is one thing I miss most about living near Chicago, besides family of course, is the Chicago style Italian beef. And the place to go is Portillos.
I wanted to recreate my favorite Chicago meals to enjoy in good 'ole Oregon. Friends, there is a difference a difference in this type of recipe depending on where you are in the country, ok!
Long long ago in college I ordered a Italian beef sandwich while another friend ordered a prime rib sandwich. My sandwich came and I was like… "uhhh what is this? This is not Italian beef!"
My friend that ordered the prime rib, who was also from Chicago, agreed that my sandwich didn't look right and her sandwich looked much more like the sandwich we were used to.
Another friend, who was native to the college town, was like "what are you talking about? That is totally it!"
This debate went on for awhile, and we came to the conclusion that Chicago style is very very different than other places.
What makes Chicago's version different? The beef is shaved/sliced rather than shredded, and of course the flavor.
Since sliced steak is used in this recipe, the cooking time is so fast. You can have the whole meal ready from start to finish in about 10 minutes.
While the broth is heating up throw some rolls in the oven for a few minutes to get nice and warm, and cook another veggie as a side. Then toss in the meat and cook for a few minutes. Top your bread with the meat and juice and enjoy your tasty dinner.
Talk about a healthy weeknight meal. It would take you longer to run through the drive through.
Tips for making Italian Beef
Don't eat bread? No worries, you can add some of this recipe to a bed of rice, add some peas. Did it for lunch today with the leftover from dinner last night. Yum
Throw the rolls in the oven right after you put the beef in the broth. Heat them up for a few minutes until the beef is cooked.
Use homemade beef broth or store-bought.
This can be cooked in a pot or use your Instant Pot as a pot.
The following are affiliate links. We are a participant in the Amazon Services LLC Associates Program, an affiliate advertising program designed to provide a means for us to earn fees by linking to Amazon.com and affiliated sites.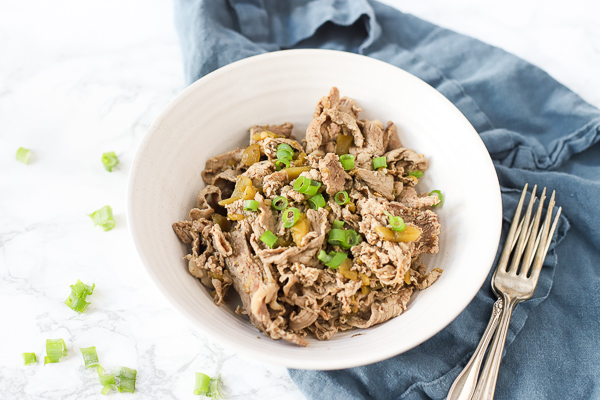 Tools You Will Need:
Can opener
Measuring spoons
Instant Pot: totally optional, you can just use a pot.
Is Italian Beef Healthy?
This homemade Italian Beef is healthy since it is made from real food ingredients. Beef is a good source of protein, B vitamins (B12, B6, B3), iron (the more bioavailable kind), zinc, and much more. It also contain CLA (conjugated linoleic acid) which is beneficial to our health and may help with weight loss. (Source)
Some restaurant sandwiches are really high in sodium and contain other not so good ingredients like msg. Making it at home is a cheaper and healthier option.
How To Make Italian Beef Video
Want more easy dinner recipes? Check out our family favorite!
Italian Beef Recipe – Chicago Style
Try this recipe and love it? Come back and give it 5 stars and pin it! Please and thank you.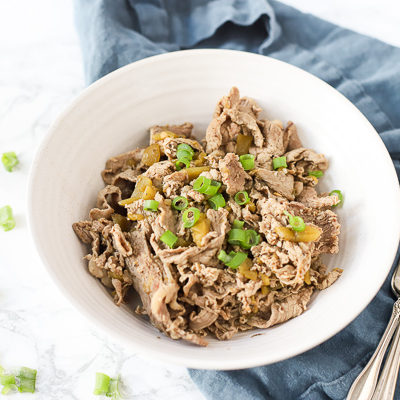 Italian Beef Recipe
Quick and easy Chicago Style Italian Beef
Print
Pin
Rate
Ingredients
1

lb

shaved steak

3

cup

beef broth

1/2

tsp

onion powder

1/2

tsp

garlic powder

1

tbs

Italian seasoning

1

tsp

salt

pepper to taste
Instructions
In a pot over medium high heat, add in all the ingredients except the shaved steak.

Add in steak and cook for 3-5 minutes until the steak is completely cooked and has gone from pink to gray.
Notes
This recipe can be made in the Instant Pot using the saute function or just a regular old pot.
Nutrition
Calories:
255
kcal
|
Carbohydrates:
2
g
|
Protein:
25
g
|
Fat:
16
g
|
Saturated Fat:
7
g
|
Cholesterol:
69
mg
|
Sodium:
1311
mg
|
Potassium:
417
mg
|
Fiber:
1
g
|
Sugar:
1
g
|
Vitamin A:
40
IU
|
Calcium:
39
mg
|
Iron:
2.7
mg
What version are you used to?