Spinach and Goat Cheese Pesto Pizza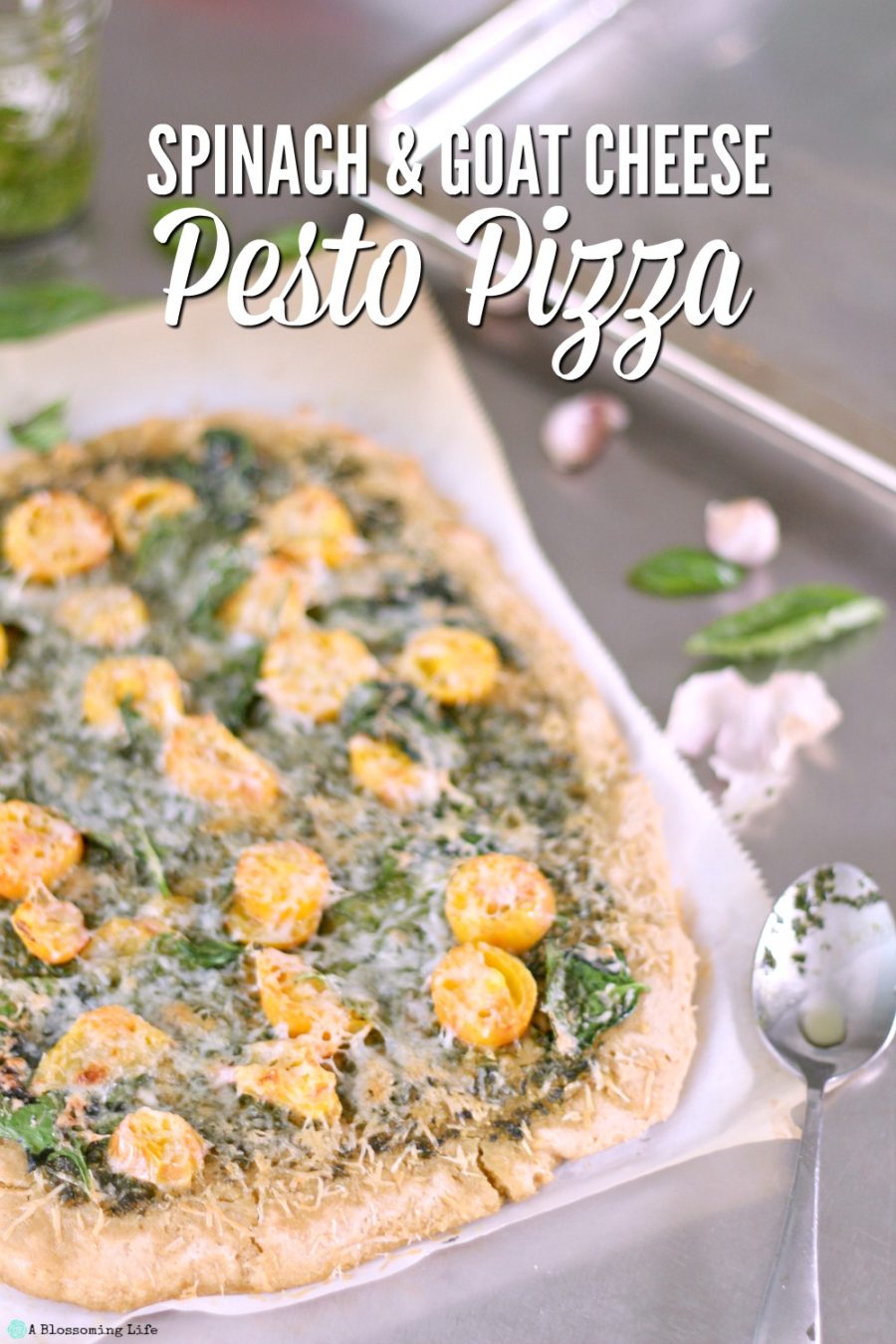 Part two of the Pesto saga continues. Well, there really isn't a saga. But, if you remember on Wednesday, we shared this deliciously simple dairy and nut free pesto. Then, I was mean and didn't tell you what I was going to do with it. Muahaha. Just wanted you to come back for more. Did it work? Well, I made this yummy pizza. Instead of slathering pizza dough with pizza sauce, I slathered that baby up with this scrumptious pesto. Then, naturally, I covered it with goat cheese (you could totally use regular mozzarella, but regular cow milk doesn't go over well in our house, and we can tolerate goat cheese just dandy). Gooey, hot, melty cheese.
It all started when I found goat mozzarella cheese at our local Co-Op this week. I was pumped and just knew we had to make pizza. Usually, we just buy the soft cheese, but it tastes… well… goaty? And it doesn't melt well. But this cheese did. It was like I was in my glory days (AKA back when everything was covered with cheese, and before I knew my husband and I were sensitive to dairy). Actually, it wasn't glorious at all. I felt terrible, and my skin looked horrible. Giving up regular dairy and eating goat cheese is a much better alternative for us.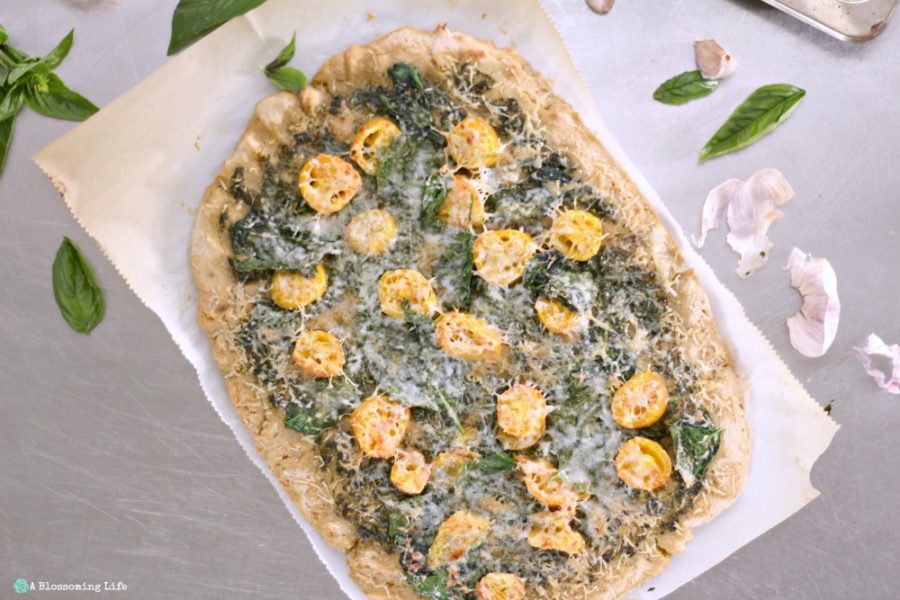 Back to the pizza… Pesto adds such a flavorful twist. Add your favorite toppings and enjoy. This isn't so much of you a recipe you need to follow exactly or it won't turn out, but rather a guide to create any type of pesto pizza. You like sausage? Then add it. Pineapple? Weird, but go ahead. Whatever suits your fancy, my friend.
The following are affiliate links. We are a participant in the Amazon Services LLC Associates Program, an affiliate advertising program designed to provide a means for us to earn fees by linking to Amazon.com and affiliated sites.
I used the pizza dough from my friend Tara's blog, We Got Real, but you can use whatever pizza dough you like. Even a prepackaged one. We have used Bob's Red Mill Pizza Crust Mix
before and really liked it.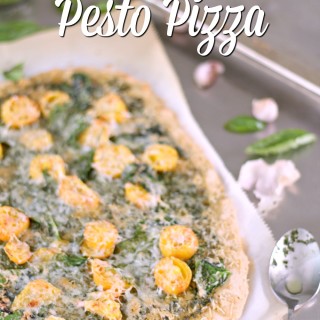 Ingredients
Your favorite pizza dough

1/2

cup

Pesto

2

cups

Shredded cheese

we used goat cheese and shredded by hand

handful

Spinach

1

Tomato

sliced

Favorite toppings
Instructions
Make pizza dough and allow to rise. You can make the pesto while this is rising, slice tomatoes, grate the cheese. Turn the oven on to 400 degrees. After allowing to rise about 30 minutes, use your hands to press out the dough to about 1/4 inch thick. Place in oven for 4-5 minutes. Take out and cover with pesto, toppings of your liking, and then cover with cheese. Bake for 10-12 minutes. Allow to cool for a few minutes before enjoying your delicious pizza.
Notes
It is better to hand-shred cheese to avoid unwanted chemicals/anti-caking ingredients.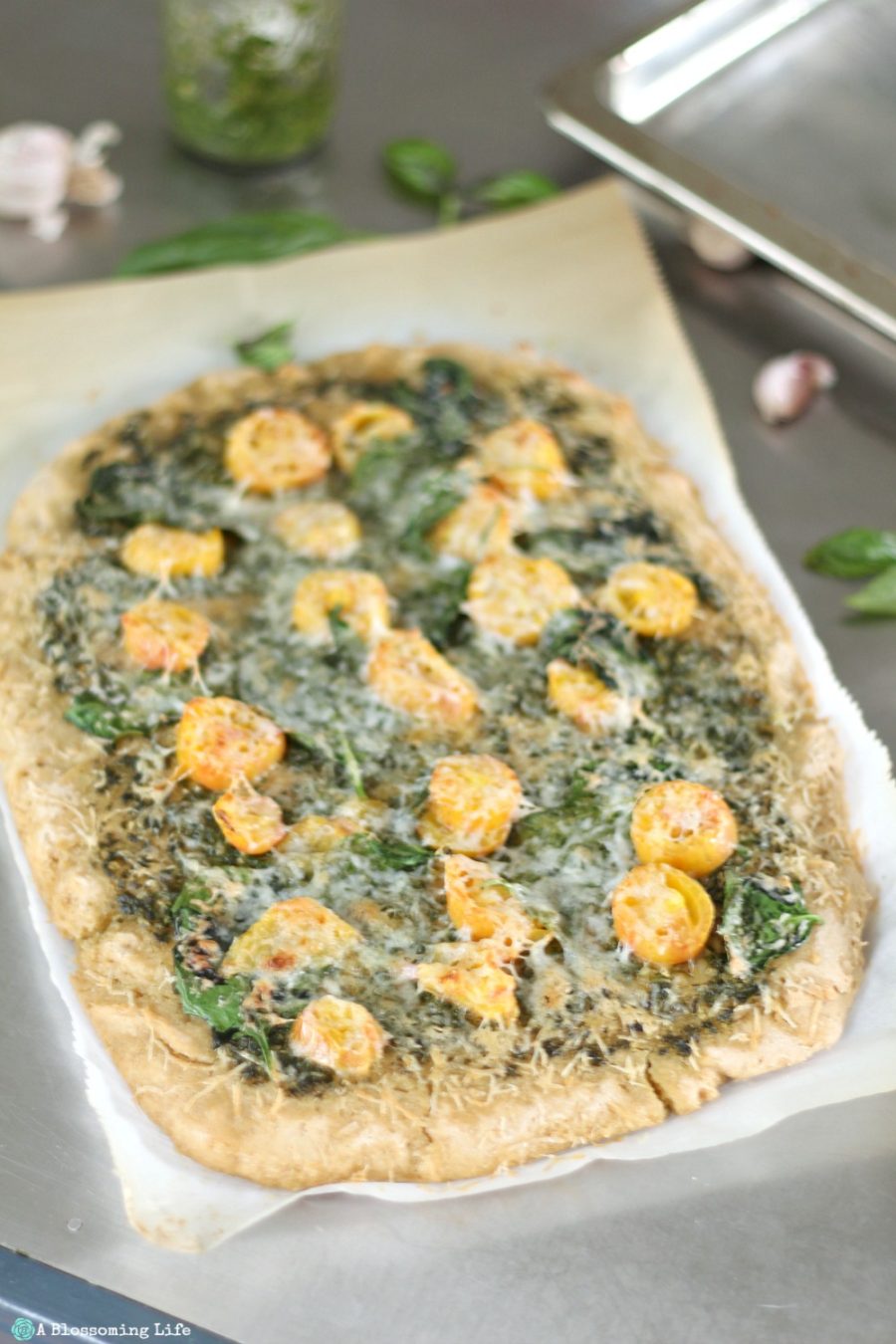 What's your favorite pizza?
This post contains affiliate links. Affiliate links help support A Blossoming Life at no extra cost to you.


You might also like…