Better Blogging Series: Be Yourself & Don't Give Up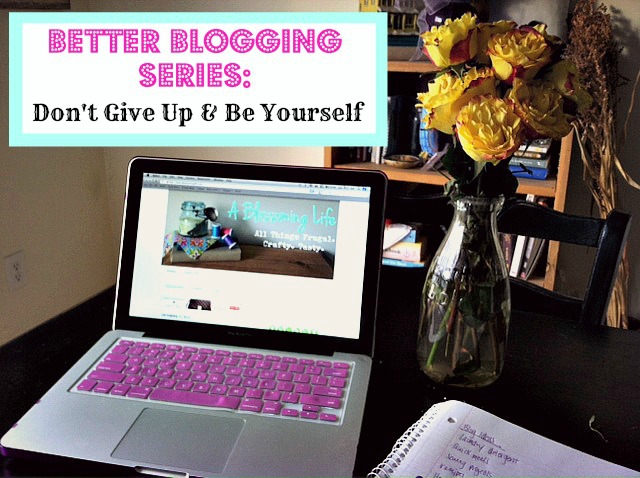 Thinking about starting a blog or have a blog and want to do more with it? During this series we will talk about ways you can enhance your blog!
Not going to lie I absolutely love blogging! I wish I could do it full time (maybe one day….). But in the mean time I like to find ways to improve my blog as much as possible. Although I am no professional blogger I have learned quite a few tricks since starting a little over a year ago and have went from maybe 1,000 views a month to over 30,000 in that year.
Part 5: Be Yourself & Don't Give Up
The number 1 thing you can do for your blog is be completely yourself. I often worry to much about offending someone or someone not liking my blog. Obviously I want people to like me! Honestly, not 100% of people are going to like you and you will probably offend someone at some point. You can't make everyone happy and that is ok! Took me awhile to figure this one out!
Be original! With so many blogs out there it is hard to be completely original but you also don't want to be like every body else. On this blog I get some recipe or ideas from other blogs, but I usually like to make it different or make up my own recipes. You want to stand out and shine against the rest!
Never give up! Blogging is not easy. It takes a lot of hard work, time, and ambition. You will not become an overnight success… You just have to stick with it. Create things you love or discuss your life with people. I try to make it seem like people that come here will one get to know me and two will feel like were friends!
Don't fall because the people around you don't support what your doing. I have written posts that have gotten negative comments or family members mocked me for. Although it was very hurtful or just plain annoying I put that aside and kept pressing through. Blogging is my passion and I don't want anyone to ruin it for me. I'm very thankful for my husband! Even though he didn't really support my blogging at first he saw how much I loved it, the potential, and how it helped me accomplish one of God's callings for my life (helping and teaching women). Everyone needs help sometimes. Even if you think blogging is "easy", there are a number of people specialised in this field to help you and your blog reach its best potential. A friend of mine was recommended to look into something like L.A seo experts, who help with the digital marketing side of blogging and hopefully get your blog out there for a larger audience. It's worth checking it out.
Why do you want to blog or what do you want to blog about it? Are you passionate about it? These are questions I like to think about regularly. I don't want to produce content that I think is poop (yep I said poop). Everything that I produce here at A Blossoming Life I want to be high quality and I want to be passionate about the topics discussed. Isn't that what its all about?
Stay tuned for next week when I conclude the series by talking about how to monetize your blog!
Just in case you missed it….
Part 1: Starting a Blog
Part 2: Content
Part 3: Better Pictures
Part 4: 10 Tips to Grow Your Blog